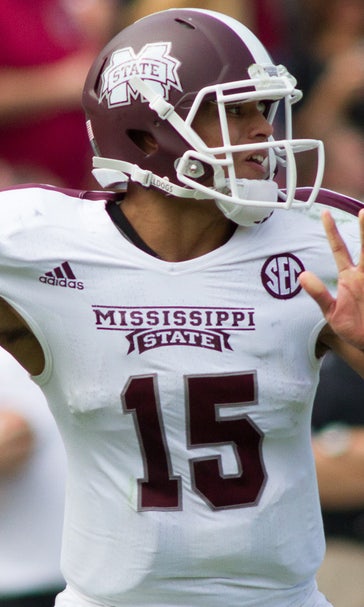 Bulldogs' offensive success likely hinges on Prescott's deep ball
BY foxsports • July 15, 2014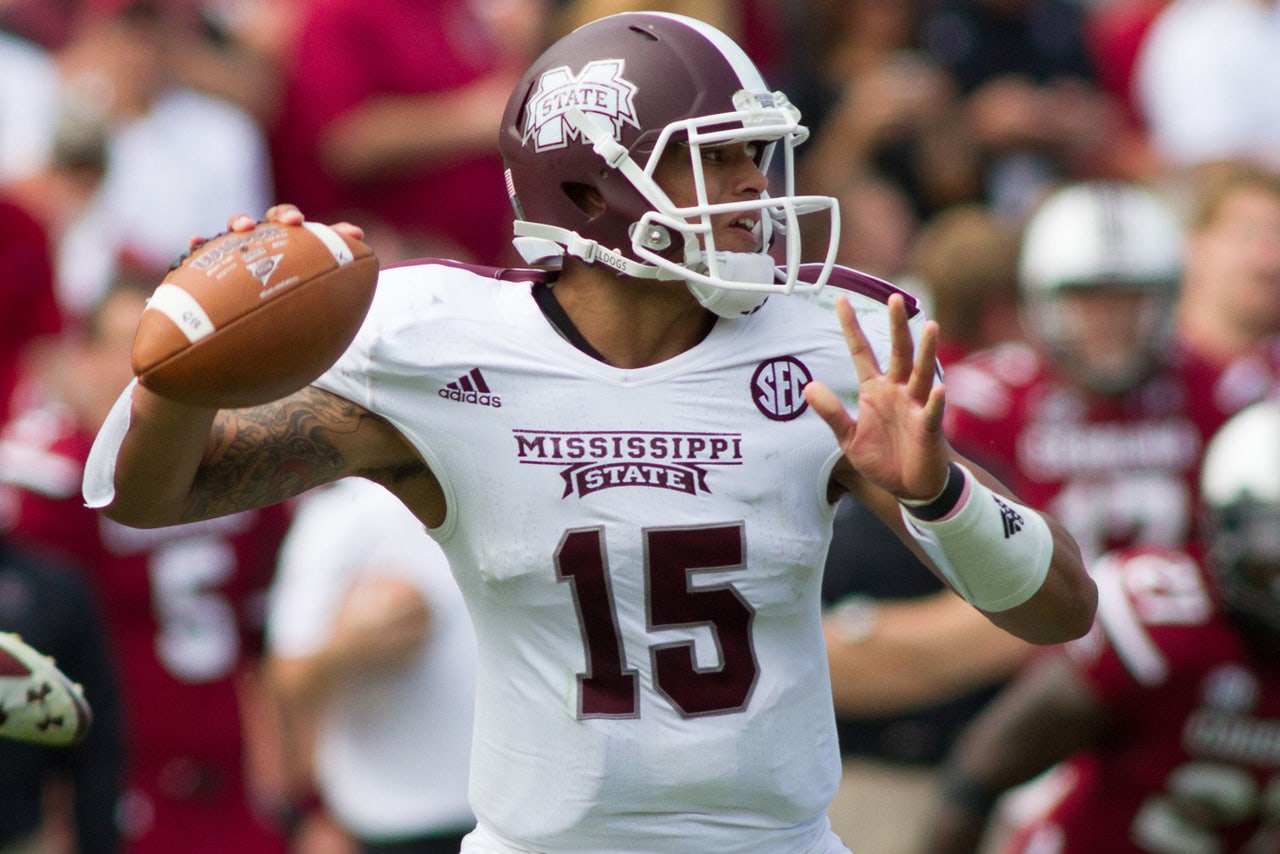 HOOVER, Ala. -- Six of the last seven SEC West champions--the lone exception being Alabama in 2008--have gone on to win the SEC Championship Game. Five of the last seven West winners have taken home the BCS title, and six have played in that championship game.
Mississippi State head coach Dan Mullen believes any team in the West, in part because of the dominance of the division, and in some form Auburn's worst-to-first turnaround last season, has a shot at winning an SEC title this season.
"I think there's seven coaches in the SEC West that expect to find a way to get to Atlanta and win our side of the league," said Mullen on Tuesday at SEC Media Days. "I think that is a pretty unique deal, that that happens. I think that does show the depth, that it is a wide‑open path. I think it has been."
For Mississippi State to have a shot at that title run, quarterback Dak Prescott is going to have to take them there.
In a season where quarterback play is expected to be down in the SEC, the Bulldogs are in a somewhat unique situation to have a signal caller with the ability to put a team on his back.
Prescott started seven games in 2013, and played in four more as an injury to then-starter Tyler Russell forced him into action. Then an elbow injury caused Prescott to miss two games himself, before returning to action for the final two games of the season.
As a part-timer in the beginning of the season, and after missing time late, Prescott still threw for 1,940 yards and rushed for 829. He was responsible for 10 touchdowns through the air, and 13 on the ground.
With that resume, it's hard not to get excited about what Prescott could do in 2014 with a full season worth of games. It's that kind of buzz that has Prescott's name whispered in Heisman conversations, and Mississippi State mentioned as a dark-horse candidate to win the SEC.
Prescott didn't want to talk about his Heisman candidacy, dismissing that as something for the media to discuss. But he did want to talk about the strides he's made in the offseason becoming a better quarterback.
"I feel like I've gotten a lot better on my deeper passes, and I guess people underrated me," Prescott said. "We've gotten a lot better, we've perfected it in the passing game, (and) the timing is getting better. Those deep routes are just coming with timing."
Prescott admitted to taking some heat for being a run-first quarterback, or a passer that only thrived on short passing routes. He also said he knew footwork, as he dropped back in the pocket, was a weakness for him last season.
Much of his offseason was spent fixing those footwork issues, and working to keep his feet in sync with his arm while his entire body stayed balanced during a throw. He said he's come a long way, and expects to throw more in 2014, even from the read-option.
"A pretty good bit," said Prescott when asked how many of his read-option plays now had a passing option. "We've thrown that in there. It's basically from the box count, so depending on what that is, you can do either (run or pass)."
If Prescott has learned how to connect more frequently with receivers on deep routes, and if he's been able to incorporate the passing option more into his read-option plays, this Mississippi State offense has the chance to be truly dynamic.
But Mullen is taking a wait-and-see approach to whether or not he's going to alter the offensive attack.
"Dak is going to be a different player this year than he was last year," said Mullen, and the comment carried more weight than just the difference a year's worth of experience brings. "One of the things is finding out where his comfort level is this year compared to last year, what he's doing well. Throws he's making, is he throwing a deep ball really well better than last year? We might take a couple more shots down the field."
If Prescott truly is in tune with the receiving corps on long passes, "might" will quickly turn into deep-route play calls on Saturday. More important than the extra shots down the field, however, will be how many of Prescott's designed runs turn into passing plays because of all the work he's put in to become a better passer.
Mullen guessed that up to 10 percent of Prescott's rushes last year were designed runs, versus the read-option, where his quarterback made a decision based on what the defense gave him. Another benefit of Prescott growing as a passer could be that 10 percent figure dropping dramatically and turning into passing attempts.
Not only would that help keep Prescott healthy, but it could move Mississippi State's offense down the field more effectively.
---