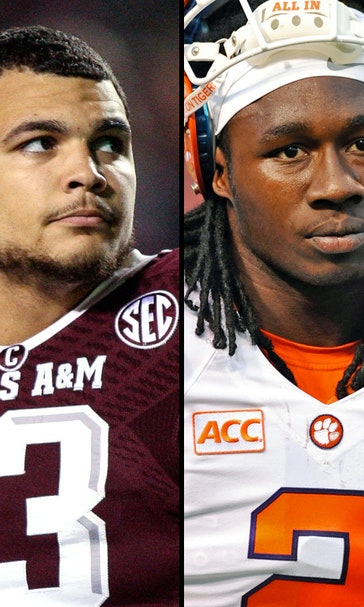 Bucs draft primer: Team should look at WR or QB early
BY foxsports • May 7, 2014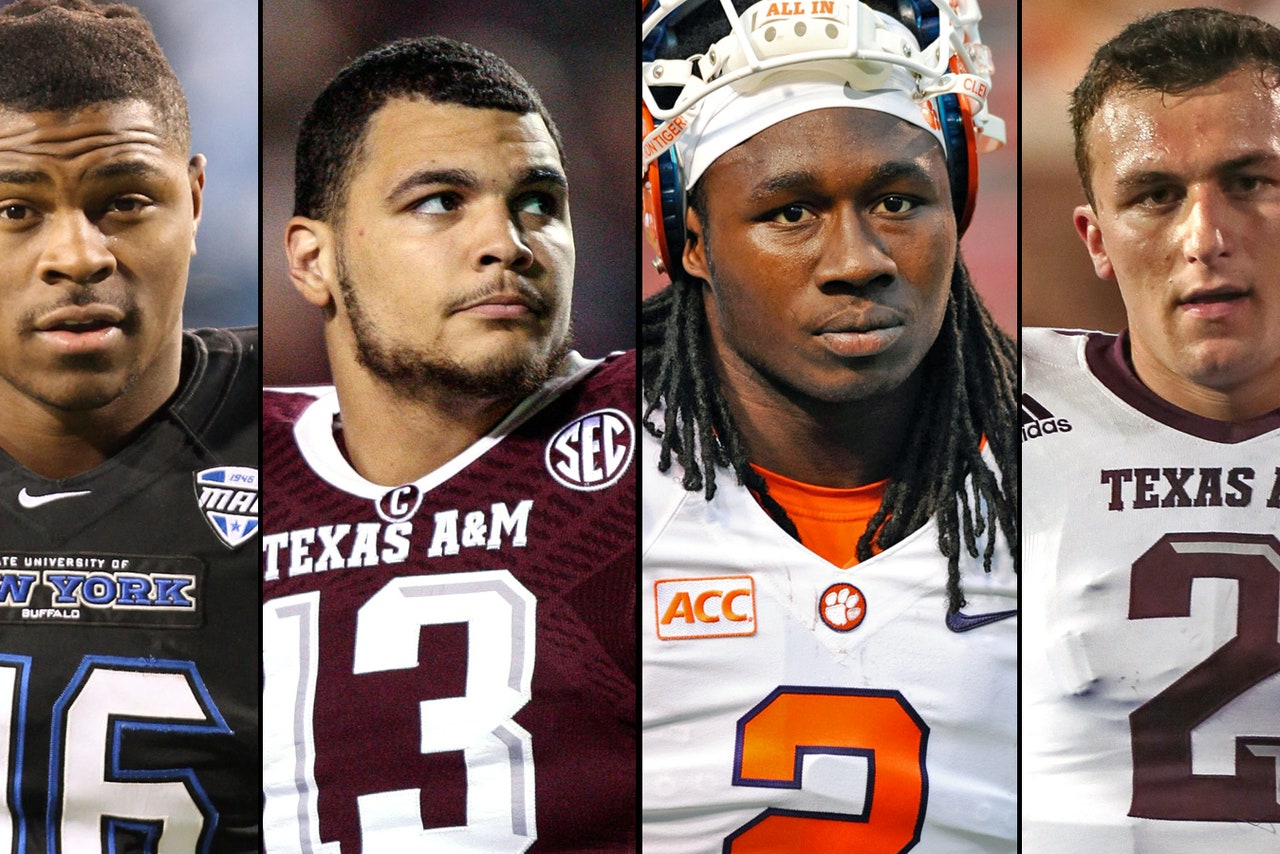 TAMPA, Fla. -- We've almost reached a time when the mock drafts will end. This can't happen soon enough. The NFL's choice to push back the draft to May created more buzz, but fatigue has set in among some of the most diehard fans.
You can only handle so much of a good thing.
Thankfully, all the predictions are almost over. If you've read any of the countless words in recent weeks forecasting what the Tampa Bay Buccaneers will do, you know they're in good shape with the seventh overall pick Thursday night. At least one potential difference-maker should fall to them. Coach Lovie Smith and general manager Jason Licht will have options, whether their choice is quarterback Johnny Manziel or wide receivers Mike Evans and Sammy Watkins or someone else. They should like what they see.
''I think they're in a good place,'' NFL Network analyst Mike Mayock said in a recent teleconference. ''A lot of the teams in the top 10 are talking about trading down because it's such a good draft. ... I think Tampa Bay is in a pretty good place to get a really good football player. One of the two mock drafts I did last night, Sammy Watkins fell to them. From my perspective, what a great pick that would be at seven. You pair him with Vincent Jackson and all of a sudden you help both your quarterbacks, whether it's (Josh) McCown or (Mike) Glennon or whatever. If Watkins would fall to them, I think that would be phenomenal. They're in a good place to sit and get a playmaker.''
That's what the Bucs need with whomever they select in the first round. They need someone who will make an impact right away. They need someone who's ready for this league. They need someone who can handle the expectations that will come with becoming Smith and Licht's first draft pick, someone who can manage the fine print that comes with the fame.
Yes, there will be challenges for whomever the new regime takes first Thursday. It would make sense for Smith and Licht to pick a wide receiver or quarterback, two glaring long-term needs, but the NFL draft is unpredictable.
Who would have guessed that the Bucs would take Glennon last year, an action that set into motion his unlikely rise to the starting spot after Josh Freeman's collapse? The unpredictability makes the draft fun.
So here are six names to watch Thursday night. They all have pros and cons, like each player awaiting his fate. This much we know: Any of them would make the Bucs better now.
(Listed by amount of desire and likelihood of availability.)
QB JOHNNY MANZIEL, TEXAS A&M
Pros: Think of a cross between Brett Favre and Michael Vick. He has all the big-ticket qualities: Intrigue, excitement and potential. Some Bucs fans have dreamed of No. 2 wearing their uniform since he announced his plans to enter the NFL draft. If Smith and Licht pick him, One Buc Place becomes a whole lot more interesting.
Cons: Beware of Robert Griffin III 2.0. Someone of Manziel's build is vulnerable to the wear and tear he'll receive on Sundays. Consider him like a Porsche: He's kind on the eyes, but if he gets dinged, that means bad news for his long-term durability. Manziel must show he can stay healthy with his helter-skelter style of play.
WR MIKE EVANS, TEXAS A&M
Pros: The Bucs need someone who can burn a secondary opposite Vincent Jackson. Evans has an intriguing build: He's 6-foot-5, 231 pounds with an arm length of 35 1/8 inches. He was a first-team All-American who had at least two catches in each of his 26 college games and at least four catches in 25. Like Jackson, he has the potential to box out defenders and make circus catches appear routine.
Cons: His speed is a question among some, though a 4.53 40-yard time at the NFL Combine is impressive for someone of his size. He must show he can accelerate from NFL defensive backs and create separation. His route awareness needs refining, but with the right coaching, his skillset will become more nuanced.
WR SAMMY WATKINS, CLEMSON
Pros: He's the best wide receiver in the draft, hands-down. At 6-1, 211 pounds, he runs a 4.43 40-yard dash -- proof of his ability to stretch a defense with his speed. He produced 23 school records in college, including career catches (240), career receiving yards (3,391) and career touchdowns (27). He boasts advanced hand agility and body control.
Cons: He likely won't be present for the Bucs at No. 7. It will take some creativity from Smith and Licht to snag him higher in the draft. Of course, that will come at a hefty price. With the Bucs reportedly trying to land more draft picks, the reach for Watkins isn't worth it.
OT JAKE MATTHEWS, TEXAS A&M
Pros: Drafting a lineman high in the order is never sexy. Still, the Bucs have a need on the offensive line. At 6-5, 308 pounds, he can be a staple of their line for years on either the left or right side. Long-term success begins up front on both sides of the ball. If Smith and Licht are serious about building through the draft, there aren't many better ways to begin than here.
Cons: Many analysts consider him a lock for good reason, so there's little risk here. Still, it would be better (and more fun) to see the Bucs address needs at wide receiver and quarterback first. This isn't a knock on Matthews, but the Bucs should aim bigger with their first-round pick. Matthews isn't the guy to generate buzz.
LB KHALIL MACK, BUFFALO
Pros: Choose your title. A force. A terror. A defensive wrecking ball. At 6-3, 251 pounds with a 40-yard time of 4.65 seconds, he has a dangerous combination of size and speed that will enhance any defense. If he stays healthy, he'll be an NFL star for years.
Cons: There's no way Mack falls past the first five picks. The Bucs must weigh how much they want him vs. how much they need him. Make no mistake: Mack would be stellar within Smith's scheme. (Can you imagine him and Lavonte David together on the same roster?) But it's hard to see a scenario where the Bucs find a way to make him theirs.
QB BLAKE BORTLES, UCF
Pros: He's a prototypical pocket passer at 6-5, 232 pounds. He has been praised for his ability to deliver strikes under duress, and his leadership was an asset in lifting Central Florida to a season that included a Fiesta Bowl victory. To some, he's a safer pick than Manziel, given his size and build. Think a less-accurate version of Ben Roethlisberger.
Cons: If the Bucs are going to select a quarterback in the first round, do what's necessary to grab Manziel. Bortles looks the part, but Manziel offers the X-factor -- an ability to improvise -- that Bortles can't match. The Bucs should think about the future if they decide to secure a QB early. The question at the center of all debate should be this: Who gives us a better chance to create headaches for defenses long, long into the future? Manziel is the best answer.
You can follow Andrew Astleford on Twitter @aastleford or email him at aastleford@gmail.com.
---