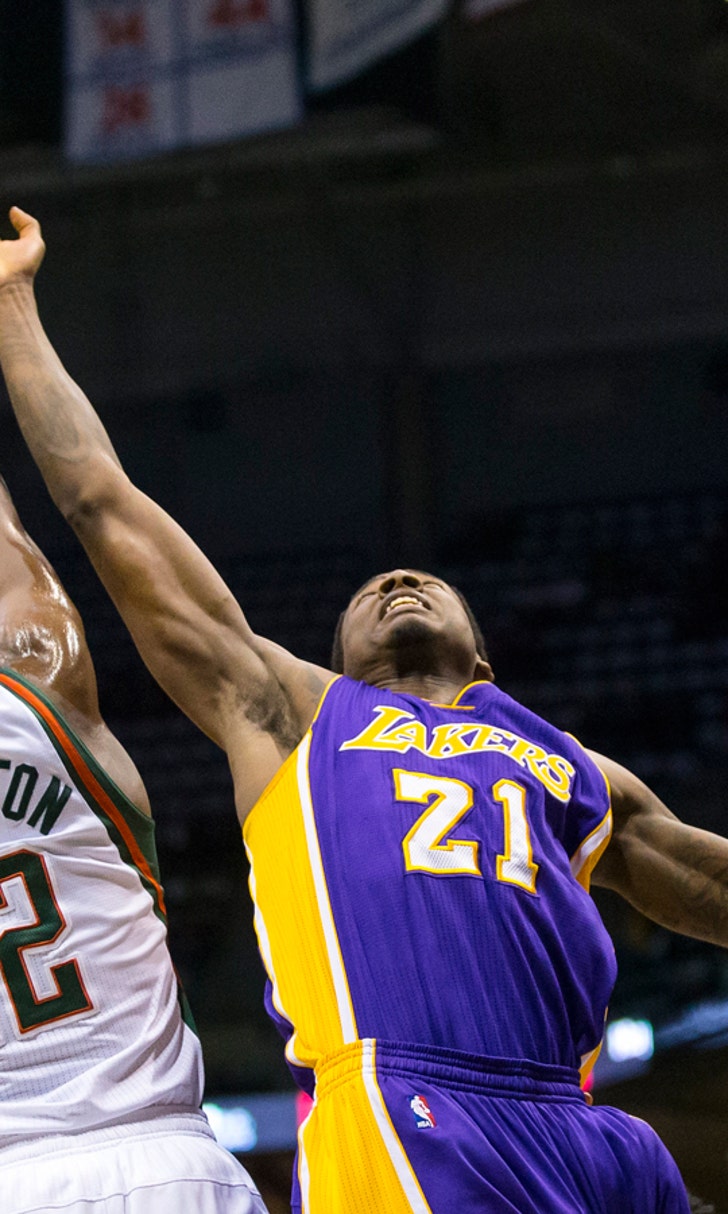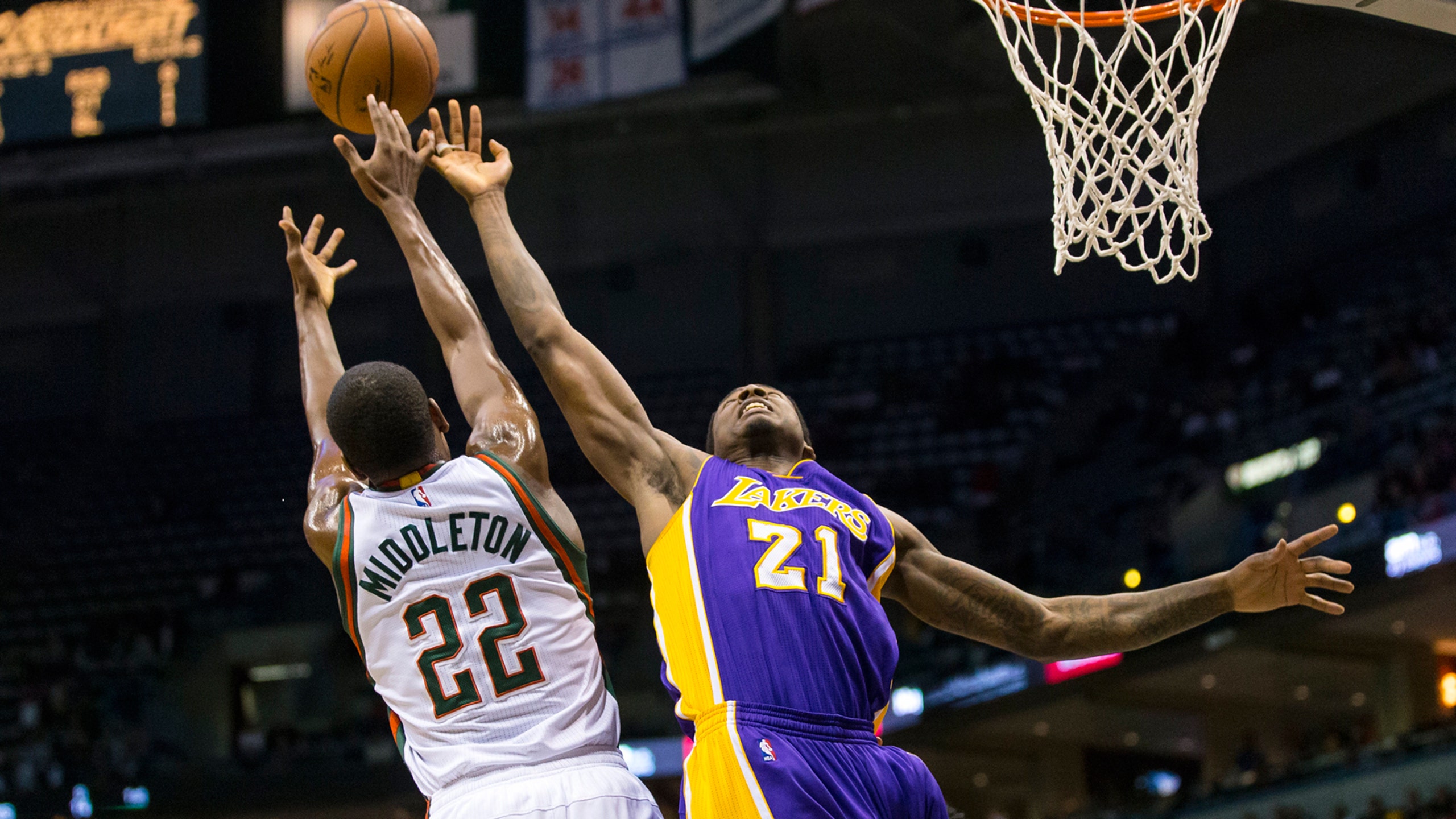 Bucks pull much-needed win from the fire
BY foxsports • February 5, 2015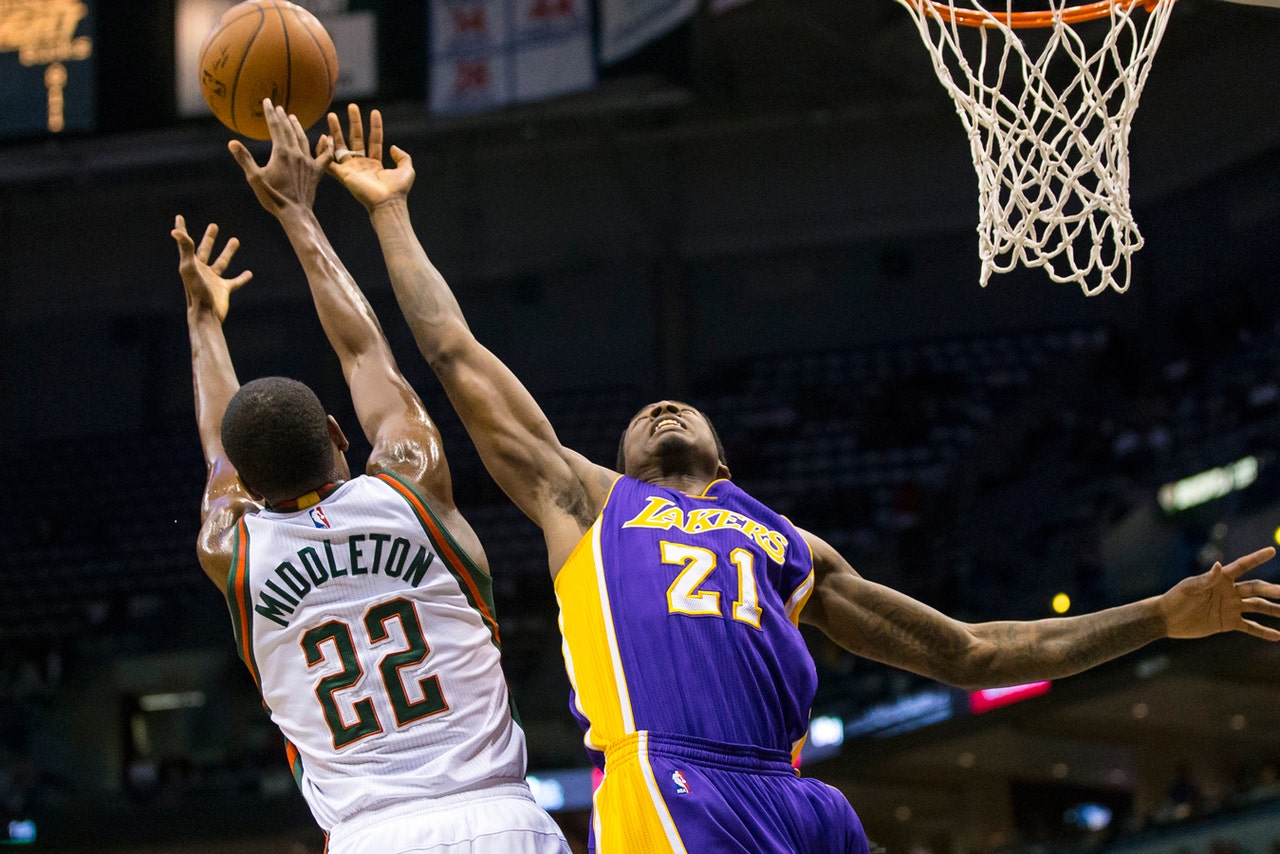 MILWAUKEE -- O.J. Mayo knew he screwed up Monday when his ejection forced the Milwaukee Bucks to play the second half with just eight available players.
He apologized in front of the team in the locker room after the game, but redeemed himself on the court on Wednesday.
Off a handoff pass from Khris Middleton, Mayo drilled a 3-pointer from the left corner with 0.5 seconds left to force overtime. The Bucks controlled the extra session to pull out a 113-105 victory over the Los Angeles Lakers at the BMO Harris Bradley Center.
"We were looking for Juice," Bucks coach Jason Kidd said. "He had just made a big 3 to cut the lead to three. He was the hottest player for us, so we wanted to give it a different look. I thought Khris did a heck of a job of getting the ball to him with the traffic. Then Juice does the hardest part."
It took a late rally for the Bucks to avoid what would have been their most disappointing loss of the season, considering the circumstances.
Milwaukee entered having won four straight, including consecutive wins over Portland and Toronto. The Lakers came in losers of 10 of their last 11 games and seven straight on the road.
Although the Bucks had just nine healthy bodies, they couldn't drop a game to a team that started Jordan Clarkson, Wayne Ellington, Ryan Kelly, Tarik Black and Robert Sacre.
"They are an NBA team, though," Bucks guard Brandon Knight said. "If you give them a chance to win and give them life, they have players that can make plays to win. We gave them life.
"We thought this was a win we had to have as a team. I was joking, but also serious in saying that last year we never approached any game saying, 'We have to have this win. We can't lose this game.' The entire attitude of our team has changed and is going to continue to get better."
Jeremy Lin appeared to put the game away when he put the Lakers up 94-88 on a 3-pointer over Giannis Antetokounmpo with 36.0 seconds left.
Brandon Knight answered back with a triple of his own just five seconds later, pulling the Bucks to within three. His quick answer also allowed Milwaukee to play out the ensuing defensive possession instead of having to foul.
"I wanted to get the best look I could get as quick as possible," Knight said. "I was able to get one and knocked it down."
The Bucks forced Lin into an airball and got the ball back with 7.0 seconds on the clock. With Middleton backing down Wayne Ellington, Mayo came off a double screen from Knight and John Henson to receive the handoff pass and bury the tying shot.
Mayo hit two 3-pointers in the final minute to help the Bucks overcome a late deficit.
"I'm just happy Coach had faith in me to make those two shots," Mayo said. "I had a wide-open one from (Jerryd) Bayless in the fast break that I shot off a little bit and then I freakin' airballed one. I was a little upset with myself, but Coach sat me down, let me regroup and then put me back in there."
Knight took over in overtime, scoring 12 points to outscore the Lakers by himself. After missing Monday's game with a quad injury, Knight began 2 for 10 from the field. But he hit 5 of his last 7 shots and scored 17 of his 24 points in the fourth quarter and overtime.
The fourth-year point guard scored the first five points of overtime and hit a huge 3-pointer to put the Bucks up 107-103 with 57.4 seconds left in the extra session.
"He might have been a little slow there, feeling his way," Kidd said of Knight. "But in the second half, he was the B-Knight that we've had all season. He was able to control the game by scoring and defensively, getting deflections and coming up with steals and then also finding the open guys."
Instead of walking away with an ugly loss to a struggling team, the Bucks woke up in time to keep their winning streak alive. Milwaukee is now just 2 1/2 games behind Central Division co-leaders Chicago and Cleveland with four games remaining before an eight-day All-Star break.
The Bucks had four players score 20 or more points for the first time since 2009. Antetokounmpo led the way with a career-high 25 points, Knight finished with 24, while Middleton and Mayo each added 21.
While answering a reporter's question about how they found a way to win despite playing a lackluster game, Jared Dudley coined what might catch on as this Bucks team's slogan.
"We just grinded it out," Dudley said. "That's our new nickname, the Milwaukee Grinders. We are patenting it right now. Not 'Fear the Deer,' but 'Fear the Grind.' "
Follow Andrew Gruman on Twitter
---