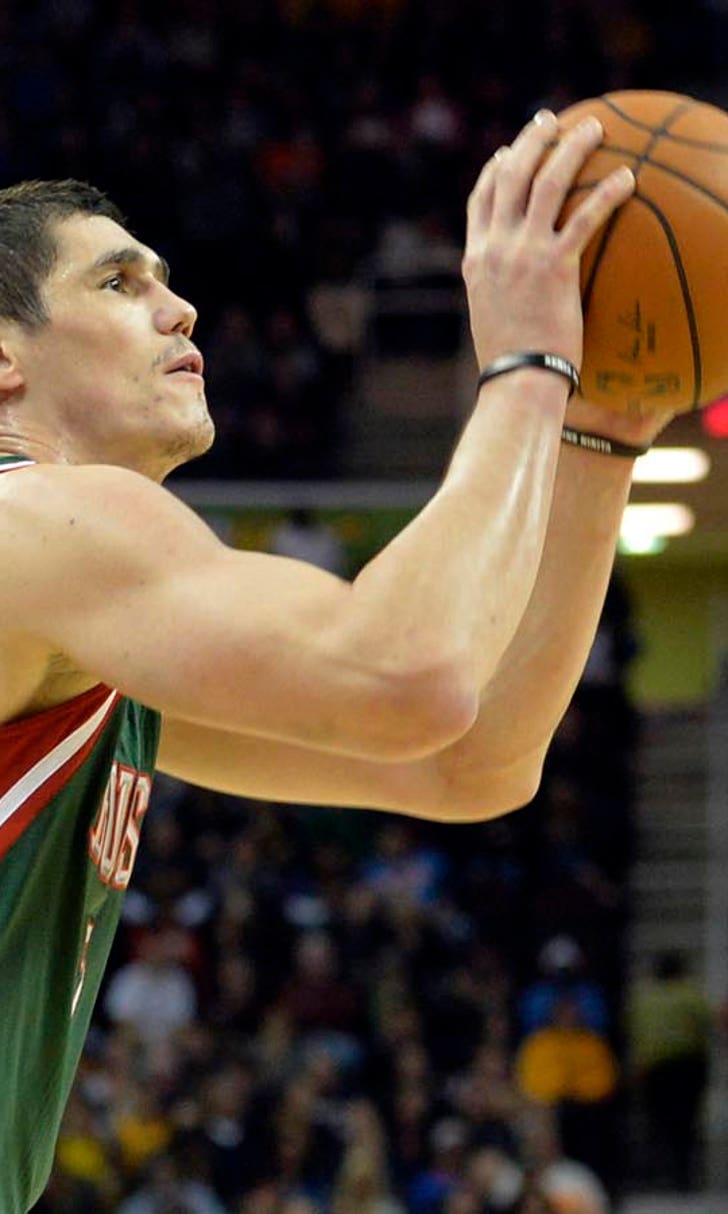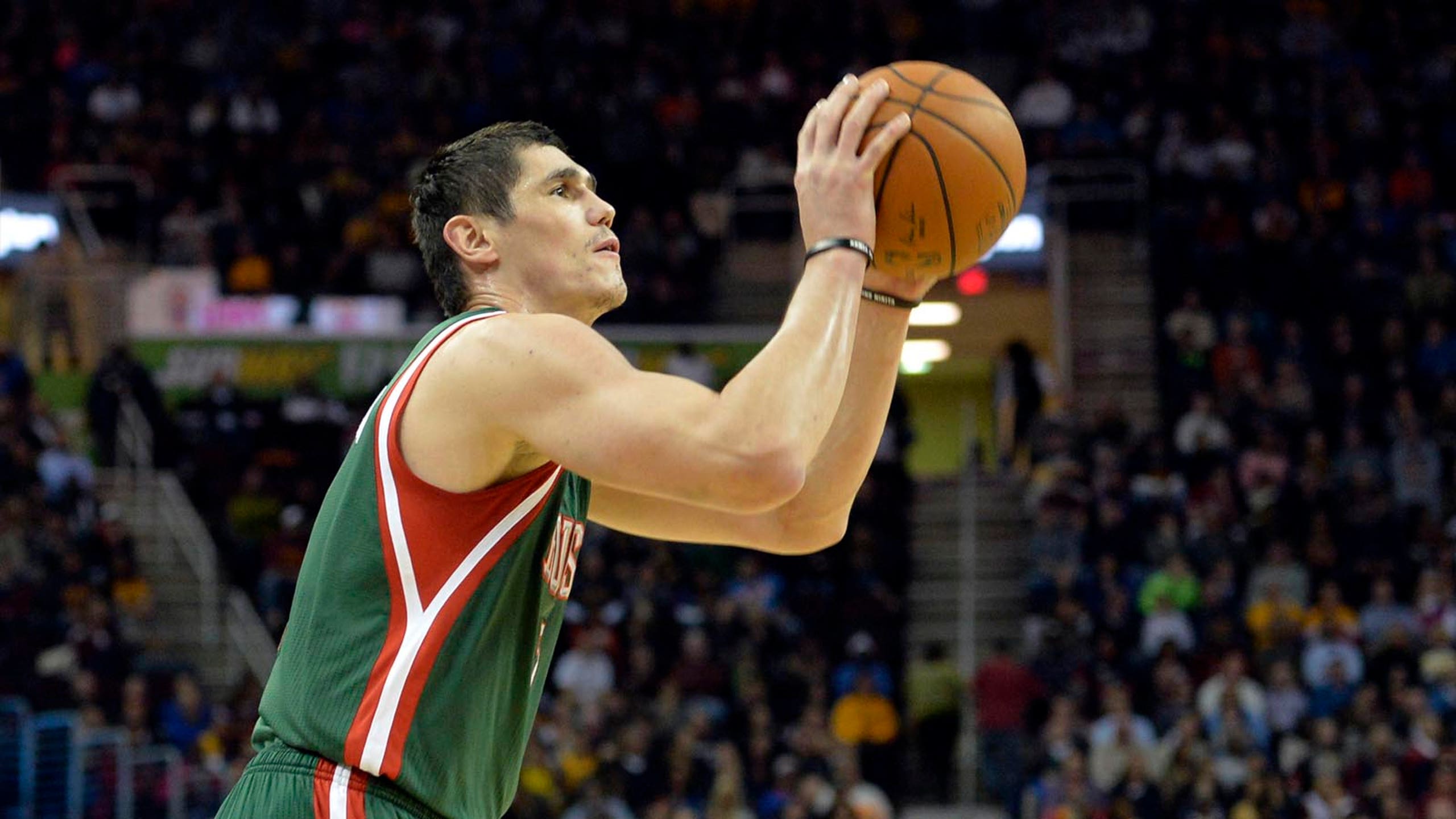 Bucks Monday: Ilyasova progressing 'little by little' toward return
BY foxsports • January 5, 2015
ST. FRANCIS, Wis. -- Milwaukee Bucks forward Ersan Ilyasova was back on the court Monday for the first time since suffering a concussion during a loss to Charlotte on Dec. 23.
Ilyasova will miss his seventh consecutive game Tuesday when the Bucks host the Phoenix Suns at the BMO Harris Bradley Center, but the 27-year-old is taking steps toward a return.
"It is little by little," Ilyasova said following Monday's practice at the Cousins Center. "It was my first time on the floor. Before I was just doing bike and seeing how I feel. Now I'm running up and down the floor. I feel better. (Tuesday) I am going to try to do a little bit more and see how I feel."
With a stretch of four games in five nights looming, the Bucks went through a non-contact practice Monday. Bucks coach Jason Kidd said Ilyasova was able to participate in the team's walkthrough and offensive and defensive review session.
Ilyasova missed nine games after suffering a fractured nose and a minor concussion on Dec. 2 in Cleveland. The injury required surgery, leaving him time to pass the concussion protocol before returning.
During the fourth quarter of his first game back on Dec. 23, Ilyasova suffered a concussion from an inadvertent blow to the back of the head from teammate Zaza Pachulia.
"It was those things coming together," Ilyasova said. "I got really bad headaches and things got worse. But now I feel much better."
Although he had two head injuries occur in the span of a month, Ilyasova isn't concerned about any lasting effects.
"I try to protect my face, but you never know what will happen," Ilyasova said. "Thinking about that (while playing) is a really bad thing. That's why I never think about it. As soon as I step out on the floor I try to play hard. Sometimes you have to deal with it. It is what it is. I want to come back at 100 percent."
The Bucks could use the 6-foot-10 stretch forward back sooner rather than later, as Milwaukee has been playing short-handed in the frontcourt with Jabari Parker out for the season with a torn ACL in his left knee and Larry Sanders away from the team due to personal reasons.
Although Monday was a step toward a return, Ilyasova isn't shooting for a specific game just yet.
"It is more like day by day," Ilyasova said. "I am going to do add things every day, and I will see how it feels. With this kind of injury -- it is not an ankle -- you have to be really careful with it.
"The schedule is tight. We have four games in five nights. I want to go through a full practice before I play in a game. It is all about feeling better and adding things every day."
After a slow start to the season, Ilyasova was playing well before he broke his nose, averaging 15.8 points and shooting 56.0 percent from the field in the eight games prior to Dec. 2.
He was clearly rusty on Dec. 23, hitting just 2 of his 8 field-goal attempts while scoring four points in 16 minutes before leaving injured.
"Yeah it is (frustrating), especially because we are so short of guys with a lot of injuries going around," Ilyasova said. "It is part of the game. I finally had started catching my rhythm. At the beginning of the season there were a lot of new things. I was finally adjusting to those things. But now it is all about catching up again."
Nothing new with Martin: After Kenyon Martin worked out for Milwaukee's coaching staff last week in Cleveland, speculation began as to if the Bucks would sign the veteran power forward in the near future.
The Bucks didn't make any roster moves Monday -- the first day NBA teams could sign players to 10-day contracts. Kidd said he hasn't been in contact with Martin since the meeting but wouldn't rule out the addition of the 37-year-old or another free agent down the road.
"No, there aren't any doors closed," Kidd said. "They are all open. There hasn't been any contact (with Martin) though."
Injury update: Bucks rookie forward Damien Inglis underwent successful right ankle surgery Monday in Charlotte, N.C.
Dr. Robert Anderson at the Carolinas Medical Center - Mercy performed the procedure that will require Inglis to miss the remainder of the season. There is currently no timetable for his return to basketball activity.
Drafted No. 31 overall in this past June's draft, Inglis didn't appear in a game this season after a fractured right ankle suffered during a draft workout with the Oklahoma City Thunder never properly healed.
Fellow rookie Jabari Parker also underwent surgery Monday in New York City. Details of Parker's surgery have yet to be released by the team.
Follow Andrew Gruman on Twitter
---