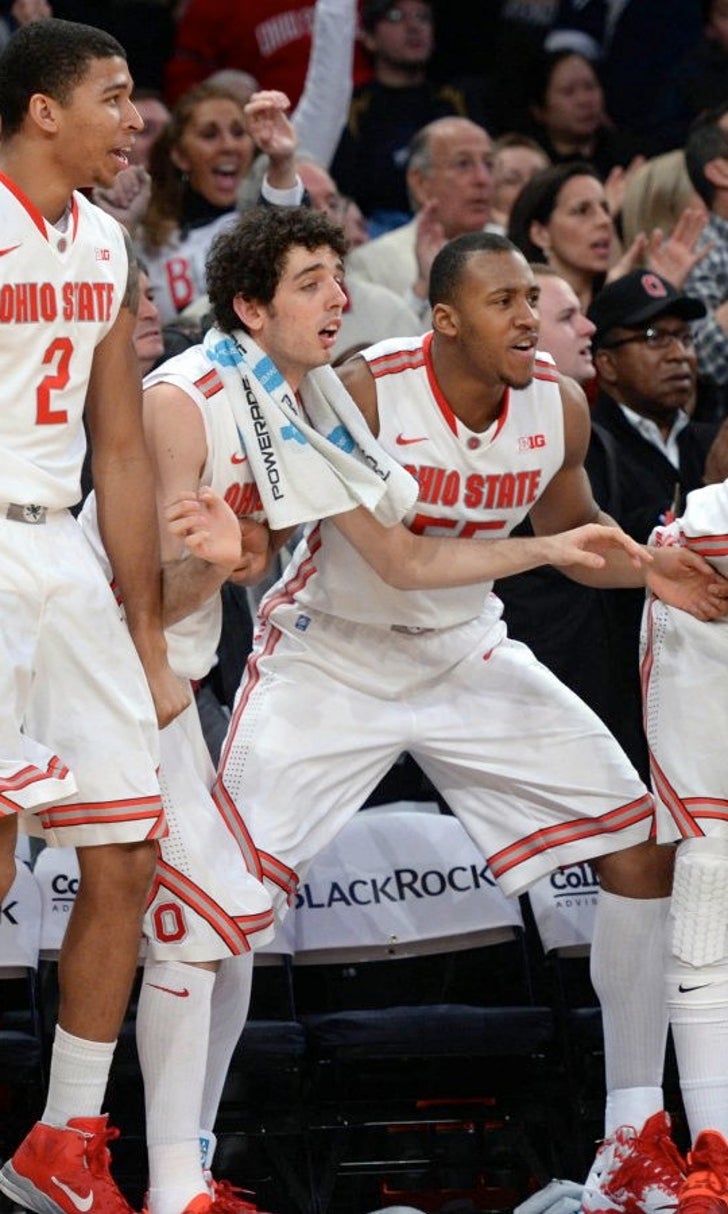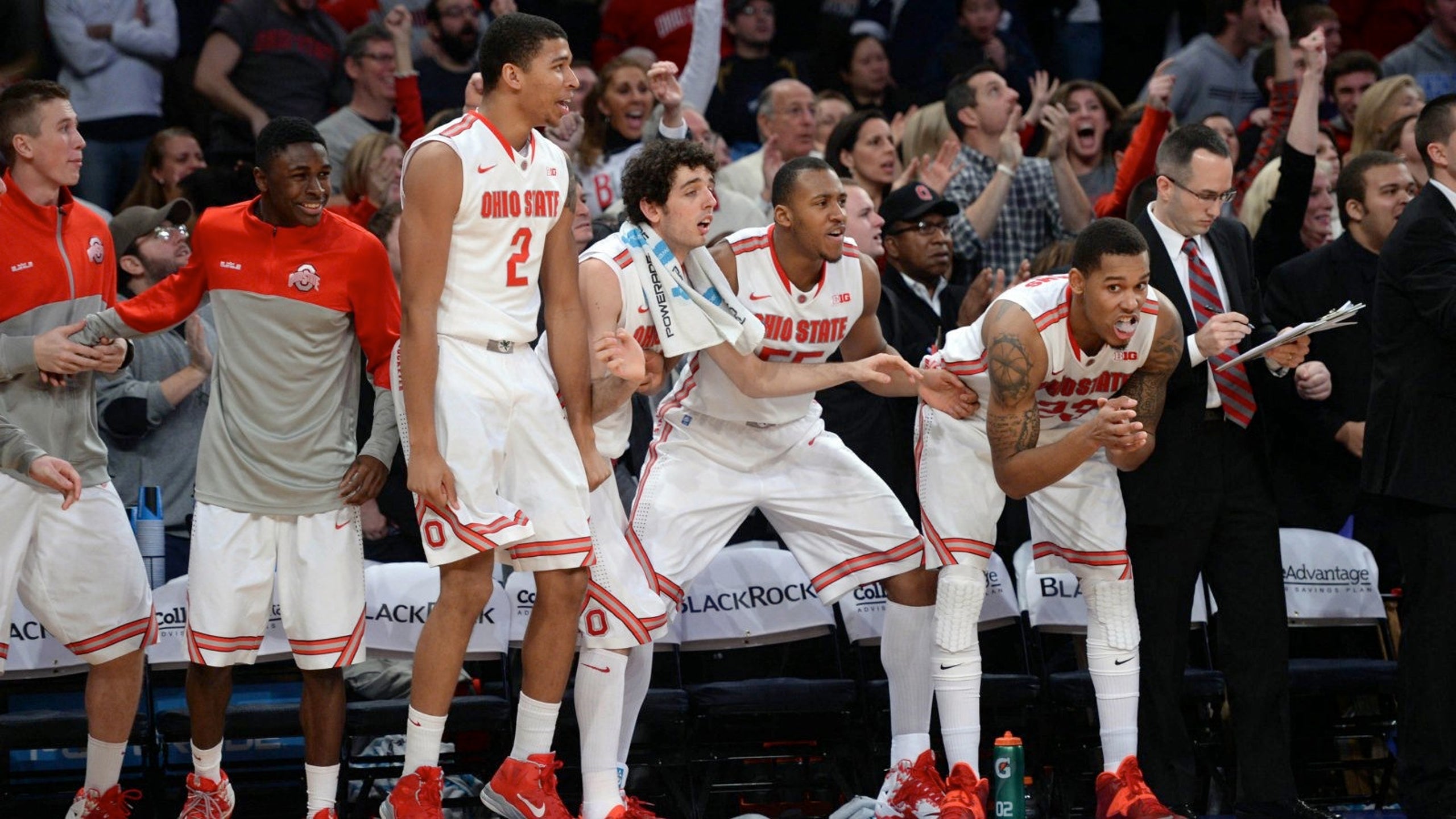 Buckeyes come back in last minute to beat ND 64-61
BY foxsports • December 21, 2013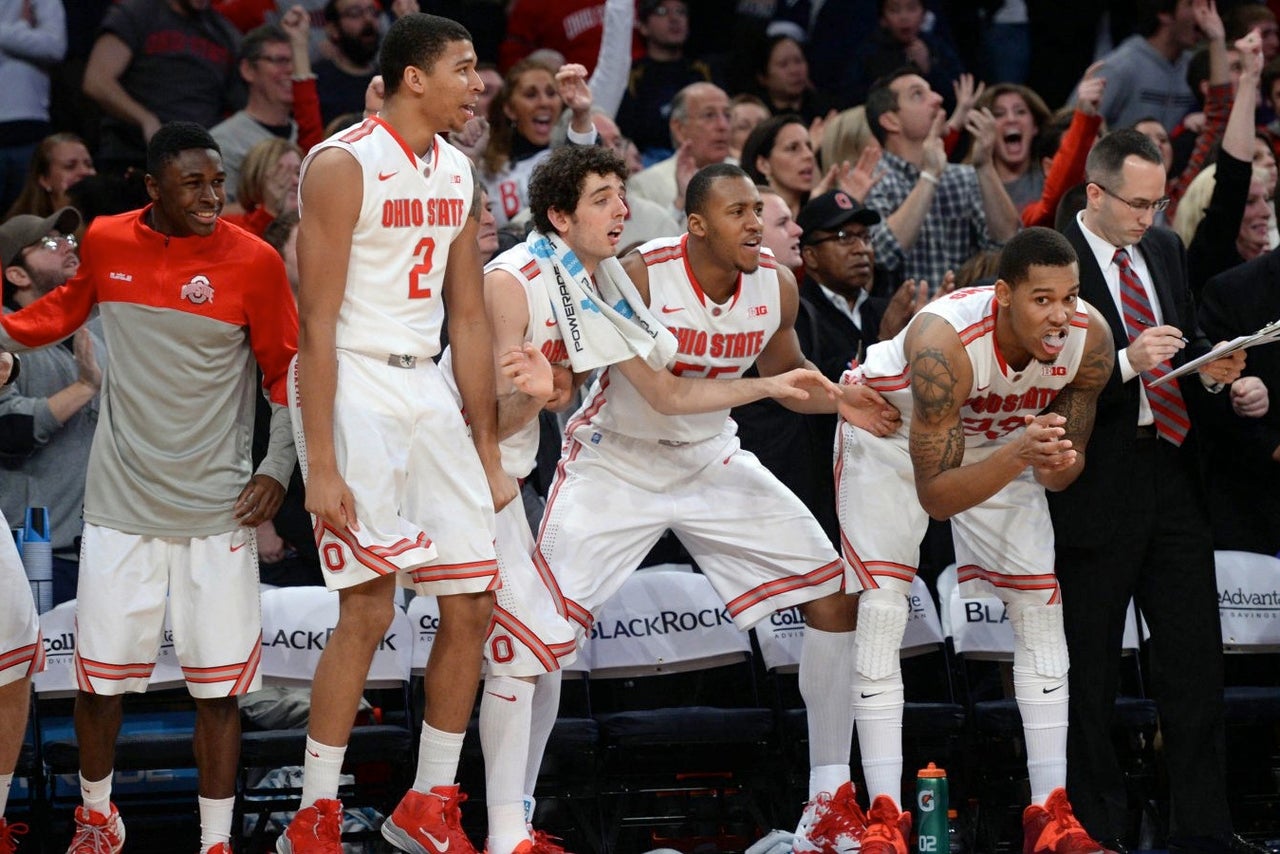 NEW YORK (AP) -- Notre Dame had its first big win of the season almost wrapped up.
The Fighting Irish had a seemingly comfortable lead over No. 3 Ohio State with less than 2 minutes to play.
Instead of that signature win, Notre Dame wound up with a loss that could be hard to bounce back from, 64-61 on Saturday night in the BlackRock Gotham Classic at Madison Square Garden.
"I am so thoroughly disappointed," Notre Dame coach Mike Brey said. "We had such a good chance at such a great win."
Ohio State turned up the defensive intensity to close the game on a 14-3 run.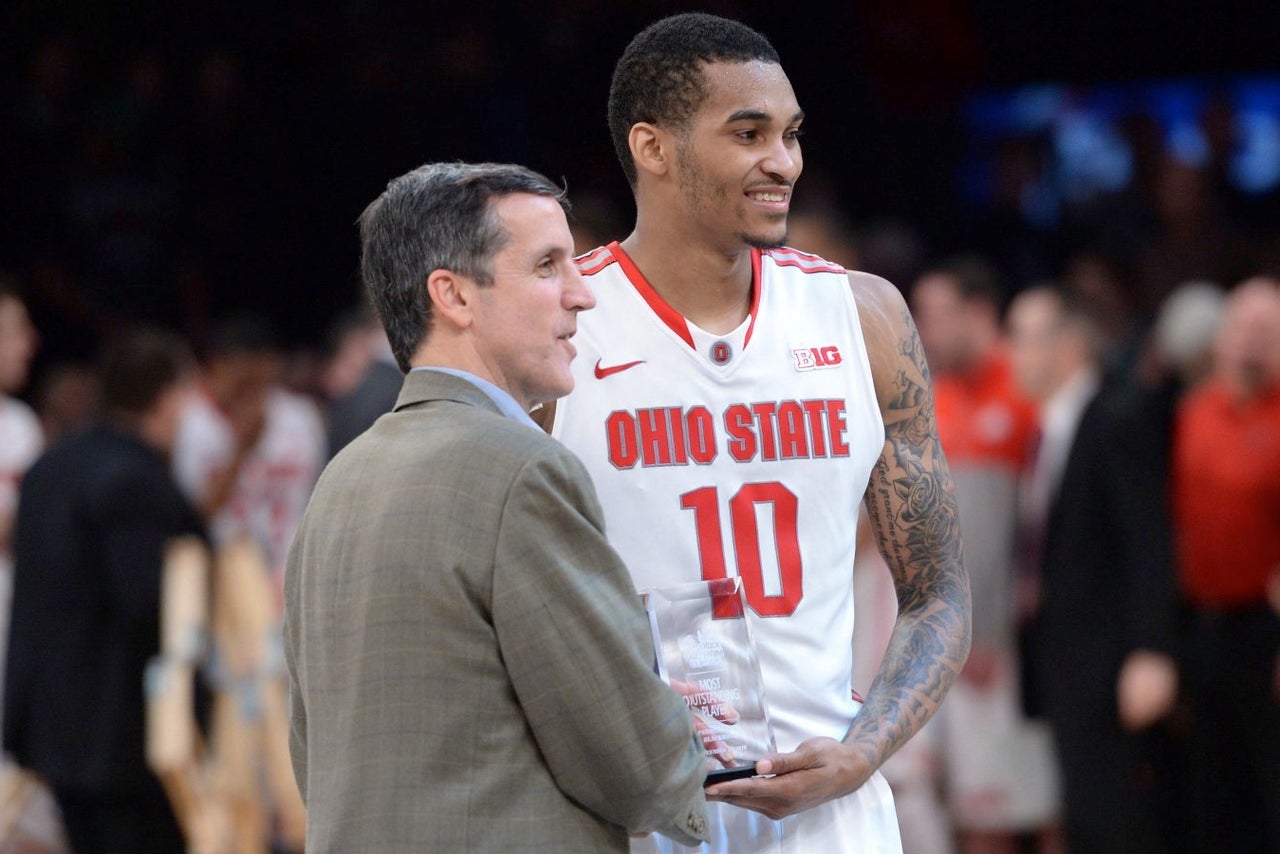 Ohio State Buckeyes forward LaQuinton Ross (10) is awarded with the game's most outstanding player trophy after the Gotham Classic against the Notre Dame Fighting Irish at Madison Square Garden. The Buckeyes won the game 64-61. 
"I don't really know what happened. It was a big blur," Ohio State senior guard Aaron Craft said. "We never stopped. We never gave up. Guys were running around getting tips and guys made big free throws."
While a few players did come up with big defensive plays, it was mostly one guy who made the free throws for the Buckeyes (12-0).
Lenzelle Smith Jr. scored seven of his nine points in the final 33 seconds -- including going 5 of 5 at the line -- to lead the rally.
"I'm still trying to figure out what happened," Ohio State coach Thad Matta said. "My mind was fixated on if we wanted to foul with the time situation or do we play it out defensively and all of a sudden it was closer and closer and closer and we get the lead. It happened quick, It was a great win."
The Buckeyes went 9:10 without a field goal and at one point were 6 of 21 from the field as Notre Dame (8-4) opened up its lead.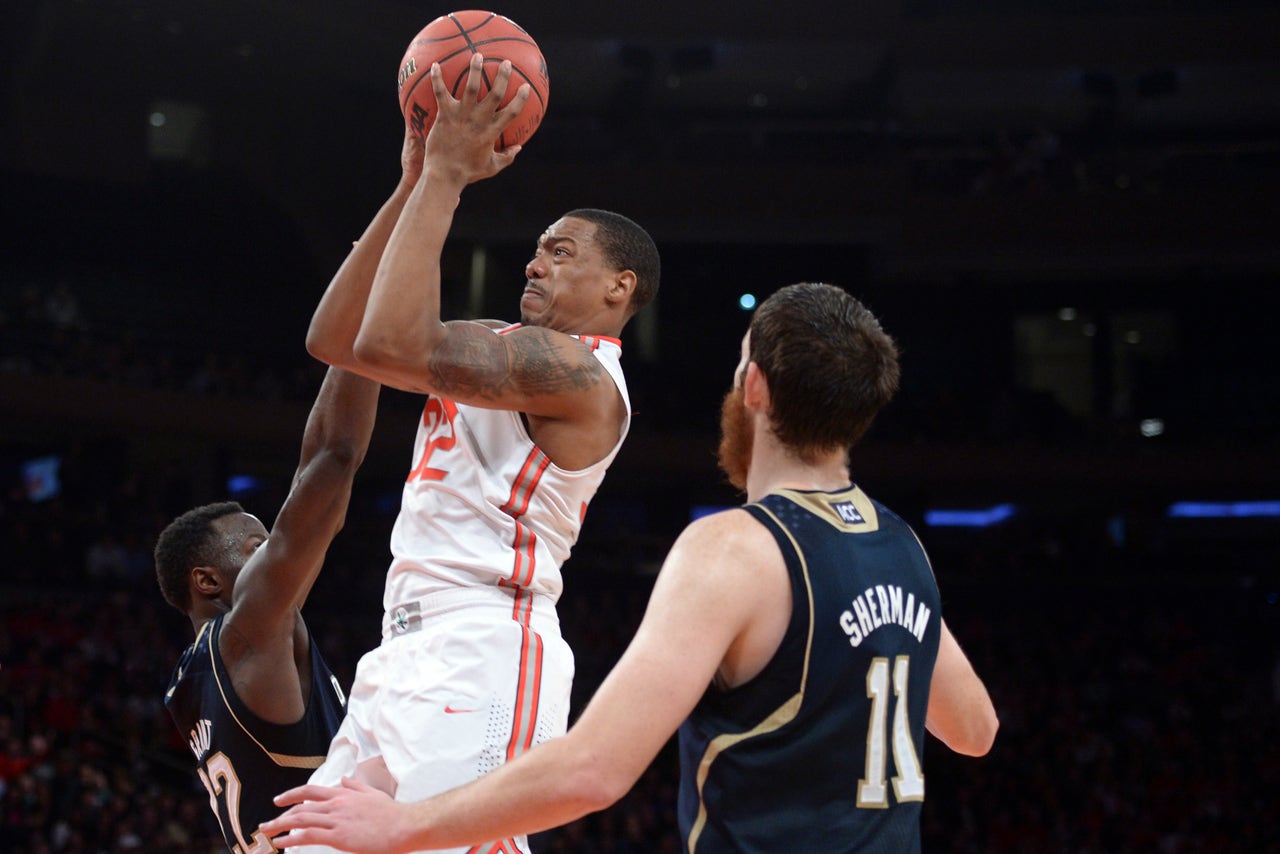 Ohio State Buckeyes guard Lenzelle Smith Jr. (32) takes a shot against the Notre Dame Fighting Irish during the second half of the Gotham Classic at Madison Square Garden. The Buckeyes won the game 64-61.
"I thought we did a good job in the zone knowing the shooters and jamming the lane, keeping it to one and done," Brey said. "And then we got into such a good offensive rhythm to get some breathing room. But you are never going to be out of the woods against a team like that."
Jerian Grant hit a 3-pointer as the shot clock was expiring to give the Fighting Irish a 58-50 advantage with 1:54 to play.
The Buckeyes converted consecutive steals into a 58-56 deficit with 40 seconds to go.
Demetrius Jackson made two free throws for Notre Dame a second later.
Smith was fouled taking a 3-pointer and he made all three free throws to bring Ohio State within 60-59 with 32 seconds left.
Steve Vasturia, who was in the game because point guard Eric Atkins had fouled out, missed the front end of a 1-and-1 with 31 seconds left, his first free throw attempt of the season.
Smith scored down low on a nice pass by Craft to give the Buckeyes a 61-60 lead with 16 seconds to go. After a Notre Dame turnover, Smith made two free throws for a 63-60 lead with 9.8 seconds left.
Grant made one free throw with 6.7 seconds left and Craft made one free throw with 3.3 seconds left.
Jackson missed a potential tying 3 as the buzzer sounded.
"They really turned the heat up on us and flustered us. We had a hard time doing anything right," Brey said. "We didn't have Atkins, but the other guys should have handled it better."
LaQuinton Ross had 16 points and 11 rebounds for Ohio State while Amir Williams had 13 points and Shannon Scott and Craft both added 10.
Grant had 18 points for Notre Dame, which committed five of its 13 turnovers in the final 2 minutes, while Garrick Sherman had 14 and Pat Connaughton 13.
"I'm a senior and I have to find a way to not turn the ball over when we didn't have our point guard in there," Grant said.
The Buckeyes shot 34.5 percent in the second half (10 of 29, including missing all nine 3-point attempts). They went 9:10 without a field goal in the second half, and that's when Notre Dame opened a 52-44 lead with 5:33 to play.
Williams dunked on the next possession to end Ohio State's long drought.
Notre Dame opened the second half on a 9-2 run that tied the game at 35. The run was started by a 3-pointer by Atkins, the Fighting Irish's first in seven attempts from beyond the arc.
"I love how we fought and competed in a road atmosphere but we didn't finish it," Brey said.
---