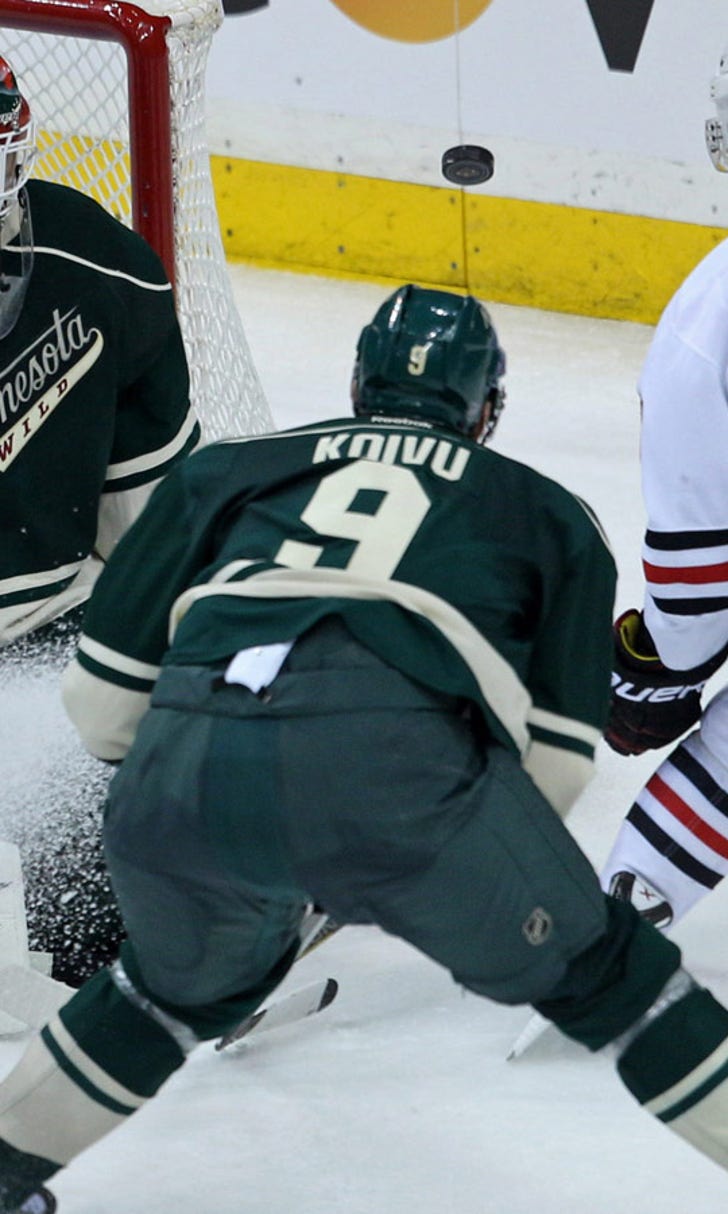 Bryzgalov enjoys 'very, very nice' night in shutout victory
BY foxsports • May 7, 2014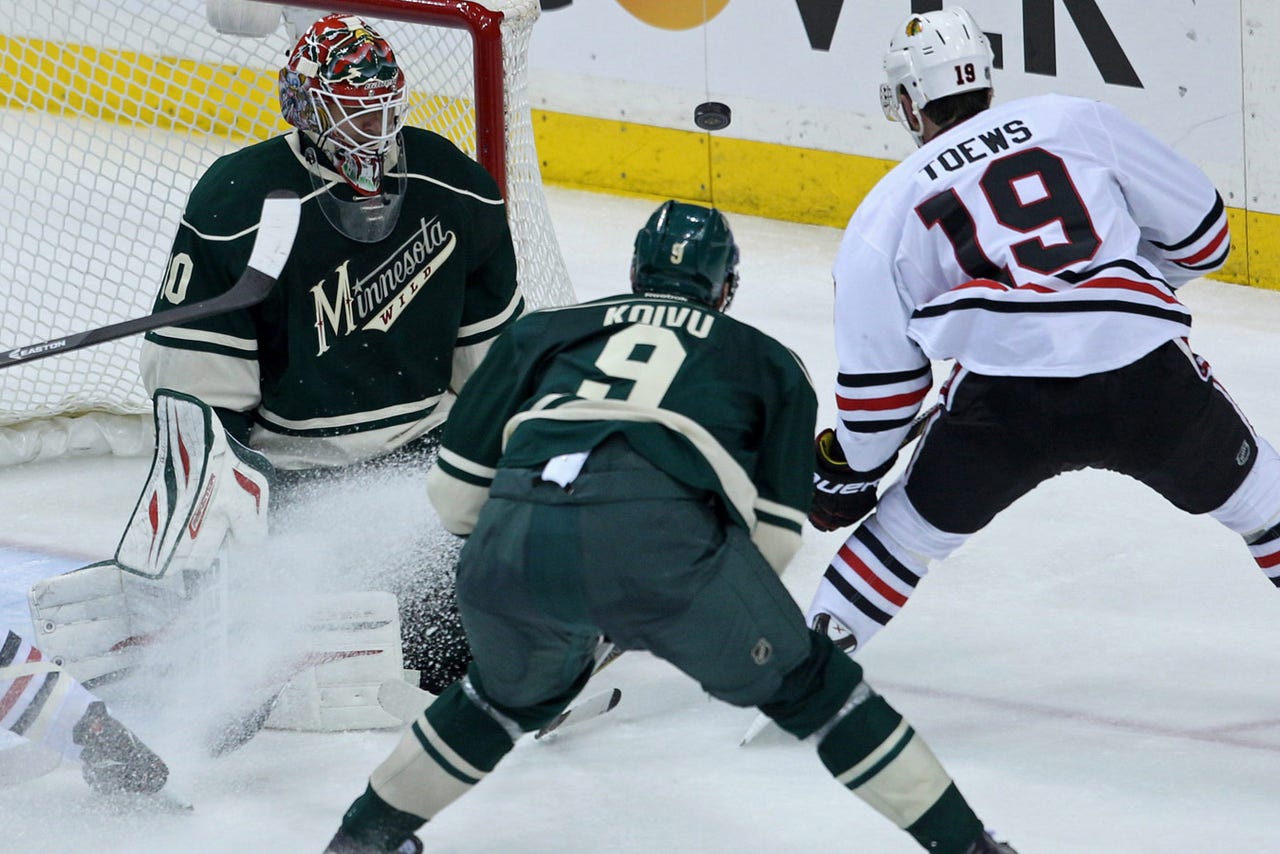 ST. PAUL, Minn. -- The last time Ilya Bryzgalov tended goal like this, Sean Paul's "Temperature" topped the music charts. "300" ranked as America's most popular feature film.
Wild center Mikael Granlund, who scored twice in Minnesota's monumental Western Conference semifinal win Tuesday against Chicago, was 14 years old. The Anaheim Ducks still had the word "Mighty" in their official brand moniker.
Bryzgalov himself was 25 then.
"Thanks for reminding me," scoffed the Russian netminder, now 33.
Nearly eight years to the day since his career-defining scoreless streak in 2006 while playing for Anaheim, Bryzgalov backstopped his current team back into their Stanley Cup Playoffs series against the defending champions.
The stakes were similar when the quirkmaster they call "Bryz" kept Calgary (Games 6 and 7) and Colorado (Games 1, 2 and 3) without a goal for 249 minutes, 15 seconds -- the second-longest scoreless stint by one goalie in NHL playoff history -- in 2006. Lose at home Tuesday, and Minnesota's second-ever trip past the playoffs' first round would almost surely end in the conference semis.
But with its trade-deadline acquisition from Edmonton looking as sharp as he has in a green and white sweater, the Wild cut Chicago's two-game series lead in half.
In four previous starts this postseason, Bryzgalov allowed 15 goals, including seven during two games in Chicago as the Blackhawks gained a seemingly commanding 2-0 advantage. His only win came courtesy of one save in Minnesota's Game 7, first-round clinching overtime victory over Colorado.
He'd taken over for an injured Darcy Kuemper, who had replaced Bryzgalov midway through Game 2 but suffered an upper-body injury in the third period of the series finale.
"It's a little bit of relief," Bryzgalov said of his 18-save performance Tuesday. "It's obviously nice, but I just enjoy to win the game."
So does a team that's dressed seven goaltenders this season. The Wild acquired Bryzgalov in exchange for a fourth-round pick so he could provide insurance behind Kuemper, who took over after Josh Harding and Niklas Backstrom went down with injuries.
But the 23-year-old rookie suffered a separate upper-body ailment of his own in late March. Bryzgalov started six of Minnesota's final eight regular-season games and the first two contests in Colorado.
Both a victim and a beneficiary of the Wild's season-long crease circus, Bryzgalov never grew outwardly frustrated, team captain Mikko Koivu said.
"I think he's too experienced for that," Koivu said. "Obviously, he's been through a lot. He won the Cup (with Anaheim in 2007), and when you're in the league as long as he's been, there's gonna be ups and downs. As a player, you know the level you're playing in, and you know that when you're doing the right things, good things will happen to you."
Never was that more true than Tuesday night.
With the Wild continuing to cut down shooting lanes, Bryzgalov wasn't called upon often. But when pucks did get through, he exhibited rebound control unseen since the regular season.
Bryzgalov faced only four shots in the third period. Since 2003, the Blackhawks -- who eliminated Minnesota 4-1 in last year's Western Conference quarterfinals -- have been held to 22 or fewer shots in seven playoff games.
Three of them have come in this series.
"We play very, very, very nice hockey," Bryzgalov said.
But esoterically, the YouTube sound-bite sensation played the angles aggressively and moved across the goalmouth with the confidence he exuded during those three straight postseason shutouts back in 2006. The last came May 7 of that year.
At present, Bryzgalov remains Minnesota's goalie for the foreseeable future. Kuemper is slowly working his way back into playing shape, and Harding has been participating in the team's morning skates, but in a limited capacity.
And after the way he played Tuesday, it's hard to concoct a scenario in which Bryzgalov doesn't start Game 4 Friday night back at the Xcel Energy Center.
"I think getting the win for him is big," coach Mike Yeo said. "This is also the first playoff game that he's played in our building, too.
"I thought he looked very confident early in the game. He was definitely out. He was challenging. He was aggressive in his game. Hopefully, this is something he can definitely build off of."
Then again, there's rarely an iota of predictably when it comes to the Wild's goaltending situation this season.
"I don't think you can explain it," Wild star Zach Parise said. "My guess is it's just something that's not even a distraction for us anymore. It's, 'Hey who's starting tonight?' We'll see, and we'll respond. We've done a good job of that."
Follow Phil Ervin on Twitter
---