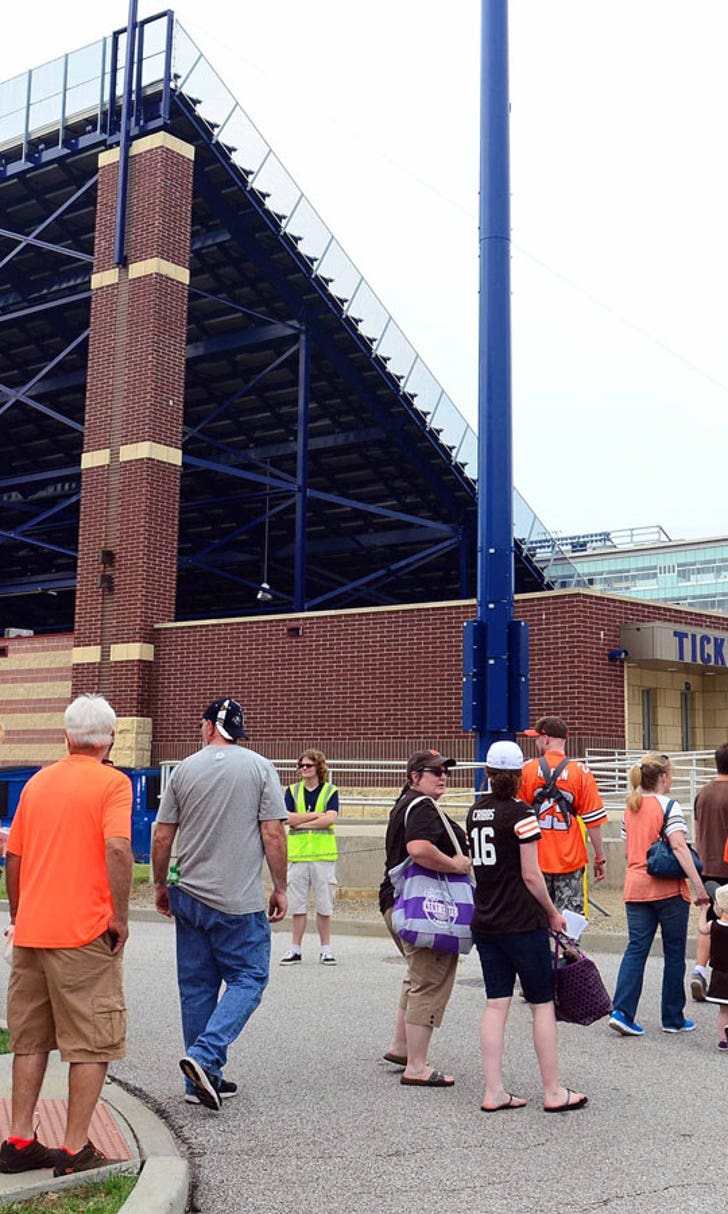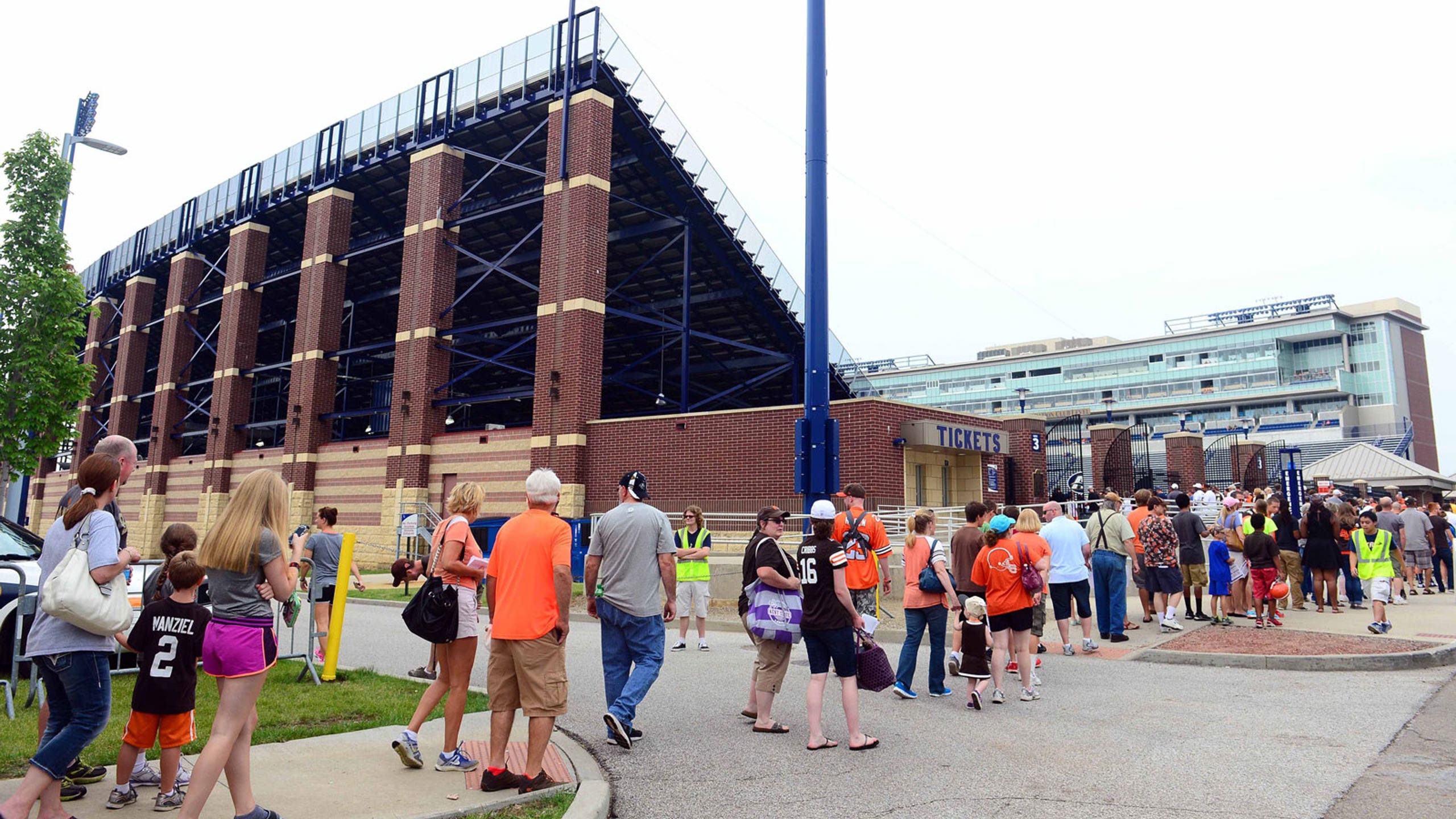 Browns exploring multiple possibilities for training camp site
BY foxsports • August 12, 2014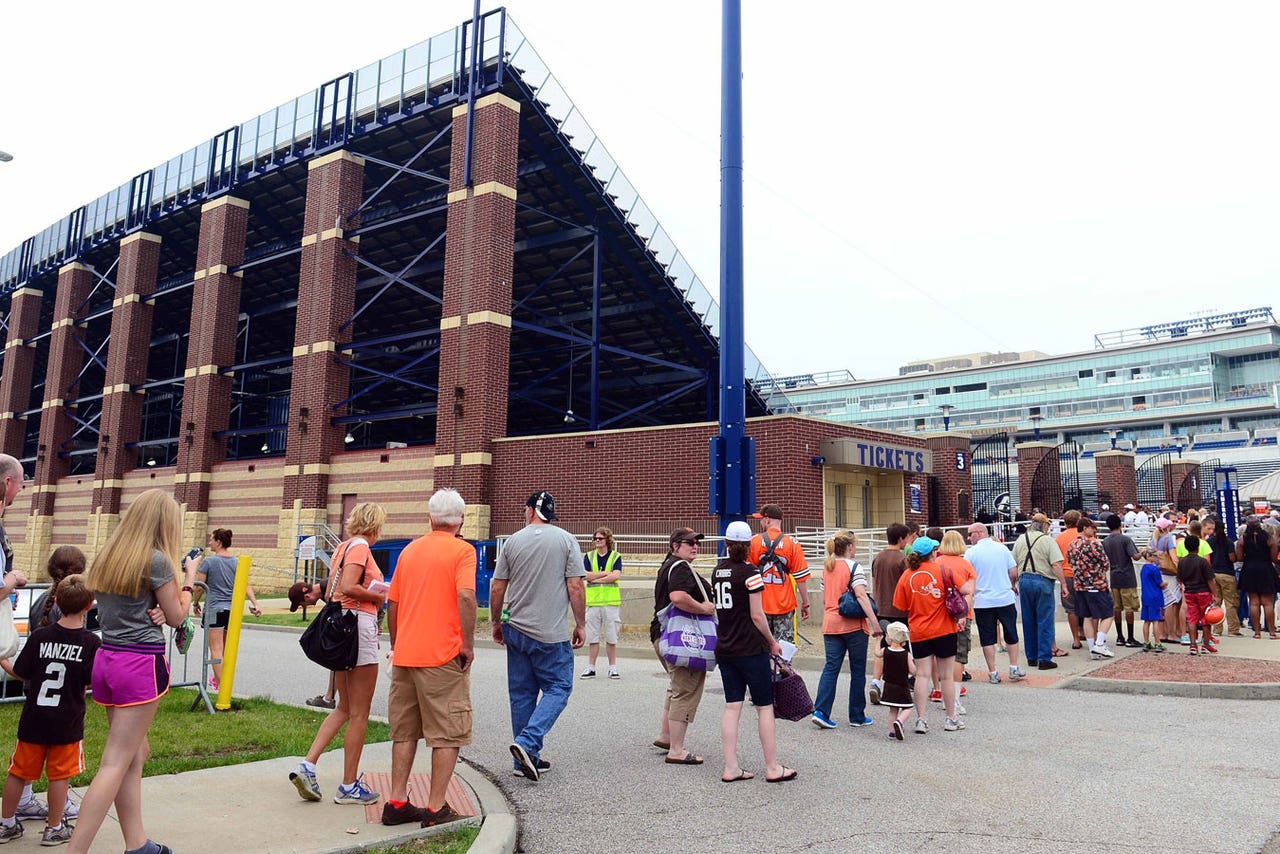 AKRON, Ohio - The thought that the Cleveland Browns could move training camp to the University of Akron is "real," according to those leading Akron's push, and discussions between the two sides are expected to continue.
But Akron is not the only site the Browns are exploring when it comes to a potential off-site training camp home. The Browns sent a letter to multiple Columbus-area universities to gauge interest in hosting the team and are expected to receive at least one proposal. Additionally, a Kent State University source confirmed at least preliminary talks between Kent State and the Browns.
Based on what Browns president Alec Scheiner has said, nothing has been decided and more potential sites could be explored -- though the Browns have put a deadline on official proposals for the end of this week. Reached last week by FOX Sports Ohio, both Hiram College football coach Randy Moore and director of athletics Ellen Dempsey said they could not comment on whether or not the Browns and Hiram have had discussions.
Hiram, located in northeast Portage County about 20 miles from Kent and 45 miles across Northeast Ohio the Browns current day-to-day home in Berea, hosted Browns training camp from 1952-74.
The Browns have hosted camp at their Berea headquarters every year since returning to the NFL in 1999. The drafting of Johnny Manziel has led to record crowds this year and the team implementing a pre-registration system for fans who attend. New Browns head coach Mike Pettine is thought to be in favor of at least exploring an off-site move. Each of Pettine's three previous NFL stops were at teams who hold training camp on college campuses.
"I think the first thing you look at is when you're talking camp (is) safety for your players," Pettine said at the beginning of training camp. "The condition of the fields is very important. Having ample grass practice fields, that's important. I think you then look at just the overall facilities, the quality of the facilities, meeting space, cafeteria, dorms, whatever it is, whether you're going to be in a hotel off site. There are a lot of factors that come into play."
The Browns held an intrasquad scrimmage at Akron's InfoCision Stadium on Aug. 2, and Akron officials came away from that thinking it could be the beginning of long-lasting partnership.
"We're going to submit our official proposal and we're hopeful," Akron athletic director Tom Wistrcill said. "When they were here, I think they liked what they saw. There's a difference between having them here for a day and having them here for two or three weeks, but we're anxious to explore it.
"We have some room to grow and build some things, and we have some room to explore."
The biggest hurdle for a Browns-Akron full-time partnership is probably the city setting of the campus, and specifically a lack of grass practice fields. Akron has a grass-field soccer stadium (capacity around 4,000) on campus, just west of the football facilities, though it's unclear how the Browns using that would be received by Akron's nationally-recognized soccer program.
The brand-new Spicer Hall dorm sits right next to InfoCision Stadium. There are state of the art weightroom and training facilities either in the stadium or in the fieldhouse that's connected to the stadium's north end.
"We have some grass field options, but we would discuss how we would package it all together," Wistrcill said. "It's something we're going to make a run at."
Pettine previously worked with the New York Jets, who installed their own grass fields at their training camp site at SUNY-Cortland, and the Buffalo Bills, who have long held training camp at St. John Fisher in Rochester, N.Y. -- a campus and a setting not much different from Hiram's.
"We just started (the process)," Scheiner said at the beginning of training camp. "We're going to look very carefully at whether we can or should host training camp off site, and we'll look at various options if we do. We haven't ruled anything out, including staying in Berea."
In Berea, the Browns have two full grass practice fields and two partial fields. They also have a 70-yard indoor facility and state-of-the-art weightroom, training room, cafeteria and meeting room facilities. During camp, players stay at a hotel about two miles from the facility.
Coaches like the ideas of team bonding and a football-focused camp atmosphere. Coaches are generally creatures of habit, though, and like their own meeting rooms, cafeteria and offices. Additionally, hosting practices for a 90-man NFL roster means opening the doors to the team's grounds crew, medical staff and an army of people who make public training camp practices go.
The Browns have been hosting crowds of near 4,000 for almost every open practice this year, but putting that many fans around the four practice fields leads to poor sight lines and only limited up-close access to the players before and after practice. Public parking is a little less than a mile away at Baldwin-Wallace University.
One proposal that will be delivered before Friday's deadline will come from Otterbein University in Westerville, which sits just off the Columbus Outerbelt northwest of the city and about 15 miles from Ohio State's campus. Dawn Stewart, Otterbein's director of athletics, confirmed Otterbein's interest and said the school has included officials from the city of Westerville in discussions about logistical issues.
"We're still very much in the process of putting it together," Stewart said. "But we do have an interest. We think we could be a great site and a great partner and we'll try to portray that to the Browns as we go."
A spokesman for Ohio Dominican University, which is in Columbus city limits and has grass practice fields and a small, field-turf stadium for its NCAA Div. II football program, declined to comment on anything Browns related.
A Bowling Green State University spokesman said the school has not talked with the Browns about being a potential training camp site. Bowling Green's Northwest Ohio campus was the original home of Browns training camp.
Kent State hosted Browns camp from 1975-1981. Kent State has grass practice fields, a field-turf stadium that holds more than 20,000 and sufficient housing and training facilities.
Div. II and Div. III college football programs generally don't report for camp until the second week of August, and with the new training camp rules put in place by the 2011 collective bargaining agreement, NFL teams generally shut down the public portion of their training camps around the time of the second preseason game, which is generally Aug. 15-18. Div. I programs get 28 days of practice before their first games, which generally take place Aug. 28-Sept. 1, the weekend the NFL wraps up its preseason.
"There's a reason that no Div. I football program hosts an NFL training camp right now, and that comes down to space and sharing issues," Wistrcill said. "Our people are trying to look at all those logistical issues. We go in (planning to) submit a multi-year plan, and maybe the layout of camp looks significantly different in the second and third years than it does in the first.
"Coach (Terry) Bowden supports it. It's exciting to talk about, and in the end I think if both sides are willing to give a little, it's something that could become a great partnership."
That new NFL collective bargaining agreement signed in 2011 did away with true two-a-day practices and changed NFL training camps forever. Only nine teams leaguewide are holding training camps away from home this year.
The New Orleans Saints spent a reported $30 million to build their own camp facilities at The Greenbrier Resort in West Virginia. It's unlikely the Browns would go that route, but some expenditures would likely be involved in any move -- maybe for new grass fields, maybe for new meeting rooms, maybe for upgraded training facilities.
On the business side the goal, obviously, is to reach as many fans as possible.
"I'd like for us to go where our fans are, and we know we have plenty of fans in Northeast Ohio, including Akron, and then in Columbus and other places," Scheiner said. "We're open-minded to it. Really, this is kind of a byproduct of listening to our fans, and knowing that we have a lot of fans in Akron, we thought (this year's scrimmage) made a lot of sense."
---