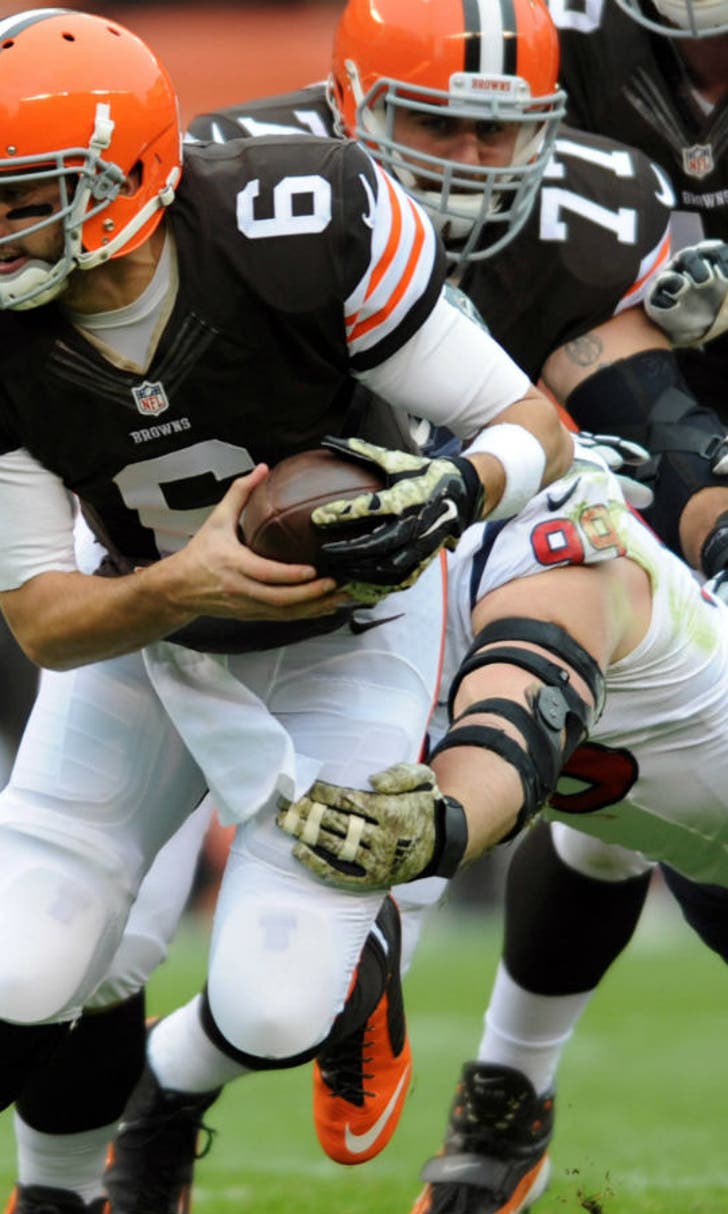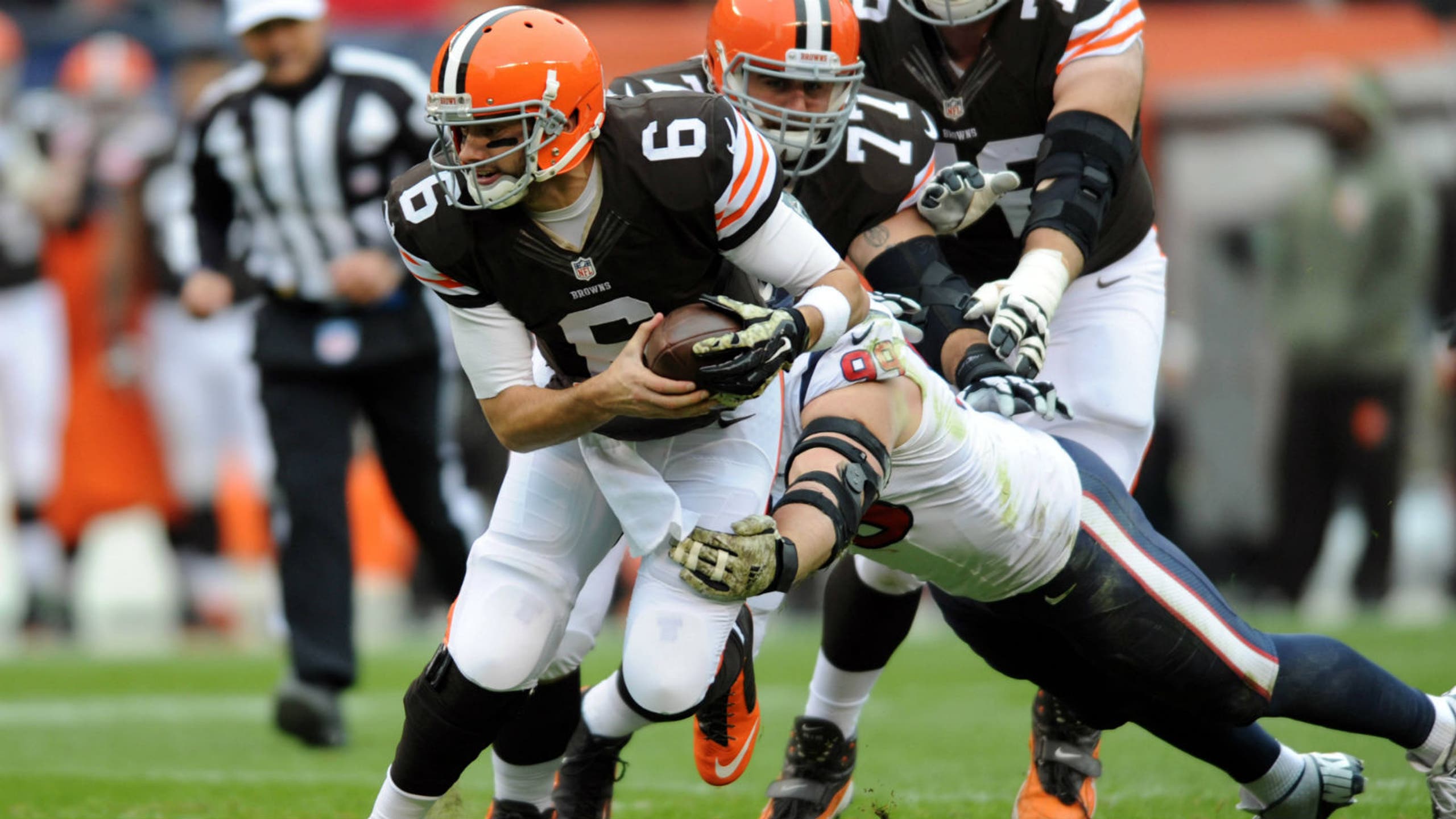 Browns bullied out of first place
BY foxsports • November 16, 2014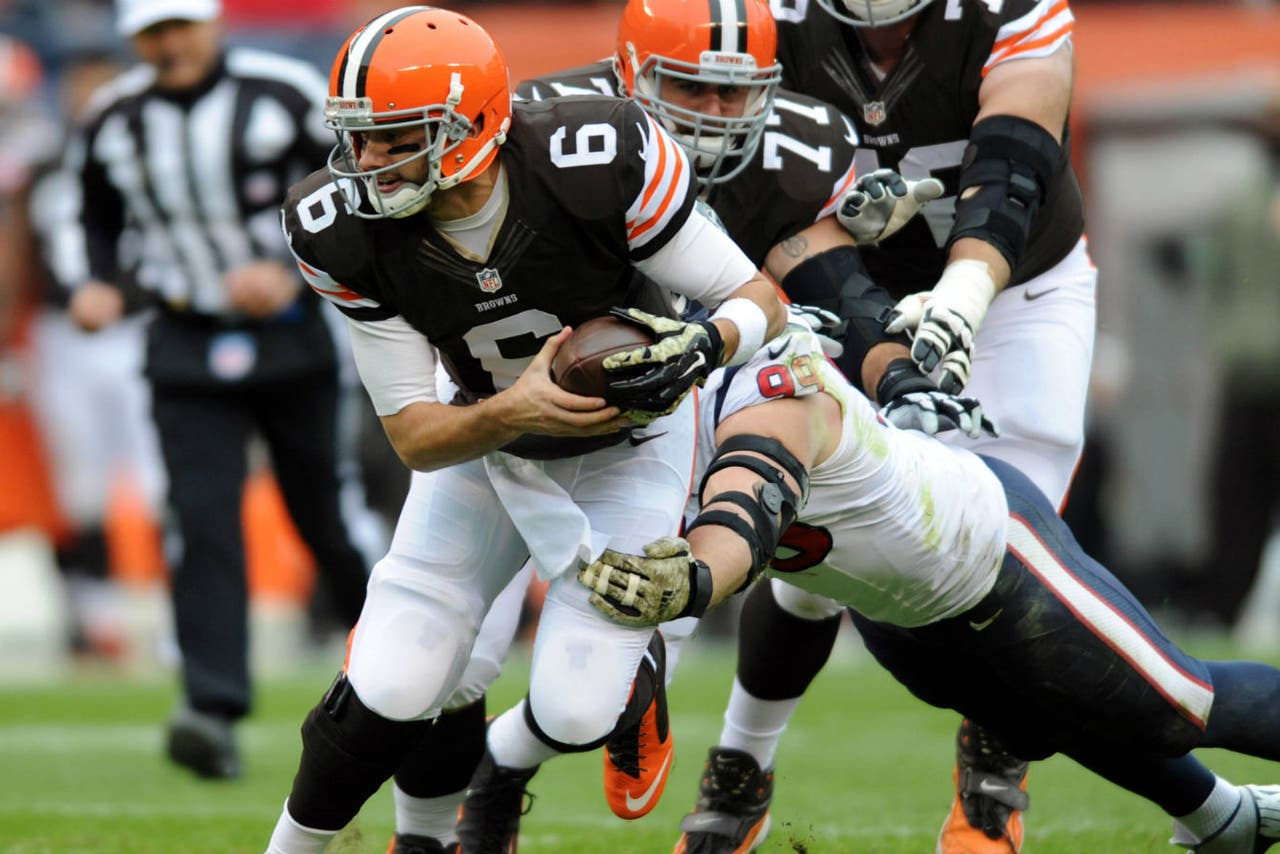 CLEVELAND - Well, first place was fun while it lasted.
The Cleveland Browns got bullied back to reality Sunday, showing up flat and never really waking up. A three-game win streak and all the momentum and good vibes that came with it were vaporized by a one-man wrecking crew named J.J. Watt and a predictable, straight-ahead run game that overwhelmed the Browns banged-up defensive front.
Bruised bodies and bruised egos abound. The Browns have a formula, and getting gashed by the run and Brian Hoyer having to throw 50 passes are not part of it.
It was just one game, sure. But it was one miserable game, one tremendous opportunity blown, one big step backwards. Six and four, the Browns record now, is OK. Seven and three would have been sublime.
Did the Browns look anything like a playoff team, even for one series?
It was Houston Texans 23, Browns 7 -- and those seven came only because Watt picked up a second senseless personal foul penalty on a punt on fourth and 28.
Browns punter Spencer Lanning was way too involved.
"We just realize we aren't there yet," Browns quarterback Brian Hoyer said. "We've got to be better."
The Texans (5-5) were the more physical team, and that was clear from the start. A team playing with a first-time quarterback and without its best offensive player, running back Arian Foster, ran for 213 yards. Ryan Mallett threw for 211 yards and two scores. The Browns mixed penalties with fumbles and missed tackles and just stunk.
"We got beat soundly in all three phases," Browns coach Mike Pettine said.
The Browns had 10 days to prepare after what looked a direction-changing win at Cincinnati that also put the Browns on top of the NFL's most competitive division. Off days happen, and this was the first no-show Sunday by the Browns in a month, but this was a four-quarter flattening, visually more dominant than the numbers even indicate, and with the weather turning nastier and the stages getting bigger, this was a sound-the-alarms type of defeat.
Is getting Josh Gordon back going to be enough? Maybe not with the running game faltering and a laundry list of defensive issues, including Karlos Dansby heading for an MRI on his knee Monday.
The Browns are good when they run the ball and they at least put up a fight in stopping the run. Isaiah Crowell looks like the Browns most gifted back but his fumble killed one of the few promising drives the Browns put together. Watt and the Texans defensive front got where they wanted to when they wanted to, and some guy named Alfred Blue ran for 151 yards. The Browns were left to abandon their formula and let it fly, and Hoyer completed 20 of 50 passes.
Hoyer sprayed them high, low and wide. He got planted more than he had been planted in weeks while the Browns barely got a sniff of Mallett. At least twice, Hoyer was tripped by one of his teammates. Even in desperation time, a well-placed slant pass from Hoyer went off of Miles Austin's hands, then off his knee and into the air before falling into the hands of Texans linebacker Mike Mohamed.
It was that kind of day.
"It's a disappointment," Hoyer said. "We had a great opportunity here and we let it slip through our hands.
"We were just outplayed. I don't think there was a hangover. We had a great week of practice. We just have to execute."
Hoyer talked about getting back to work and not letting this linger. A hangover from losing, he said, can be worse from winning.
The Browns got a lesson in handling success and handling really good line play Sunday. It was a brutal lesson; a sobering one, too. Two road games await. Only two teams currently with non-winning records await in the six remaining games, and both of those teams are alive in their divisional race. First place and playoff talk and enjoying what's been a successful season by anybody's guess or measure were nice.
Solid, fundamental, consistent football would be nicer. It's mandatory, in fact.
---