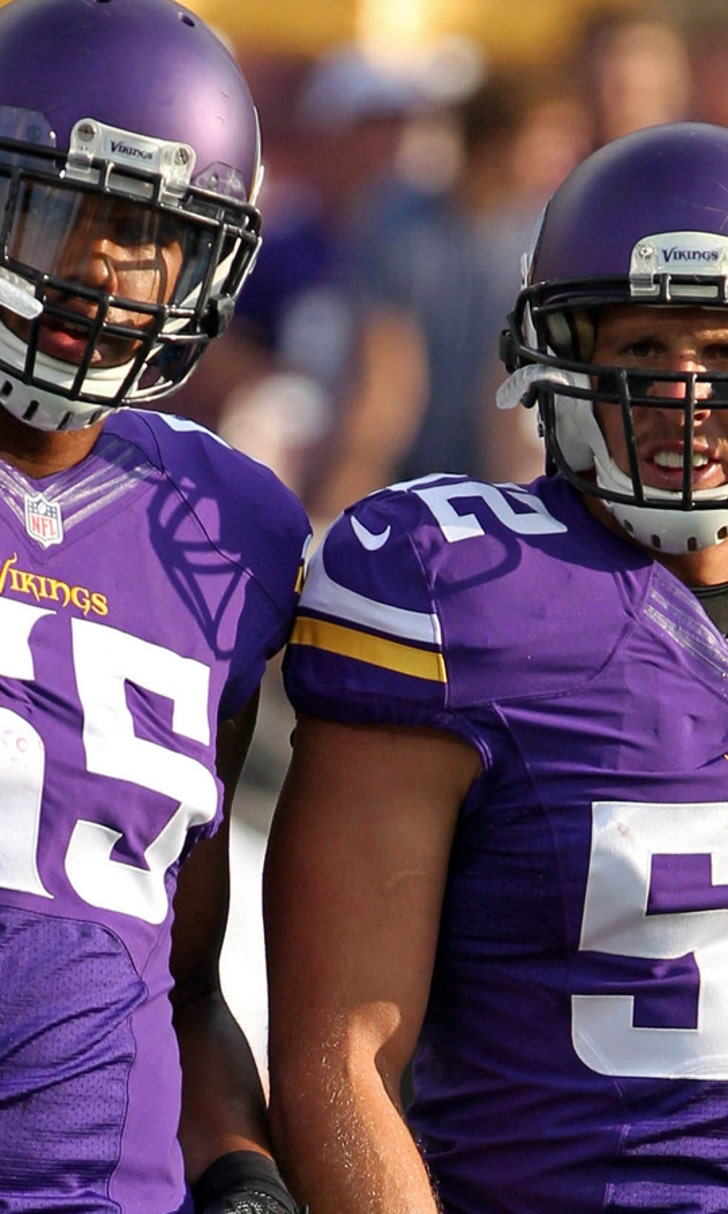 Brian Hall predicts Vikings 53-man roster (Aug. 12 edition)
BY foxsports • August 12, 2014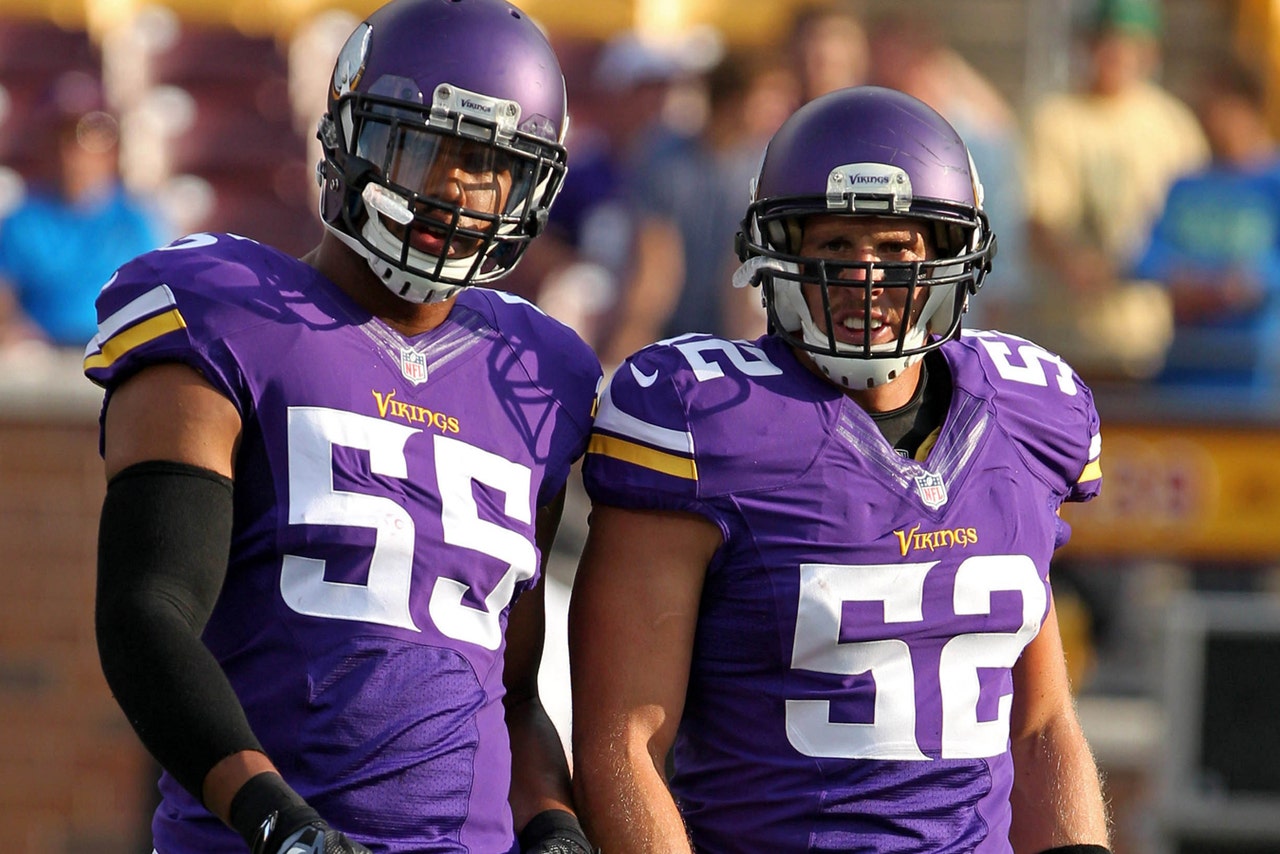 MANKATO, Minn. -- With just two days of training camp remaining in Mankato, the Minnesota Vikings are getting close to the harsh part of the preseason calendar: cut-down days.
Minnesota breaks training camp at Minnesota State University following Thursday's afternoon practice and then has one preseason game on Saturday to help coaches determine the roster. By Aug. 26 at 3 p.m. CT, the Vikings will need to release 15 players to reach the 75-man limit. The deadline to reach the regular season's 53-man roster is Aug. 30.
Based on nearly three weeks of practices and one preseason game, here is FOXSportsNorth.com's current projection for Minnesota's 53-man active roster for the Sept. 7 regular-season opener at St. Louis:
Analysis: The Vikings have had only three quarterbacks the entire summer and the only possible cut could be if the team decides to enter the season with two quarterbacks on the active roster. Most likely, though, this position is set. Ponder is nearly an afterthought in practices as the third quarterback, but isn't a bad option to have on the roster in an emergency. The decision comes down to the starter between Cassel and Bridgewater. The thinking here is Cassel will open the season as Minnesota's starter.
Analysis: Another spot with seemingly little to determine in the preseason. The biggest decision could come down to fullback. Do the Vikings want to stick with the veteran option in Felton for running downs. Coach Mike Zimmer called Felton a "thumper" this week. Zach Line is a second-year player who filled in for Felton last year during a suspension and is a younger, cheaper option. Minnesota could even decide to go without a fullback, but Norv Turner seems to want to have the option in his arsenal, particularly for late-season games where poor weather might be a concern. Asiata and McKinnon, likely set as Peterson's backups, give Turner a variety of strengths with which to work.
Analysis: Five on the active roster means six, possibly, for the start of the season. Simpson is likely looking at a suspension from the league after his arrest last season, which perhaps provides an opening for Smith early on. The top four with Simpson are set. Patterson and Jennings will start with Wright and Simpson giving the Vikings a deep group of receivers. The final spot is likely down to Smith or Thielen, but the latter's strong camp has him with the edge. It would be a surprise at this point if Thielen doesn't make the team as he can also add value on special teams.
Analysis: Minnesota is still looking for another tight end to step forward, hence the signing of Kory Sperry this week. Sperry is a veteran and has worked with Turner in the past. But he's more of a blocker and Ellison seems to have that role settled. The Vikings really could use a second pass-catching option to go with Rudolph, the starter. That's where Ford comes in. He has been out all of training camp after surgery to repair a broken foot, but he could be returning just in time to earn the job.
Analysis: The coaches have basically said the starting offensive line will return intact for its third straight season together. How many backups Minnesota chooses to keep on the active roster could be the biggest question. Typically, the Vikings have gone with nine offensive linemen with one on the practice squad. But maybe the coaches feel good enough about the group to keep eight and leave another roster spot for some of the unsettled positions on defense.
Berger is a veteran backup who can play both center and guard and is the top option. Yankey won't force his way into the lineup for Week 1 after missing most of the offseason program, but he has promise. Richardson, an undrafted rookie, is another player with promise who could open as the top backup to Kalil and Loadholt. If another player is kept along the line, it could be between Ducasse and Baca. Wentworth could be an option for the practice squad.
Analysis: The defensive line has been almost completely remade in the offseason, but the signings and draft picks have led to a strong group which figures to bring little surprise during cut-downs. Only Robison, Floyd and Evans return from last season. Those starters are set, with Wootton, Evans and Johnson all veteran backups to go along with Crichton, a third-round draft pick. Coach Mike Zimmer wants to use a rotational system and appears to have the players to do so. Stephen is an intriguing defensive tackle who could find his way to the practice squad.
Analysis: Other than Greenway and Barr seemingly set as starters, this position group remains up in the air almost three weeks into training camp. Coaches have moved players around trying to find the right fits. The most recent changes were Cole moving back to the middle and Mauti getting a look on the outside. Somewhat surprisingly, Mauti was listed behind Watts on the team's initial depth chart last week.
Brinkey has the edge to start in the middle and is still a good run defender, which Zimmer would like in the middle. If the team keeps just six linebackers, Watts and Mauti appear to be fighting for the final spot. Maybe Watts, a rookie seventh-round pick, would be a candidate for the practice squad.
Analysis: Another position that doesn't have much of a conclusion other than Smith starting at one spot. Zimmer might have displayed his thoughts on the position when he went out last week and added Crocker, who's played with him in Cincinnati and Atlanta. It would be no surprise to see Crocker eventually earn a starting spot because of his experience with Zimmer and the coverage aspect he brings to the position, which is one thing Zimmer is seeking. Blanton appeared to have the edge to start before being sidelined with a hamstring injury.
Exum is an intriguing rookie as a sixth-round pick, but he's been down the depth chart in practices. Much is still to be determined with Coleman getting the chance to start Friday's game and Blanton, Sanford, Sendejo and Raymond all dealing with injuries. Sanford and Sendejo started the majority of games last year but have fallen behind because of their injuries and are running out of time to prove their worth to the new coaching staff. Sanford, Sendejo and Coleman are all strong special teams players.
Analysis: Zimmer said he could keep more cornerbacks just because of the need and the seemingly constant threat of injuries. A lot is still unsettled at this position, too. Munnerlyn and Rhodes appear set as the starters and Robinson, who's been injured, would likely play outside in the nickel with Munnerlyn shifting inside. Sherels has been the team's top punt returner for the past three seasons, and special teams coach Mike Priefer said this week he'd likely be the punt returner for Week 1 as things stand now. Sherels is also a scrappy player who is better on defense than he's given credit for. Behind those four players, Zimmer has choices.
Cox is a veteran who has a knack for coming up with interceptions and is trying to rebuild his career after a down season in San Diego. Price has proven to be a tough competitor as a seventh-round rookie and has seen much of the repetitions behind Munnerlyn as the nickel back. Prater stood out late last season and has worked with Zimmer in the past in Cincinnati. He had a strong first preseason game. James was drafted ahead of Price, but hasn't distinguished himself after being picked in the sixth round.
Analysis: These spots went unchallenged in training camp and all three will begin their second season together with the long snapper, Loeffler, the veteran of the group. Walsh is entering his third year and feels strong after a down season last year following his Pro-Bowl rookie campaign as a kicker. Locke struggled a bit as a rookie in 2013, but came on later in the season and Priefer expects his punter to show why the team made him a fifth-round draft pick last year.
Follow Brian Hall on Twitter
---