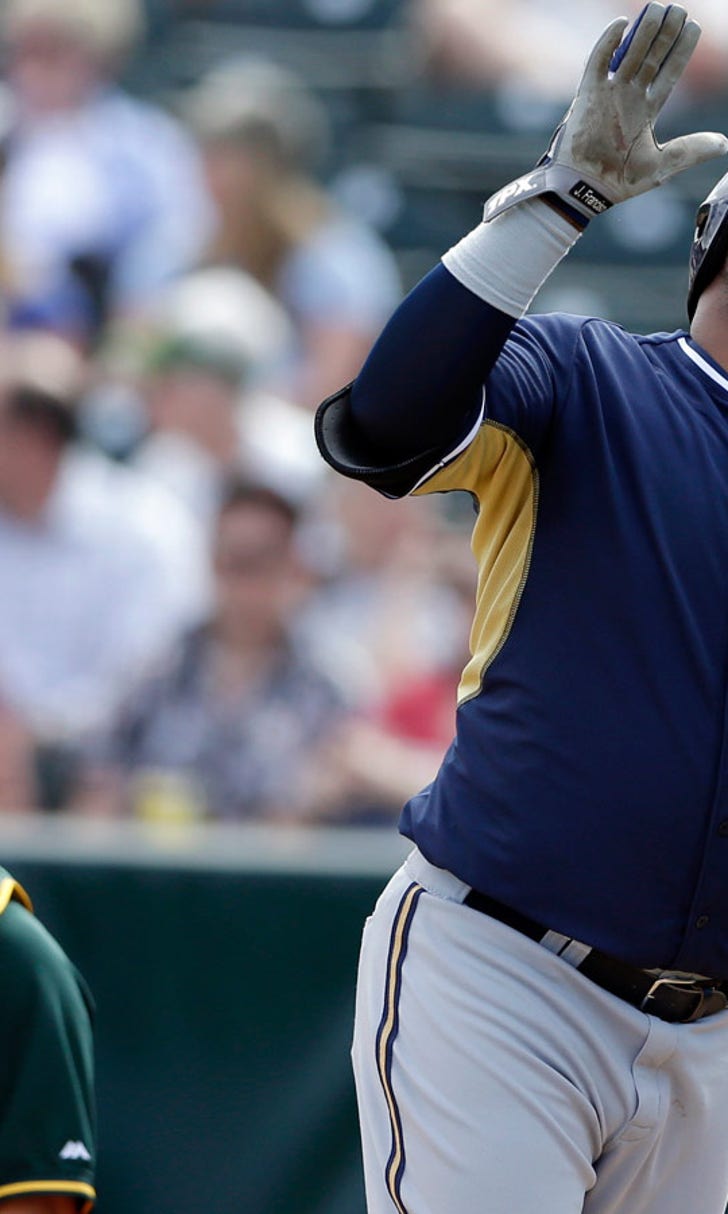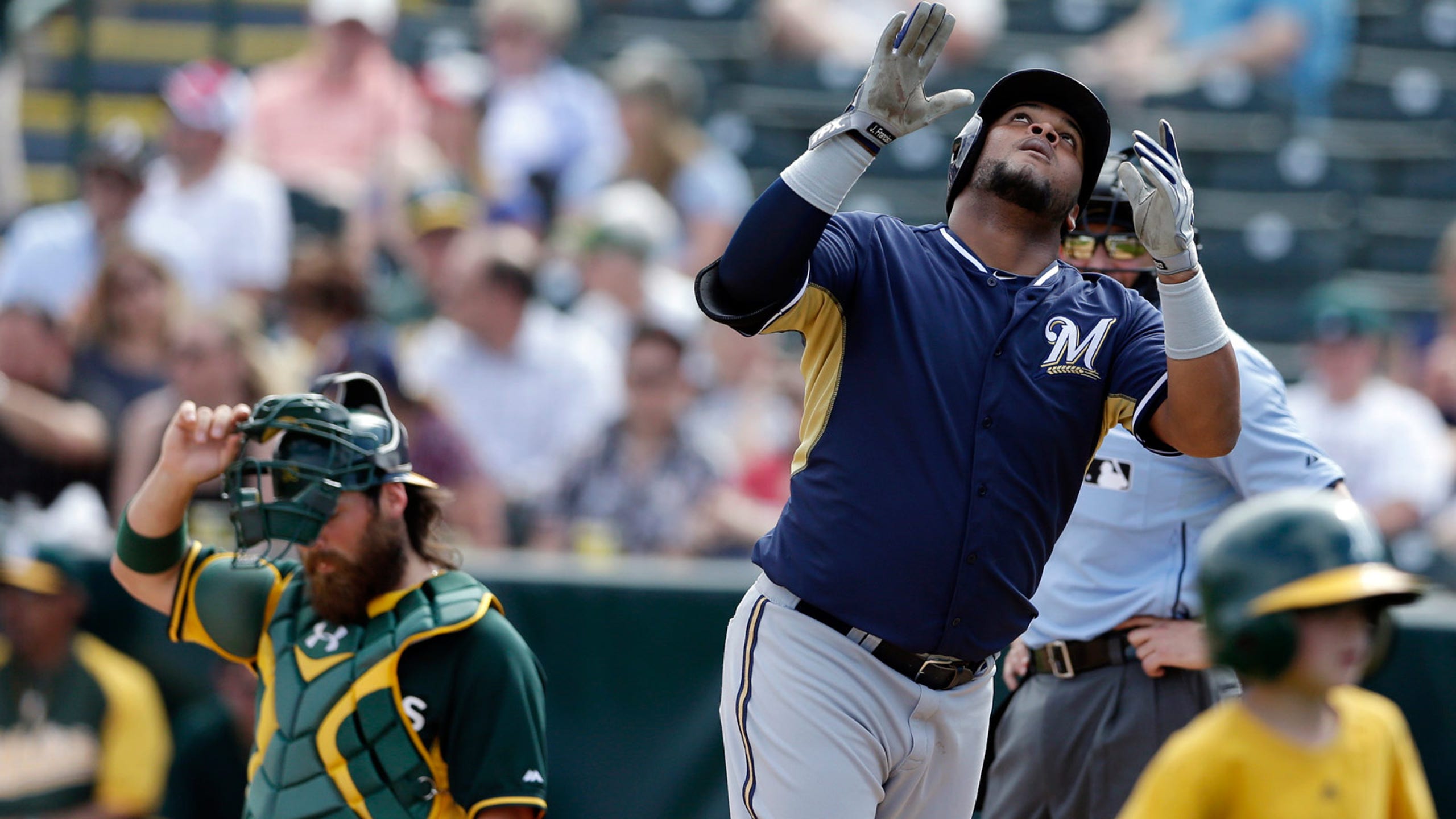 Brewers notebook: Francisco turns on the power
BY foxsports • February 27, 2014
PHOENIX -- With the kind of power Juan Francisco has, simply making more contact would likely result in an impressive number of home runs.
Francisco got his exhibition season off to a good start by hitting towering home runs in each of his first two at-bats, driving in three runs in Milwaukee's 11-3 victory over the Oakland Athletics in its Cactus League opener Thursday at Phoenix Municipal Stadium.
"When he squares up the ball, it doesn't matter what part of the park, he's really got some power," Brewers manager Ron Roenicke said. "Only a handful of guys have his kind of power."
In the mix at first base and competing for a roster spot, Francisco hit .227 with 18 home runs, 48 RBI and 138 strikeouts in 385 plate appearances for the Braves and Brewers last season.
Francisco came to camp telling hitting coach Johnny Narron that he's trying to get away from his leg kick and the long finish of his swing, keeping both hands on the bat on the follow-through.
His first home run of the day went over the 410-foot sign in dead center field, a mammoth shot off Athletics left-hander Tommy Milone. None of Francisco's 32 regular-season home runs in the big leagues have come against lefties, making Thursday's solo blast notable.
Francisco then homered to the practice diamond over the right-field fence off Jim Johnson in the fourth inning.
"We don't have anybody like that, we don't," Roenicke said. "Reynolds has big-time power, but this guy has more power than him. I don't know anybody in the game that has that kind of power."
It wasn't just Francisco leading the way in an impressive offensive performance by the Brewers, as Ryan Braun and Mitch Haniger each homered, while Jean Segura, Rickie Weeks and Khris Davis had two hits apiece.
Roenicke was pleased with the way his team swung the bat in the intrasquad scrimmage Tuesday and was happy to see an 11-hit outburst in the first game of spring training.
"Offensively, that was really nice," Roenicke said. "Everybody contributed."
Estrada calms down: No matter how much experience a pitcher has, his first outing of the season brings butterflies.
That was the case for Marco Estrada on Thursday, as the right-hander allowed two runs on two walks and two hits in the first inning before settling down in his second frame. He walked Coco Crisp and Josh Donaldson to start the bottom of the first before allowing a two-run double to Jed Lowrie.
Estrada needed 26 pitches to work through the first inning, getting Derek Norris to hit into a double play to end the frame.
"It felt weird out there, I'm not going to lie," Estrada said. "Walking two guys in one inning is something I don't like to do -- I don't think anyone likes to do. I just felt a little rushed. I was thinking the whole time that I had to work on certain pitches when I didn't establish a fastball. If you don't establish that, your other pitches aren't going to come."
He settled down in the second inning, working 1-2-3 through the bottom of Oakland's batting order.
Estrada threw just nine pitches in the second, getting Daric Barton to fly out, striking out Eric Sogard and inducing a Sam Fuld fly out.
Estrada said he stopped trying to mess around with the cutter and curveball and went back to his primary pitches, the four-seam fastball and changeup.
"Oh man, I had no idea where the ball was going out there (in the first inning)," Estrada said. "Not that I didn't know where it was going, but it was just rushed. My mechanics were rushed, and I had some adrenaline going. I don't know. It felt awkward. I settled down in the second inning. (Pitching coach Rick Kranitz) told me to settle down and that I was rushing things out there, and I did slow things down."
After Estrada allowed the two runs in the first inning, Milwaukee's pitchers kept Oakland off the board until the bottom of the ninth. Wily Peralta and Will Smith each worked two scoreless innings, while Zach Duke and Donovan Hand didn't allow a run in their innings.
Rob Wooten worked the ninth, allowing an RBI single to Shane Peterson after Jose Martinez took second base on defensive indifference.
Making his first appearance with the Brewers, Smith struck out three in two innings. The big left-hander gave up four hits, but only one was hit hard and another could have been ruled an error on Eugenio Velez.
"Nice fastball, great breaking ball, and he keeps it down," Roenicke said of Smith. "That was good. . . . We plan to use him in multi-innings. We'll see how things go and how we need him."
Final piece: Brewers reliever Francisco Rodriguez has obtained his work visa in his native Venezuela and is expected to report to camp on Saturday.
Rodriguez -- signed to a one-year, $3.25 million deal in early February -- is the only player absent from Maryvale Baseball Park.
Follow Andrew Gruman on Twitter
---