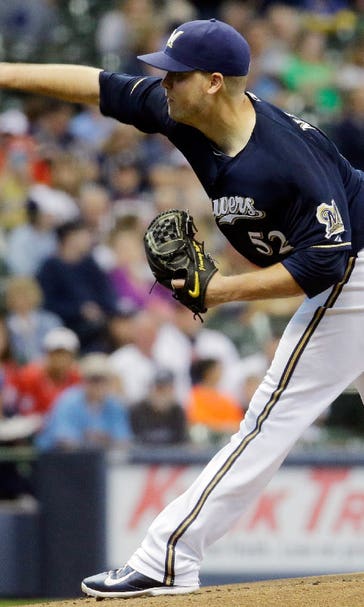 Brewers' Nelson continues inconsistent stretch
June 13, 2015

MILWAUKEE -- In the middle of answering a question from a reporter, Jimmy Nelson changed subjects to get right to the crux of his issues.
Consistency.
Nelson has shown flashes of the ability he possesses, but there also have been the typical growing pains that come with a pitcher working through his first full season in the big leagues.
On Saturday, Nelson was hit around by the Washington Nationals for seven runs on 10 hits in five innings in Milwaukee's 7-2 loss at Miller Park.
"It is just unacceptable," Nelson said. "I just have to be more consistent. I have to be better. Not just next time out, but every one of my outings.
"That's the frustrating part to me right now. I'm working hard to get that consistency, but the last couple of weeks it has been up and down. That's the most frustrating thing right now. I'm just going to keep working."
Lately, it has been a back and forth between good starts and bad starts for Nelson.
He limited the Detroit Tigers to one run on three hits over eight innings on May 19 but then struggled to get through 5 2/3 innings with five walks against the Atlanta Braves on May 24.
Nelson kept the Brewers in the game with a six-inning, eight-strikeout effort against the Arizona Diamondbacks on May 29. Then came a start in St. Louis on June 3 in which he allowed seven runs (six earned) in five innings.
In his last outing prior to facing the Nationals, Nelson held Pittsburgh scoreless over six innings.
Yunel Escobar followed a one-out walk with a two-run home run off Nelson in the third on Saturday to put the Nationals in front at 3-2.
Washington used a three-run fifth inning to take control Saturday. Nelson got the first two outs of the inning rather easily and was ahead 1-2 on Bryce Harper. But the red-hot Nationals right fielder laid off three close pitches -- two curveballs and a fastball -- to draw a walk.
Wilson Ramos followed with a two-run home run to right to put Washington up 5-2. Nelson then allowed a double, hit a batter and surrendered an RBI single to Michael Taylor.
"Harper laid off some tough pitches," Brewers manager Craig Counsell said. "A couple of walks preceded the home runs but those were good battles by their guys, they had good at-bats and did a good job."
Back out for the sixth, Nelson gave up a leadoff single to Denard Span and hit Anthony Rendon before being pulled.
It was the third time Nelson allowed seven runs in a start this season, while the 10 hits against him were the most he has allowed in his brief big-league career. The 26-year-old has given up six or more earned runs in two of his three June starts, with the six scoreless innings in Pittsburgh sandwiched in between.
"Trying to figure out what's going on there," Counsell said of Nelson's inconsistency. "There are going to be ups and downs to his season. He's learning every time he goes out there. He has to apply the lessons that he learns.
"I thought they put up some pretty good at-bats against him today. Rondon, Escobar and Harper were really tough on him. They put really good at-bats together on him."
Nelson now is 3-7 with a 4.60 ERA in 13 starts this season. However, 20 of the 40 earned runs he's allowed have come in three bad outings against St. Louis, Cincinnati and Washington.
"Hey, we're all battling for consistency right now," Brewers catcher Jonathan Lucroy said. "I think that he's definitely got the ability to be there. Just sometimes he loses a little bit, loses that feel. We just have to get him back down in the zone and get him ahead in counts.
"(Sunday), we were behind in the count a lot, and when you're behind to big league hitters, you're going to get hurt. It's just a matter of us keeping the ball down and working ahead. That's all it is for him."
Much like Wily Peralta in 2013, Nelson is currently in the midst of trying to find his way as a starting pitcher in the big leagues.
"It doesn't matter how challenging it is," Nelson said. "It is my job. It is my job to give us a chance to win every time out, whether I have my best stuff or not. As of late, I haven't done that. That's what bothers me. I'm going to work my hardest to fix that to get us back to where we need to be."
Follow Andrew Gruman on Twitter
---