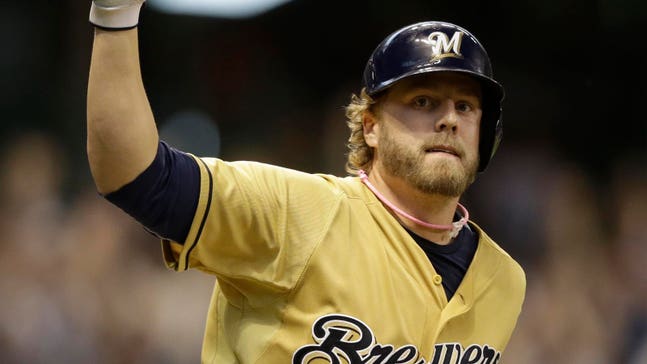 Brewers end up with win in tug-of-war with Yankees
Published
May. 11, 2014 9:00 p.m. EDT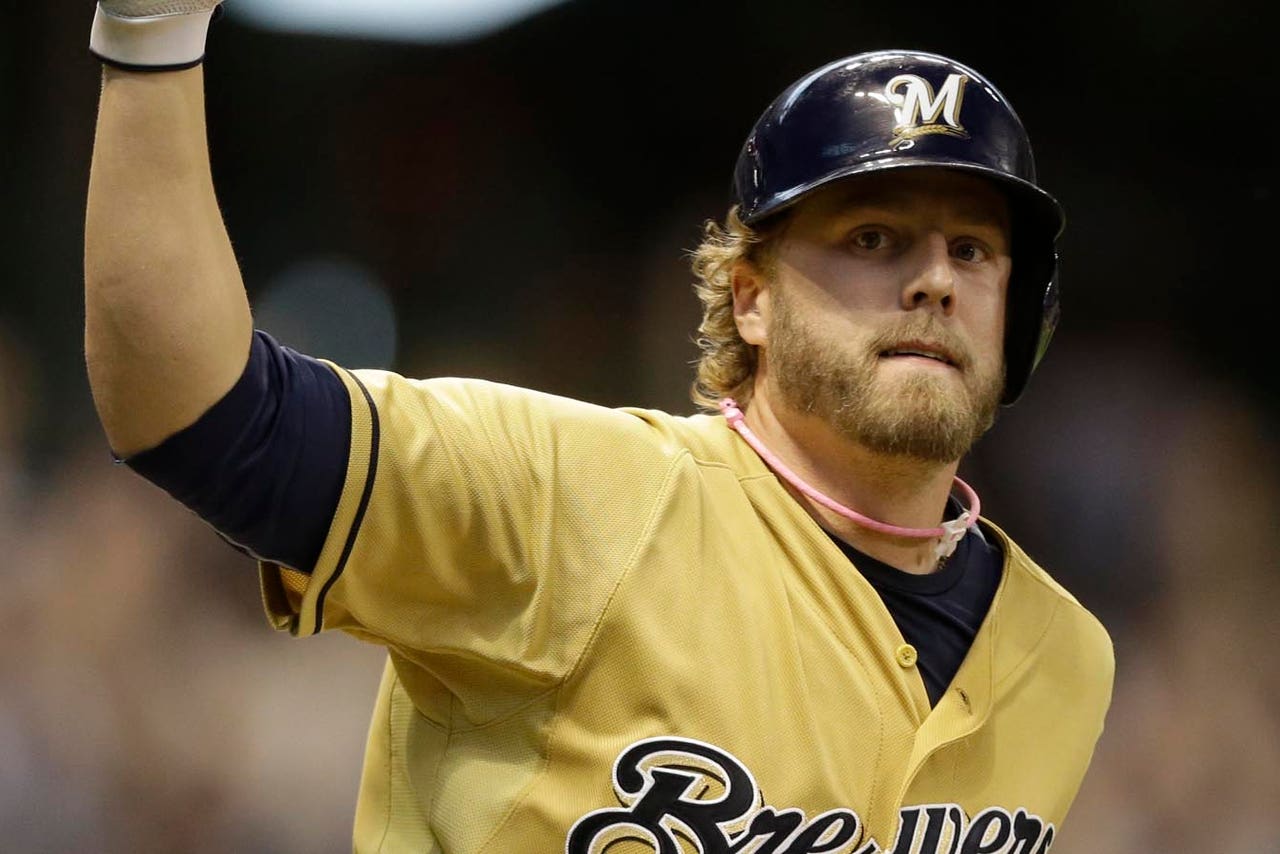 MILWAUKEE -- Francisco Rodriguez and Mark Reynolds each had pitches they wanted back in the ninth inning Sunday, but neither ended up mattering much in the end.
A two-out, two-strike home run by Mark Teixeira in the top of the ninth tied the game at 5-5, as Rodriguez allowed his first run of the season. But Reynolds, one pitch after missing a surprise bunt attempt, delivered a walkoff single on an 0-2 pitch with two outs in the bottom of the ninth to lift the Milwaukee Brewers to a 6-5 victory and a series win over the New York Yankees.
The shorthanded Brewers overcame a three-run deficit and their closer blowing his first save of the season to send a sellout crowd of 43,544 home feeling much better about their ballclub than they did just a few days ago.
"I think it was an important game," Brewers manager Ron Roenicke said. "For the team, and there were some individuals that had nice days that I think need to have them to continue forward.
"You hate getting banged up like this and trying to piece together lineups, but the thing is, you can go out there and beat a team like that and it really feels good."
Rodriguez was one strike away from securing his 16th save of the season and his 20th consecutive scoreless inning when Teixeira went down and launched a changeup out to right. The veteran first baseman laid off a pair of changeups and fouled off a curveball with two strikes before hitting his seventh home run of the season.
"It was a good pitch," Rodriguez said. "You have to tip your cap. He put up a good swing. In the beginning I had my doubts if it was middle or middle in, but the ball was tailing down and away to him. He just hooked it."
Lights out as closer from Opening Day on, Rodriguez has been one of the driving forces behind Milwaukee's hot start to the season. That's why it felt good for the offense to pick their teammate up when he had his first slip up.
Making his first start of the season against a right-handed pitcher, Rickie Weeks got things started in the bottom of the ninth with a broken-bat double just fair down the line in right. A wild pitch moved Weeks to third with one out, but Lyle Overbay struck out on a 2-2 changeup from Yankees reliever Adam Warren.
Reynolds saw third baseman Yangervis Solarte playing back on the grass and tried to bunt for a hit. Down 0-2 in the count, Reynolds stayed on a slider and snuck it between the shortstop and third baseman to win the game against his former team.
"He's been great for us all year," Reynolds said of Rodriguez. "He gave up his first run today, but closers are not perfect. Sometimes you have to pick them up. He's been picking us up a lot."
The Brewers fell into an early 3-0 hole Sunday after the Yankees scored three runs against starter Matt Garza in a 40-pitch first inning. But as he did in his last outing, Garza recovered from the shaky inning and tossed four scoreless innings before exiting at 106 pitches.
A loss in the series opener Friday gave Milwaukee its first three game losing streak of the season and put the Brewers at just 2-6 in May. Dropping a third consecutive series in addition to losing Aramis Ramirez to a hamstring injury would have been a tough pill to swallow, making Sunday's win a big one.
"It's always good to celebrate and get a win, especially to take a series," Reynolds said. "Hopefully it gives us momentum moving forward."
Roster uncertainty: The Brewers will have multiple roster decisions to make before beginning a three-game series with the Pittsburgh Pirates on Tuesday at Miller Park, as they must figure out what to do with Ramirez and Ryan Braun.
Braun's workout went well Sunday and is eligible to be activated from the disabled list Monday. Roenicke said the club considered sending the right fielder out on a rehab assignment with the Wisconsin Timber Rattlers on Milwaukee's day off Monday, but the threat of rain in Appleton prevented that from happening.
"Braun did really well," Roenicke said. "The workout went great. We're hoping he checks out well (Monday) and we're hoping we can activate him Tuesday."
If Braun is ready to go, the Brewers could clear a roster spot for him by placing Ramirez on the disabled list. Ramirez saw the doctor Sunday morning and was diagnosed with a hamstring pull.
"There's really no timetable on where he's going to be," Roenicke said. "It could be a DL. I'm not going to say it's not going to be a DL, but we'll make that decision (Monday)."
With a potential suspension of Carlos Gomez looming in the next couple of days, the Brewers would have to make a roster move prior to Tuesday if Braun isn't activated. Even if Braun is back, utility man Elian Herrera may be called up to provide a bit more versatility with Ramirez on the shelf.
The Brewers appear to have survived a major scare Sunday, as Gomez was drilled by a pitch just above the left wrist in the third inning. Gomez had the wrist checked out as precaution, but x-rays came back negative.
"It was more like the impact got me on the nerve," Gomez said. "It shocked my whole arm. In the moment you felt really bad, but it is not really (serious)."
Taking it to another level: Pink is everywhere around Major League Baseball on Mother's Day, but Gomez went a step further than most Sunday.
Milwaukee's center fielder died his goatee pink, mostly because his wife didn't think he would actually go through with it.
"My wife doesn't like that I have color on my face," Gomez said. "I said, 'You know what? I'm going to have a pink beard.' She said, 'No you are not!' I said,'OK, watch!'
"It's not for me. It's for every mom in the United States. It's not Mother's Day in the Dominican (Republic). It means a lot to me."
Gomez was a part of the Brewers' ceremony for retiring Yankees shortstop Derek Jeter prior to Sunday's game, and the future Hall of Famer approved of the pink goatee.
"He told me, 'If I had facial hair, I'd do the same thing.' It's really cool," Gomez said. "Baseball is going to miss him. He's a guy we all respect. Everybody is going to call him 'The Captain.' It was an honor to have the opportunity today to give the bat and shake his hand. I hope we see him in the World Series."
The Brewers presented Jeter with a bronze bat inscribed with the dates of every game he has played in Milwaukee, a $10,000 donation to his Turn 2 Foundation and a trip to Whistling Straits -- home of the 2015 PGA Championship and 2020 Ryder Cup in Kohler, Wis.
Follow Andrew Gruman on Twitter
---