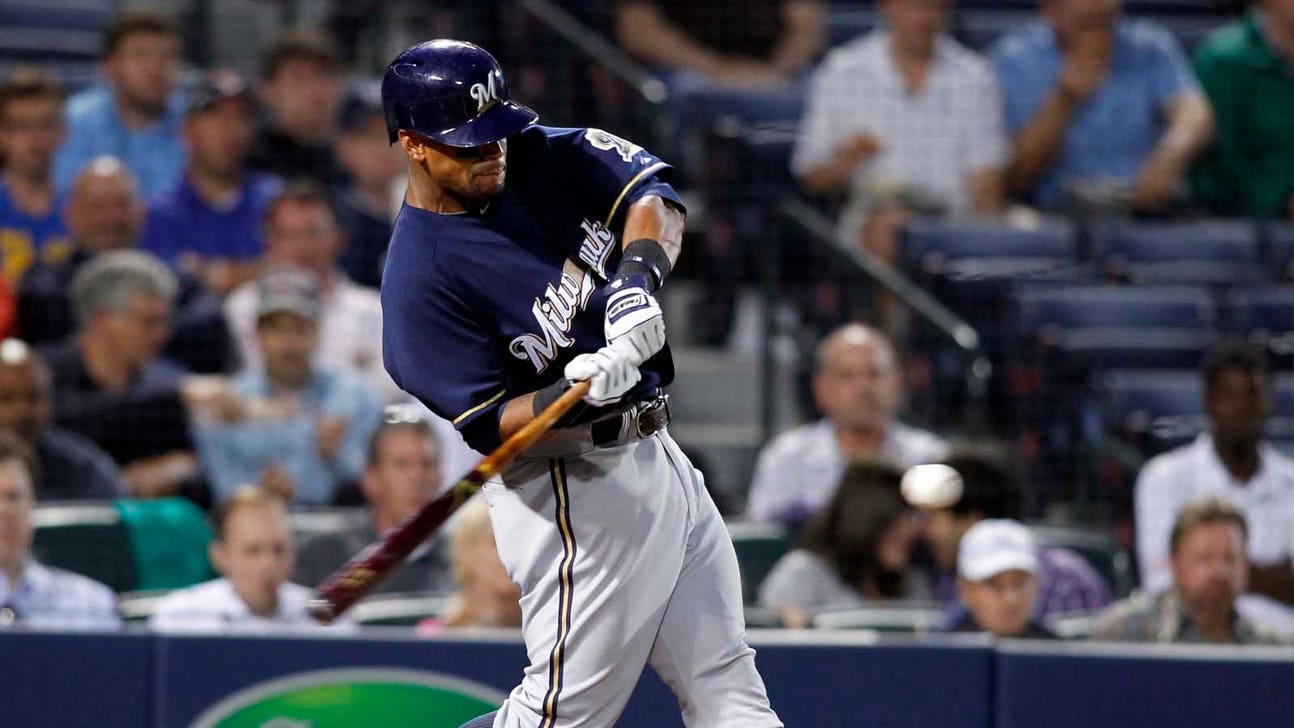 Brewers' Davis has elite power, is working to improve average
Published
Aug. 11, 2014 2:25 p.m. ET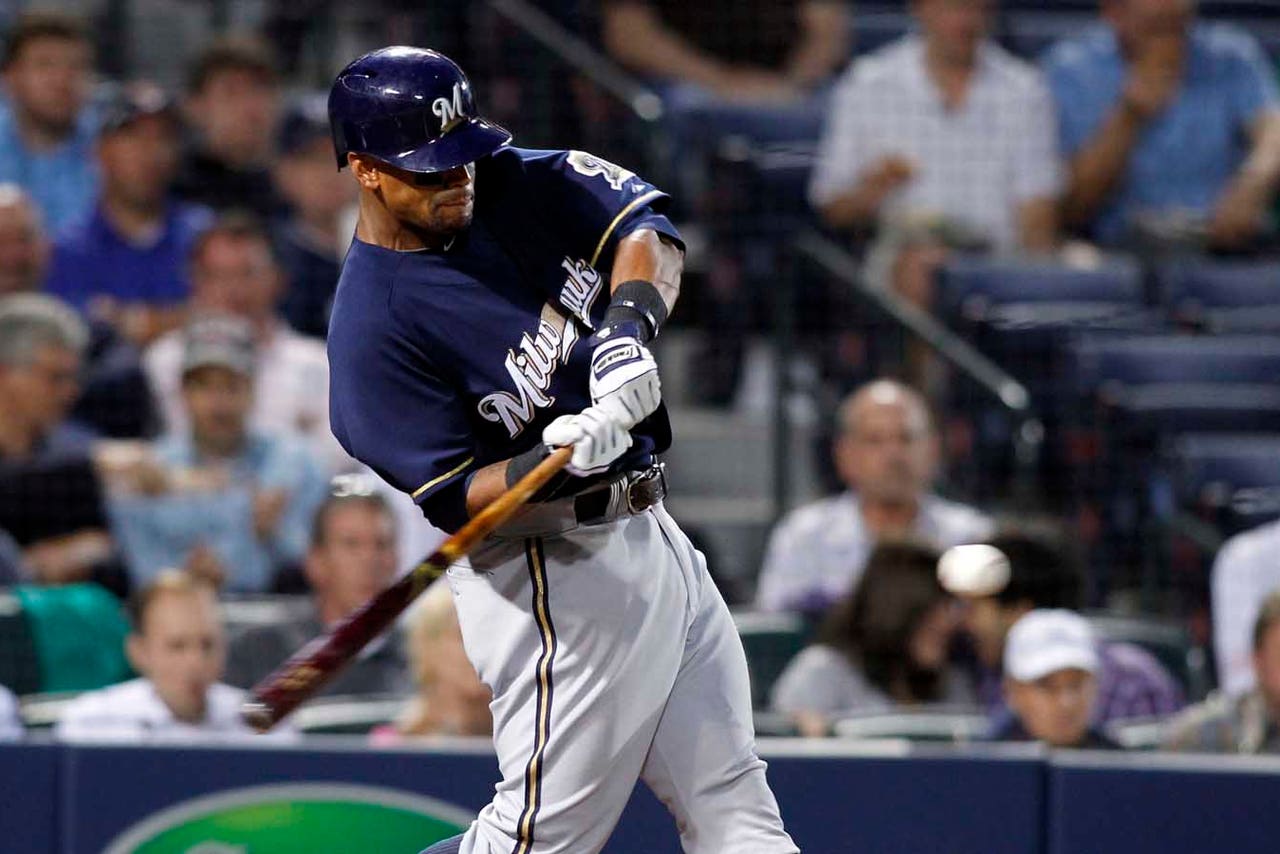 MILWAUKEE -- Not many players in baseball have good offensive numbers against Zack Greinke and Clayton Kershaw, but Gerardo Parra carries a career batting average above .300 against both star pitchers.
Yet Parra, acquired by the Milwaukee Brewers at the non-waiver trade deadline, wasn't in the lineup against either Greinke or Kershaw this past weekend.
"Khris Davis is our left fielder," Brewers manager Ron Roenicke said. "When he is swinging well, I want him out there."
Parra will find his name in the lineup on occasion, but the Brewers are committed to Davis in left field. The 26-year-old played in his 162nd major-league game Sunday, the equivalent of one full season in the big leagues.
Although it has come over the course of two seasons, Davis' numbers through 162 games are impressive: .260 batting average, 30 home runs, 38 doubles, 85 RBI and an OPS of .828.
Since Davis hit his first career home run on July 23, 2012, his 30 homers trail only Giancarlo Stanton (43) and Justin Upton (32) among National League outfielders. For comparison's sake, reigning American League MVP Miguel Cabrera also has 30 home runs during that stretch
Davis' .519 slugging percentage since July 23 of last year is the sixth-highest in the National League behind Paul Goldschmidt, Troy Tulowitzki, Stanton, Andrew McCutchen and Yasiel Puig.
Despite having placed himself in some impressive company when it comes to power over the last year, Davis doesn't get caught up in all of the numbers.
"Because there's so many stats where you can twist," Davis said. "I'm just looking to take it day by day. I'm happy to be here and I'm happy I can contribute in some way."
A glance at Davis' frame wouldn't lead one to believe he's a power hitter at 5-foot-11, 190 pounds, but the Cal St. Fullerton product has rare strength for his size. An example of that came Saturday when Davis took Greinke deep.
What made the home run impressive was the 93-mph fastball Davis hit out to the opposite field was up and away, the spot Greinke wanted it.
"I made a lot of mistakes today but that was exactly where I wanted it to be," Greinke said. "I know he's really strong if he does get to it, but I thought that was a pretty safe place to go. That was upsetting, because it was exactly what I wanted to do."
Not many hitters can get on top of a fastball up in the zone at that velocity and hit it for a home run.
"I was just looking to put a good swing on the ball," Davis said. "Just battle him off. He's got good stuff. He's got a nasty changeup. I was just thinking, just put something in play. . . . A good fastball usually can beat you high, but I just got my hands out and got the head out."
Despite how easy Davis made the home run sound in his description, the pitch he gave the Brewers a 2-0 lead on is usually a lazy fly ball or a swinging strike.
"I saw the catcher kind of signal up," Roenicke said. "They were trying to go up and away from him. To get on top of it -- that's not an easy pitch. It's usually just a high-ball hitter that can get on top of that. Somehow he squared it up."
While the power numbers are there, Davis is hitting .253 in 2014 and .260 over his 162-game career. Davis is a free swinger, having drawn just 23 walks in 422 plate appearances this season, and carries a career on-base percentage of .317.
Davis may never be an on-base guy or hit for a real high batting average, but Roenicke feels his young outfielder will grow in both of those areas.
"To start your career and be able to do that (30 home runs in 162 games) is pretty good but I think he's going to get better," Roenicke said. "I think he's going to hit better . . . .300 (average), I don't know about that. But I think he's going to get better. There are some things he's still working on that he can get to that I think will help him hit for a higher average."
How Roenicke divvies up the playing time in left field remains to be seen, but it is fair to assume Davis will be in the lineup more often than not if he's swinging the bat well. Davis carries a .316 batting average with a .942 OPS against left-handed pitching this season, while he's hitting just .232 against right-handers.
Predictably, the left-handed hitting Parra's splits are the opposite, as he's a career .289 hitter against righties and a .232 hitter against lefties.
Davis has already justified Milwaukee's decision to trade Norichika Aoki to Kansas City and move Ryan Braun to right field to clear a spot in the lineup for him. When everything is clicking for the Brewers, Davis and Mark Reynolds give them two big power bats in the sixth and seven spots in the batting order.
Through the ups and downs of his first 162 games, Davis has stayed calm and collected, focused on improving each day.
"It's easy to love this game when things are going your way, but when things aren't really -- you're not getting good pitches and swinging at bad ones -- it's hard," Davis said. "You can't be too hard on yourself in this game. It's just a learning experience, good and bad."
Follow Andrew Gruman on Twitter
---