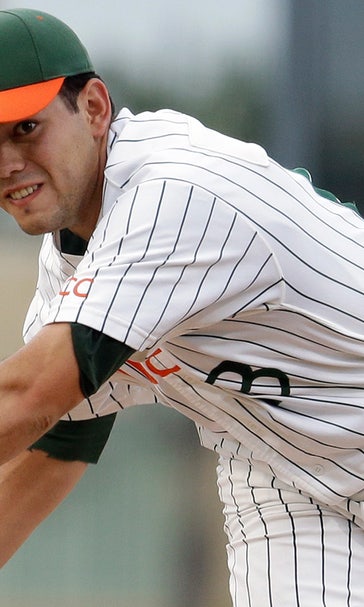 Braves draft: College prospects highlight Day 2 selections
June 6, 2014

After selecting a high school bat with their first-round pick in the 2014 MLB Draft -- selecting powerful UNC commit Braxton Davidson at No. 32 overall -- the Atlanta Braves did not hesitate in reverting to old habits. This is organization constructed around pitching, and four of the organization's top five picks followed suit.
The Braves selected four straight arms in Rounds Nos. 2-5, including college prospects Max Povse (UNC-Greensboro), Chad Bobotka (South Carolina-Upstate) and Chris Diaz (Miami). In fact, the college-targeted strategy was a theme for Day 2 of the draft for the Braves, as they dipped into the college ranks seven times after selecting 17-year-olds Davidson and Garrett Fulenchek in the first two rounds.
Overall, after two days of the event, the team breakdown is as follows: five pitchers (four right-handers), five position players; three prep prospects, seven college prospects.
The lone high school prospect the Braves selected in the first 10 rounds? The son of former MLB All-star Lenny Dykstra. Atlanta targeted some recognizable baseball bloodlines with the choice of Luke Dykstra, a second baseman out of Westlake High School in California, in the seventh round of the draft.
But in what was considered a weak draft class for position prospects, it appears the Braves took one of the most advanced high school bats in the field and then started snagging as many projectable pitchers, particularly power arms, as they could find. Here's a brief rundown of team's second-day picks:
The draft-eligible junior did not have a dominant 2014 season for the Spartans, running up a 4.99 ERA in 79 1/3 innings pitched, but standing 6-foot-7 and possessing a good fastball certainly did not deter his draft prospects. Labeled as a high-risk, high-reward pick, the third-round pick clearly presents an intriguing project for one of the top pitching farm systems in baseball.
Via MLB.com: "His fastball will sit at 91-93 mph, touching 95, though it comes in straight too often, especially when he elevates the pitch. Povse's best secondary pitch is his slider, which has good depth and velocity to it but needs to be tightened up in pro ball. He also throws a changeup and has shown decent feel for it, but he will definitely need more reps with the pitch at the next level."
One of the four prospects the Braves selected out of the Carolinas region, Sobotka is yet another towering pitcher in this draft class, standing 6-foot-7 and 220 pounds. All told, each of the Braves' first three pitchers taken stand 6-foot-4 or taller. Sobotka was considered an early-round selection before missing his entire junior season with a stress fracture in his back, but his projectable frame and mid-90s fastball weren't going to stay on the board for long regardless.
Via MLB.com: "His heater is more notable for its downhill plane -- he's 6-foot-6 and uses a high three-quarter arm slot -- than its life or his command of the offering. Sobotka does have enough in his arsenal to start, as he flashes a low-80s slider with some bite and a deceptive changeup."
Finally, a short(er) pitcher. The Hurricanes lefty became the co-ACC Pitcher of the Year in 2014 (along with Virginia's Nathan Kirby) after posting quality numbers in his 16 starts, walking away with a 2.41 ERA and 86 strikeouts through 101 innings pitched. Diaz is not considered to have an overpowering arsenal to work with, but the 21-year-old found success at the collegiate level thanks to a good sinker, even joining the U.S. national team in 2013.
Curcio joins Davidson as another outfield prospect for the Braves system after hitting .314/.406/.481 with five home runs and 23 stolen bases in his junior season. After selecting just one outfielder in the top 10 rounds of the 2013 draft (Georgia Tech's Kyle Wren, the son of general manager Frank Wren), the Braves double-dipped with their top two position players.
While many teams subscribe to the "best player available" strategy -- or talking point -- it's interesting to note that only Braves center fielder B.J. Upton is under contract past the 2015 season -- corner outfielders Jason Heyward and Justin Upton are set to become free agents -- so there's definitely reason to want depth in the farm system just in case.
MLB franchises love those bloodlines. At 6-foot-1, 195 pounds, Dykstra is much a bigger version of his father, who played 12 seasons in the majors for the Mets and Phillies. But judging by what Braves scouting director Tony DeMacio told the AJC, he plays the game in a similar, all-out fashion:
"He's just like his dad. He plays with his hair on fire. He's a compact-bodied kid. He's a little taller than his father, plays in the middle of the diamond, swings the bat, can run. He's a baseball player."
A two-way player in college, Roney was drafted as an infield prospect in the 18th round by the Orioles coming out of high school, but he projects as a reliever in the pros. Scouts like his fastball and his lack of experience (not to mention low mileage on his arm), though he does have a history of shoulder issues. However, at 6-foot-1, he won't be joining the early-round basketball team Wren & Co. brought to the organization.
Another Carolinas region prospect, Edgerton has been UNC-Pembroke's best offensive player over the past few seasons and it paid off: he becomes just the sixth player in program history to be taken in the draft's top 10 rounds. A two-time All-American, the 6-foot-1 corner infielder hit .369/.429/.608 with 11 home runs and just nine strikeouts as a junior.
The Ohio Valley Conference Player of the Year adds another power bat to the organization's farm system, as he hit 15 home runs during his senior year for the Redhawks. (He's the only college senior the Braves have selected thus far.) Oh, and he can join the Fulenchek-Povse-Sobotka basketball, perhaps as a starter -- he's also listed at 6-foot-5.
---