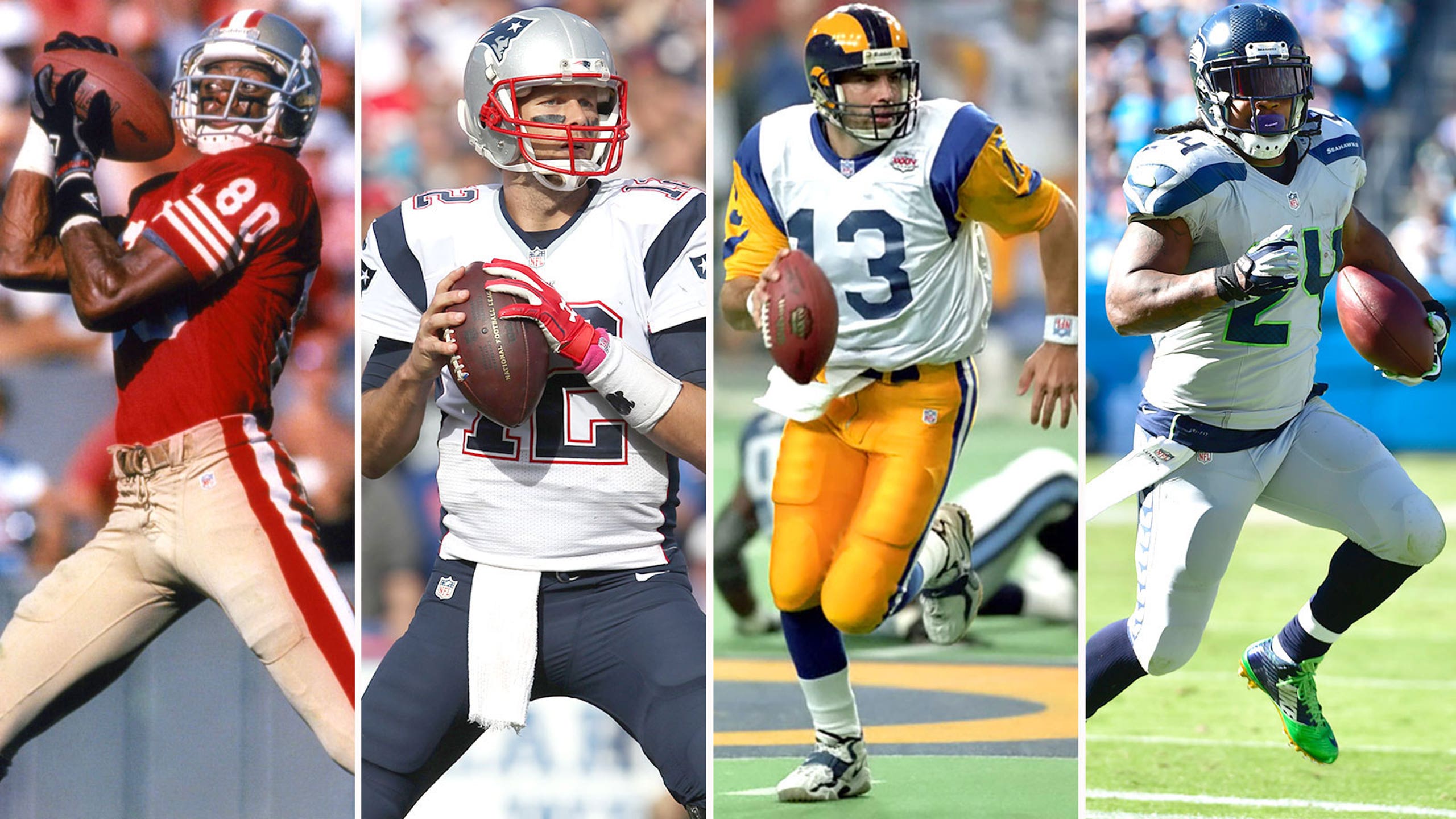 Brady, Lynch lead the 25 Fun Facts To Ponder for Super Bowl XLIX
BY foxsports • January 30, 2015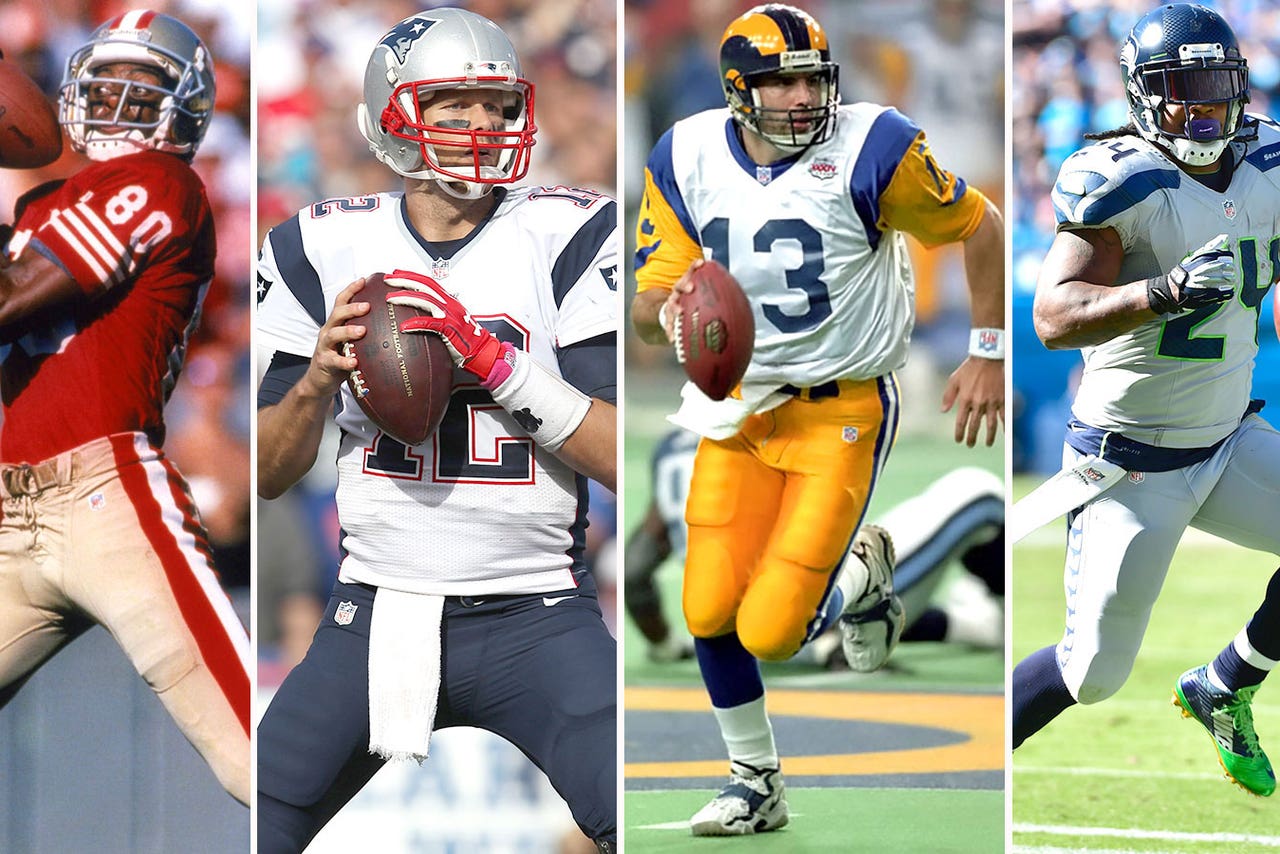 FOX Sports South takes a whimsical, diverse and super-sized look at 25 fun factoids for Super Sunday (New England vs. Seattle) -- one final piece that might help shape fantasy decisions (here comes the big-money payoff!) and/or inspire more real-world and barstool debates, among friends and kind strangers.
1. There are numerous enduring images from Super Bowl I -- such as Max McGee's reach-behind circus catch for the opening touchdown, the second-half kickoff that didn't count (NBC-TV wasn't back from a commercial break) and Packers head coach Vince Lombardi walking off the field amidst the Los Angeles Coliseum patrons, shaking hands without any security detail.
But here's a little factoid that goes largely unmentioned ... 49 years later:
Along with McGee (seven catches, 138 yards, two TDs), Packers tailback Elijah Pitts also scored a pair of touchdowns in the inaugural Super Bowl.
2. Only 12 NFL quarterbacks have started three or more Super Bowls -- Bob Griese, Roger Staubach, Fran Tarkenton, Terry Bradshaw, Joe Montana, John Elway, Jim Kelly, Troy Aikman, Kurt Warner, Tom Brady, Ben Roethlisberger and Peyton Manning.
3. The Dolphins' Fulton Walker was the first player in Super Bowl history to record a kick-return touchdown (98-yarder in SB XVII) -- breaking a 10-all tie in the first half against the Redskins.
(Miami would fall apart in the second half, losing to Washington, 27-17.)
4. One could easily make a case for Hall of Famer Jerry Rice (1,549 catches, 22,895 yards, 197 TDs) being the greatest player in NFL history. But here's something that cannot be argued:
Among non-quarterbacks, Rice holds the Super Bowl record for the most yards from scrimmage -- 220 against the Bengals in SB XXIII.
5. Perhaps you've heard this stat in the last two weeks ... when the Super Bowl-embedded media aren't focusing on #DeflateGate or Marshawn Lynch's worthless press conferences:
Seahawks QB Russell Wilson has an unblemished 10-0 record against Super Bowl-winning quarterbacks -- Aaron Rodgers, Peyton Manning, Eli Manning, Joe Flacco, Drew Brees and Tom Brady.
In fact, in his only meeting with Brady (October 2012), Wilson accounted for 310 total yards (293 passing) and three TDs against the Patriots.
6. Among starting quarterbacks, Roger Staubach holds the record for longest gap between Super Bowl victories -- six years. However, if Tom Brady (three-time Lombardi Trophy winner -- 2001, 2003-04) should win on Sunday, he'll be the new record-holder in that category.
7. The 1970 Dallas Cowboys are the first team in history to lose a Super Bowl ... when taking a lead into the fourth quarter.
But then again, we shouldn't expect anything less from the infamous Blunder Bowl (Super Bowl V) -- with the Cowboys and Colts netting 11 turnovers (five fumbles lost, six interceptions).
7a. Speaking of Super Bowl V, played on the short-lived Astroturf at the famous Orange Bowl, Cowboys linebacker Chuck Howley stands as the only MVP from the losing club.
7b. Given the uniqueness of Howley's award, it only makes sense for the Cowboys to be involved with this distinction:
Randy White and the late Harvey Martin are the only co-MVPs in Super Bowl history -- a reward for the Cowboys' 27-10 rout of the Broncos in SB XII.
8. In the New York Jets' victory over the Baltimore Colts in Super Bowl III, the most important upset in American sports history, QB Joe Namath -- who successfully guaranteed a win during the mid-week hype -- didn't attempt a single pass in the fourth quarter.
9. Of his last 11 outings, Seahawks tailback Marshawn Lynch (183 total yards, one TD in the NFC title game) has racked up 100 total yards and/or one score nine times.
On the flip side, of his five career outings against the Patriots, Lynch (original draftee of the Bills) has only crossed the above threshold just once.
10. Redskins tailback Timmy Smith holds the Super Bowl single-game record for rushing yards, rumbling for 204 yards (and two TDs) against Denver in January 1988 (SB XXI).
It's an eye-opening stat ... considering the unheralded rookie rushed for only 602 yards in three NFL seasons (1987-88, 1990).
In case you're wondering ... Redskins QB Doug Williams took home Super Bowl MVP honors, after tossing five TDs in a single quarter against the Broncos.
11. Check this out: Not a single head coach has won at least one Super Bowl with multiple franchises.
On a separate, but eminently fascinating note, no starting quarterback has ever claimed at least one Lombardi Trophy with multiple teams.  
12. Patriots QB Tom Brady may claim this nugget for a while: The three-time Lombardi Trophy winner owns the Super Bowl record for most career completions -- 128 through five games.
13. Dwight White, a member of the famed Steel Curtain defense of the 1970s, gets official credit for the first safety in Super Bowl history -- essentially two-hand-touching Vikings QB Fran Tarkenton in the end zone (blown hand-off in Super Bowl IX).
But the story doesn't end there: As legend has it, in the week leading up to the game in New Orleans, White ate some bad seafood and incurred a serious bout of "food poisoning." He subsequently lost 20 pounds from his unplanned hospital stay ... but rallied in time to suit up for the Steelers' first of four Super Bowl titles.
14. Most of America recalls Rams QB Kurt Warner passing for a Super Bowl-record 414 yards against the Titans in January 2000 (Georgia Dome). But it takes a little more thought to remember who currently ranks No. 2 in that category:
The trick-question answer: Cardinals QB Kurt Warner threw for 377 yards against the Steelers in Super Bowl XLIII.
15. Underrated linebacker Manny Fernandez holds the Super Bowl record for most solo tackles, amassing 17 in Super Bowl VII (January 1973). The Fernandez-led Dolphins topped the Redskins and clinched the first and only perfect season of the NFL's modern-day era.
However, Buffalo's Steve Christie holds the Super Bowl record for longest made field goal -- 54 yards in Super Bowl XXVIII.
17. Of his last 10 games (including the playoffs), Patriots tight end Rob Gronkowski has tallied 98-plus yards receiving and/or one TD nine times.
And for his lone clunker of five catches and 78 yards against the Lions (back in November) ... New England scored 34 points against the NFL's top-ranked defense. No worries.
18. In 1982, the Bears selected Jim McMahon -- the No. 5 overall draft pick from BYU -- as their passing savior ... and a complement to all-world tailback Walter Payton. The surprisingly fleet-footed McMahon would also be proficient when escaping the pocket, tallying 16 rushing TDs in his 15-year NFL career.
Which brings us to this: McMahon holds the Super Bowl single-game record for must rushing touchdowns by a quarterback -- two against the Patriots (SB XX). It's worth noting Payton didn't find the end zone once in Chicago's 46-10 rout of New England.
19. Rich Gannon was the NFL MVP for the 2002 season, while leading the Raiders to their first AFC championship in 19 years. On the down side, that accomplishment has been trumped by one day of infamy:
Gannon holds the Super Bowl record for most interceptions thrown in a single game -- five against the Buccaneers in SB XXXVII.
To be fair, Gannon and the Raiders had a significant disadvantage for that game ... since Tampa Bay head coach Jon Gruden (previously the Raiders' head coach) had been the architect of Oakland's passing game.
In fact, when watching NFL Films highlights from that day, it's comical to hear the Bucs defenders call out Gannon's play-calls and audibles before the actual snap.
20. The Miami Dolphins are the only franchise of the Super Bowl era to post a perfect season, from beginning to end. On the flip side, the Dolphins are the only club in Super Bowl history NOT to score at least touchdown in that game.
The 1971 Dolphins lost to the Cowboys 24-3 in Super Bowl VI (January 1972).
21. The Dolphins were certainly a run-first operation in the 1970s, even with the Hall of Fame tandem of quarterback Bob Griese and receiver Paul Warfield.
Speaking of Griese, the Purdue legend holds the Super Bowl single-game record for fewest completions by the winning starting quarterback -- six against the Vikings in SB VIII.
To Griese's credit ... he only had one incompletion on the day -- an errant fly pattern to Warfield.
22. The largest halftime deficit for a Super Bowl champion stands at seven points (a distinction shared by multiple clubs). The largest halftime deficit for any Super Bowl team ... belongs to the 1987 Broncos, who trailed by 25 points at the break (SB XXII).
23. Jake Delhomme owns a cool record that might endure for a decade or two -- or maybe it'll be erased by Sunday:
The retired Panthers quarterback gets credit for the longest pass play in Super Bowl history -- an 85-yard reception to Muhsin Muhammad in Super Bowl XXXVIII (against the Patriots).
For what it's worth, Steelers tailback Willie Parker owns the record for longest rushing play in Super Bowl history -- a 75-yard touchdown run against the Seahawks in SB XL.
24. This week's Fun Facts has unwittingly evolved into a Super Bowl snubs piece. For instance, Raiders linebacker Rod Martin holds the Super Bowl single-game record for interceptions -- three balls off Eagles QB Ron Jaworski in Super Bowl XV.
And yet, Martin's offensive teammate, quarterback Jim Plunkett (261 yards passing, three TDs against Philly), walked away with MVP honors.
And finallly ...
25. Counting this weekend's clash with the Seahawks, Bill Belichick has now coached in eight Super Bowls -- two as a Giants assistant and six as the Patriots' head coach.
Is that a participatory record? Well, yes and no.
While Belichick holds the coaching-only record for Super Bowls (eight) ... Dan Reeves owns the all-time record for players and coaches -- participating in nine Super Bowls (two as a Cowboys player, three as a Dallas assistant under Tom Landry and four as head coach of the Denver Broncos or Atlanta Falcons).
Jay Clemons, the 2008 Fantasy Football Writer of the Year (Fantasy Sports Writers Association), can be reached via Twitter, day or night, at @ATL_JayClemons.
---