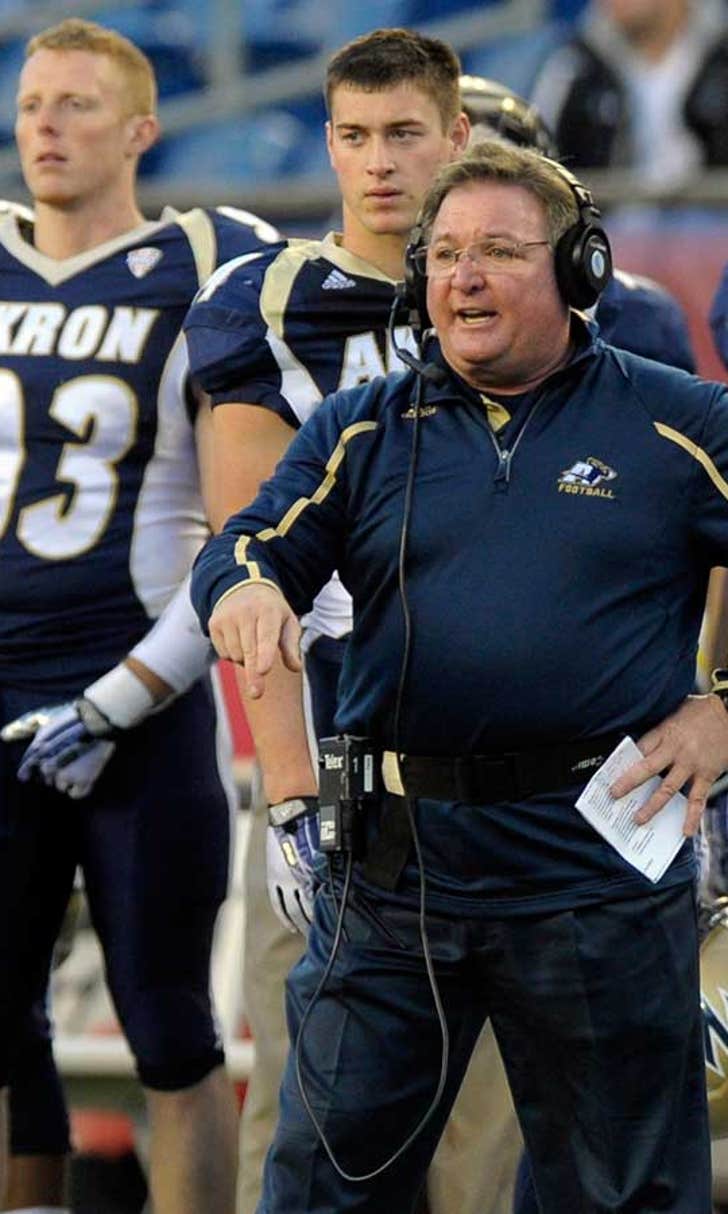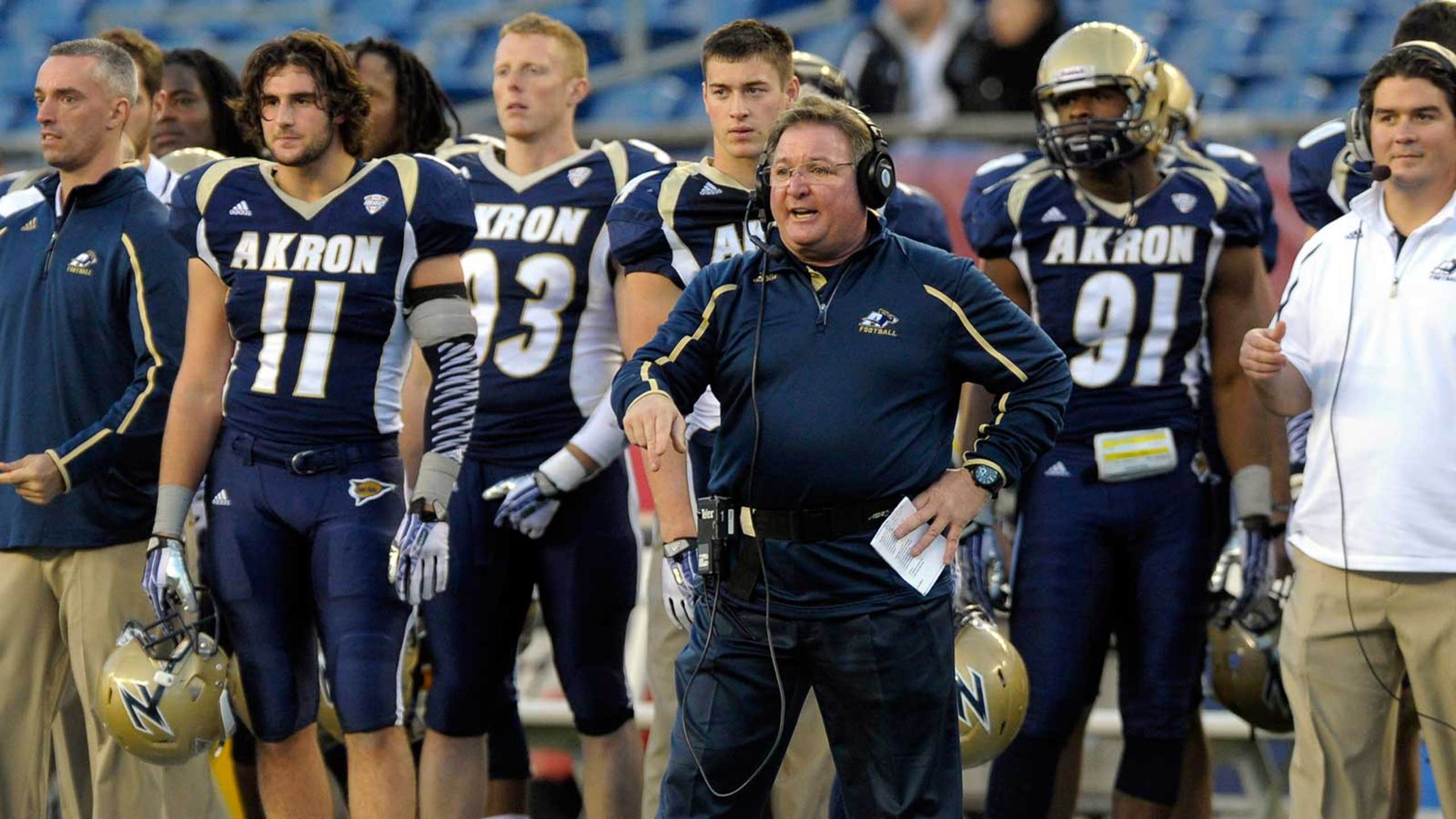 Bowden aiming to change perception and results at Akron
BY foxsports • February 17, 2014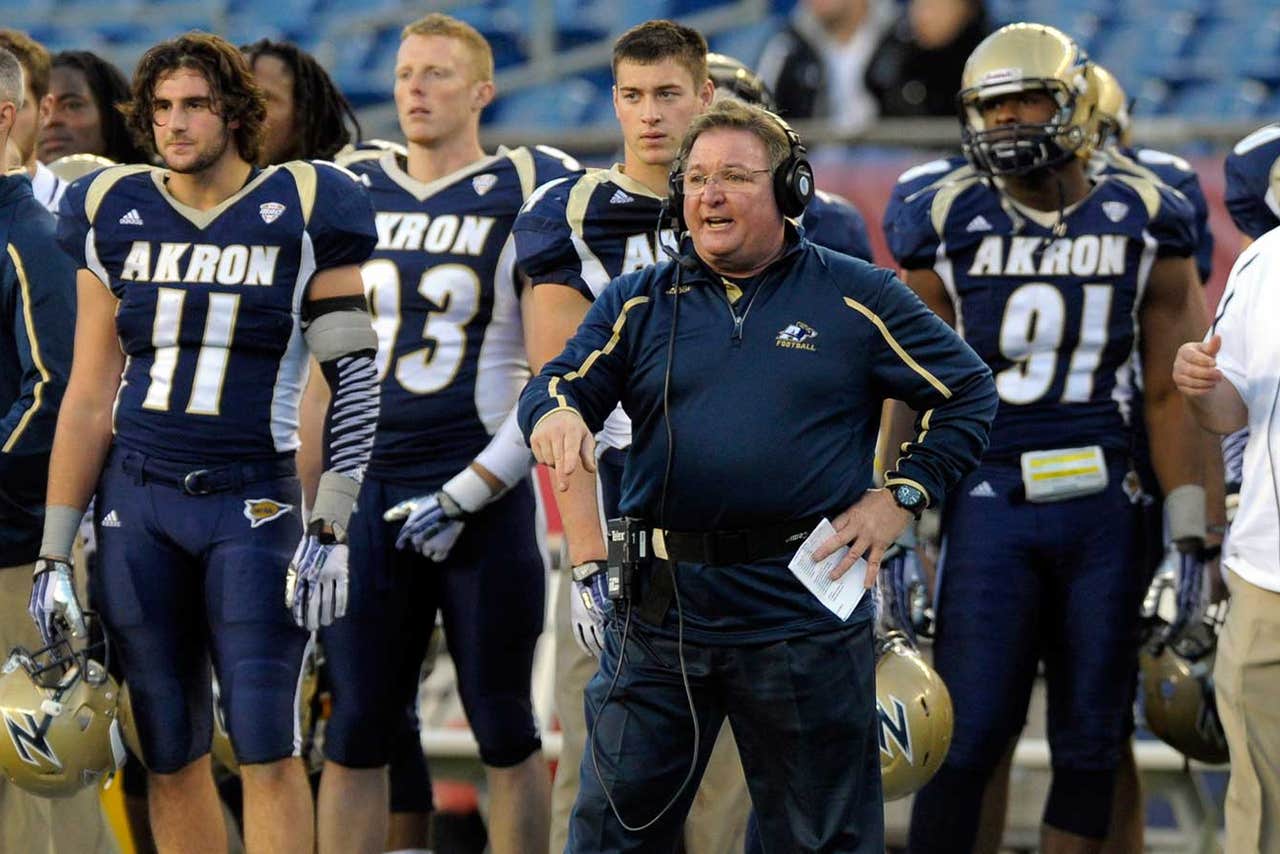 AKRON, Ohio -- The University of Akron football program does not have a perception problem in the usual sense.
It's more that the Zips would like to be perceived -- and seen, really -- at all. Even in their own city, the Zips have never been a hot ticket.
There's been too much losing; not enough sizzle. In the Ohio football market, there's too much saturation and competition for a mid-major program that's lost for decades, not just years, to get much attention.
The hiring of Terry Bowden 26 months ago was made with changing that in mind. Yes, he's that Terry Bowden, from that Bowden family. In his first year on the job, Bowden's Zips went 1-11 -- just like the previous two Akron teams had. Last year, they showed marked improvement, won four Mid-American Conference games and came a goal line stand from winning at Michigan.
"The most positive negative ever," Bowden said of that Michigan game.
It made every national highlight show, every text-message upset alert, had every Ohio State fan on Twitter poking fun at their team's biggest rival. It made the Akron Zips matter, at least for a day.
Then Akron went on to finish 5-7, and for that Bowden probably should have been thrown a parade. Akron won its first road game in four years, and played Northern Illinois tight into the fourth quarter, and beat rival Kent State and then actually beat a Div. I FBS team with a winning record in its season finale, Toledo.
For the first time in nine years, Akron football has momentum. And Bowden's plan to grow and sustain it includes a very local blueprint. Akron is never going to win a national championship, but with the right players and some big wins the Akron Zips can matter -- in Akron, in Northeast Ohio, throughout the Great Lakes region.
To say that Newman Williams, an Akron native and newly-signed Zips linebacker, is the program's most important recruit in a decade is to put an awful lot on a kid's shoulders.
Williams has some pretty big shoulders.
He has a heck of a highlight reel, too, and a bunch of ability. So much that Bowden, at first, didn't think Akron could get him. Where bigger programs saw Williams as an inch too short, a step too slow or a man without a position, Bowden said he and defensive coordinator Chuck Amato saw rare ability in a linebacker who's listed at 6'2, 240 but might be heavier -- and can still really run.
"No question, I think a lot of people are going to be disappointed they didn't go after him," Bowden said. "He's not quite 6'3 and all that...but you wonder. He's just a guy that plays with his weight very well. His film is so good on defense, but there was even more of him knocking people backwards (running the ball) and being the best player on the field, even with a couple of guys who went to bigger schools."
Williams is from just up the road from campus, too, and he played at St. Vincent-St. Mary High School, alma mater of LeBron James and especially of late a popular choice for blue-chip athletes in many sports. St. V-M just won back-to-back state football championships, and a year after Akron signed diminutive but explosive receiver Fransohn Bickley from St. V-M, the Zips got Williams and defensive end Travonte Junius in this year's signing class.
"Akron absolutely stole these kids," St. V-M coach Dan Boarman said. "Much like the Bickley kid who wasn't a big-time recruit but is going to end up being a big-time football player...so many kids, too many kids now, pass the eye test and run in the spring and get offered scholarships. But can they really play football?
"Mine is a biased opinion, obviously, but (Williams) is a really special football player. In 40 years of coaching...Newman is an all-time miss by a lot of college programs. He's probably as important a recruit Akron has had in a long time. I think he'll go there and play right away."
Those two St. V-M players going to bigger schools Bowden referenced are Ohio State signees Parris Campbell and Dante Booker Jr., who won Ohio's Mr. Football award last season. Boarman said when Booker was informed he had won Mr. Football, he told his coaches he would have trouble accepting it because he said he wasn't even the best player on his own team. He named both Campbell and Williams as superior players.
"When you're recruiting St V-M the last couple years, there are just some guys who are going to be recruited by the Ohio States, the Michigans, the top programs and aren't going to consider Akron," Bowden said. "But there's enough talent that you take a second look, you look very closely, and when we saw the opportunity to recruit Travonte and Newman we went after it hard.
"I think there's no question that by us being the only Div. I program to take a chance on a little guy like (Bickley), one of the most beloved players to play there in a while, it really made an impact."
Though Williams said he plans to play linebacker and was made no promises of getting to play fullback in spots, too, Bowden compared him to UCLA's Myles Jack, who made an impact as a freshman two-way player last fall.
"He's really special," Bowden said.
Bickley caught 39 passes last season as a Zips freshman, second on the team behind Zach D'Orazio, who's from 30 miles north in the Cleveland suburb of Cuyahoga Heights. After falling out of Urban Meyer's good graces and leaving Ohio State, one-time mega-defensive end recruit Se'Von Pittman enrolled at Akron last season. Pittman is from Canton McKinley, one of the most recognizable high school programs not just in Ohio but in the nation. Signed in 2013 but not academically eligible for last season were Akron natives Deontae Moore and Jerome Lane Jr.
"First of all, win and they'll come," Bowden said of attracting local talent. "Whether it be us or the Browns or whoever. get the thing turned around and people will get excited. In the meantime, you have guys that people locally have watched play -- names they know, players they'll talk about.
"You want to get the good ones. You don't take guys just because they're local. But if it works, it helps the local crowd get excited."
Also in this year's recruiting class are a pair of local linemen, Kyle Ritz of Willoughy South, east of Cleveland, and Akron Buchtel's Anthony Clark. At Buchtel, Clark played for former Michigan star and Buchtel alum Ricky Powers. College programs nationwide have long stopped at Buchtel looking for talent, and many took a long look at Clark.
"He had made a commitment to us, and he made the decision not to take a visit to a big, big school," on the final weekend of recruiting, Bowden said.
Lane Jr. -- his father is that Jerome Lane, the former basketball star -- was recruited by multiple power-conference programs at Firestone High School. He enrolled at Akron last year as a non-qualifier. If he gets the grades this semester he got in the fall, he'll be on scholarship next season and not just on the depth chart.
"Jerome is a top talent," Bowden said. "We stuck our neck out for Jerome, and the word gets out that you want to build your program with these local guys. These kids talk to each other. Our hope and our thought is that they're talking positively about Akron."
Besides hiring Gerry Faust in 1986, one MAC title almost 20 years later and a Heisman Trophy campaign for Charlie Frye in 2004 that had zero chance of actually gaining any traction, Akron has always toiled -- and lost -- in anonymity. Until five years ago, the Zips played their home games 10 minutes off campus in an aging stadium called the Rubber Bowl.
There was a disconnect. Junius said he never went to an Akron game at the Rubber Bowl as a kid. Williams remembers going with his father and brother "a few times" but doesn't remember if Akron won any of those games.
Here's a guess: No.
Even in the MAC Championship season of 2005, the Zips were 7-6.
That was Akron's last winning season, one of only three winning seasons in the last 21. Bowden was an Akron assistant under Faust way back in 1986, the first year the Zips played football in Div. I, and he's well aware that no Akron team has won eight games in a season at the Div. I level.
He sees that and near-sellout crowds as attainable goals.
"They're all goals, really," Bowden said. "Maybe some of these things that have never been done have never been done for a reason. Maybe we won't reach them all, or maybe we won't turn this thing as fast as we want to. But we're going to try. It's all in play."
The Rubber Bowl was falling apart -- quite literally -- for years before it closed and InfoCision Stadium on campus opened in 2009. InfoCision Stadium is clearly the crown jewel among its MAC competitors and newer and shinier than at least a couple stadiums in the bottom tier of the Big Ten. Akron's adjacent indoor fieldhouse is top notch, too.
There's a lot to sell, and Bowden is quite a salesman.
"I really like the coaching staff," Williams said. "I know the players that are already there. The pieces are there to change around the program.
"They want us to be part of that change. I just really appreciate the opportunity to do that."
Said Junius: "Staying at home for college, we're more comfortable as we get started. And our whole goal is for Akron to be a big program by the time we're done."
Follow on Twitter FSOhioZJackson
---