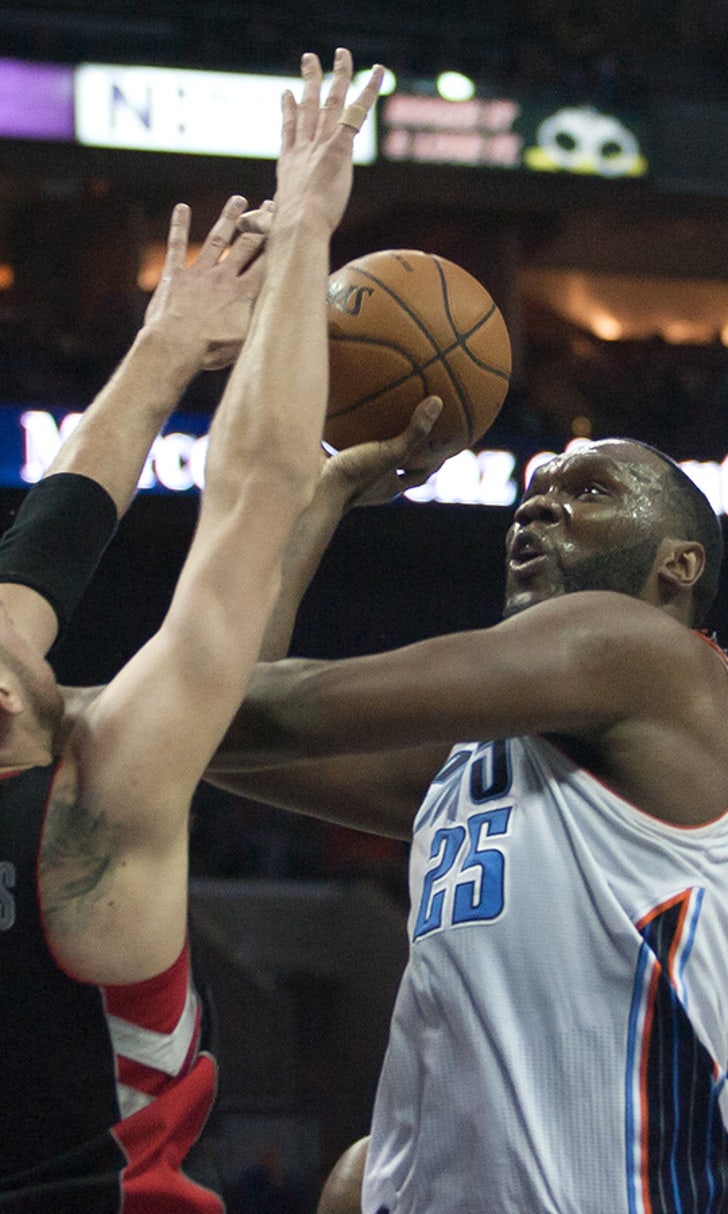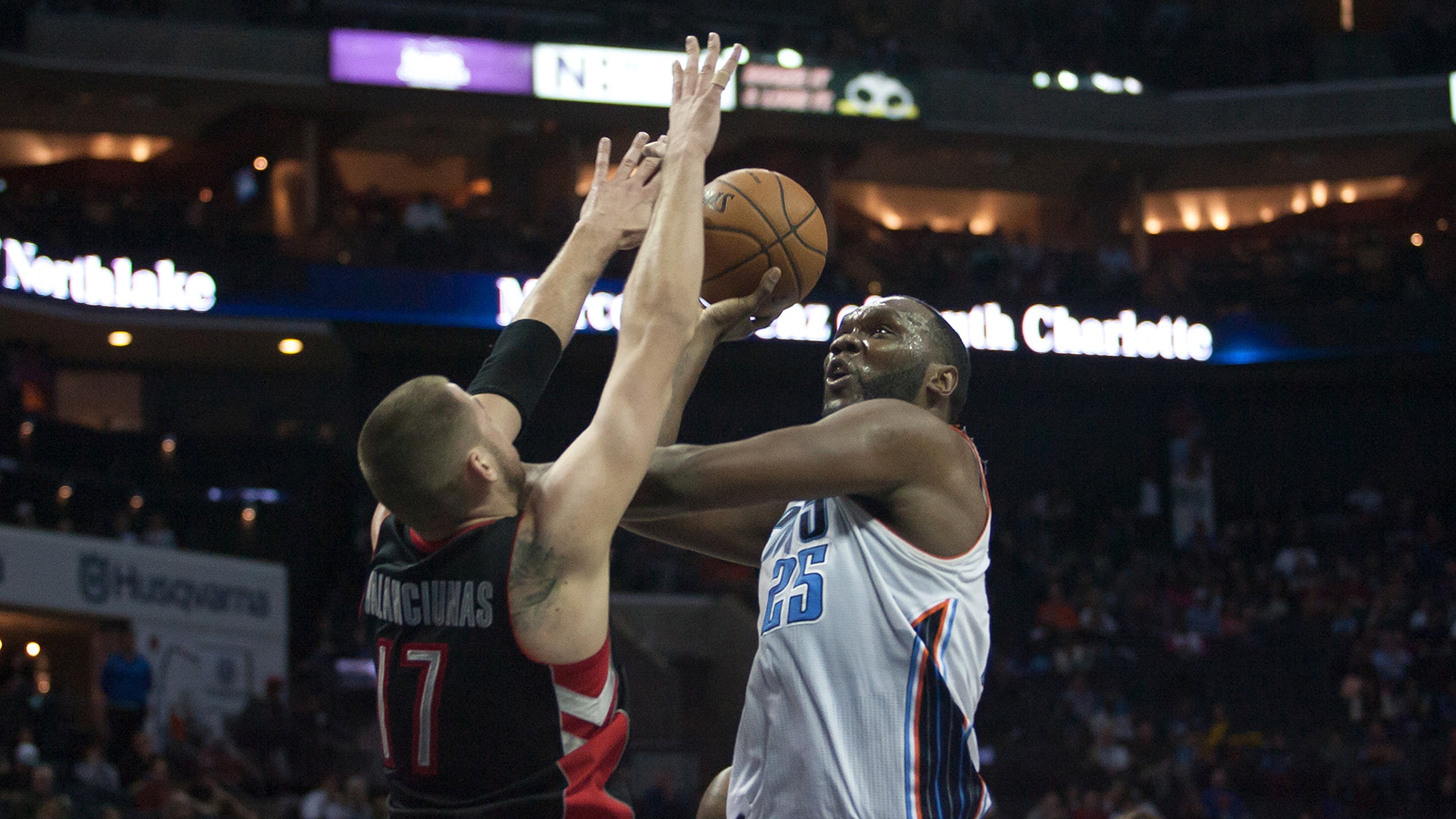 Bobcats hold off Raptors, see room for improvement
BY foxsports • January 20, 2014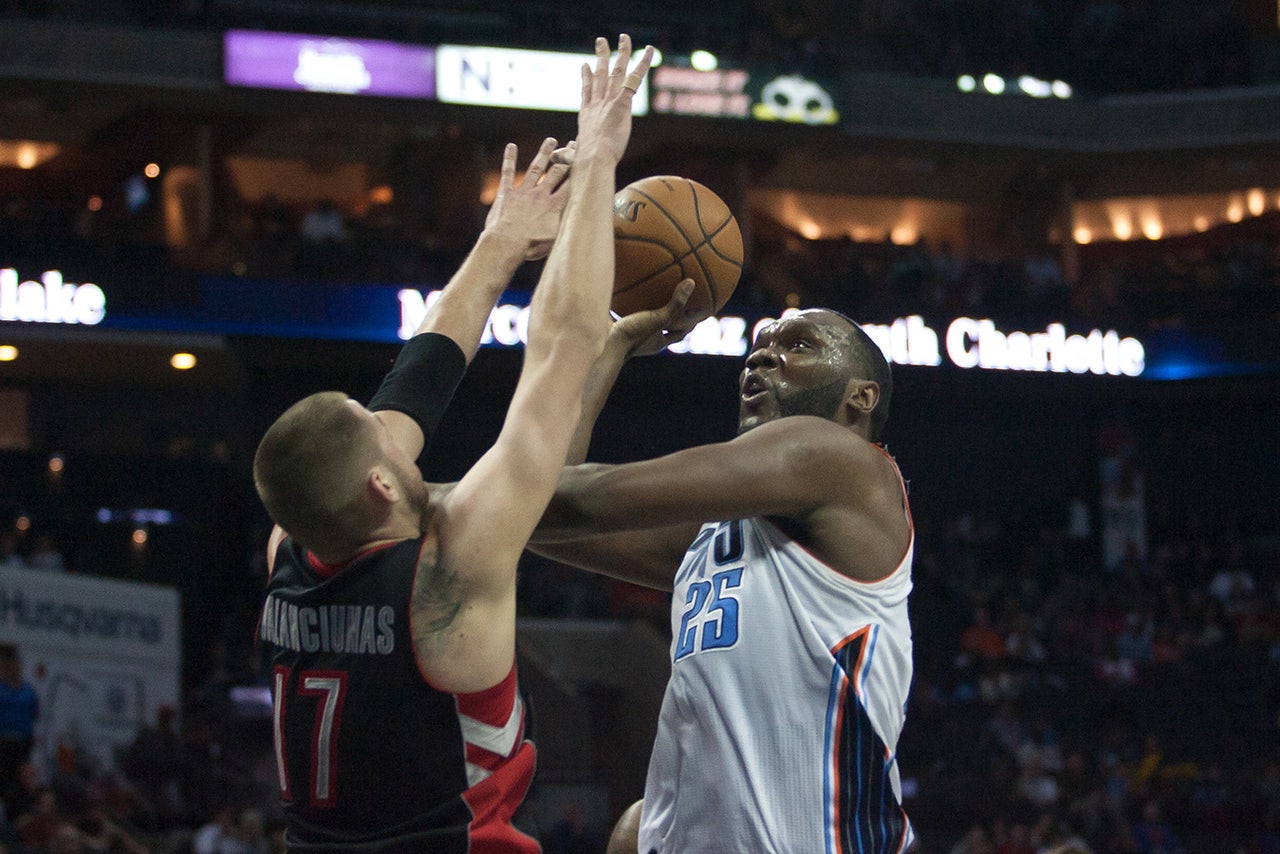 CHARLOTTE, N.C. -- The Bobcats (18-25) remain just one game back of the playoff cut following a 100-95 victory that was in doubt until the final moments after Toronto (20-20) nearly erased a 30-point lead.
Kyle Lowry sliced right but Al Jefferson was converging, forcing him to crossover to his left across the lane, but he still had nothing. So the Raptors point guard pump faked, drew Jefferson in the air and hit an impossible fadeaway leaner while drawing the foul. He stepped to the line -- 25.9 on the clock -- with the chance to tie it up with that free throw.
That's the beauty of sports, not Lowry's shot, but the fact that he was even in that position. Not even the most cynical of storywriters could have drawn up Lowry sitting on the line with a chance to tie it when the Raptors trailed by 30 with 4:37 left in the third quarter.
Then Lowry missed the free throw and an impossible escape for the Raptors, and the Bobcats got away with a victory after two Ramon Sessions free throws and a defensive stop.
"When you ever get a 30-point lead, I don't care how hard you tell your team, you're going to get relaxed," Al Jefferson said. "The good teams don't, but the teams that are still trying to prove theirselves like us, we got relaxed today. We stopped getting back on D."
Charlotte stopped getting back on the defensive end, started turning the ball over and wasn't able to keep the Raptors off the glass. The home team only turned the ball over three times in the first half, but turned it over 10 times in the second.
"We had great readiness to start, played well for most of three quarters, then they did a good job of turning up the heat and we turned the ball over," head coach Steve Clifford said. "I think in the fourth quarter the majority of their points were off our turnovers, which they forced, and second chance points, which they're very good at."
Still, Clifford will take a win over a team that's 14-8 over the past six weeks and currently sits first in the Atlantic Division -- regardless of how ugly it may have been.
"For our team, that's a really good win," he said.
Al Jefferson's first-half stat line was a monster -- 14 points on 6-of-12 shooting and 12 rebounds. Most importantly, though, the Bobcats had shot 56 percent and were 4-of-8 from deep as they coasted to a 19-point halftime lead. But just like in the Miami game two days prior, the defense clamped down in the second half on Jefferson and made post feeds far more difficult, and the Bobcats shot 41 percent in the second half with Jefferson only able to get up six shots.
He finished with 22 points and 19 rebounds, but wasn't nearly as effective in that latter period. What has to change when opposing defenses adjusts?
"The guys are going to have to score -- the other guys have to score," Clifford said. "Again, it's the issue with that position. Talk to Patrick Ewing, it's a dependent position. You give LeBron [James] the ball at the top of the key, he's in the middle of the floor, you have to guard the whole floor. When you come, he kicks it, and someone has an open 3, versus you're 10 feet from the basket with your back to the basket and they can come where you can't see and you're on one side of your floor or the other, which defensively is where you want the ball and there's limited passing and cutting routes.
"So what has to happen in those situations is when they're going to come -- the other night it was before he got the ball, tonight it was more after he got the ball -- you have to be able to make them pay."
The Raptors adjustment wasn't as much about bringing help as it was about playing Chuck Hayes more in the second half. Hayes is basically immovable on the block and has long been known as one of the best post defenders in the league. The Bobcats didn't have an answer with their pick-and-roll or isolation game.
"Me and Chuck are great friends and I hate him as a defender because he's just one of those guys -- very smart, can't move him and for his size, he can move his feet very well. He's one of those guys I just really have to try to outsmart him, and that's why I was really kind of mad when he got traded to the East."
Although Jefferson had a season-high seven assists, he said he has to do a better job of making opponents pay when they sag down on him. He's also focused on trying to catch the ball deeper. He said the team had the right idea of how to attack them in the second half, but didn't make enough plays. Each game the Bobcats are seeing different schemes being thrown at them, so it's a process. But there's no denying what a high level Jefferson's playing at recently, averaging 25.5 points and 12.7 rebounds over his last six outings.
"As each game goes, they're coming with different schemes. Tonight, they came right off the passer," Sessions said. "We looked at it and then we started holding it a little bit. There's definitely different ways they're coming at him and we just have to figure it out."
The question Jefferson was asked wasn't even about Kemba Walker. It was about how he can get the ball more in the post in the second half, but still he couldn't help but bring Walker up.
"Man, Kemba, whew, he will be missed," he said.
So far so good playing without Kemba Walker, though.
There's no question they miss their floor leader, but Sessions and Jannero Pargo came to play in their first game without him. Sessions scored 23 points on 6-of-10 shooting while Pargo had 11 points and four assists in just 14 minutes.
"That's what real point guards do. I just have to try to do what I can do," Sessions said. "We're going to miss Kemba tremendously. A lot of guys have to step up, including myself."
The mindset differs, though, starting as opposed to coming off the bench. While he's usually able to come in and attack immediately, Sessions says starting you have to work to get other players involved more from the start and have to let the game come to you.
"Kind of been how my career's been," he said. "I'm used to being a backup and then when it's time to get those extra minutes, take advantage of it."
He'll have to do that for another week or two as Walker continues to nurse an ankle sprain. Walker's been the second-best shooter on the team behind Anthony Tolliver, Clifford said, so Pargo's 3-of-4 effort from deep was much needed as well.
On the locker room scoreboard, a red erasable marker left a message: 28-0.
The message was clear -- The Bobcats have to do a better job on the backboards.
Although Clifford feels like their team defense is starting to get back to where it was earlier in the season, they're still getting crushed on the boards, as evidenced by the 28-0 line in second-chance points Monday. The Raptors secured 17 offensive rebounds to the Bobcats' two, and the Bobcats have now been outrebounded in nine of their 10 games in January. Toronto enjoyed a plus-11 margin on the glass.
"By the way, that's not the big guys. It's the perimeter guys," Clifford said. "When we were rebounding the ball well early in the year, it was because the big guys were blocking out and the smaller guys were coming back and getting seven, eight, nine rebounds a game. We started the game like that tonight and then when we got a lead, those guys started leaking out again. That's one of the things that will be on the film again tomorrow."
Clifford's talked repeatedly about how for this team they have to get to the line, play great halfcourt defense and they must rebound. They've gotten back to doing the first two things in the last week but the rebounding's still lagging.
"Effort. More effort," Sessions said. "When the big guys are boxing those guys out, me, myself and the other wings have to come back and get the rebounds."
---