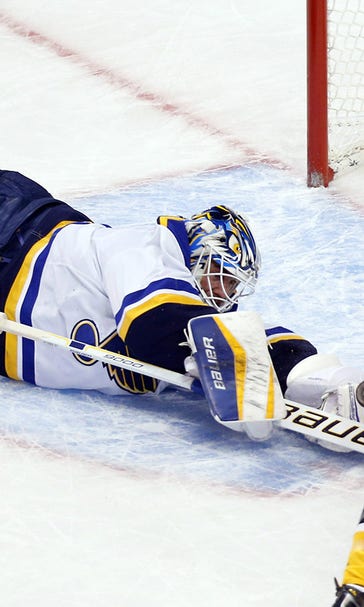 Blues get blanked in Boston despite Elliott's best efforts
BY foxsports • November 18, 2014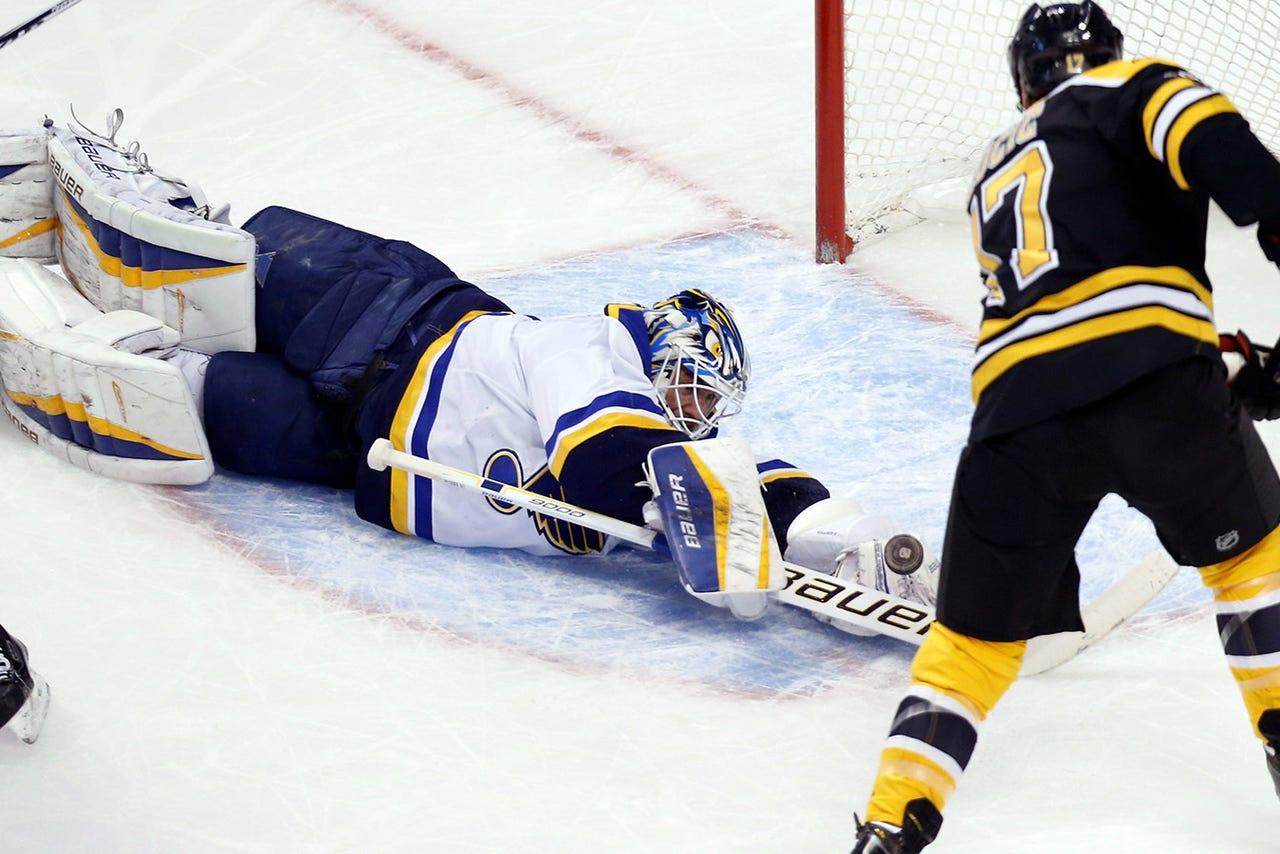 The Blues couldn't ask for a better start from Brian Elliott in his first season as the team's No. 1 option in net.
Yet the 29-year-old has watched more games than expected from the bench, and few breaks seem to be going his way. He took another tough, 2-0 loss Tuesday night in Boston, where the Bruins snapped a streak of six straight losses at home against the Blues while winning their sixth straight game overall at TD Garden.
Elliott's record fell to 7-3-1 despite a stellar 1.75 goals-against average in his four losses since a season-opening 3-2 loss against the New York Rangers. Unfortunately for him, St. Louis has scored just once in those four games, including three shutouts away from home.
Patrice Bergeron scored Boston's game-winning goal when Elliott wasn't even in his net, thanks to a communication error between the goalie and defenseman Ian Cole. The second tally came in the second period, when Torey Krug fired a wrist shot to the top left corner and a screen from forward Carl Soderberg left Elliott with little chance.
He still owns the third-best goals-against average in the league at 1.91, but it's not even the best mark on the Blues' roster. That's because 24-year-old Jake Allen has been spectacular through the better part of his first six games and leads the league with a 1.67 goals-against average to go along with a sparkling 5-1 record.
Allen will make more highlight reels, and he's certainly earned the right to more starts, like the one he'll get Thursday at Montreal. But last year's Bastien Award winner as the most outstanding goaltender in the American Hockey League still has a lot more to prove before he becomes a fixture at the game's highest level.
Three goals on three shots toward the end of a 4-3 win against New Jersey raises some concerns about Allen's consistency, though shutouts against the Devils and the Western Conference-leading Anaheim Ducks show just how good he can be. Meanwhile, other than a weak game-tying goal by Joel Ward in last Saturday's 4-1 win over Washington, Elliott has been a model of consistency.
He made a pair of great saves to keep the game close Tuesday night, including a stop against Bergeron with 48 seconds left in the second period. Elliott has patiently waited his turn and deserves to be on the ice as much as possible, but it's tough to deny Allen his opportunity with his league-best .933 save percentage.
Meanwhile, the offense in front of Elliott went ice cold again, an unexpected development from a team that had scored at least four goals in four of its last five games. Boston's Tuukka Rask saved 33 shots, including two solid chances for Blues leading scorer Vladimir Tarasenko, but great opportunities were few and far between for a St. Louis team that surely would have liked to offer more help for its outstanding goalie.
SLOPPY START PROVES COSTLY
Strong starts have become a signature of the Blues' recent hot streak of 10 wins in 11 games. Since falling behind 1-0 in back-to-back wins over Chicago and Dallas, St. Louis had scored first in eight of its last nine games, including the last six.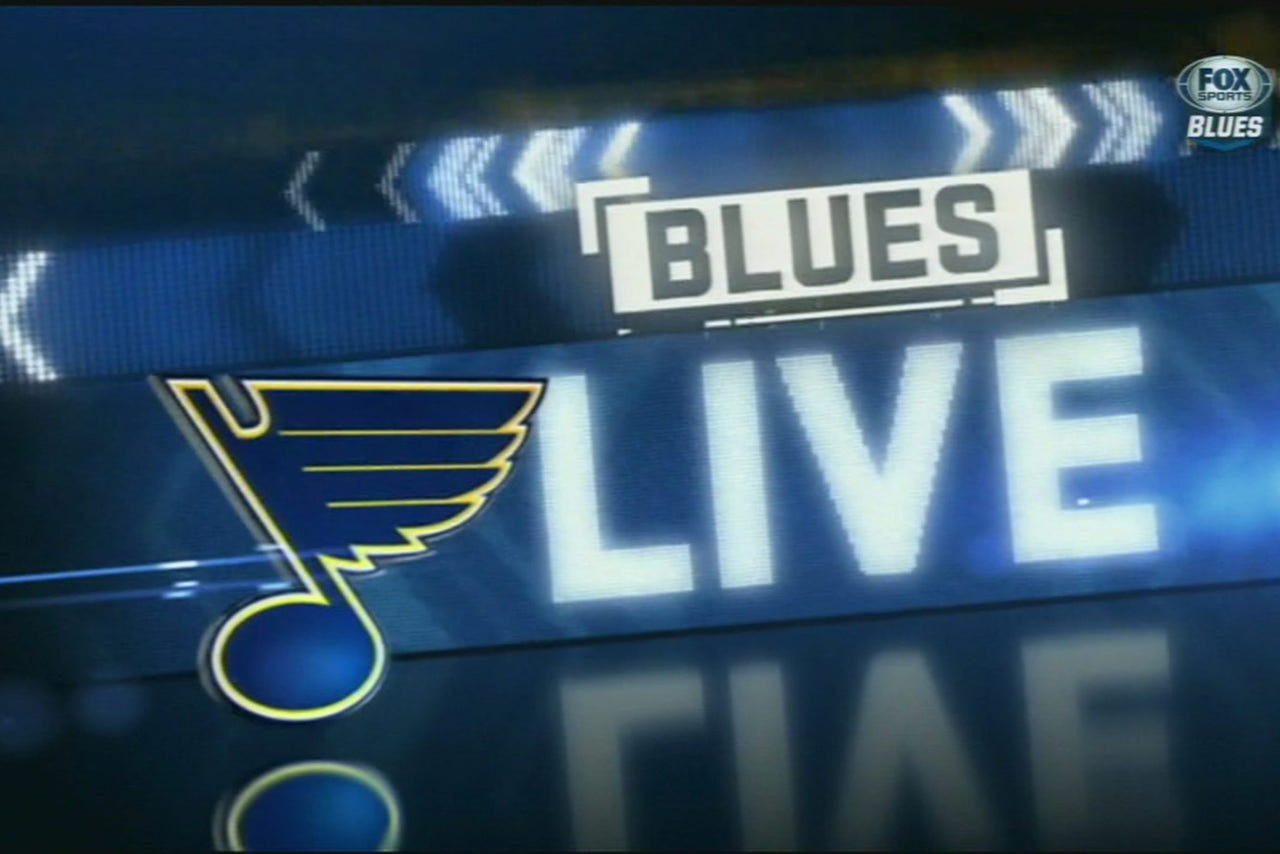 Watch the Blues Live pregame and postgame shows before and after every St. Louis Blues game on FOX Sports Midwest.
So it came as a surprise to see the Blues make some uncharacteristic mistakes early at Boston to begin a tough four-game road trip on a sour note. The Bruins couldn't capitalize on a turnover by Elliott behind his own net, but Bergeron didn't miss an open net when he got the puck from Cole on an awful pass from behind the goal.
St. Louis even caught another break when Chris Kelly skated offsides after a neutral-zone turnover, negating what would have been a two-on-one. A hooking penalty on Kelly less than 30 seconds later gave the Blues a brief spark, but even their red-hot power-play unit rarely threatened to convert on its second chance of the game.
This team wasn't built to blow opponents away early, and it has scored only two goals in the first period once all season. But St. Louis' depth and ability to protect a lead makes early success that much more valuable, as evidenced by the Blues' 8-1 mark when leading after one period.
You can follow Luke Thompson on Twitter at @FS_LukeT or email him at lukegthompson87@gmail.com.
---