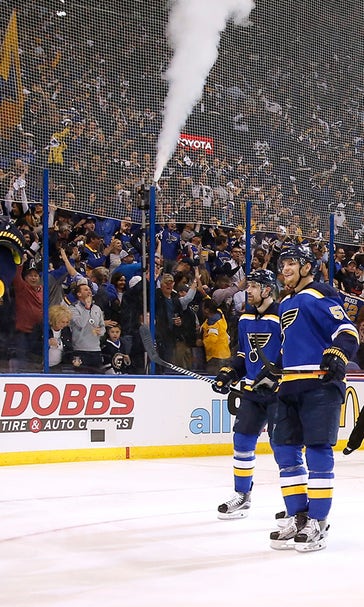 Blues dominate Stars 6-1 to take 2-1 series lead
May 4, 2016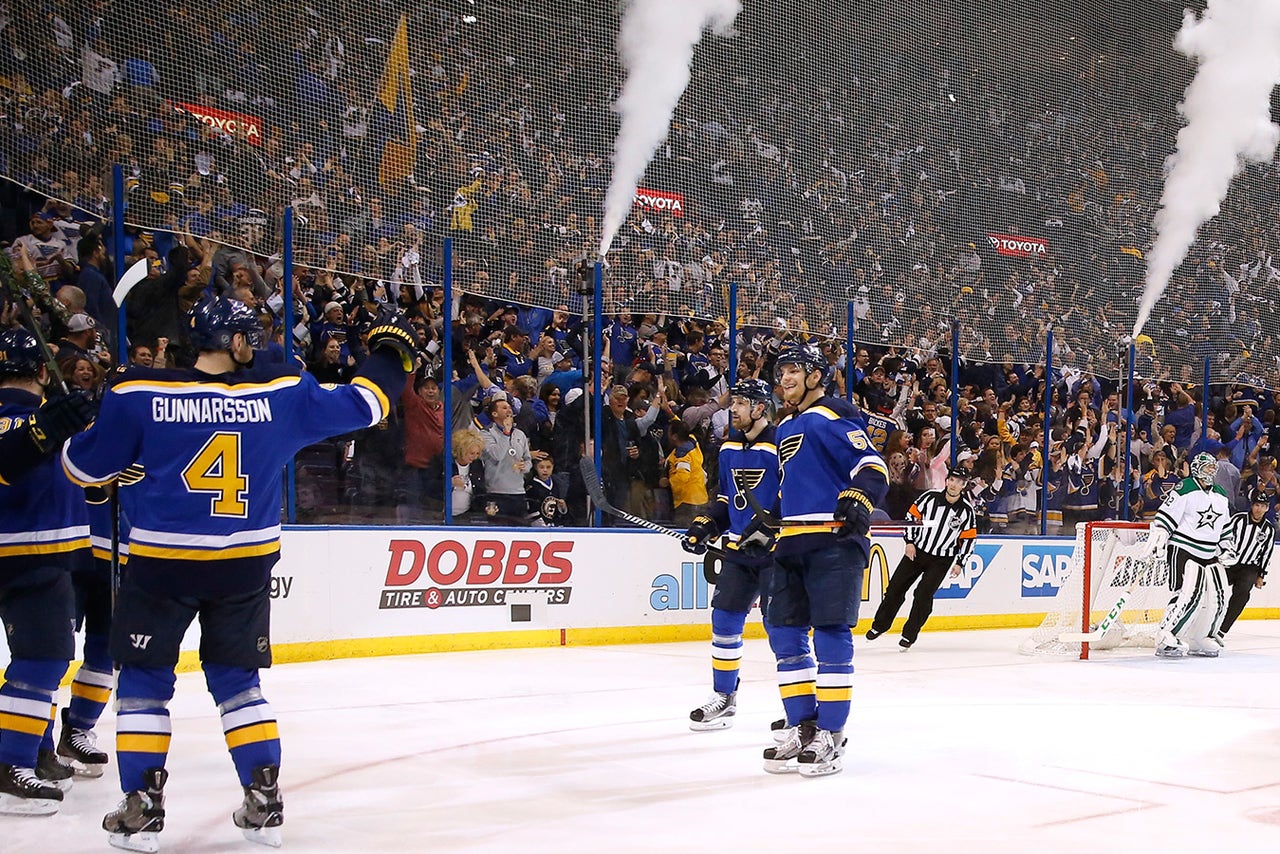 ST. LOUIS -- This time, the St. Louis Blues knew what to do with a two-goal lead. Go for more, more, more.
Alexander Steen and David Backes had two goals apiece and the defense put the clamps on the Dallas Stars in a 6-1 victory that put them up 2-1 in the second-round series Tuesday night.
Vladimir Tarasenko had a goal and two assists, Troy Brouwer had a goal and assist and Brian Elliott was strong when he needed to be for the Blues in their first lopsided triumph of the postseason. Their other five wins were decided by one goal, including 4-3 in overtime in Game 2 after the Stars came from two goals down.
"Last game in the third period, we had a little bit of a letdown, sitting back on our heels, and we made it more of a game than we wanted to be," Brouwer said. "Tonight, we kept pushing, we kept attacking."
The Blues finished two points behind Western Conference champion Dallas in the regular season and have control of the series heading into Game 4 Thursday night in St. Louis. Despite a late start -- more than 1 1/2 hours past the usual puck drop -- the vast majority of a standing-room crowd of 19,323 stuck around to the finish.
"Credit everybody in the room that they bought in," Backes said. "We had probably our most complete effort of the postseason, and a good time to have it."
St. Louis scored six unanswered goals after Colton Sceviour gave Dallas the early advantage, three coming in a breakaway second period. Steen capped the big second period with a power-play goal, matching his postseason career high for goals in a game.
"He's one of the most complete players in the league," coach Ken Hitchcock said. "I think if he would have been healthy, he would have had a real shot at the Selke (Trophy)."
Antti Niemi was the lone major lineup change for Game 3, replacing Kari Lehtonen in the Stars' net after playing effectively the last two periods plus overtime in Game 2. That switch didn't last long, and it didn't matter.
Lehtonen was back early in the second after Niemi allowed three goals on 12 shots.
"It hasn't been a goalie issue, really," said defenseman Alex Goligoski, who was beaten on one goal and had a second go in off his skate. "We're giving up some big chances, at bad times, early in games.
"Lost confidence in our goalies is not an issue. It's our game."
The third period turned nasty when Stephen Johns boarded Alex Pietrangelo with 3:01 to go, leading to a pummeling of Curtis McKenzie by Blues regulator Ryan Reaves. Backes scored his fifth of the postseason during the 4-on-4, giving the captain his first career multi-goal playoff game.
Tarasenko also had a three-point game in the first round against Chicago. He's the first St. Louis player with multiple three-point games in the postseason since Doug Weight also had two in 2003. He has 15 goals in 23 career playoff games and relished the chance for some open ice.
"It's kind of a new experience for us, this playoffs," Tarasenko said. "I still think it doesn't matter how you win, it still counts as one win."
Sceviour tapped in his own rebound for the Stars' lone goal at 4:44 of the first. Just 1:07 later, Steen tied it on a play that developed off a turnover by Alex Goligoski.
Backes, who got the winning goal on an overtime power play in Game 2, put St. Louis ahead on another power play on a deflection at 16:10.
The Stars just missed a chance to tie it late in the period. Jason Demers' shot off the crossbar was ruled a goal on the ice, but it was waved off after video review.
"Instead of being discouraged, I think we were in a different mental frame of mind," Hitchcock said. "Inches or whatever, but that crossbar gave us a different attitude going into the second period."
The rest was all St. Louis.
Brouwer skated in alone, getting around Goligoski, for his third goal of the postseason. Tarasenko scored off Goligoski's skate and Steen scored on a power play to make it 5-1 after two.
NOTES: The Blues' margin of victory matched their largest in the playoffs since a 6-1 decision in Game 4 of the first round last season at Minnesota. ... Earlier in the day, Stars coach Lindy Ruff said F Patrick Eaves (lower body) could return for Game 4, and should be back by Game 5 at the latest. ... Counting the postseason, Blues D Kevin Shattenkirk has 25 points in 25 games against Dallas. ... Steen also had two goals against the Kings on April 30, 2013.
---
---