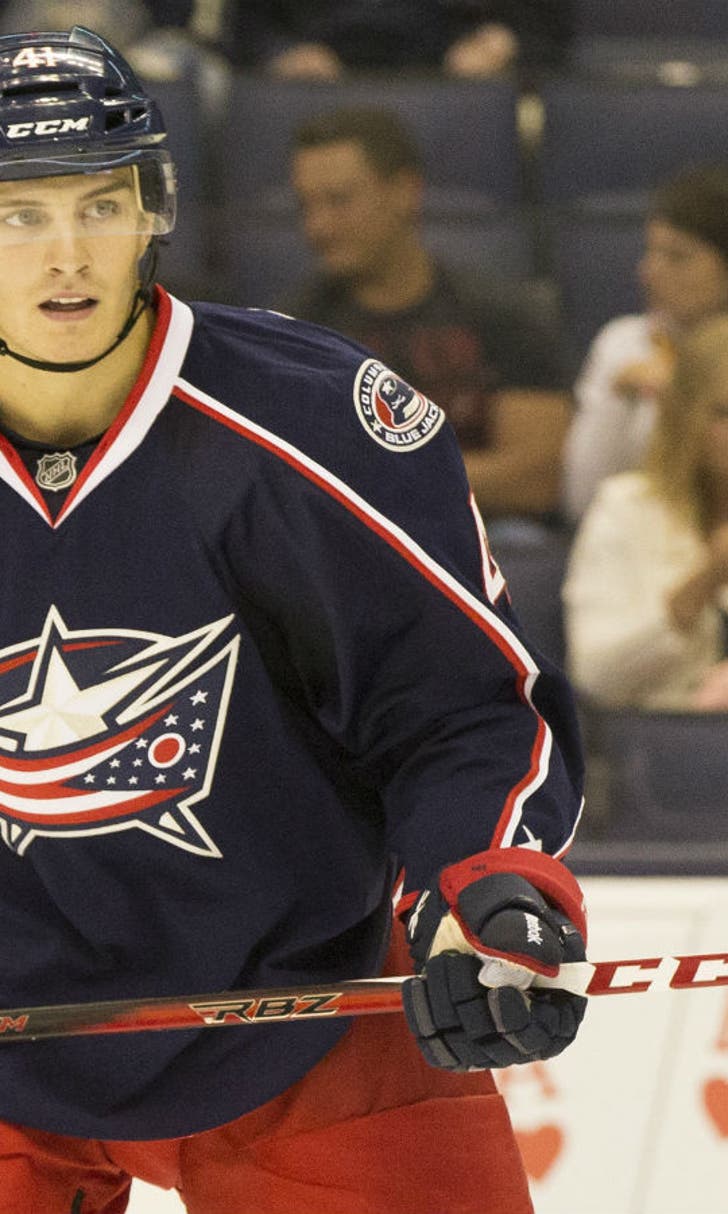 Blue Jackets rookie Alex Wennberg gaining confidence as season progresses
BY foxsports • January 31, 2015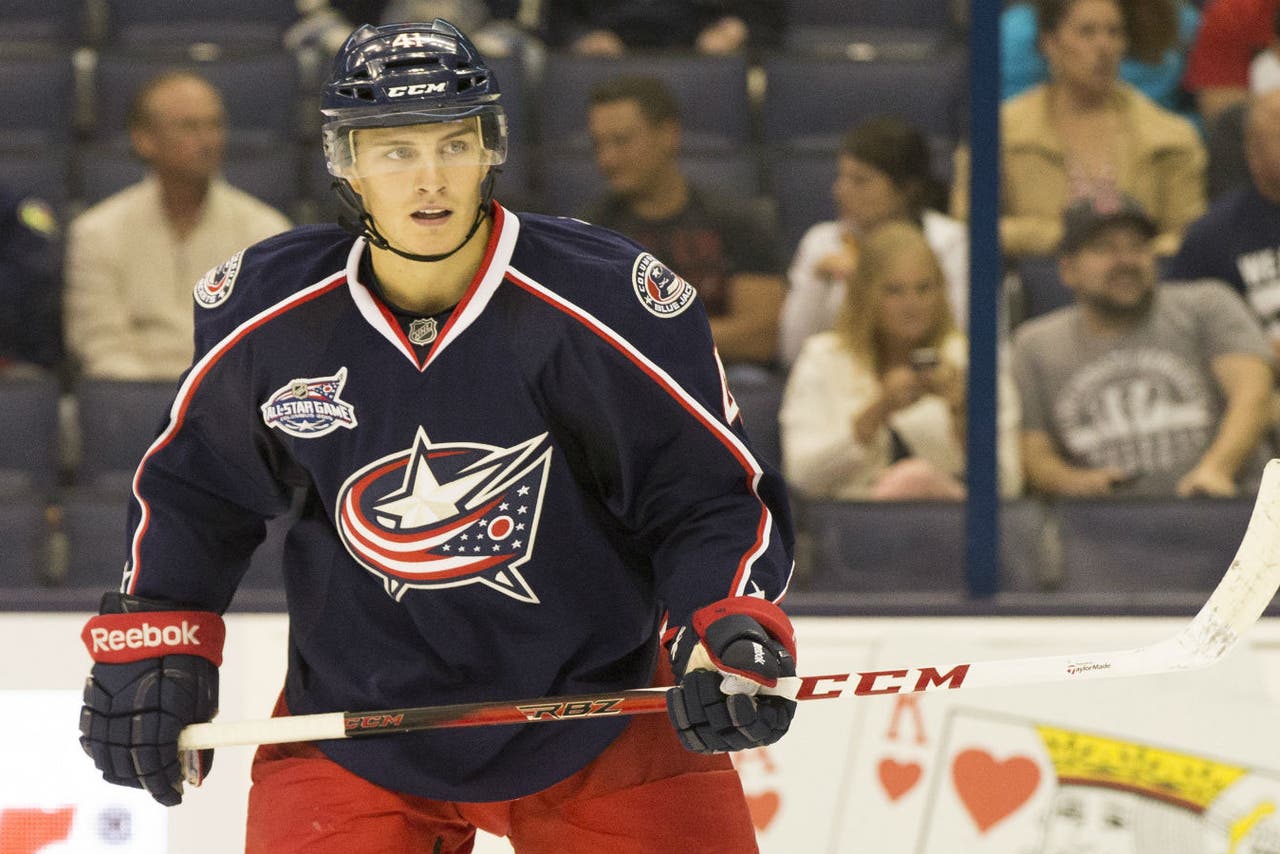 Before the puck drops Saturday night between the Blue Jackets and the Tampa Bay Lightning, there remain 35 games for Columbus. This has not been the season that was expected or hoped for by franchise and fans alike.
They enter tonight's tilt with 300 man games lost due to injury this season. 300 games lost in 47 actual games played averages out to having 6.38 players out of the lineup for every single game this season. This has forced the team to have guys playing above where they normally would slot into the lineup for extended periods of time, especially early in the season.
The question now becomes one of getting the less experienced players time on the ice with the big club or assign them to the Blue Jackets' AHL-affiliate Springfield Falcons in order to log some heavy minutes.
All three first round draft picks from the 2013 draft have seen some time with the Blue Jackets. Forwards Marko Dano and Kerby Rychel played 8 games and 5 games, respectively, with Columbus. In Springfield, Dano has recorded 8-5-13 in 29 games. Rychel has garnered 12-14-26 in 39 games for the Falcons.
Other players that may have started the season in Springfield have seen some time with the Blue Jackets this year. Michael Chaput, Sean Collins, Dana Tyrell and most recently, Josh Anderson have all donned the union blue this year.
This brings us around to the young, twenty-year old rookie from Sweden, Alex Wennberg, and where he fits into the Blue Jackets organization.
There are high expectations for the 14th overall draft pick from the 2013 draft. Wennberg made the team out of training camp, due mainly to the already mounting injuries. He struggled to adapt to the speed of the NHL game and the size of the North American rinks through the first 21 games of the season.
For a player that was touted as a goal-scorer, it was not the best showing. Consequently, he was assigned to Springfield to gain some confidence and hopefully find his scoring touch. He played in exactly six games before finding himself headed back to Columbus after being recalled after Brian Gibbons was injured.
Since his return, he's scored two goals and notched four assists for six points in 37 games. Does the lack of scoring weigh on him based on the expectations of him?
"Absolutely I think about it," said Wennberg. "It's part of the game. But to look at it that way is being an individual. My perspective is more 'team-first'. That's the emphasis. Right now, I'm playing good hockey. Unfortunately, I can't help the team out with scoring goals. But we're winning some games and I'm happy for that."
He is playing better the second time around, although the advanced statistics are showing that he has some work to do, especially possession-wise. The increasingly archaic statistic of plus/minus has Wennberg at with a -20, placing him at 796 of 806 NHL players.
He's averaging 14:34 time on ice this season and has shown that he's not afraid to go into the hard areas of the ice to help keep possession in the offensive zone. He sees time on both the power play and penalty kill units. And in Thursday's 3-2 loss to the Florida Panthers, he led all Blue Jackets in the faceoff circle at 60 percent, winning 9 of 15 draws.
"It's hard to tell," he said when asked where he thought his game had progressed to. "I don't know what the coaches are thinking; it could be different every game. For me, I just go out and play the next game as if it could be my last one. Because you never know what's going to happen. Guys are coming back from injury and stuff like that."
"For me, not to put too much focus on it, just go out on the ice and make the best of it. We'll see what happens as we take it day by day. It works for me. I feel that it makes me a better player, too, because as a first-rounder there are expectations. I think that's a good thing, too."
With 35 games remaining and some players returning from the list of the walking wounded, one could reasonably expect the young Wennberg to stay with the Blue Jackets until close to the end of the season.
Although, with the Springfield Falcons sitting in second place in the AHL's Northeast Division, a playoff run would appear to be in their future. Wennberg would benefit from playing with the Falcons, especially in a playoff setting.
While he might not have developed as quickly as some would have hoped, he appears to be headed in the right direction with how he plays the game. There is no substitute for experience at this level, and Alex Wennberg is gaining more of it every day.
The Blue Jackets take on the Tampa Bay Lightning Saturday at 7:30 p.m., with the FOX Sports Ohio pregame show "Blue Jackets LIVE" beginning at 7 p.m.
---