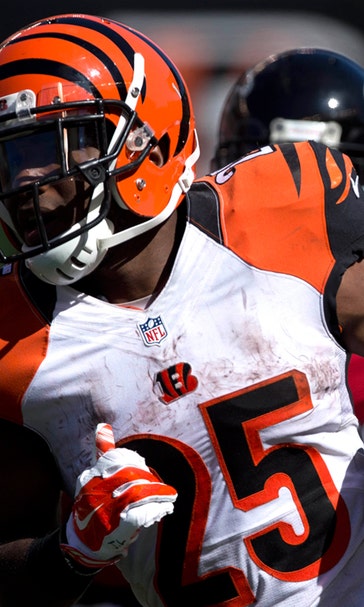 Bengals' Bernard ready to get off the couch
November 20, 2014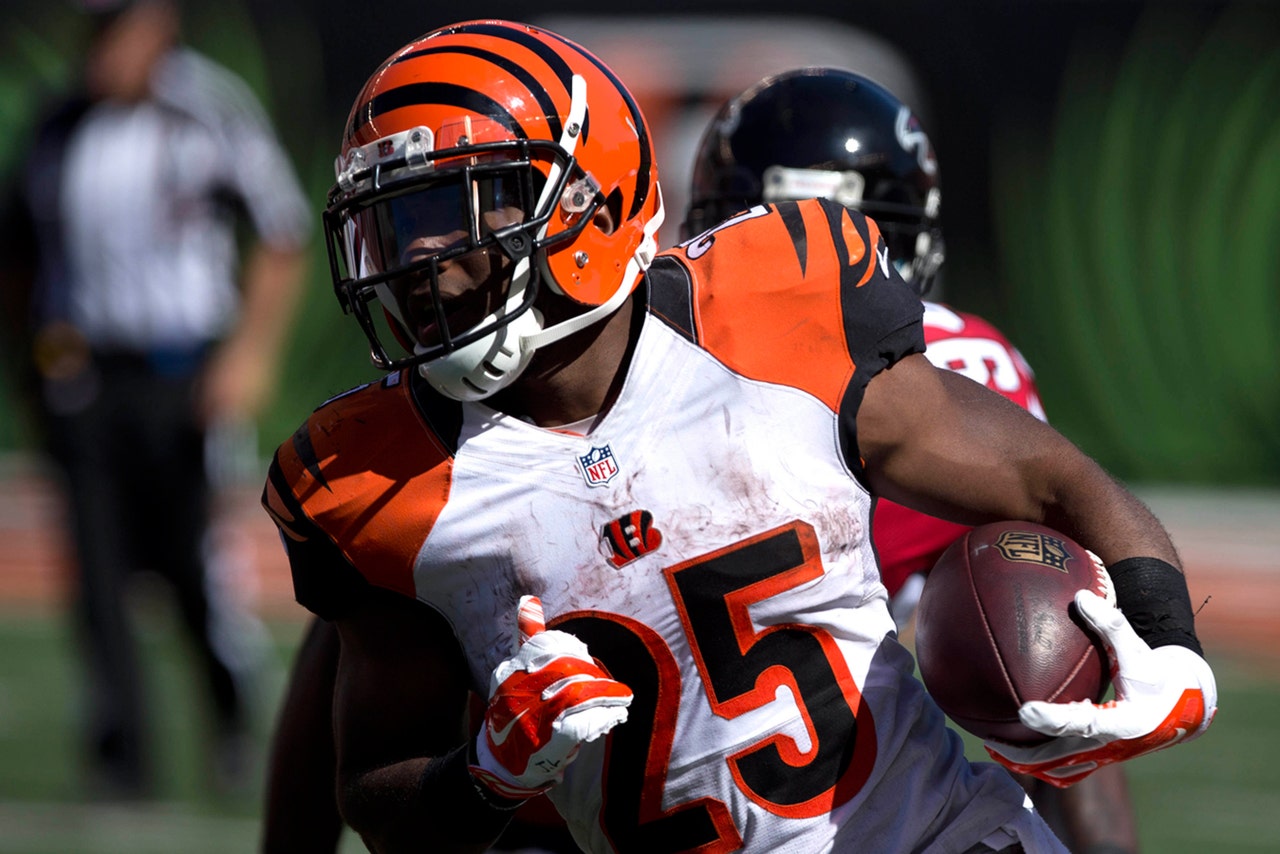 CINCINNATI -- Couches are a great place to unwind and relax. Giovani Bernard has had enough of his couch.
The Bengals second-year running back took another step towards returning to the field against Houston on Sunday when he practiced for the second straight day Thursday. Injuries to Bernard's hip and clavicle have forced him to miss the last three games but after participating fully in Thursday's drills at the University of Cincinnati's indoor facility Bernard appears ready to play.
"The reason I was sitting out was because I felt like crap," said Bernard Thursday after practice. "I'm just recovering from some of those hits. My body feels good right now. The injuries are going away. It's just a matter of going back out on the field."
Bernard was listed as limited on Wednesday's injury report but wasn't held out of anything according to Thursday's team report.
Bernard hasn't played since gaining 45 yards and scoring a touchdown on 16 carries in a 27-24 win against Baltimore on Oct. 26. He had taken hard shots in previous games against Carolina and Indianapolis and suffered a couple more hard hits against the Ravens.
His body simply needed to rest and heal.
"It's not fun to sit around and not be able to play football," said Bernard.
Bernard's 89-yard touchdown run against Carolina is the longest play from scrimmage in the NFL this season. It's the second-longest run in franchise history -- only a 96-yard touchdown run by Corey Dillon at Detroit in 2001 went for more yards -- but it's the only run of more than 20 yards for Bernard this season. He's gained 446 yards and scored five touchdowns on 109 carries and added 179 yards on 22 receptions.
Bernard had more than 1,200 yards from scrimmage last season as the backup to BenJarvus Green-Ellis. He has been the starter this season, when healthy, with rookie Jeremy Hill backing him up. Hill has started the last three games and rushed for 361 yards and two touchdowns on 63 carries. He gained 154 yards against Jacksonville on Nov. 2 and had 152 yards last week at New Orleans.
The Bengals have had three games this season when its running backs (including Cedric Peerman and Rex Burkhead) have combined for more than 200 yards from scrimmage; 204 against Jacksonville, 223 last Sunday at New Orleans and 265 yards against Atlanta in Week 2 of the season. Not surprisingly, they are 3-0 in those games. The game against the Falcons is the only one of the three with Bernard and Hill in the lineup together. They had a combined 49 touches in that game.
That's the kind of game plan and production the Bengals would gladly take every week.
Balancing how many carries and receptions two quality backs such as Bernard and Hill get in a game is difficult to achieve. Cleveland and Pittsburgh released Ben Tate and LeGarrett Blount, respectively, this week when those two backs continued to voice and act out on the displeasure of their roles. There has been no such discontent in the Bengals' locker room.
"We know what both of us is capable of doing and everyone knows it's just a matter of us going out there and being greedy, cheering for one another," said Bernard. "That's the biggest thing. We're friends and because we're friends it makes this a lot easier."
Wide receiver A.J. Green returned to the lineup two games ago and produced 127 yards and a touchdown on six receptions against the Saints last Sunday. If Bernard does play Sunday against the Texans it would be the first time Oct. 5 at New England that the Bengals have their top two receivers (Green, Mohamed Sanu) and top two running backs (Bernard, Hill) available to them.
"We'll do what's best for one, the offense, and for two, for the player. That's what's best for them," said offensive coordinator Hue Jackson about having Green and Bernard back in the lineup. "Gio's a tremendous football player, and it's going to be nice having him back if he can go. But at the same time, we have some good football players, and we're going to keep these guys going and growing and taking as many of the players as we can and putting them out there and letting them play."
---