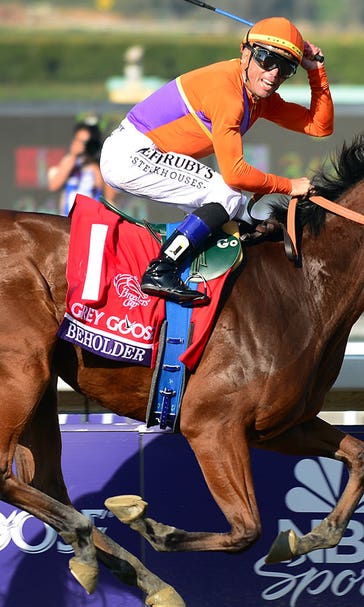 Beholder out of Breeders' Cup Classic due to irritated lungs
October 29, 2015

The much-anticipated matchup between Triple Crown winner American Pharoah and champion mare Beholder in Saturday's Breeders' Cup Classic at Keeneland is off.
Trainer Richard Mandellla announced Thursday that Beholder has been scratched from the $5 million race due to irritated lungs.
Beholder was seeking to become the second female to win the Breeders' Cup Classic. Zenyatta remains the only female horse to capture the glamourous race.
Beholder, winner of the 2012 Breeders' Cup Juvenile Fillies and 2013 Breeders' Cup Distaff, is a two-time Eclipse Award champion. Beholder had been listed as the 3-1 second choice on the morning line behind favorite American Pharoah.
"After she galloped this morning we scoped her and found her to have bled," Mandella said at the Kentucky track Thursday. "This was obviously due to the fever she had when she arrived. Knowing this, we feel it is too great a risk to start her in the Classic.
"There's obviously some irritated lung tissue there. She will be fine, but if I put her under the pressure of a race situation, it could cause some real damage.
"You could say we just haven't had any luck shipping, but it's been something different every time. She's an aggressive mare and just got herself worked up shipping and made herself sick.
"It's sad. It's exciting to take on a challenge like this. It's still a great race. I just wish I was part of it."
---