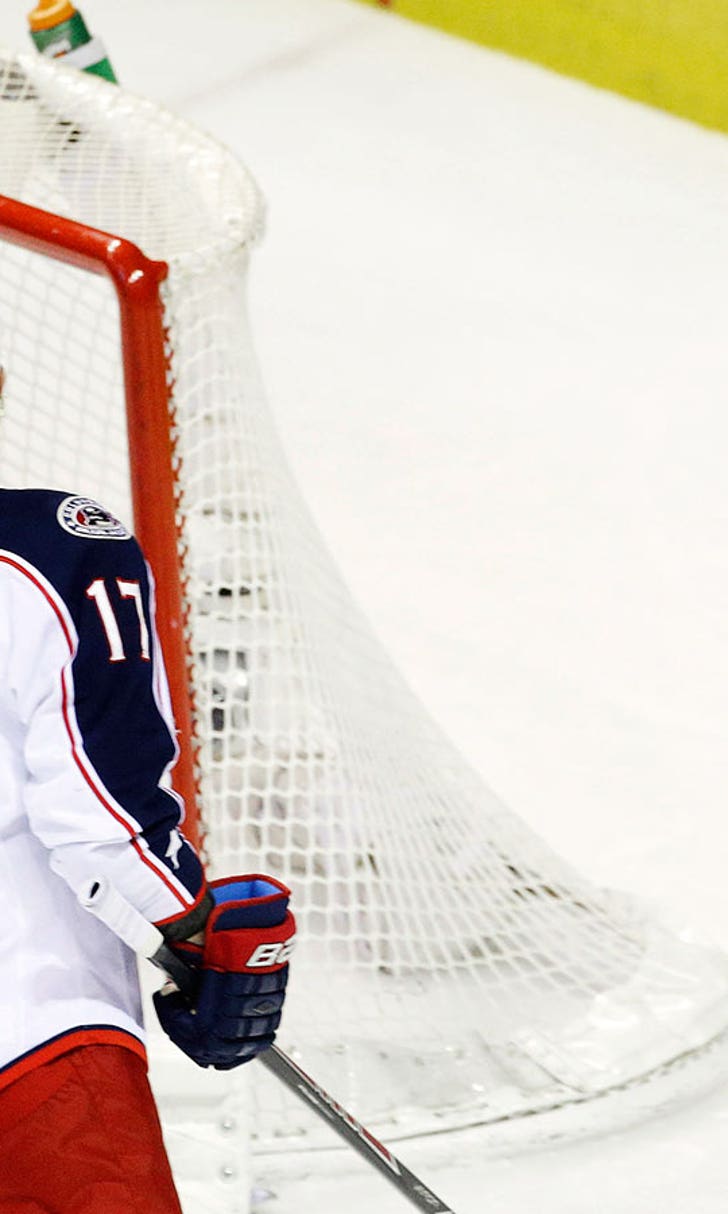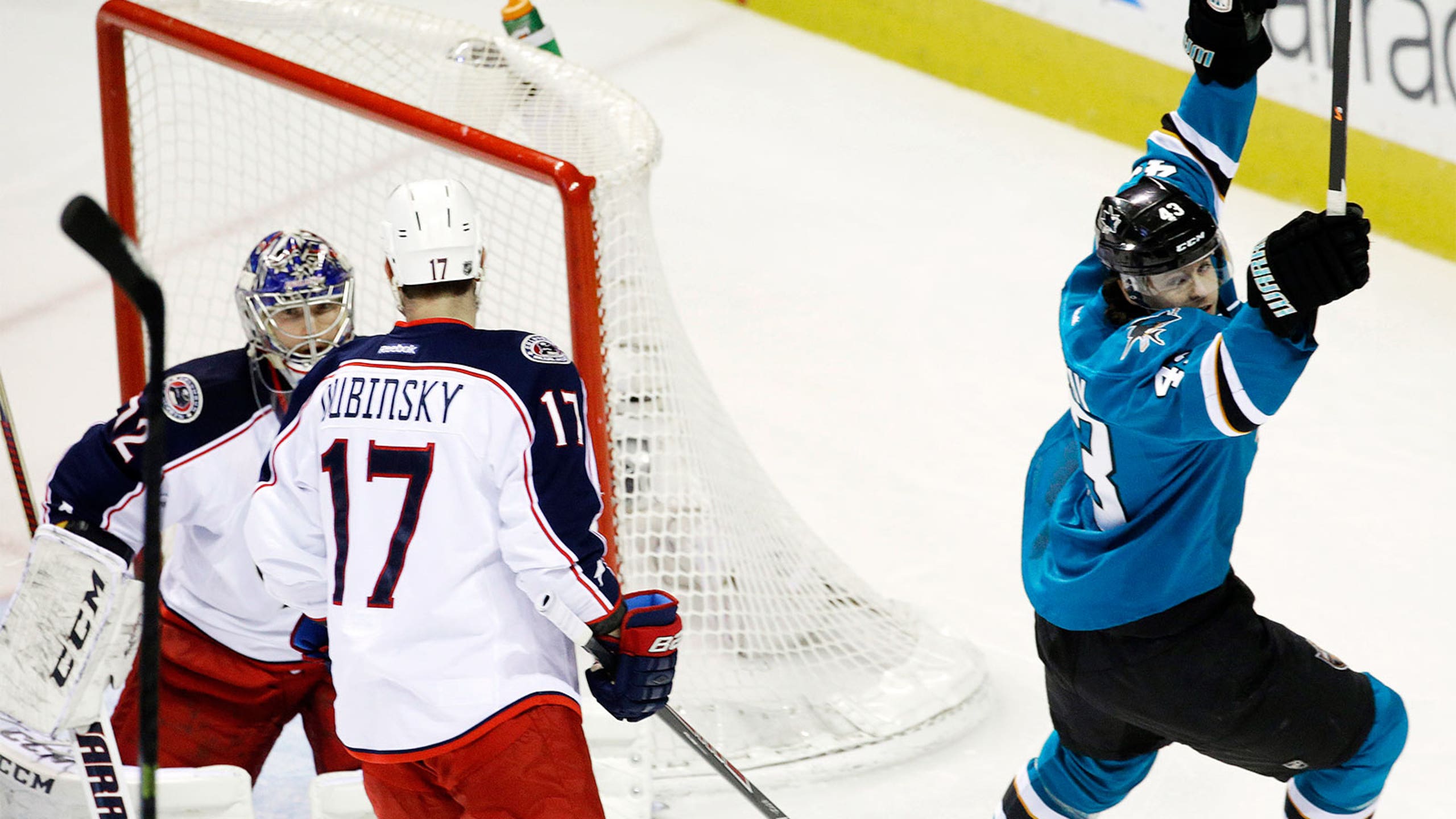 Before the CBJ puck drops: San Jose Sharks
BY foxsports • March 13, 2014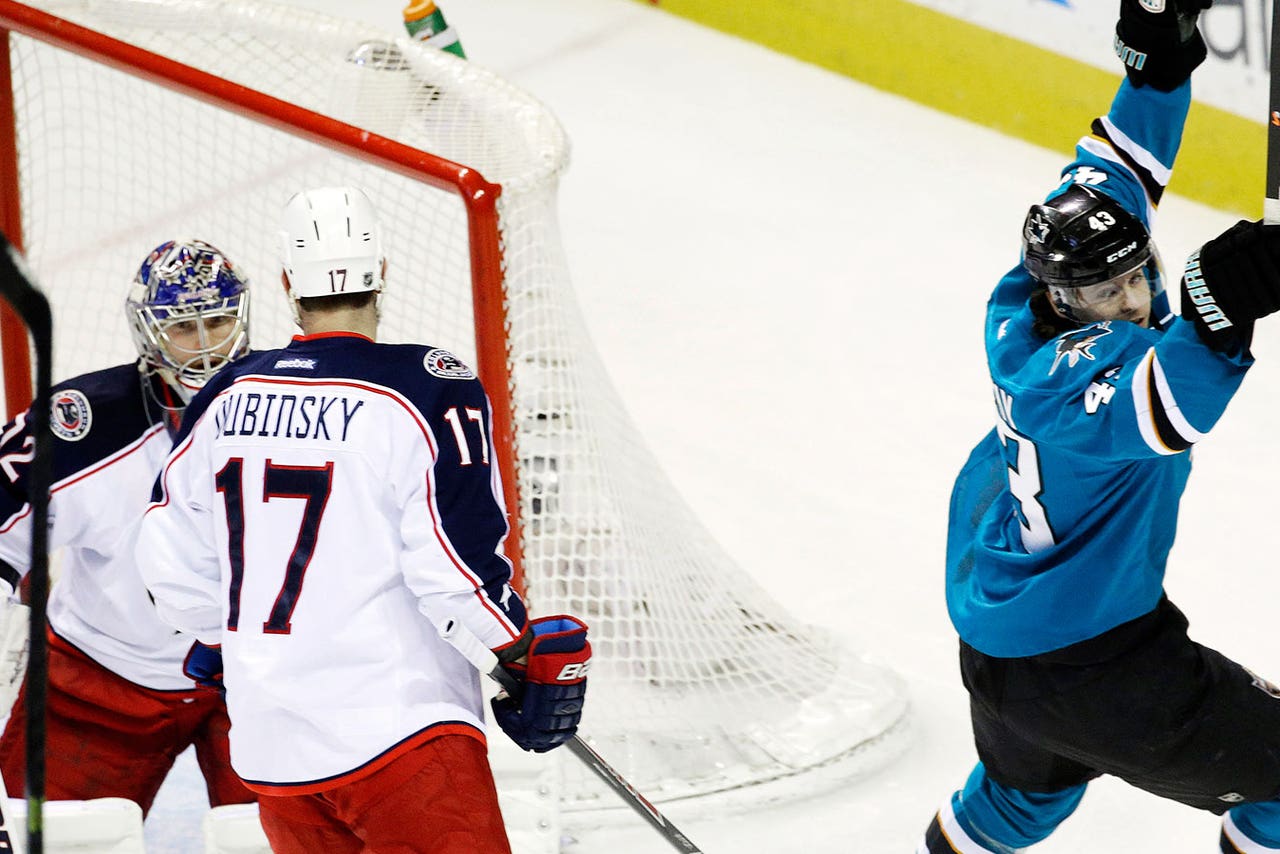 GAME 66: San Jose Sharks
42-17-7 -- 2nd place in the Pacific Division
7-2-1 in last 10 games
SCORING RANKINGS
San Jose
Goals for: 2.97 goals/game - 7th in the NHL
Goals against: 2.33 goals/game - 4th
Columbus
Goals for: 2.86 goals/game - 8th in the NHL
Goals against: 2.74 goals/game - 17th
SINCE WE LAST MET (on February 7th):
In the only meeting of the season between the two teams, the Sharks beat the Columbus Blue Jackets, 3-2, in San Jose just before the Olympic break. Since the break, the Sharks are 5-1-1 - and victors in their last three games by a combined score of 15-5. That includes a 5-3 win over Columbus' Metropolitan Division rival Pittsburgh, a team that has given the CBJ fits.
The Sharks made the most of that home stand, piling up standings points and fending off the hard-charging Los Angeles Kings (Winners of eight straight games!) in the process. With Anaheim stumbling of late (3-5-2 in their last 10 games), the Sharks clearly can sense the chum in the water and are poised to hop into the top seed in the Pacific Division. That latest stretch was at home, though, and now the Sharks have to keep it up on their Metro Division road trip against the Blue Jackets, Islanders and Rangers.
Let's be absolutely clear here: The Blue Jackets are taking on a legitimate Stanley Cup contender tonight.
Top scorers in Silicon Valley are:
- Forward Joe Pavelski (34 goals, 31 assists, 65 points)
- Forward Joe Thornton (9 G, 55 A, 64 pts.)
- Forward Patrick Marleau (26 G, 31 A, 57 pts.)
- Forward Logan Couture (18 G, 23 A, 41 pts.)
- Forward Tommy Wingels (15 G, 21 A, 36 pts.)
Antti Niemi has carried the load in net, starting 52 of San Jose's 66 games thus far. It's easy to see why, what with a 32-16-3 record and a 2.36 goals against average. Niemi has a surprisingly low .912 save percentage (I've always heard that legitimate NHL starting goalies are at .920 or better), so perhaps his record is in part due to the Sharks being fourth in the NHL with 27.5 shots allowed per game. If you aren't seeing the shots, it's not so bad if you let the occasional one slip by you. By comparison, the Blue Jackets are giving up 30.8 shots per game, a statistic putting them in 22nd place in the league.
WHY THIS GAME IS IMPORTANT:
We're back to the "measuring stick" game mode, where the Blue Jackets are taking on a seemingly superior team. The CBJ have 73 points in the relatively weaker Metro Division, while the Sharks have 91 points in the stronger Pacific Division and the much stronger Western Conference. San Jose is well into the top ten in the NHL in shots for and shots against. They play a complete game, and they're on a roll right now. This isn't going to be an easy one.
I suggested that the CBJ need to keep up a 3-2-0 pace for each five games coming out of the Olympic break in order to have a legitimate shot at the playoffs. It's playing out that way. In fact, the team has done well enough coming out the break that the 3-2-0 pace would all but guarantee a ticket to the Stanley Cup Playoffs dance. Sports Club Stats [link: http://www.sportsclubstats.com/NHL/Eastern/Metropolitan/Columbus.html] is suggesting that even an end-of season stumble at 7-7-3 still gives the Blue Jackets a 59 percent chance of playing in the postseason. 9-4-4 is a 100 percent lock.
I say that to suggest that this game isn't necessarily a "must win". It's a "stretch" game in my view, one that the Blue Jackets can look to as reinforcing their legitimacy as a playoff contender if they win but in no way diminishing their hopes if they lose.
Still, and I'll repeat what I said before the Chicago game, a win against a team like this would do wonders for the team's confidence. It'll also help in the Eastern Conference playoff seedings as well.
WHO I'LL BE WATCHING:
I was concerned about the team's scoring punch against Detroit, and they go and drop three goals on the once-mighty Red Wings in the third period. So I guess that answers my question.
Let's flip to the other side with the forwards, that being the team defense component. As mentioned, the Sharks have piled up 15 goals in their last three games. The CBJ's blue line is being held together with chewing gum and duct tape while the team waits for Fedor Tyutin to return (Ryan Murray apparently is out for the balance of the regular season). Thus, it'll be on the forwards to play a near-perfect two way game: They're going to need to push that puck past the Sharks' defense and get back quickly to play some defense of their own and help out their own defensive corps.
Sergei Bobrovsky has been playing well of late, so I think the key tonight is simply limiting the number of shots on net. That falls to a stout team defense.
YOUR FOX SPORTS OHIO BROADCAST INFORMATION:
FOX Sports Ohio has the big game for you tonight:
- Brian Giesenschlag's "Blue Jackets Slap Shots" magazine show kicks things off at 6PM.
- Brian and Dan Kamal bring you the "Blue Jackets Live Pregame" at 6:30PM.
- The puck drops at Nationwide Arena at 7PM, with Jeff Rimer and Bill Davidge on the call.
- Brian and Dan return immediately following for "Blue Jackets Live Postgame" with postgame interviews, insight and analysis.
It's a big playoff chase game tonight with nothing but upside for the Blue Jackets. Have fun tonight, everyone!
---