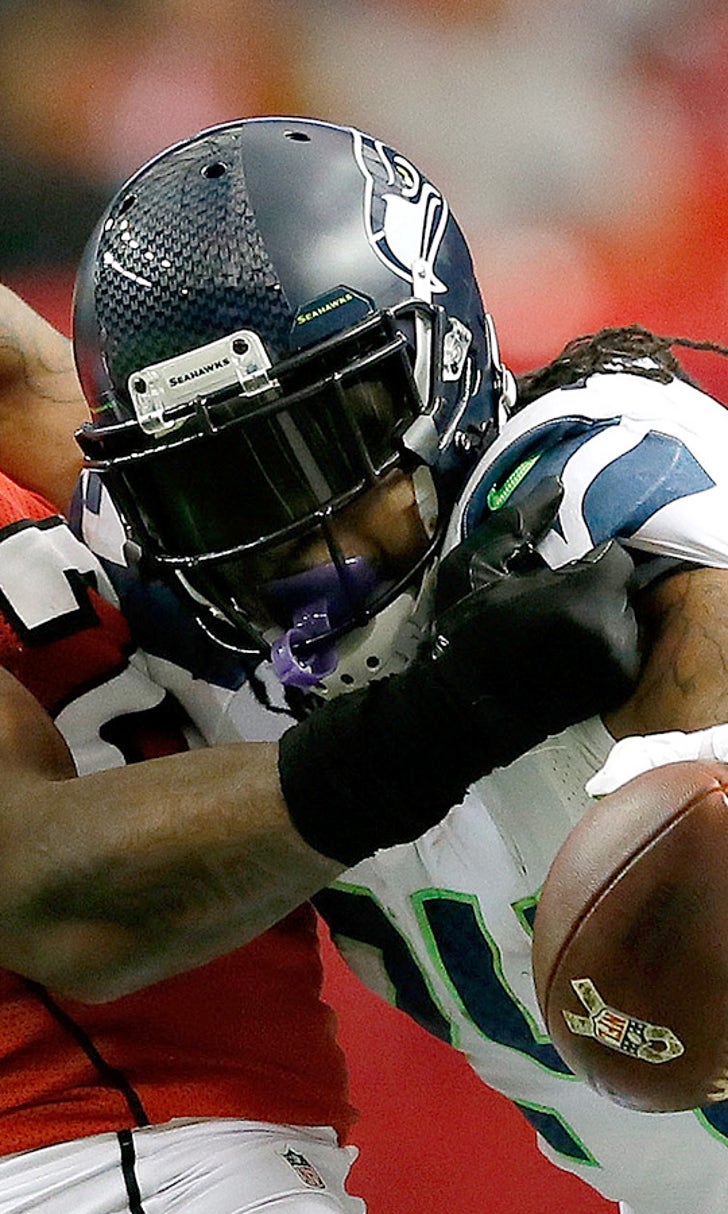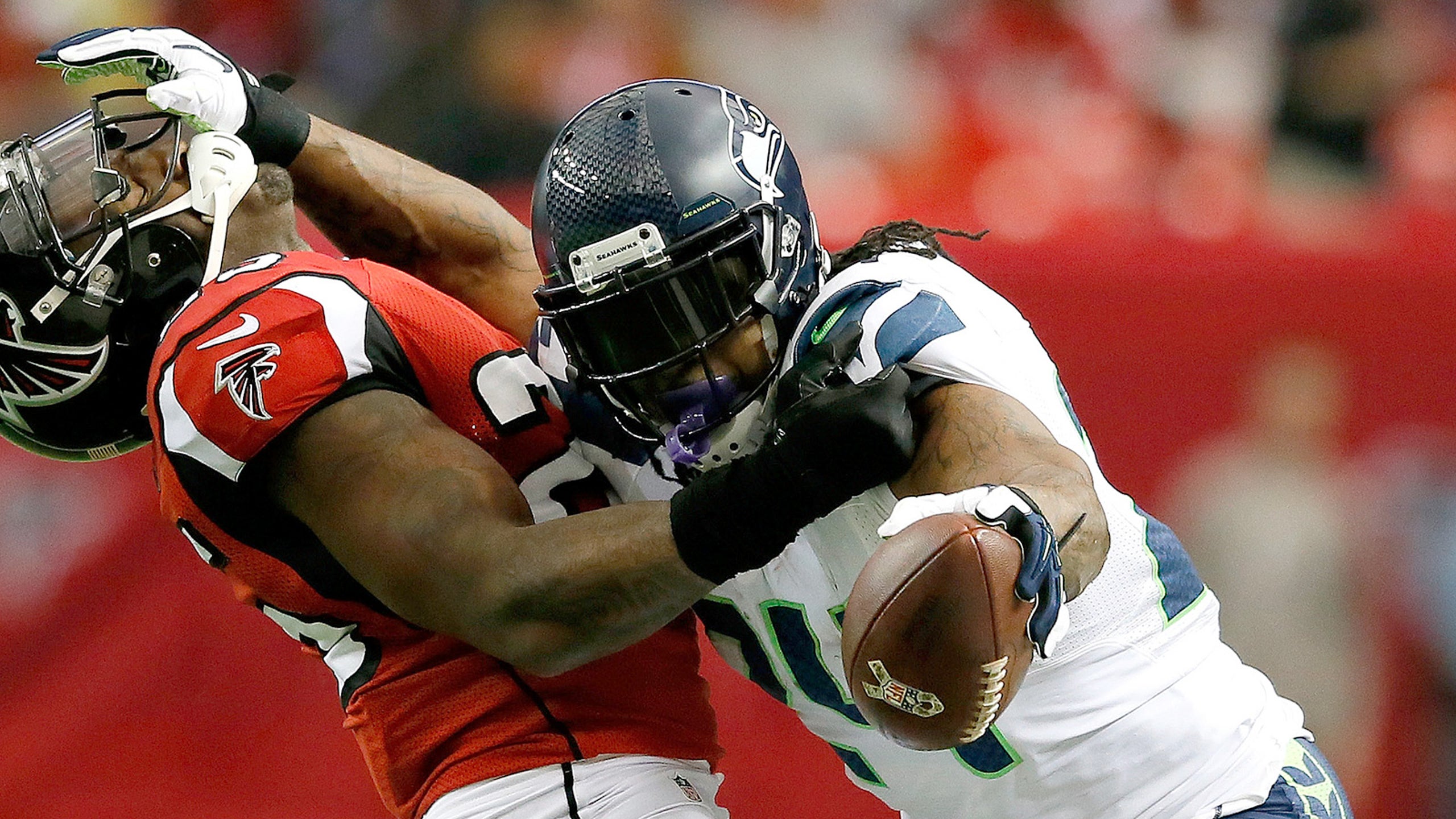 Beast mode: Marshawn Lynch's secret weapon comes from the world of MMA
BY Damon Martin • January 30, 2014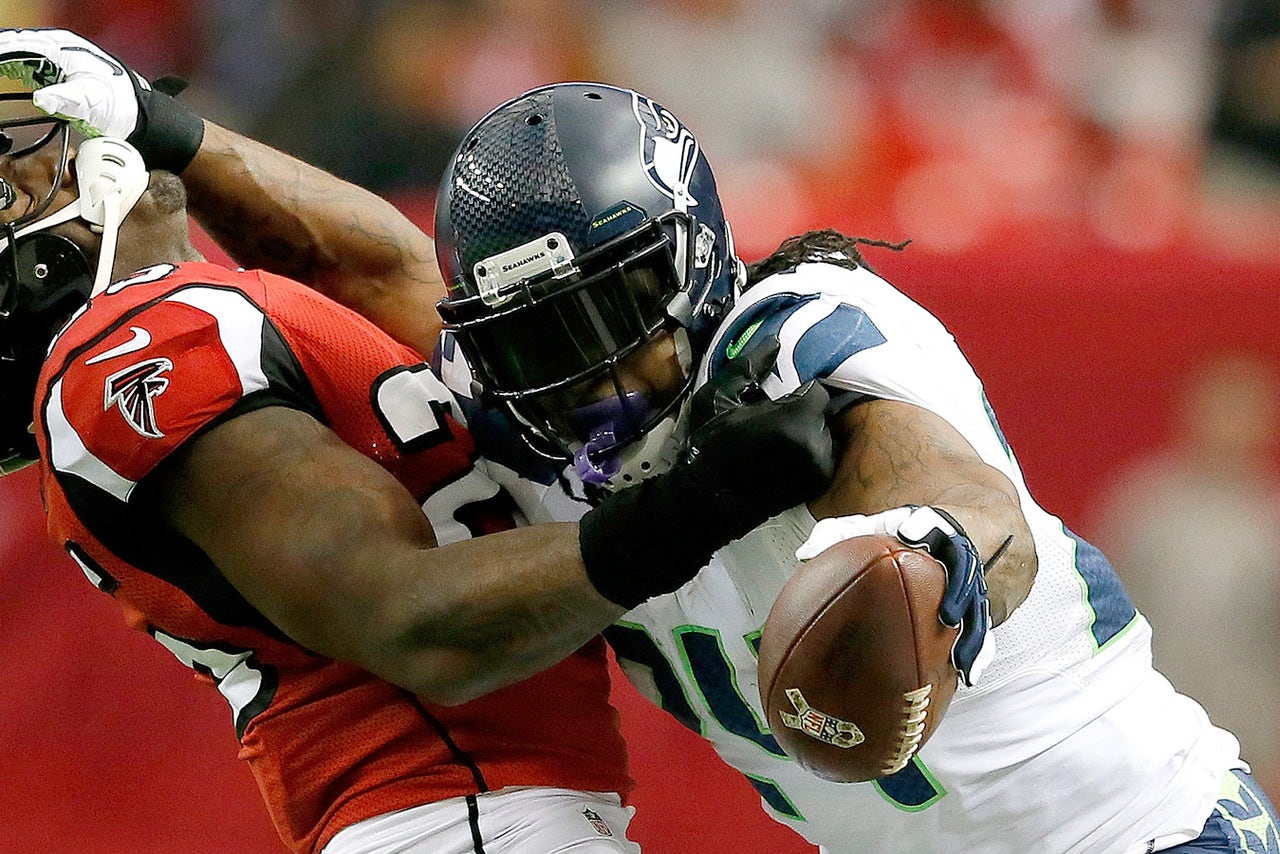 If you're getting ready for the Super Bowl this weekend, then you probably already know the reputation Seattle Seahawks running back Marshawn Lynch carries into a game. There's a pretty good reason he's known as "Beast Mode," after all.
One famous interaction for Lynch that happened earlier this season was when he got matched up against San Francisco 49ers linebacker Patrick Willis during a run, and proceeded to stiff-arm him with a left hand that sent the defender crashing to the ground with a serious thud.
One man who was sitting at home watching the game in San Francisco but cheering loudly for Lynch's move was mixed martial arts trainer and gym owner Tareq Azim.  Despite his school, Empower Gym, being based in the heart of the Bay Area, Azim has become a big fan of the Seattle Seahawks, thanks to his relationship with offensive line coach Tom Cable and particularly because of the work he did this past offseason with Lynch.
Azim is a former linebacker who played at Fresno State University and landed on Cable's radar while he was a coach at UCLA before eventually taking over the head man's job at the Oakland Raiders. Because of his gym in the Bay Area and his football background, Azim began working with some of the Raiders players when they weren't on the field, and soon enough his name came up to Cable again, this time as a coach instead of as an opposing player.
"My mentor is Tom Cable, he's my life mentor, he's like a big brother to me," Azim told FOX Sports. "He was the head coach of the Oakland Raiders, and when he was the coach of the Raiders I got introduced to him about my game and the applicability of how I implement some components of martial arts and my background of football into positional fundamentals. I'd modify my teaching and my skill development to their positions. A lot of it has a relation to fighting. 
"I started sharing some of my fundamentals with the quarterbacks of the Raiders like Charlie Frye and Bruce Gradkowski, and when I did that Coach Cable had seen some major improvements in their game. So he asked the guys, 'What are you doing in this offseason, how are you training?' So they introduced him to me."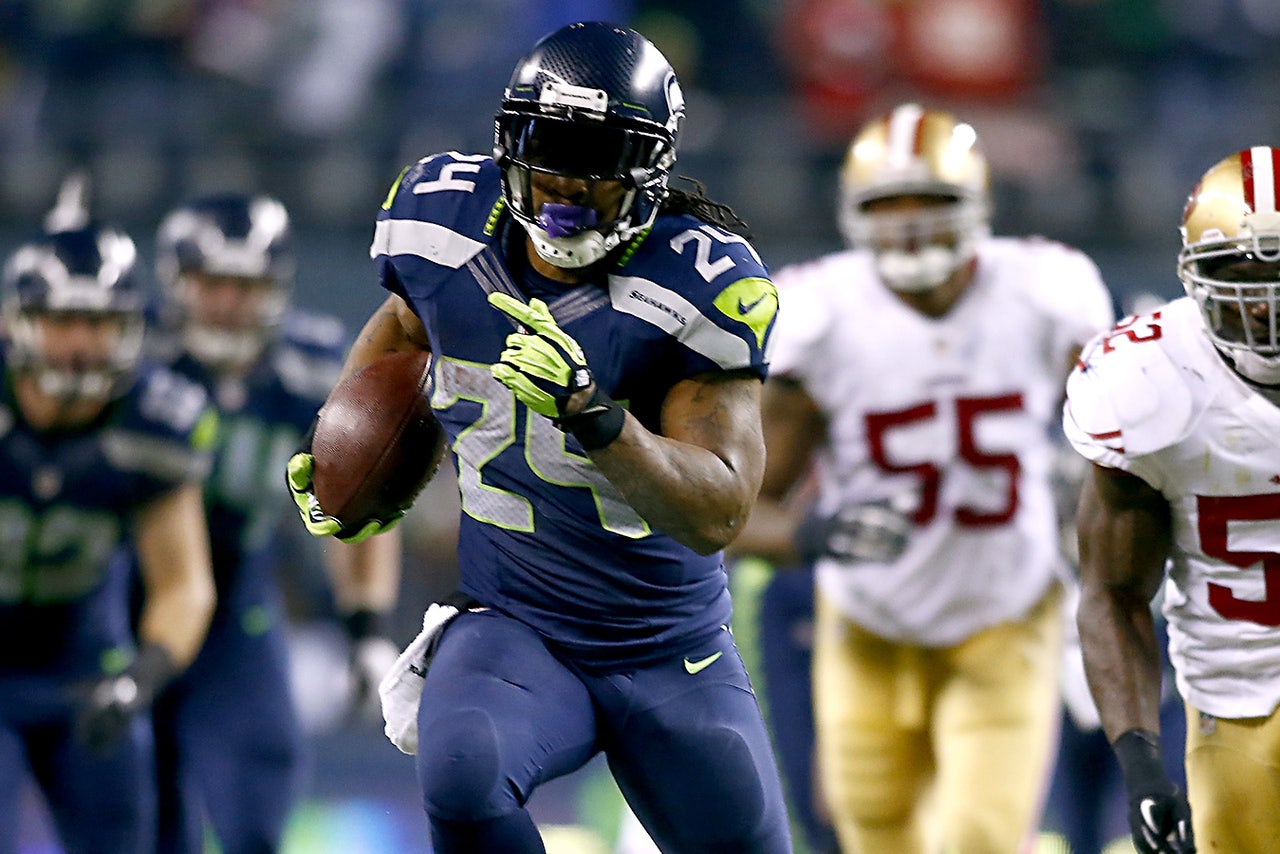 Running back Marshawn Lynch #24 of the Seattle Seahawks runs for a 40-yard touchdown in the third quarter against the San Francisco 49ers during the 2014 NFC Championship at CenturyLink Field on January 19, 2014 in Seattle, Washington.
Azim is best known in MMA as the head coach for former Strikeforce champion Jake Shields, as well as for his work with other fighters like Gilbert Melendez and Ramsey Nijem. In NFL circles, his name started popping up more and more for his work with players as he developed a training system that used some MMA fundamentals into football applications. Since he came from a football background before he strapped on gloves and a gi later in life, Azim knew better than anyone how to combine the two sports into one outstanding workout and preparation program.
Cable thought of Azim when he started working with Lynch in Seattle. As the offensive line coach, Cable tutored Lynch when he asked for help running behind the Seahawks' new blocking scheme. Next thing you know, Lynch was sitting in Azim's office as they plotted out a course of training and preparation to get him ready for the 2013 football season.
"My philosophy really connected with Marshawn. When Coach Cable said, 'Hey, I want you to connect with my guy in San Francisco,' and Marshawn and I met when I went to Seattle for a few days, and when we finally sat down in my office, I shared my approach on development and he felt it," Azim said. "He came in and we started working together; whether it was strength work, whether it was development work, core development, preventative work to keep from getting injured or fight technique or fight mentality to help implement some quick thinking reflex. It got him really good. We spent the entire offseason together."
The production paid off during the season as Lynch racked up more than 1,200 rushing yards this season and 12 touchdowns, finishing sixth overall in the NFL for yards in 2013. Lynch was also given a slot on the 2013 NFL Pro Bowl team after a spectacular year on the field. Azim admits he was most proud of Lynch when watching him throw that stiff arm at Willis because that's a technique they worked on in the gym. It wasn't so much a stiff arm as it was a left hook, and when it landed Willis went down.
"Sometimes I text him after the game; for example, what he did to Patrick Willis two times with his stiff arm, his left arm came around almost like a hook, and he dropped Patrick Willis with that left hook. I'd say I love that left hook, and he'd text back and say, 'Oh you saw that,'" Azim said with a laugh. "There are particular movements from fighting that work really well in football."
It's not just punching that pays off in Lynch's game. Azim says incorporating fight techniques into Lynch's running has helped him tremendously, and chances are if you watch closely enough Sunday night, you'll probably witness a few of them during the Super Bowl
"One component that works really well with running backs is level change. I think incorporating more standup with wrestling for running backs is huge," Azim said. "The level change, the quick feet, the angle cutting, being able to see two or three things at a time instead of one. Being able to set up like we do in standup or fighting when you're throwing a jab to set up a shot; same thing making reads as a running back when you take four hard steps straight and then you cut right. It's showing him that the same mentality is applicable using fighting."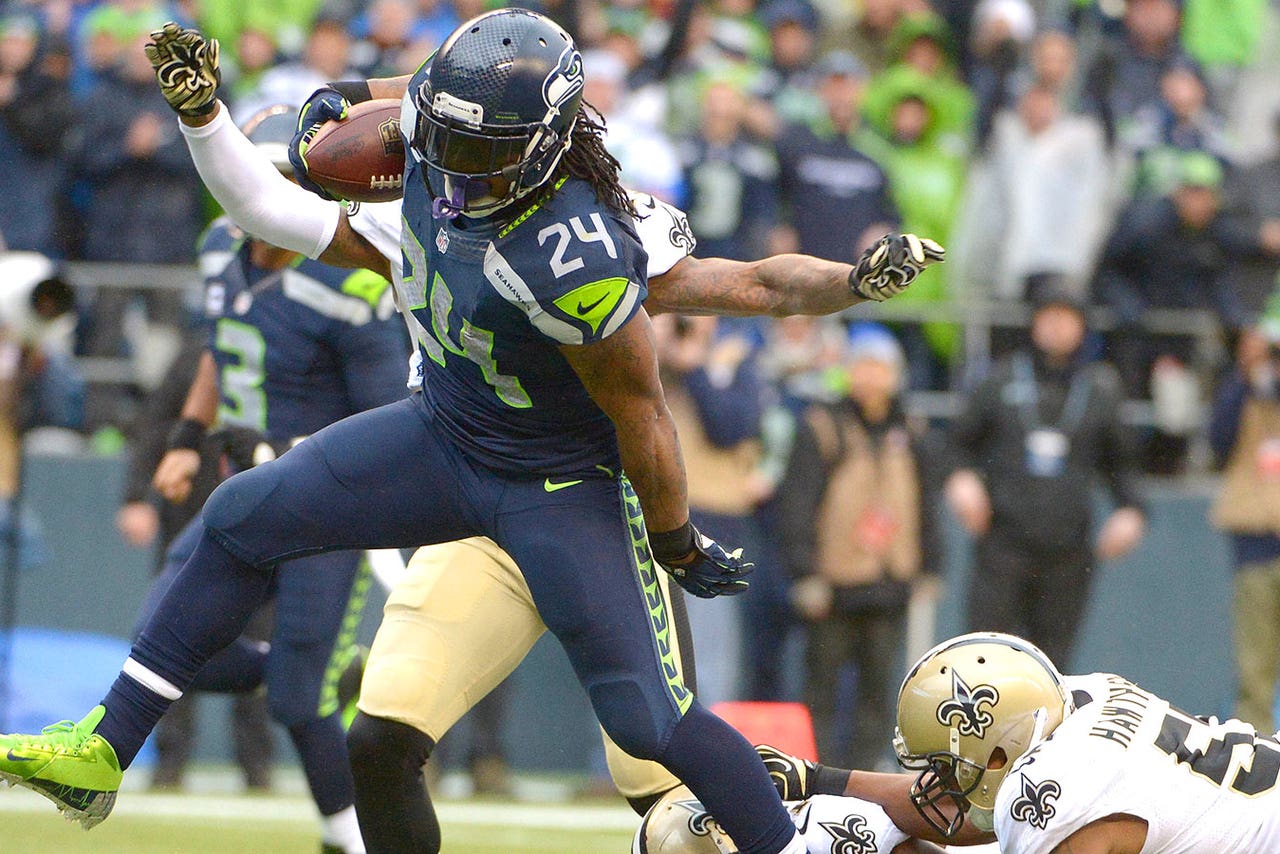 Seattle Seahawks running back Marshawn Lynch (24) runs past the New Orleans Saints for a touchdown during the first half of the 2013 NFC divisional playoff football game at CenturyLink Field.
Lynch's willingness to break old habits and learn some new technique is what separates him from other running backs, and Azim believes it's the Seahawks' star running back's desire to learn that makes him such a dangerous player on the field. Azim also points to a mindset that Lynch carries into every practice and every game that he shared with another famous friend who passed away late last year.
Azim also happened to be close friends with actor Paul Walker, who died in a tragic car accident in November 2013. Walker was actually about to move to San Francisco and partner with Azim at his Empower gym after filming "The Fast and the Furious 7," but tragedy struck and his friend was gone forever.
It's a tough subject for Azim to talk about, but he sees many of the same qualities in Walker that he sees in Lynch on the field and in the gym. It's a philosophy he carries with the fighters he trains in the UFC as well.
"Paul, for example, he was exactly like us. He didn't have normal-people dreams. He didn't care about what normal people would consider famous. His goal was very similar to mine, we had the same definition for success. Marshawn and I have the same definition for success. I think Jake Shields and I have the same definition of success," Azim explained.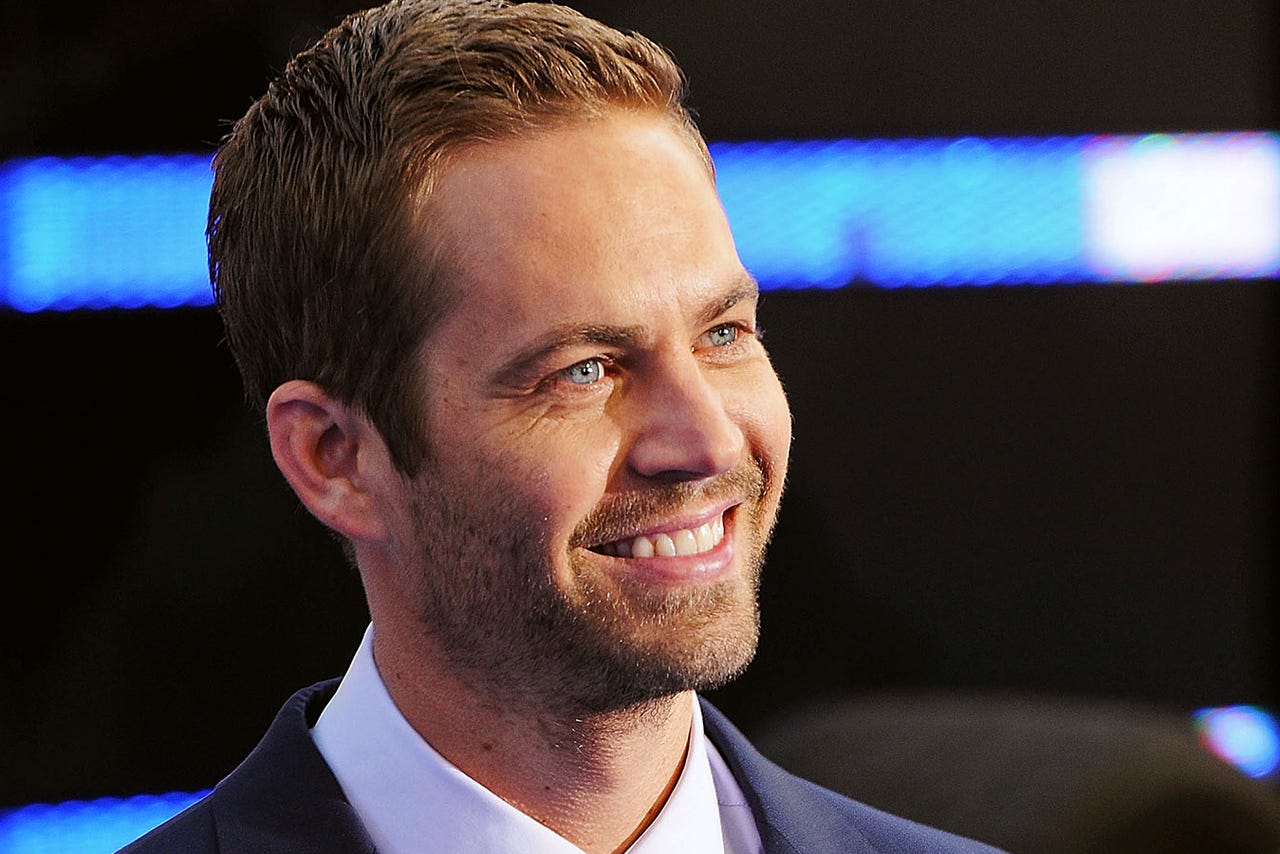 Paul Walker attends the World Premiere of 'Fast & Furious 6' at Empire Leicester Square on May 7, 2013 in London, England.
"It's not the $20 million, it's not the $100 million, it's not the rims, it's not the bottle service; all of us have the same definition of success, and that is to impact the world. We want to change the world. We want to make the world a better place."
Lynch's impact on the game this Sunday will be a major factor in whether his Seahawks win, but Azim believes long term the running back will leave a huge footprint on the world, much more than just what he does when wearing shoulder pads and a helmet. If he can be crowned a Super Bowl champion, however, Lynch's influence outside the game just gets that much bigger, and "Beast Mode" can become a lifestyle beyond the field.
---