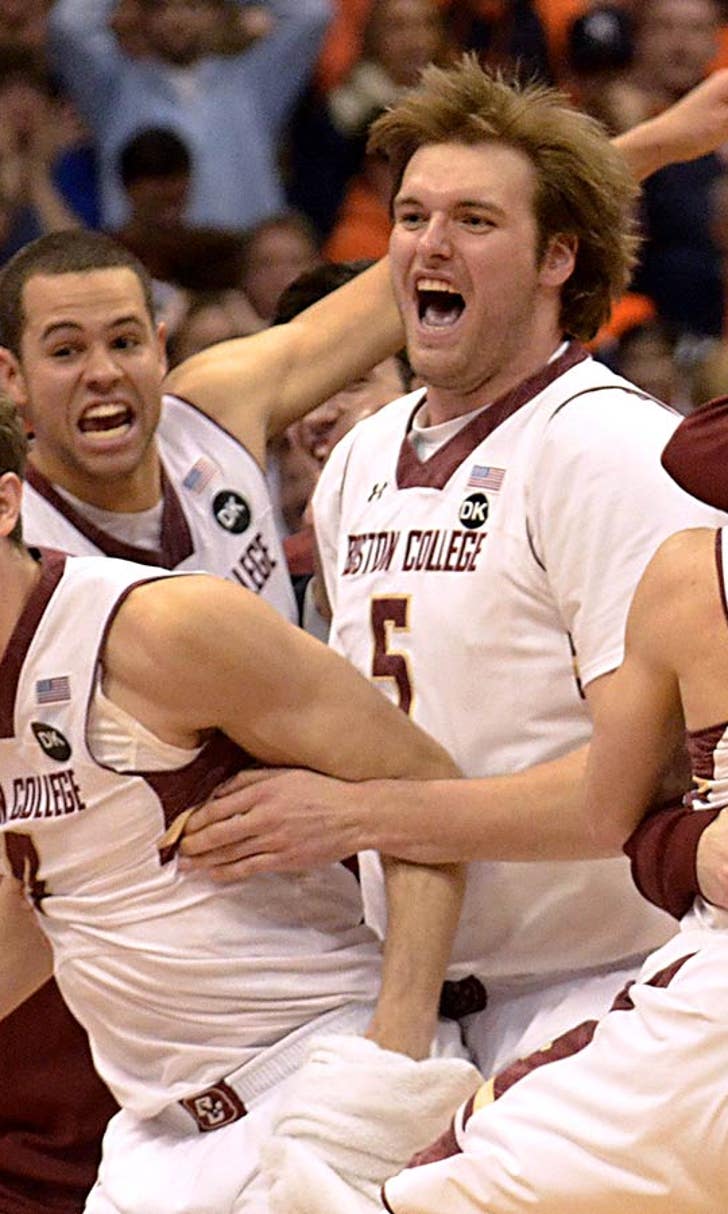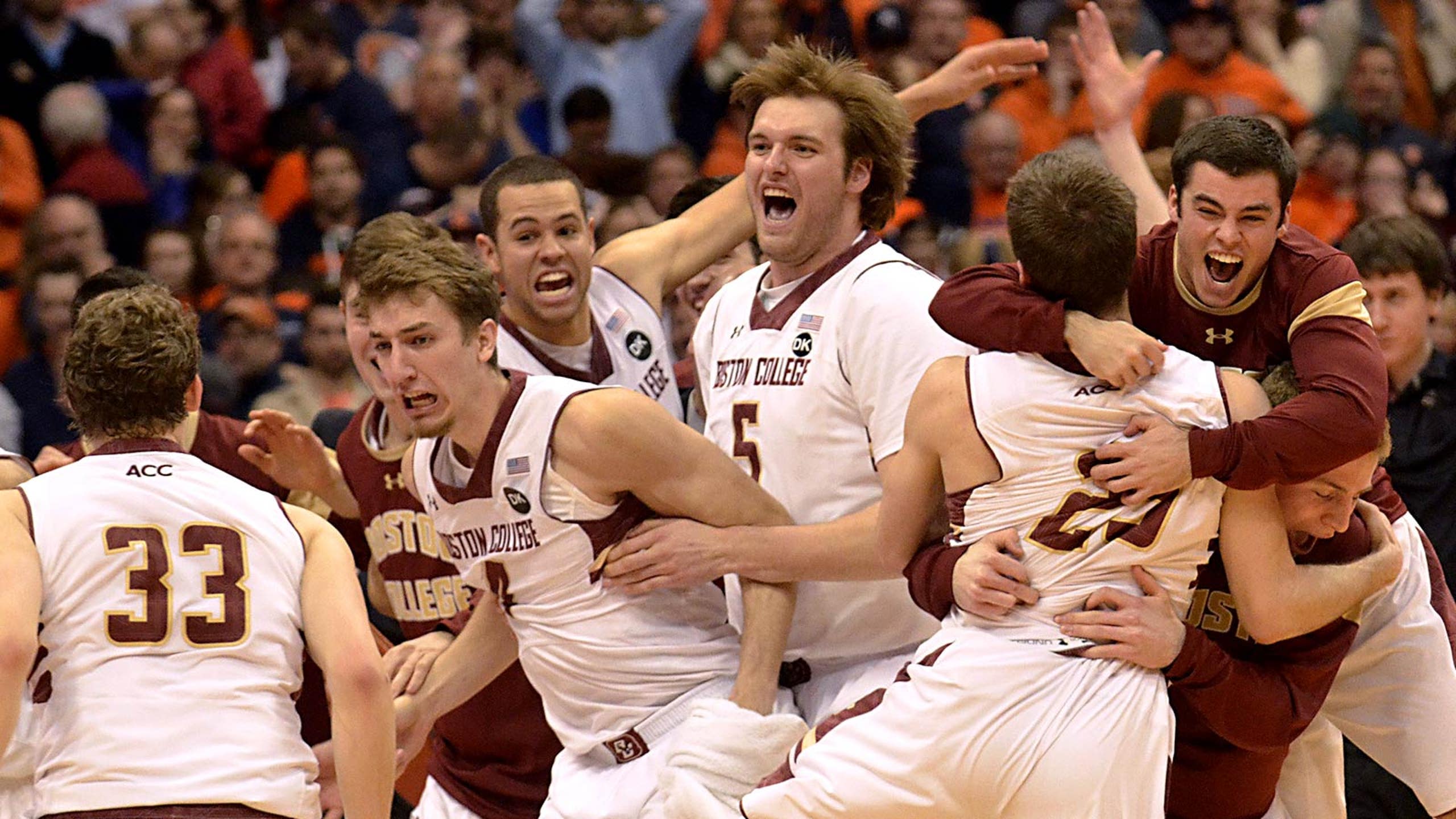 BC Stuns No. 1 Syracuse
BY foxsports • February 19, 2014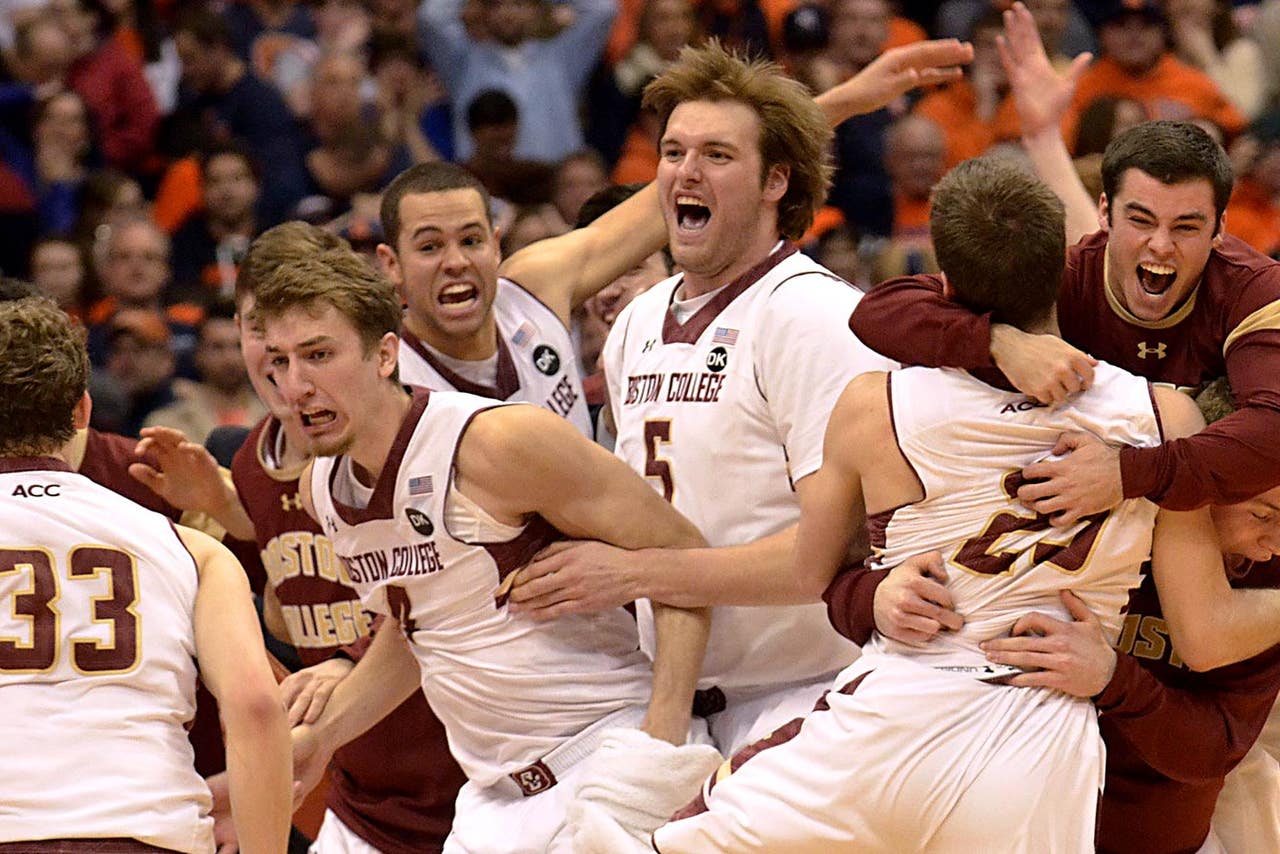 SYRACUSE, N.Y. -- Olivier Hanlan and Patrick Heckmann hit 3-pointers in overtime, Lonnie Jackson made four straight free throws in the final 26.2 seconds, and lowly Boston College stunned top-ranked Syracuse 62-59 on Wednesday night, ending the Orange's unbeaten season.
Boston College (7-19, 3-10 Atlantic Coast Conference), which had lost five straight, rallied from a 13-point second-half deficit to pull off the improbable upset.
Syracuse (25-1, 12-1) travels to No. 5 Duke on Saturday night.
The loss leaves No. 3 Wichita State, which was playing at Loyola of Chicago on Wednesday, as the lone unbeaten in Division I.
The Eagles came to town with heavy hearts and a good dose of determination. Longtime basketball media contact and sports information assistant Dick Kelley died last week after a two-year battle with ALS. His funeral was Tuesday and the Eagles, who often visited his apartment, were wearing "DK" patches on their uniforms.
The Eagles, whose only conference wins this season were over Virginia Tech, beat a No. 1-ranked team for the third time and first since the 2008-09 season.
Syracuse, which had won its last two games by a combined three points, shot a season-low 32.2 percent from the field including going 2 of 12 from 3-point range.
Tied at 50 after two halves played at Boston College's deliberate pace, Hanlan and Heckmann hit from long range to give BC a 56-52 lead with 2:56 left, but Tyler Ennis's driving layup knotted the score at 56 with 2:09 to play.
A free throw by Ennis gave the Orange a one-point lead, but Heckmann's backdoor layup put the Eagles back in front with 43.5 seconds left.
After a timeout, Ennis threw a pass toward C.J. Fair in the right corner that sailed out of bounds. After the officials initially ruled it was Syracuse's ball a video review with 32.5 seconds left re-affirmed the call. It didn't matter when Fair missed a drive and Jackson sealed the victory with his clutch free throws.
Hanlan finished with 20 points and Jackson had 10. Ryan Anderson had nine points and 14 rebounds, but the Eagles won it by going 11 of 22 from behind the arc. They committed 15 turnovers, three after halftime.
Fair finished with 20 points on 7-of-23 shooting and had 11 rebounds. Ennis had 14 points and six assists and Jerami Grant finished with 11 points.
Syracuse won 58-56 at Pittsburgh a week ago and 56-55 over North Carolina State in the Carrier Dome on Saturday night -- as the Orange had walked a tightrope much of the season.
Grant's spinning layup on a drive through the lane gave Syracuse a 50-48 lead with 77 seconds left in regulation, but Hanlan tied it with a layup 30 seconds later.
After a timeout, Ennis missed a layup attempt but snared his own rebound and Orange coach Jim Boeheim called a timeout with 20 seconds left to set up a final shot. But Rakeem Christmas missed a hook in the lane just before the buzzer to force overtime.
BC was called for two shot-clock violations in the final 5 minutes, squandering a chance to win it in regulation.
BC figured to attack the Syracuse zone inside-out with Jackson leading the ACC in shooting at 50 percent (34 of 68) from behind the arc and Joe Rahon and Hanlan each with 21 3-pointers. Eddie Odio averaging 42.4 percent from long range, also started.
BC trailed by eight points at halftime and by as many 13 in the second half before its outside game came alive. Hanlan hit three from behind the arc and Rahon had two in a 7-minute span to key a 21-8 spurt, and Anderson's layup tied it at 41-all with 8:15 left.
A 3 by Rahon from the left corner made it 46-42 with 6:09 to go. Syracuse tied it at 46 on Ennis' driving layup with 5:09 left, but he committed a turnover on the ensuing possession and Heckmann's layup put BC back in front 48-46 at 3:30.
The Orange tied it at 48 on a free throw by Christmas with 2:23 to play.
Syracuse started badly, missing its first seven shots and falling behind 7-2 as Jackson drained two 3s in the first 5 minutes. Fair notched the Orange's first basket on a reverse layup at 14:19.
Fair, Syracuse's leading scorer, had eight of the Orange's first 12 points, but half those points were on free throws as he missed eight of his first 10 shots. Syracuse shot 34.5 percent (10 of 29) and missed all six attempts from long range in the first half.
Grant's three-point play gave Syracuse a 25-17 lead at halftime as the Orange held BC's top guns in check. Hanlan was 1 of 5 from the field and Anderson 1 of 4.
The Orange boosted the lead to 33-20 on Ennis' 3 from the wing with 17:25 left.
Syracuse won at Boston College a little more than a month ago. The Orange trailed 51-46 with just over 10 minutes to play, then took advantage of their size inside during a 16-1 run over a span of less than 4 minutes and won 69-59.
---