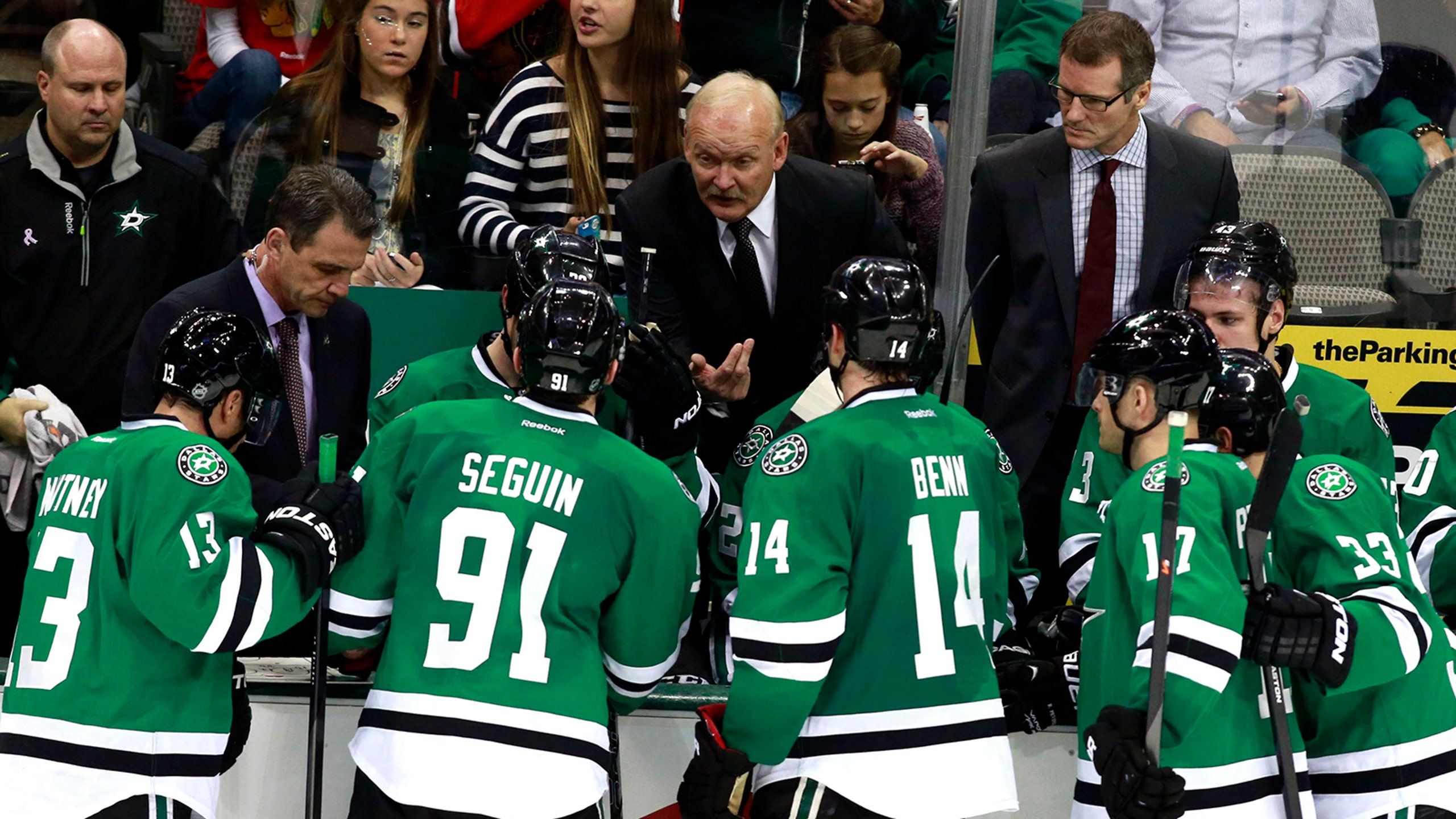 Bag of Pucks: Stars Scratching Back
BY foxsports • January 28, 2014
One of the great things about writing about a team is that you can capture your feelings at a particular moment and remember how you felt during the journey - not just the simple narrative that your mind creates at the end to help you reconcile the events along the way.
That is also one of the horrible things about writing.  Because that means that you said things that seemed true and defendable at the time but as circumstances changed, you were unable to fully support your own views later, and kind of wished they vanished when they stopped being what you presently believe.
Take the 2014 Stars.
Ask me about them on New Year's Eve at the stroke of midnight and my optimism is overflowing.  This team just beat the mighty Kings (again) and despite injuries and issues and no power play to speak of, they appeared to be on the fast track to the playoffs with youth and optimism spilling over onto everything.  They had a long ways to go, but the sky was the limit.
Then, January hit.  Boy, did it hit.  Like right between the eyes, and the losses started mounting.  Montreal, Detroit, the Islanders, New Jersey, the Rangers, the Islanders again, the Bruins.  It was never going to stop.  At Minnesota and then maybe the low moment of the season in Nashville where things just were getting worse and worse.  That, now looking back, might have been where things bottomed out.  At least for that particular moment 8 nights back.
Because now, after 4 games at home where the Stars have looked like a power again, we are right back where they started after that 10 game slide from Hades.  Did the slide take them out of a realistic playoff position?  In truth, you would have to say most likely, because the pace they have to maintain the rest of the way argues that they are out of mulligans on the 11th hole and now have to play their own ball, mistake free for the rest of the round.
But, a 4-game home stand where they outscore their opponents 17-5, and out-Corsi the same opponents by 68 is just stunning.  Stunning in that they were all reasonable opponents that were in form and the Stars did a great job of smothering Minnesota, Toronto, Pittsburgh, and then horribly out-played but did not get a result against the Avalanche.
The Colorado result doesn't feel very good, but I am pretty sure that if you continue to out-shoot opponents 44-21, you will do very well in the big scheme.  They are playing great hockey again, and behold, the Power Play exists!
Since January 14th, the Stars lead the NHL in Power Play goals with 10 and Power Play Percentage finds them running 2nd to New Jersey.  Now, a 14-day trend isn't much, but just when we have pondered how the Stars were being dealt with tactically by their opponents, we see the only counter punch that can be counted on consistently - special teams.  Back 10 days ago, I detailed the issues with the team's slump that you can read here, but know that it is all equalizing back into place with the ability to stick a sword in your opponent with a power play goal.
So, what have I seen that suggests this meaningful improvement can sustain?
Well, first, it is really difficult for anyone who watches this team to ignore the clear impact that is being made by Cody Eakin with Antoine Roussel and Ryan Garbutt.  This is what development in your organization is all about.  I am not sure any of them had huge regard, although Eakin has always been a guy that has stood out when you watch him nightly.  Garbutt and Roussel are the identity of this roster to me.  Speed and tenacity is what they both have and they also are characterized with that wonderful trait of playing like it is their last game if they don't play hard enough.  Every roster needs those guys and the Stars have them with Eakin on a line that pesters Sidney Crosby and also generates chances on a regular basis.  They are an ideal #3 line on a winner and when this thing fully develops, I can see that combination being great in the playoffs.
Next, I really believe the insertion of Aaron Rome stabilizes the blue-line a bit.  Now, that is crazy to consider, because Aaron Rome is really not the type of player your roster should depend upon.  In fact, he is a good soldier who is at risk of being over-exposed if you lean too heavily on him.  Yet, on this team, with the exception of Brenden Dillon, he is a proper stay-at-home option who allows someone like Sergei Gonchar to do his thing without the worst possible scenario leading to trouble on defense.  The truth remains that this defense group has parts that are talented but poorly fit together and with all of the left shots and smallish-types can only be so good.  I really wish there was a place for Kevin Connauton in this group, but if I have to choose between Rome's skill set and Connauton's, it really isn't difficult for me.
It seems that the young promising Connauton is a proper understudy for Alex Goligoski, Trevor Daley, or Gonchar.  And if he replaces one of them, great.  But, I can't fit him into the lineup with them or we have 4 skating, puck movers and nobody clearing the crease with Dillon and perhaps even Jordie Benn.
It is clear that this group still needs massive renovations, but for now, Rome in the lineup is having clear effects on other players.
Beyond that, the uptick of Sergei Gonchar, Erik Cole, and the effects of moving Shawn Horcoff back to center is clear and as they head to the Olympic break, everything that is wrong is starting to turn around.
The Stars have a very talented duo with Jamie Benn and Tyler Seguin and the show they put on in the last several games has been captivating to say the least.  But, having a few fine players is not the key to winning.  Rather, building a sustainable roster that has ability regardless of which 5 go over the boards in the roles that they are given is what allows you to over take good teams and creep back into the mix.
I hope it is not too late for 2014 and maybe this run is a sign of what is to come.  But, if January has taught us anything, it is that we have no idea what is around the next turn.
And now, a few emails:
Bob, 

I just don't see this Alex Goligoski situation ending like we all hope it does.  He is just a mess back there and it appears to get worse the more pressure he puts on himself.  Talk me out of it.  

Dave
I could do a mailbag every week with just Alex Goligoski questions if I wanted to, but who would want to?  Don't look now, but Goligoski has 7 points in the last 4 games, so using that arbitrary sample sizes, he has more points than any player in the NHL over the last 4 games besides Jamie Benn and Kyle Okposo who each have 8.  And yet, watch a game at the American Airlines Center, and you cannot debate that 1) he melts down way too often and 2) he is the default punching bag for anyone who cares to yell at the home team for not getting it done.
I have said this several times, but let me say it again; he is the Stars defenseman with the highest ceiling and can do things that the others cannot.  He also has been overexposed and not handled with an ideal situation including a partner who would allow him to flourish.  If the Stars had a well built blue-line and he had a partner like Brooks Orpik (as Kris Letang enjoys), you wouldn't believe how great he might be.  But, he doesn't.  He has different partners all of the time and none of them seem to contrast his styles very well.  So, he steps up on a play to do what he does best and there is a problem behind him.  He will never be a great player behind his own goal-line, but that doesn't set him apart from many guys with his skills.
Nobody is happy with the issues in his own end.  But, I cannot think of a more silly solution than dumping him out with the trash.  This is what pro sports is all about.  Salvaging guys and finding a proper place to put them.  That is why they must find a respectable partner who is the stay-at-home guy that they can match him up with and move forward.  They need more help, but getting rid of your limited talent on the blue-line will only make the situation worse.  Sorry.  I keep figuring this thing out and I am convinced it is up to Jim Nill to find the solution, not demanding Goligoski becomes Derian Hatcher.
Shoot straight, Sturm.  Tell me what the Stars' chances are at the post-season.  Guess!
I am horrible at this game, but let's look.  Dallas has 56 points in 53 games which puts them on a pace for 87 points.  The last time we played a full season, Los Angeles was the 8 seed on 95 points.  Minnesota is the current 8 seed and they are on pace for 94 points.
So, given that, the Stars have to play on a 107-point pace for the final 29 games, which is usually a Top 3 pace in the entire league.   They would need 19 wins in the final 29 games to get to 94, and that might be enough, but also still might not be.  They have played 27 home games and 26 road games so far, so that leaves 15 of the final 29 on the road.
Six more games until the Olympic break and then 23 on the other side.  Can they do it?  Sure!  Would I have the slightest clue on whether they will?  I would likely not bet on it.  They are building, but the structure might not be ready for April of 2014.
I hope I am wrong.  And maybe, we can also hope the trade deadline will do them some favors.  Right?
A wise man once said that "hope is not a strategy."
---