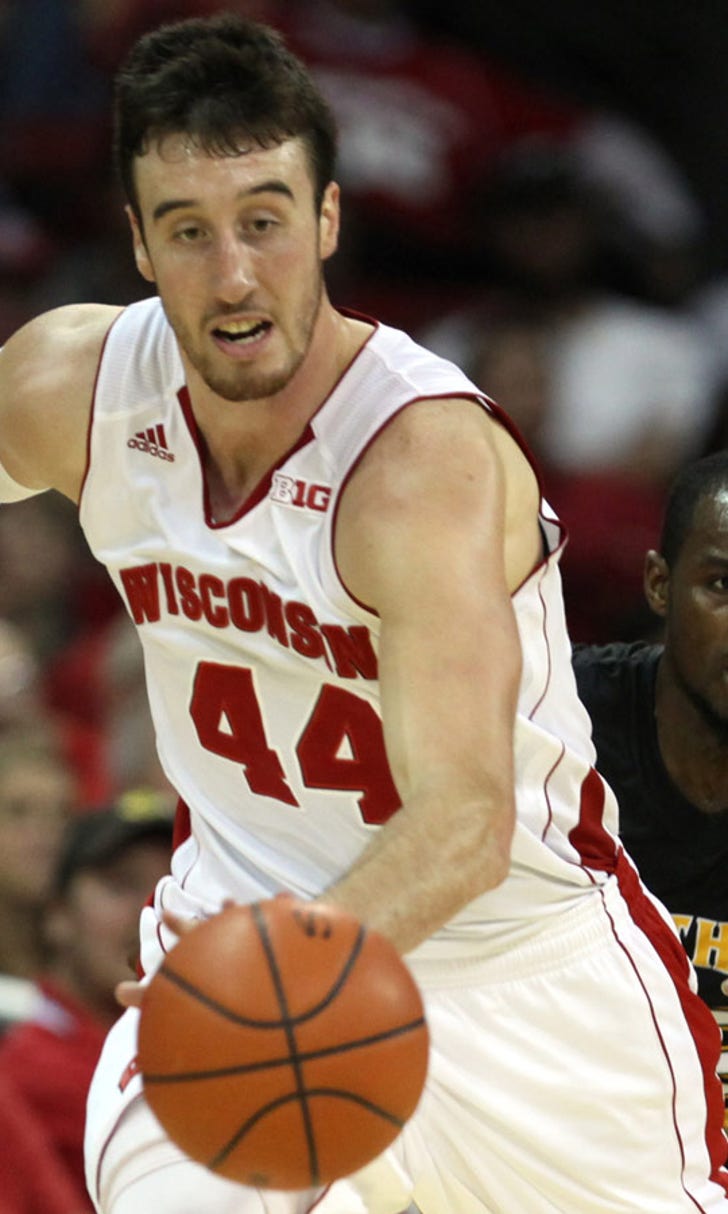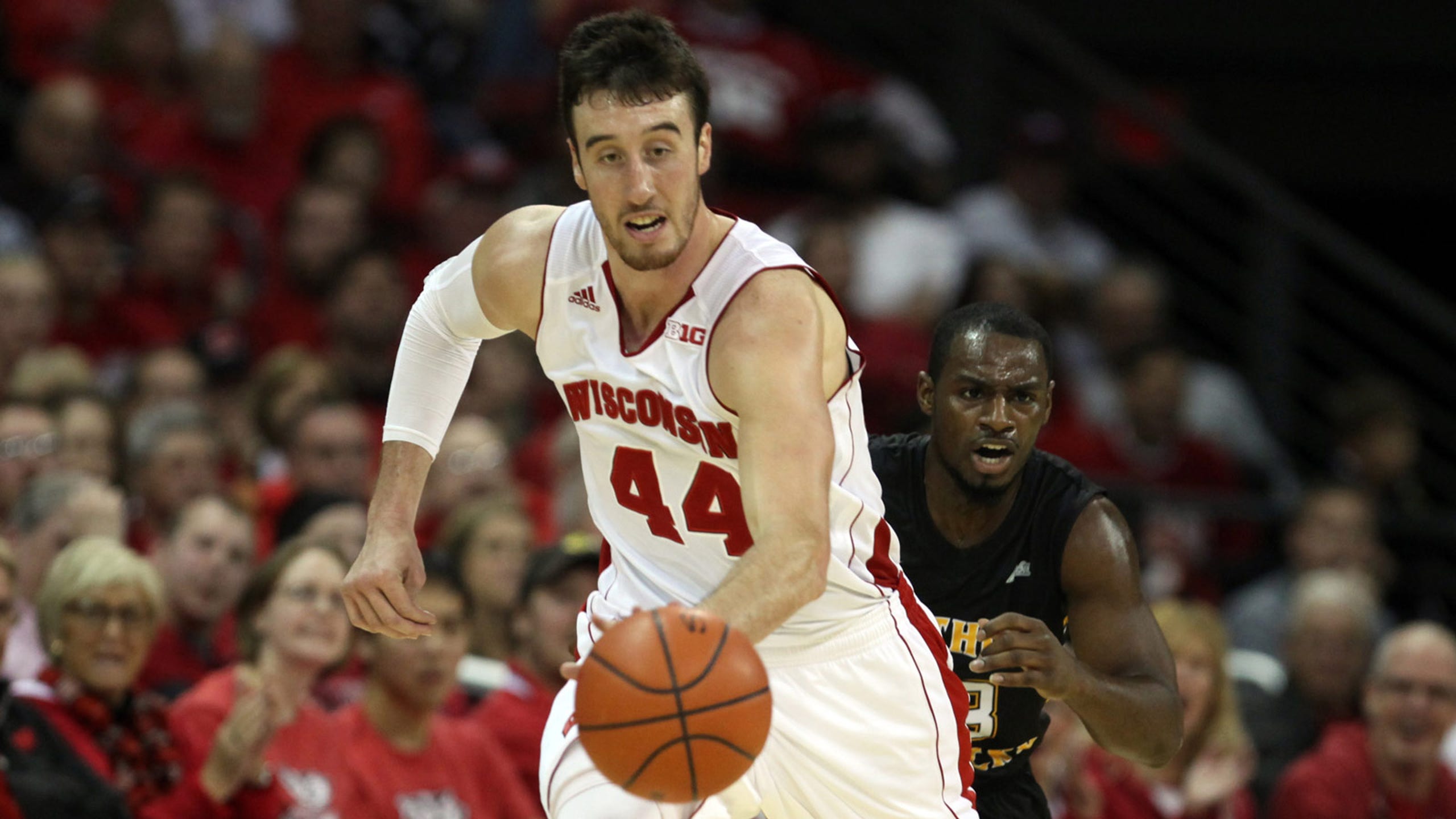 Badgers' unselfish Kaminsky a skilled guard in a big man's body
BY foxsports • November 18, 2014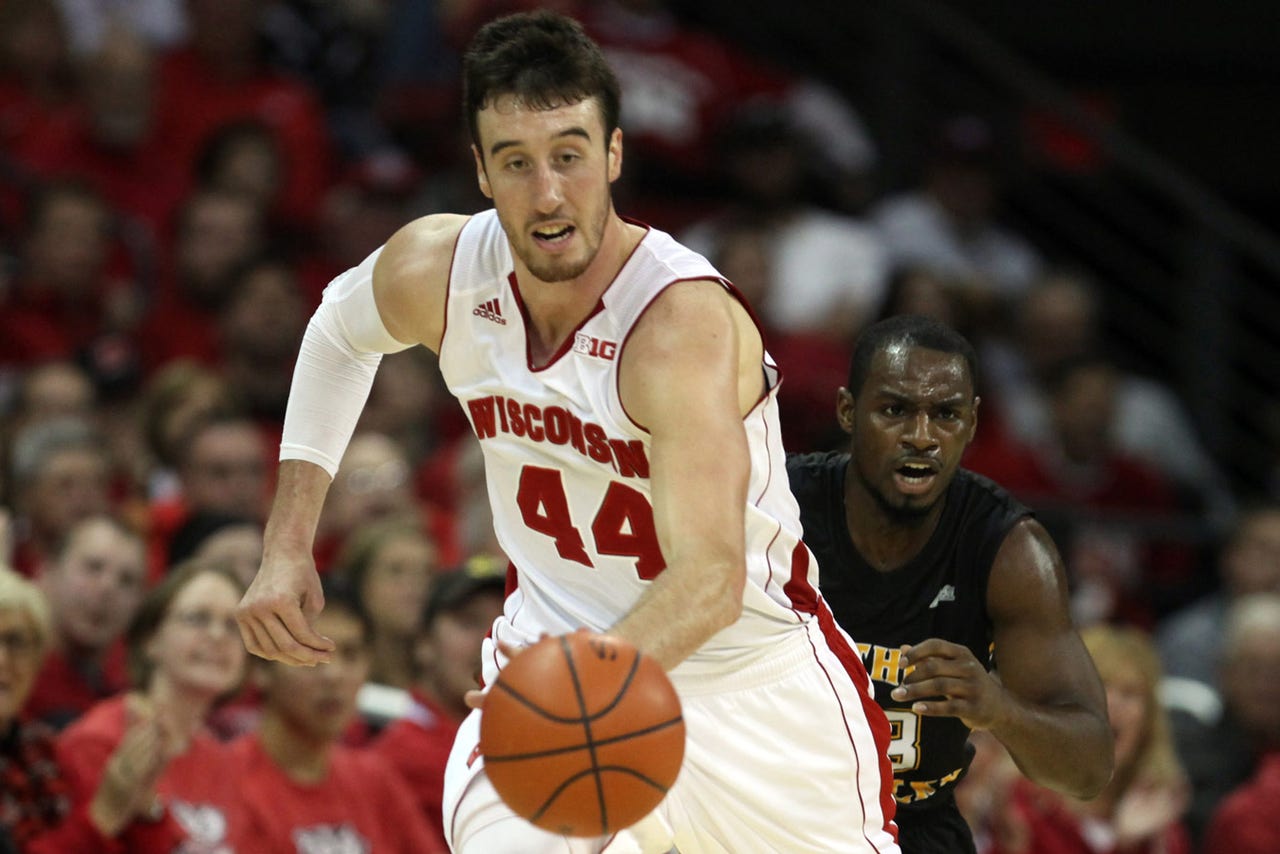 MADISON, Wis. -- The 7-footer who plays like a guard was leading a fast break during Wisconsin's exhibition game two weeks ago, when he spotted teammate Josh Gasser lining up for 3. Frank Kaminsky had decisions to make here. He could have pulled the ball out and set a half-court offense. He could have driven the length of the floor and fired up a quick shot for himself.
Instead, he did what always has come naturally. He created a shot for someone other than himself.
"He drove down and did like a 360 spin and threw it to me in the corner," Gasser said. "I was like, 'I have to shoot this.' Fortunately I knocked it down. Just plays like that, not many guys can make, especially his size. That just shows how incredible of a player he is."
Kaminsky has rightfully earned national acclaim entering the 2014-15 season for his scoring and rebounding ability -- areas he led the Badgers in on the way to a Final Four appearance last season. But perhaps the most underrated element to Kaminsky's game is a vision and passing ability that make him as complete of a player in college basketball.
As Kaminsky puts it: "If someone's more open than myself, why not pass it to him? It's just one of those things that comes with playing basketball for so long."
In two regular-season games, Kaminsky has continued to practice what he preaches. He leads the Badgers with eight total assists, while no other player on the team has more than five. It is a small sample size to be sure, but it also is indicative of the impact Kaminsky can have on a game without even shooting. His next chance to showcase those skills will come when No. 3 Wisconsin (2-0) plays host to Green Bay (1-0) at 8 p.m. Wednesday in the Kohl Center.
"I've always prided myself on not being what I call in basketball a black hole," Kaminsky said. "There's always a black-hole player when you were growing up that you had on some team where you threw the ball to him and you knew it was never coming back. That was never going to be me. I don't see that changing at all with the way I play and my personality on the court."
In many ways, Kaminsky serves as the antithesis of what people think a 7-foot basketball player should play like. He grew up handling the ball and playing guard and tries to convince teammates to let him play point guard during open gym sessions. He stood 6-foot-3 as a freshman at Benet Academy in Lisle, Ill., before undergoing two substantial growth spurts. The guard in Kaminsky, however, never left him.
As a high school senior, Kaminsky famously played point guard for a stretch of the season when teammate Dave Sobolewski, now a Northwestern guard, sustained an injury.
"I was never really a true point guard," Kaminsky said. "But you can see it sometimes. I get the rebound and then just bring the ball up myself, kind of wave people off like, 'No, I got it.' Senior year was pretty much the only year I was like a set point guard."
Kaminsky has perfectly melded the skill sets of a center and a guard -- someone who is tall enough to see over defenders and cerebral enough to keep his head up while dribbling. The combination has led to some impressive passing statistics during his Wisconsin career.
He began the season with 85 assists and 58 turnovers -- an assist-to-turnovers ratio of 1.68. That mark would be impressive for anybody, but it is especially impressive for a big man. Consider that Badgers point guard Traevon Jackson's career assists-to-turnovers ratio entering the season was 1.64.
Badgers assistant coach Greg Gard said Kaminsky's talent had fit in well with a Wisconsin system that allows big men to roam free on the perimeter, to space the floor and to look for teammates. Kaminsky's growth, Gard said, also has been reversed from a more traditional big man who first learns how to play with his back to the basket and extends his game.
Kaminsky, on the other hand, was a perimeter player and passer who then needed to learn how to play inside. Now that he has added strength and grasped how to do both well, he's as good as anybody in the game.
"I would say he's as complete as any big guy we've had," Gard said. "That would be the best way to describe it. There's not a whole lot of holes in his game, especially from an offensive standpoint. He can hurt you in a lot of ways."
These days, Kaminsky is a known commodity, and opposing defenses will game-plan to stop him. He is the Big Ten's preseason player of the year and recently was voted as ESPN.com's No. 1 player in college basketball. The recognition only means Kaminsky will have more opportunities to find teammates and space the floor.
Take, for example, a lane-line lob Kaminsky threw to Badgers forward Sam Dekker during Wisconsin's 89-45 victory against Chattanooga on Sunday. Dekker stood guarded under the right side of the basket but managed to convert the pass into an alley-oop layup.
"That one was tough," Dekker said. "He threw it. I don't know why he threw it. I wasn't really open, but he put it in a spot where it kind of had to be. And then he knew that a lot of times I can finish those. That was a good play."
With an entire senior season ahead of him, expect many more well-placed passes from Kaminsky, the unselfish guard in a big man's body.
"He brings the full package to the table and it's fun to play with him because he sees you and finds me especially on a lot of back cuts," Dekker said. "He prides himself on his passing, and it definitely helps us out that he can space the floor and see over defenders and create angles for us."
Follow Jesse Temple on Twitter
---