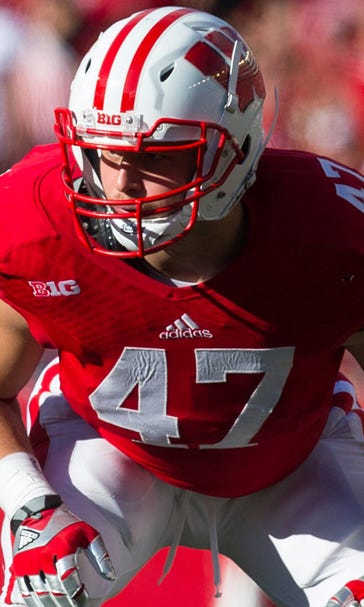 Badgers positional preview: Linebacker
BY foxsports • July 1, 2014
This is the fifth in a series of 11 previews leading up to the Wisconsin football team's Aug. 4 start of practice. You can find the entire series here.
Today's position: Linebacker
Rating (1-to-10 scale): 7
Projected starters: Vince Biegel (redshirt sophomore), Joe Schobert (junior), Derek Landisch (senior), Marcus Trotter (redshirt senior)
Key backups: Jesse Hayes (redshirt junior), Leon Jacobs (sophomore), Michael Trotter (redshirt senior), Keelon Brookins (redshirt freshman)
The breakdown: This is a position group that should be better than some might anticipate in 2014. If you're looking for starting experience, you won't find much of it out of Biegel, Schobert, Landisch and Trotter. The four have combined to start seven games. But that doesn't mean they don't have the playing experience to excel as a unit. Collectively, they have played in 87 games.
Landisch is the leader among the group, and he tallied 33 tackles last season. Biegel added 25, Schobert 24 and Trotter 23. It's still unclear whether Wisconsin has the type of dynamic playmaker that can consistently change games with huge plays in key moments as Chris Borland did last season. Borland finished with 112 tackles and was drafted by the San Francisco 49ers.
Biegel and Schobert both should give Badgers fans reason for optimism about the future. Both players are freak athletes who should be ready to embrace their moment in the defensive spotlight. Biegel has three years of eligibility remaining and Schobert two, and it will be fun to watch each player develop over his respective career.
Best position battle: The development of Leon Jacobs will be one to watch this season. Jacobs was moved in the spring from outside linebacker to inside linebacker, and coach Gary Andersen has raved about Jacobs since he arrived on campus last year. Jacobs was one of the few freshmen who was deemed ready to play immediately, so he didn't take a redshirt season. He finished the year with seven tackles in limited action but could see plenty more time in 2014.
Best of the Big Ten: 1. Nebraska; 2. Michigan; 3. Northwestern
Nebraska returns three players that finished last season as starters, led by David Santos and Michael Rose. Santos finished second on the team in total tackles with 87, and Rose was fourth with 66. Fellow linebacker Zaire Anderson was fifth with 62 tackles.
Michigan also has three quality linebackers back for 2014, with James Ross, Desmond Morgan and Jake Ryan. Ross was second on the team with 85 tackles and Ryan third with 79. Ryan added 30 tackles.
Northwestern, meanwhile, is on the list because of Chi Chi Ariguzo and Collin Ellis. Ariguzo was a beast last season with 108 tackles, four interceptions and two sacks. Ellis had 76 tackles with three interceptions.
Joe Schobert says: "We lost a lot of experience, a lot of good players. But I think we have the potential to be a really fast, athletic group this year. We're replacing those guys. Hopefully we'll get that experience right away. I think everybody who's going to be playing has played in games. So we know what it's like to travel, to play in games. Most of them have started at least a couple. I do expect us to be a little bit faster, probably a little more athletic. Hopefully that'll help take over for that experience we're losing."
Follow Jesse Temple on Twitter
---