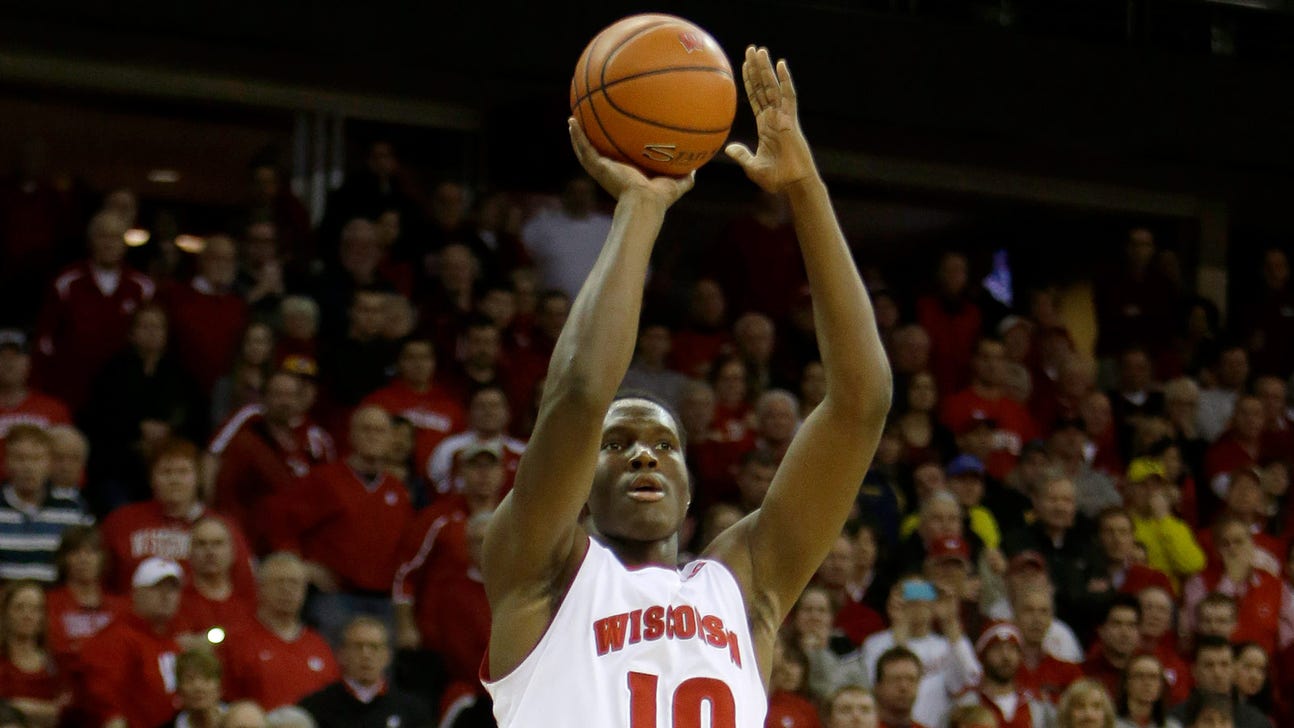 Badgers' Hayes taking his game outside the box
Published
Oct. 22, 2014 4:15 p.m. ET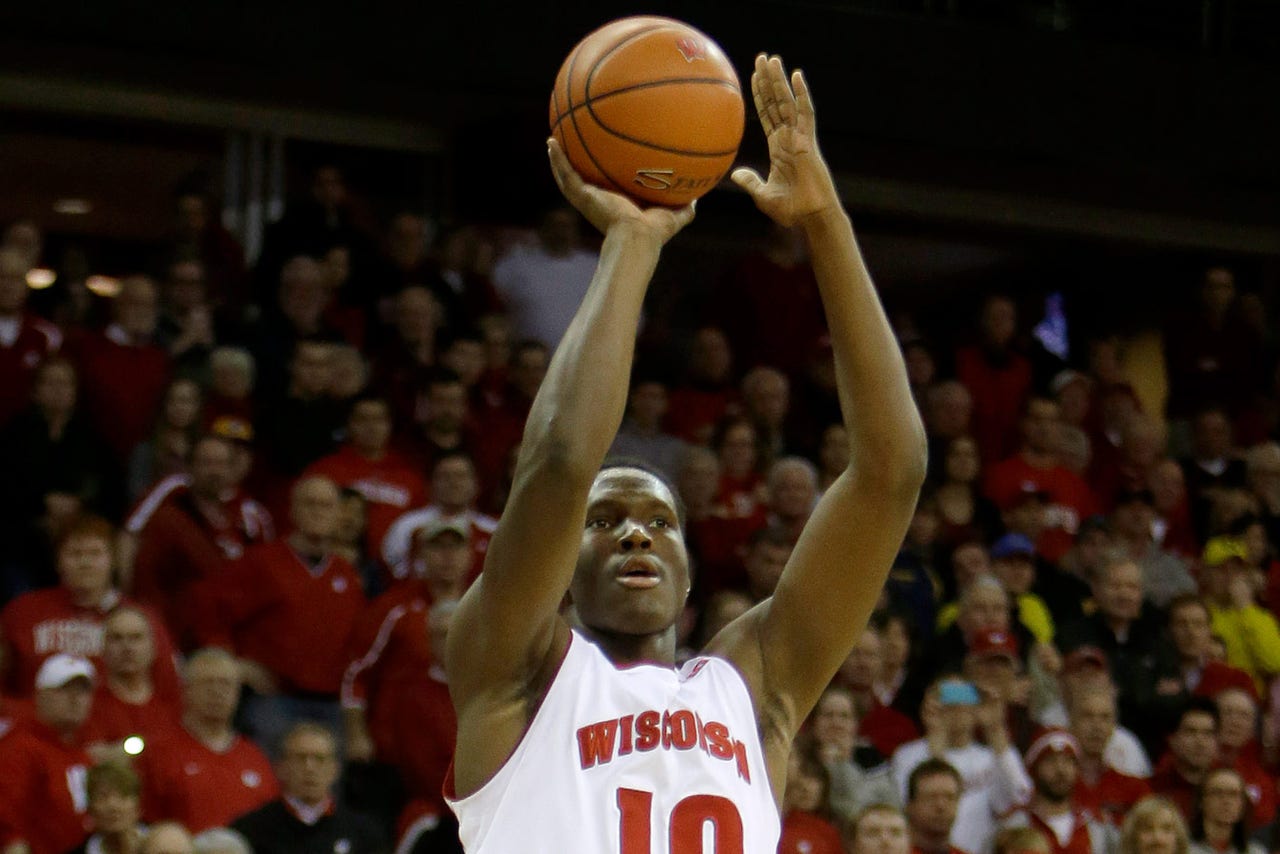 MADISON, Wis. -- The reigning Big Ten Sixth Man of the Year earned such an honor by meshing his crafty ability to muscle toward the rim with a near-flawless 15-foot jump shot. He became a nuisance to opponents, perfecting his niche on a team that reached the Final Four. And in doing so, he never attempted a single 3-pointer.
Imagine the surprise, then, when Nigel Hayes returned to Wisconsin's campus this summer with a sweet outside shooting stroke.
"I was hoping he was going to surprise everybody," Badgers coach Bo Ryan said. "But I knew we could never get by with that. Now we just hope that he makes them in the game. What do you think?  He's proven that he can shoot it."
During Wisconsin's first practice open to local media last week, Hayes buried two 3-pointers in a full-court scrimmage and drilled a third jumper from just inside the top of the key in transition. He also hit 14 of 23 3-point attempts during a shooting drill in which players cannot leave one spot until making the shot.
It is a drastic change for a player who produced one of the more surprising freshman seasons at Wisconsin under Ryan a year ago. Hayes played in all 38 games and averaged 7.7 points and 2.8 rebounds while hitting 51.0 percent of his shots. He also ranked second on the team in free-throw attempts (164). Four times, he earned Big Ten Freshman of the Week honors and ultimately made the league's postseason all-freshman team.
So, how many 3-pointers did Hayes shoot during the offseason, anyway?
"How many times did you blink your eyes this offseason?" Hayes said.
Hayes, one of the most affable, unusual personalities on the team, never shies from an opportunity to earn a laugh. Ryan noted that when Hayes committed to Wisconsin two years ago, he asked Ryan for permission to turn pro if he earned national player of the year honors in his freshman season.
"How would you answer that question?" Ryan said. "I found out he was just kidding. . . . He just wanted to get a funny in on me."
Hayes' newfound shooting stroke is far from a laughing matter. The 6-foot-8 forward is poised to enter Wisconsin's starting lineup as the team's 4-man, in a frontcourt that features center Frank Kaminsky, the preseason conference player of the year, and forward Sam Dekker, a preseason first-team all-conference pick. And Hayes' ability to stretch defenses should make an already great team even better.
"Me being able to shoot, it will make the game a lot easier," Hayes said. "I watched film over our last year's games and I saw where I'm sitting here on the 3-point line and the guy guarding me is helping all the way over. You know that hinders the other guys' effectiveness on offense, where Sam can't drive because there's another guy in his way.
"With me being able to shoot that, that guy will either continue to do that, I'll make that shot, or he'll come out and give Sam or Trae (Jackson), whoever else, a driving lane."
Hayes credited his shooting development to Bruce Smith, his former coach at Whitmer High in Toledo, Ohio. Hayes described himself as "a high-maintenance shooter" who easily picks up bad habits. During the course of the season, those mistakes can compound quickly and create poor shooting form, which Hayes noticed occasionally last season.
But with Smith at his side this summer, coupled with the use of a basketball machine known as "The Gun" -- an automated piece of rebounding equipment that funnels balls into a chute and fires them at shooters -- Hayes believes any poor shooting habits are a thing of the past.
"The Gun and I are best friends," Hayes said. "I put my little autograph on the back. Gave him a big thanks for helping me out."
When Ryan recruited Hayes, he noted he didn't have the slightest inkling the forward would develop into a 3-point shooter -- "I could make up a story," Ryan said. Now, Wisconsin's top seven rotation players all pose threats outside: Jackson, Josh Gasser, Dekker, Hayes, Kaminsky, Bronson Koenig and Duje Dukan.
"Isn't that what's fun about what we do, to see these guys grow in different ways?" Ryan said.
Although Hayes has wowed spectators in practice thus far with his 3-point shooting, Badgers players say they saw it coming. During open gym or weekend shooting drills last season, teammates noticed Hayes had the ability to make long-range shots.
In games, however, his role was to provide a lift off the bench (17.4 minutes per game) and draw fouls on the opposing team's big men. Then-senior Ben Brust, who made a school-record 235 career 3s, served as Wisconsin's primary 3-point shooter.
"Last year, he realized that he didn't need to shoot 3s," Dekker said of Hayes. "If he could be a force inside, draw fouls, get to the rim and just help out our offense overall, that was his role. He accepted that and he embraced it.
"That confidence he got and his consistency has been big for him to stretch the floor, stretch the defense. But at the same time, I think adding that jump shot will definitely open up his inside game even more. He can be a scary threat for defenses and will definitely help us."
There is one other noticeable difference in Hayes as he prepares for his sophomore season: a slimmed-down physique. Hayes was listed at 250 pounds a year ago, though he said he really weighed about 247. Now, he is weighing in at 235.
"I was never 250," he said. "That was just a program weight that made you guys excited. The weight loss was good for me. ... I'm stronger than I was last year. So I'm able to move -- stronger muscles to move this weight. Hopefully that equates to being faster up and down the court, jumping higher, better wind out there."
Put all those facets together, and Hayes appears primed for a big season with an expanded game.
"I'm trying not to be labeled as a whatever number you guys call it," Hayes said. "Inside, out, just a basketball player. Just exploits the mismatch. Whatever the defense gives you, I take."
---