Badgers' Dukan eager to shake shooting slump
Published
Mar. 3, 2015 11:15 p.m. ET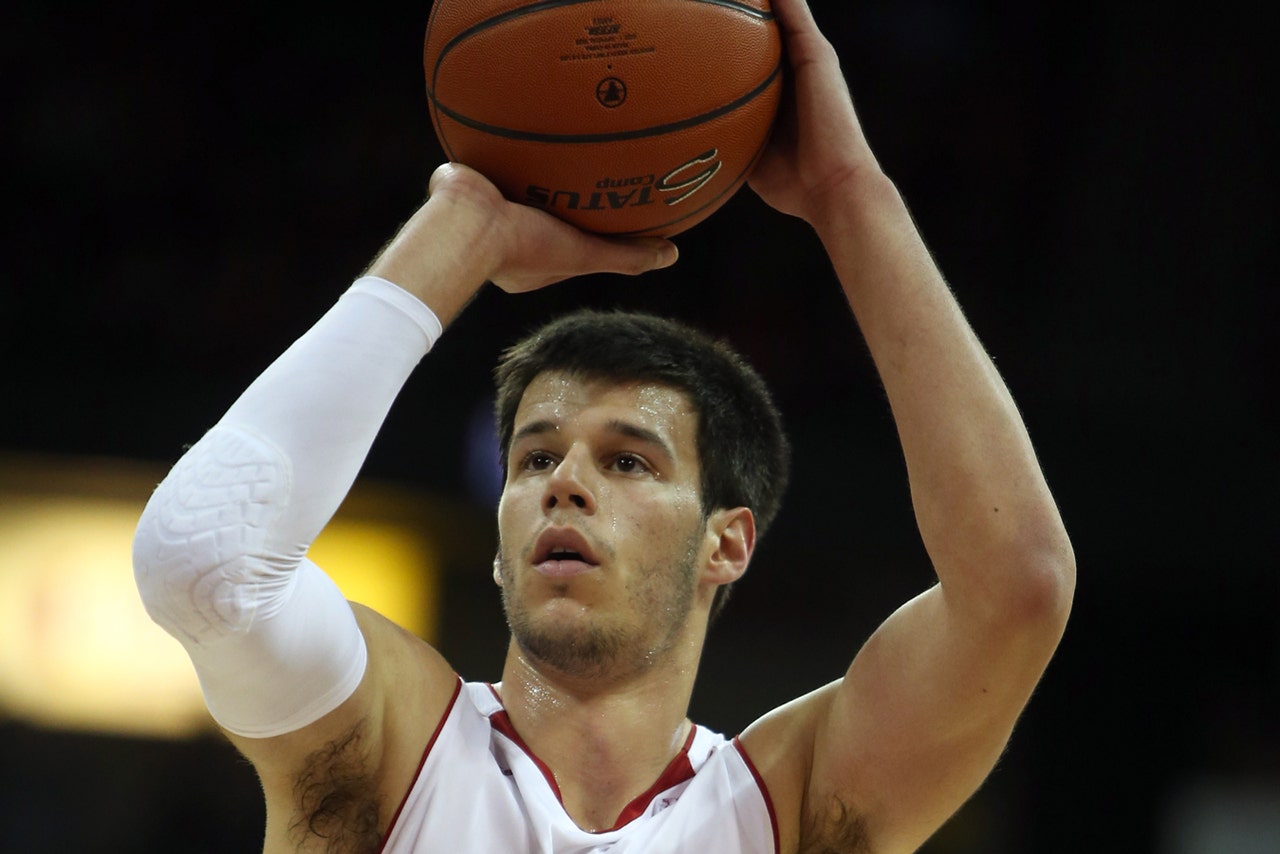 MADISON, Wis. -- The last player remaining inside Wisconsin's practice gym Tuesday night was the first player who needed a boost of confidence.
Here was Duje Dukan, a fifth-year senior, firing 3-pointer after 3-pointer while a team manager rebounded under the basket in the Nicholas-Johnson Pavilion adjacent to the Kohl Center. He hovered on the right wing until burying five consecutive 3s before moving on to step-back jumpers. He made five more shots and then began swishing treys from the top of the key.
Dukan has consistently been among the team's best outside shooters during practices, and the post-practice display looked similar to his performances behind closed doors all season. But that success has not translated to games as he expected, and time is now running out for him to fix the problem.
Dukan, a 6-foot-10 forward and one of the Badgers' most important reserves, is shooting just 29.0 percent on 3-point attempts this season (20 for 62). He has not made a 3-pointer since Feb. 10 against Nebraska -- a span of six games. And dating back to a Jan. 20 game against Iowa, Dukan has made only 1 of 15 3-pointers.
So, what gives?
"Honestly, it's just been inconsistency of minutes," Dukan said. "You never really know how much I'm going to be out there. Some games I'm out there for 15 minutes. Some games I'm out there for seven. So you never really know how much it's going to come, whereas early on in the season when I was shooting the ball well, I kind of knew how long I'd be in for and when, so I could get myself going before I shot a ball.
"Now, sometimes the moment might not come again if I don't get it soon enough. And it's not like I'm going out there just looking for shots. I put up two shots a game, if that. If it's not my shot, I'm just trying to have a positive impact in the game. I'm positive that the shot is going to come around. I'll hit one pretty soon here, whether it's the next game or the one after that. I'm just waiting on that chance."
Indeed, Dukan's minutes have decreased as Badgers coach Bo Ryan has pared down his rotation during the latter half of the season. During 11 nonconference games, Dukan averaged 19.8 minutes per game and played a season-high 33 minutes against Oklahoma in the Battle 4 Atlantis championship in the Bahamas. He also played at least 20 minutes on five occasions. But since Big Ten play began, Dukan has averaged 14.3 minutes. He has exceeded 20 minutes in a game only once and three times has not cracked double digits for minutes.
Perhaps not coincidentally, Dukan's offensive production has declined as well during Big Ten games. He averaged 5.9 points in those 11 nonconference games and shot 12 for 35 on 3-pointers (34.2 percent). In 16 Big Ten games, he is averaging 3.9 points and shooting 8 for 27 on 3s (29.6 percent). Dukan also has been held scoreless in five conference games.
Teammates who have seen Dukan's versatility and shooting stroke in practice for years, meanwhile, have been doing their part to maintain his spirits.
"You just try to tell him stay ready," Badgers forward Sam Dekker said. "Stay positive and it may sound weird, but not focus on scoring. Don't try to score. Because then it'll come. Focus on getting a rebound, focus on getting a deflection or getting on the floor. . . .
"We know he's a good shooter. He's just been in a little drought here the past few weeks. He's just got to stay steady and be ready when his time comes, and hopefully he'll knock some down soon."
One of Dukan's biggest issues, he said, was the few number of shot attempts he's actually been taking per game. During his 11-game shooting slump since the Iowa game, he has not attempted more than two 3s in any contest. And because Dukan's playing time is now divided into even fewer minutes per substitution pattern, it has made finding a rhythm more difficult.
Dukan noted he has continually reminded himself of his ability during the tough moments this season. A year ago, he scored a career-high 15 points against St. John's in the season opener. And during one 2 minute, 22-second stretch of the second half against Kentucky in the Final Four, Dukan scored eight points and made an assist on a Ben Brust 3-pointer to help Wisconsin turn an eight-point deficit into a one-point lead.
"I know I can play at this level," Dukan said. "I know I can be successful and effective. It's just a matter of me being able to show it and get the right opportunities. So I'm just waiting on that."
Badgers forward Nigel Hayes said he had spoken to Dukan about his slump and compared it to one Brust -- the program's all-time leader in 3-pointers made -- endured last season.
Brust connected on 39.3 percent of his 3s a year ago but made 13 of 51 3-pointers during an eight-game stretch of Big Ten games and missed 12 of 13 3s in another mini-slump a week later. But in the NCAA tournament, Brust buried 15 of 30 3s to help propel the Badgers to the Final Four.
"I try to always tell him that he's a great shooter and every time you catch it, you'd better shoot the ball," Hayes said of Dukan. "But sometimes players just go through a little slump. We were always joking with him saying that Ben went through the same slump last year. There was a little point during the season where Ben couldn't buy a 3, and I think Duje may be going through that. But I'm sure he'll snap out of it right around when Big Ten tournament starts and the NCAA tournament, which will be great for us."
Dukan said there wasn't one singular moment he could pinpoint as his most frustrating this season. Rather, it's been the constant rollercoaster of emotions he's endured because of his fluctuating minutes and performance. And as his college career nears a close, he hopes to have one more stroke of brilliance in him.
"As people say, players are made in March," Dukan said. "So that's what I'm kind of pushing towards now."
Follow Jesse Temple on Twitter
---