'Bad things' lead to Suns sixth straight loss
Published
Dec. 16, 2014 1:12 a.m. ET

PHOENIX -- The best way to prevent a 25-foot, turnaround, buzzer-beating, clank-bank-spin-and-in shot delivered by some guy named Khris Middleton was for the Suns' Marcus Morris not to execute a timely switch on the inbound pass and offer a vigorous challenge.
"They cut me off, I tried to spin around and get a good look at the rim, and I did and it was lucky it just went off the glass," Middleton said after he gave the Milwaukee Bucks a 96-94 victory over the Suns on Monday night.
A far superior method of defending that unlikely-but-successful game-winner would have been to not turn the ball over on three consecutive possessions after going up 10 points with 8:03 remaining in the fourth quarter.
"That was the stretch," Suns coach Jeff Hornacek said regarding his team's turnover epidemic. "That was the killer. Again, just careless. ... We gotta value the ball more."
With the Suns skewing toward sloppy on offense and intermittently unfocused on defense, Middleton and the Bucks hustled off the US Airways Center court with a come-from-behind victory.
"Whenever you give a road team life at the end, you know, bad things can happen," Hornacek said. "That's what happened."
Bad things indeed. This was the Suns' sixth consecutive defeat, dropping their record to 12-14 and putting their psyches at the unforgiving mercy of karma.
"Some years, the breaks aren't going your way," Hornacek said. "Obviously, so far this year, they haven't. But we've got to make our own breaks."
And making a few more shots wouldn't hurt.
As a companion issue to their 23 turnovers, the Suns made just 40 percent of their field goal attempts. Working without Goran Dragic (lower back strain) for the second game in two nights, Phoenix certainly could have used a boost.
Markieff Morris showed up to work, with 25 points (9-of-13 shooting), seven rebounds and three assists. He put the Suns up 94-93 with four seconds left but also contributed a damaging six turnovers, and -- with the Suns unable to get him the ball on the post in the second half -- only delivered six points after intermission.
"Well, Markieff was doing such a good job in the post, we were trying to get him the ball in there," Hornacek said. "Our guys just couldn't get in there, fronting him, just took us too long to get into it, so by the time we went to something else, it was too late.
"We have to figure out a better way to get him the ball inside, I guess. He had his own way down there but we couldn't get him the ball quick enough."
One quick adjustment made by first-year Bucks coach Jason Kidd was to take 6-foot-8 rookie Jabari Parker off of Morris after three early baskets and employ lengthy, second-year pro Giannis Antetokounmpo.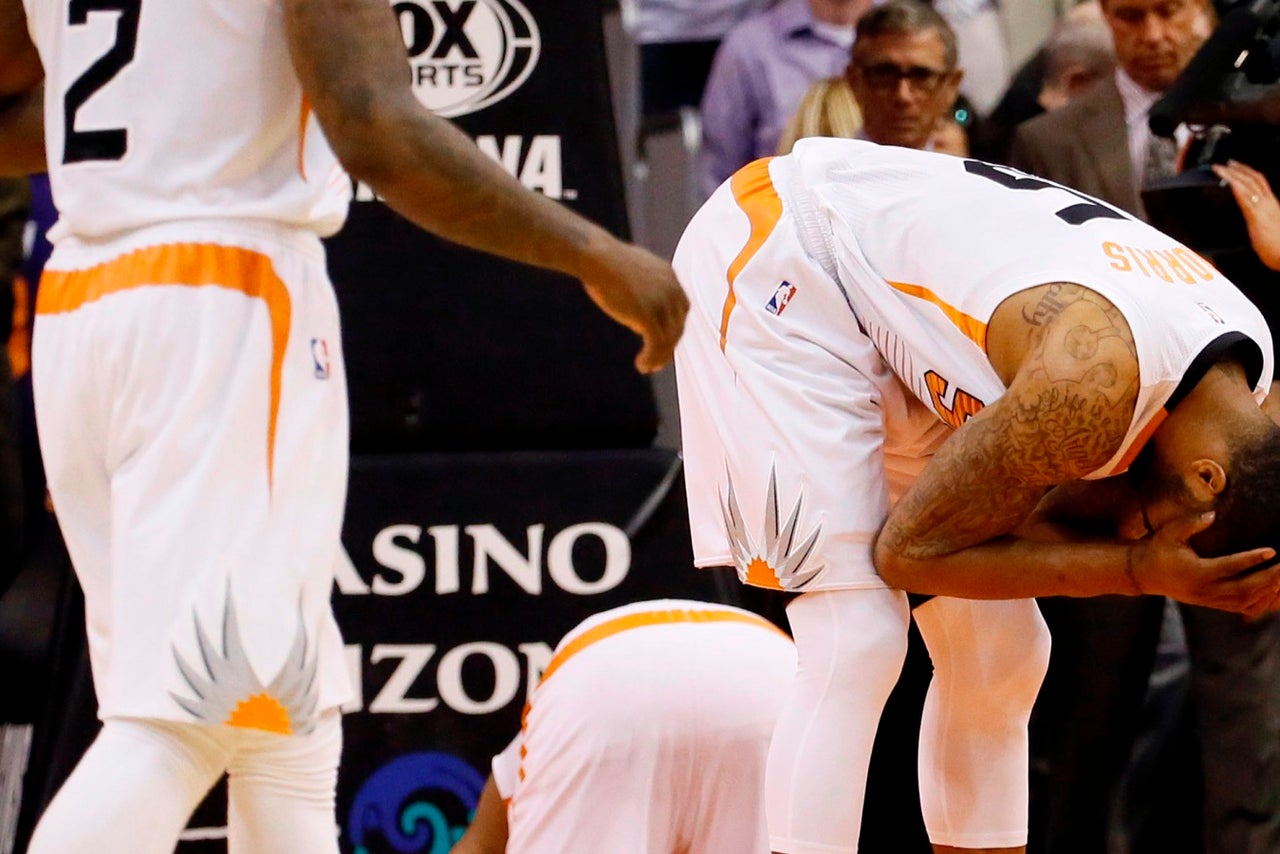 Suns forwards Marcus Morris, right, and P.J. Tucker, back, react after losing to the Milwaukee Bucks on a buzzer-beater Monday.
Parker had eight points for but left in the third with a sprained knee.
Aside from five turnovers, Suns point guard Eric Bledsoe didn't have any imposing numbers, and center Alex Len was good for just six points -- to go with six rebounds and three blocks -- in his first start of the season.
The typically busy tandem of Gerald Green and Isaiah Thomas was loud again, with the latter rallying from a slow start to put up 20 points. Now looking pretty spry after missing eight games with a bum ankle, Thomas erupted for 11 points on four consecutive possessions that provided that 83-73 cushion.
Green sank a crucial 3-pointer from the right corner to give the Suns a 90-88 lead with 41.9 seconds to play. It was their first field goal since the Thomas 3 that had them at 83 points. Phoenix's highlight-reel recidivist -- starting in place of Dragic -- made two of his other 17 attempts and finished 2 of 15 from behind the 3-point arc.
Aside from Green's numbers, the Suns were a reasonable 27 of 57 from the field and a healthy 10 of 23 from 3-point range.
The lack attention to detail, however, was a team effort.
"They just played harder than us," Bledsoe said. "We were up pretty much the whole game until the end and we kind of just traded baskets. You can't let a team like that hang around. They were playing terrific and they outhustled us. It was the better team that got the win."
---