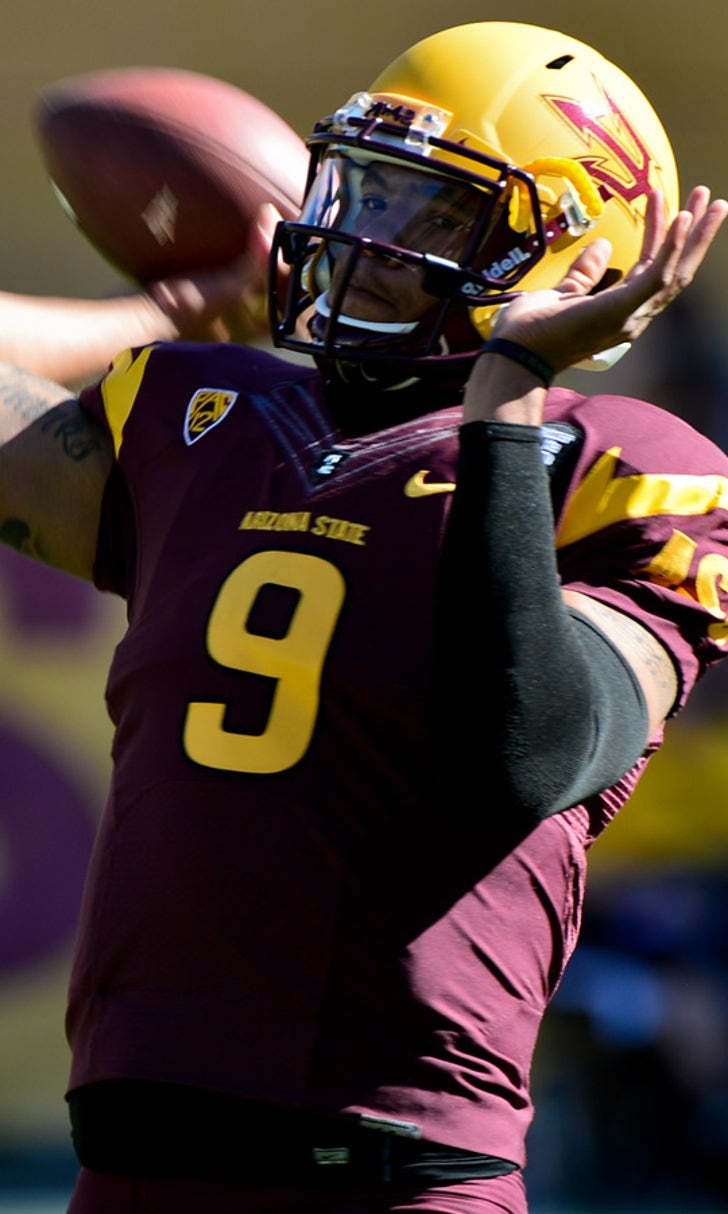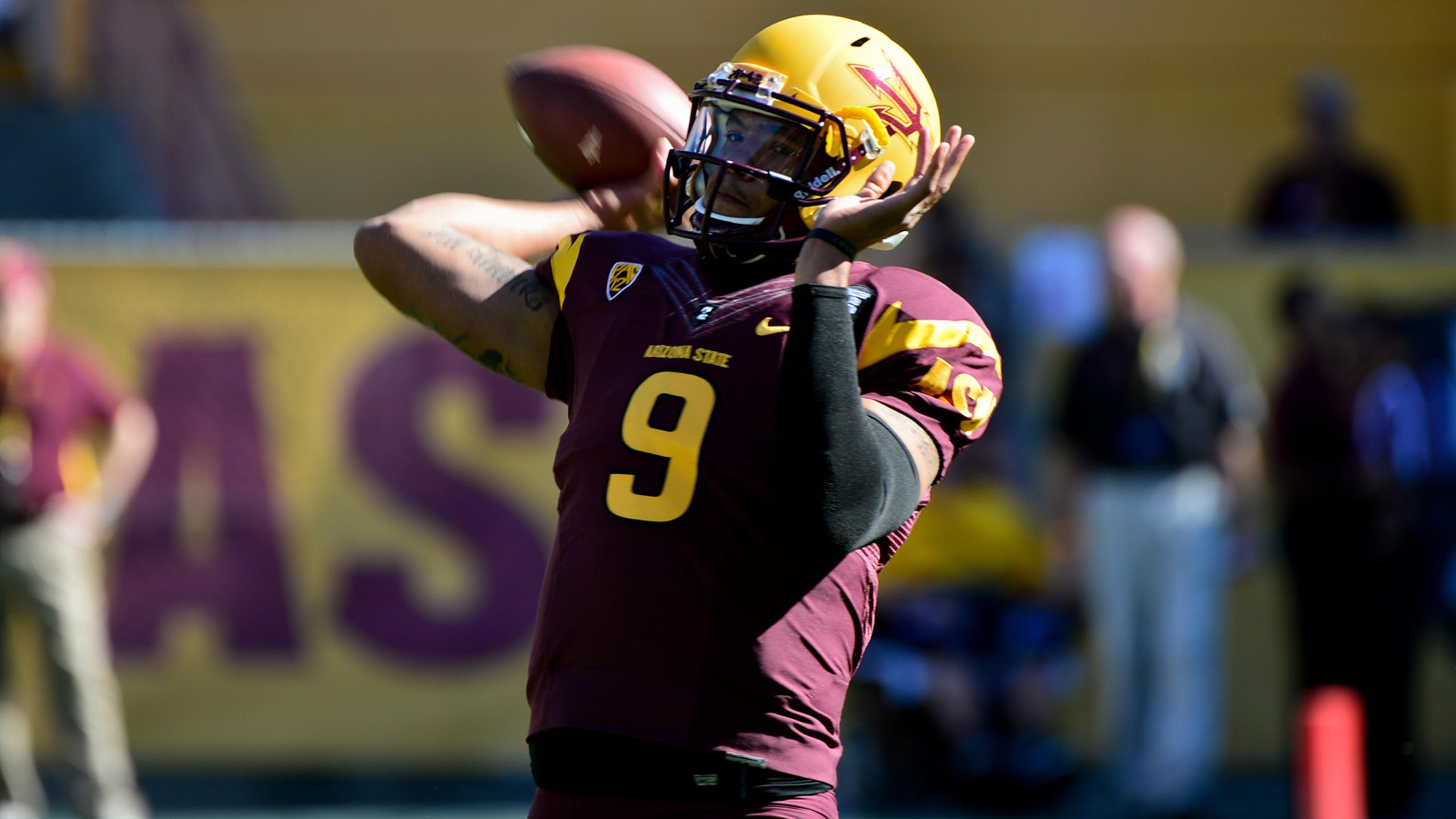 Backup QB Eubank to transfer from ASU
BY foxsports • December 14, 2013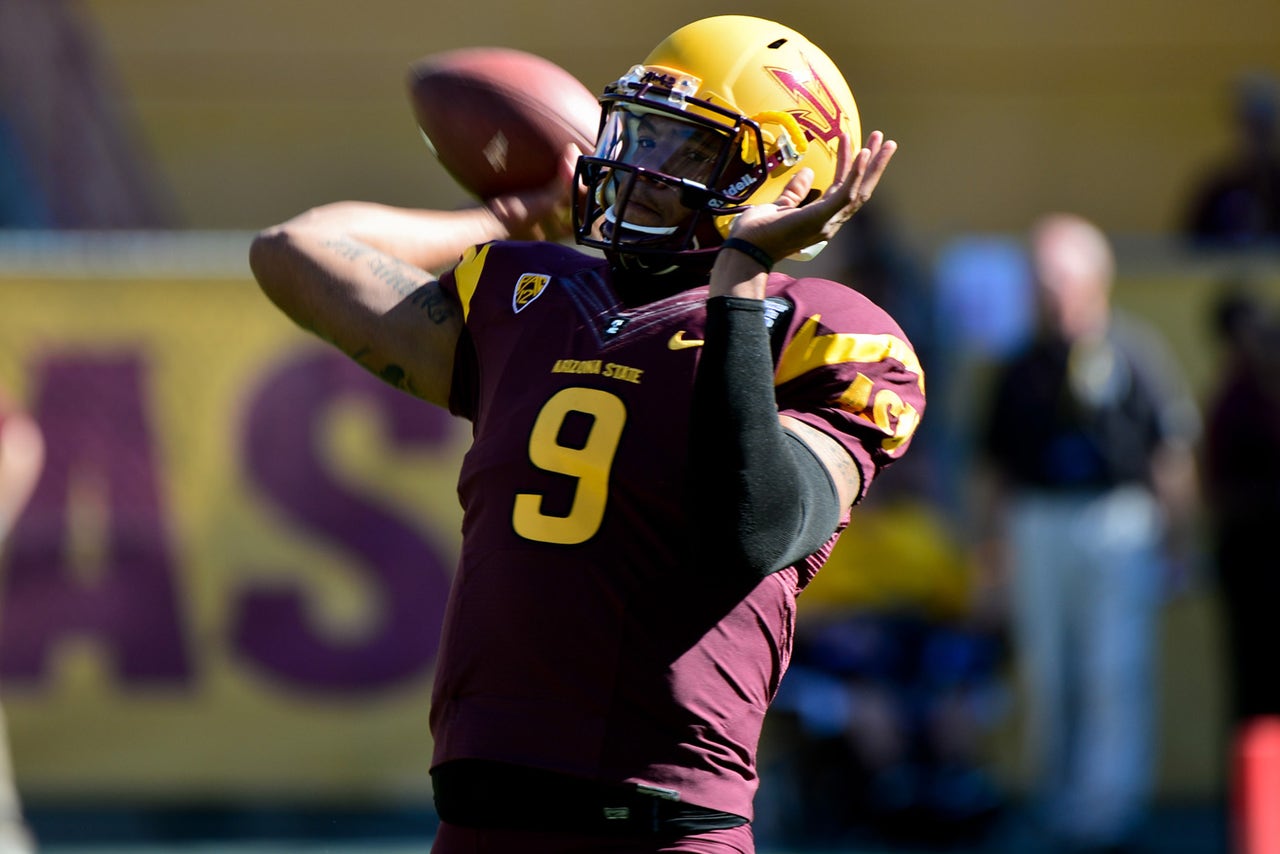 TEMPE, Ariz. -- Arizona State backup quarterback Michael Eubank was granted release from his scholarship and will transfer, ASU coach Todd Graham said Friday.
"He got his release from us today, and we wish him the very best," Graham said. "Great young man, and we're going to try to help find him a home."
Eubank, a redshirt sophomore, was not with the team Friday as it began preparation for the National University Holiday Bowl. He is likely to explore transfer options to Football Championship Subdivision schools, which would allow him to play right away. Were he to transfer to a Football Bowl Subdivision program, he would have to sit out a season and would limit his options.
Eubank, a four-star recruit who came to ASU under Dennis Erickson, said as recently as January he remained committed to ASU. But by the time the 2013 season began he had fallen to third on ASU's quarterback depth chart. Redshirt sophomore Mike Bercovici entered the season as starter Taylor Kelly's backup.
Prior to the 2012 season, Eubank competed with Kelly and Bercovici for the starting job in Graham's first year. Eubank narrowly lost out to Kelly but remained a part of the offense in special packages, particularly due to his size and athleticism. Eubank rushed for four touchdowns and threw four in reserve duty last season.
Eubank's role in the offense decreased this season as Kelly developed further following a strong 2012 season. This year, Eubank rushed for three touchdowns and threw just five passes.
ASU currently has two scholarship quarterbacks -- Kelly and Bercovici -- and one quarterback, Novato (Calif.) San Marin standout Manny Wilkins, verbally committed in the 2014 recruiting class.
ASU remains thin at running back for the moment but has two weeks to get healthy.
Senior Marion Grice, who suffered a leg injury three weeks ago against UCLA, was not at Friday's practice due to illness. Graham said Grice remains questionable for the Holiday Bowl but coaches believe he will play.
"We think he will, but I don't know. We'll see," Graham said.
Sophomore D.J. Foster was dressed for Friday's practice but limited to sideline conditioning. He did some light jogging early and wore a brace on his left knee, which was later wrapped in ice.
Graham said Foster should be full speed in about a week and is expected for the Dec. 30 bowl game in San Diego.
"He'll be ready to go," Graham said. "He's about 70 percent today."
ASU met as a team Friday morning for the first time since its loss to Stanford in the Pac-12 Championship game Saturday. Disappointment still lingered over the missed opportunity to reach the Rose Bowl, and Graham said that's something ASU won't necessarily be able to shed.
"You can't," Graham said. "You build something up as much as I build it up, as much as we build it up, yeah, it's crushing. I can tell you I was crushed. But, you know, that's life. You get back up, you dust yourself off and you go at it again. If we didn't have that mentality, we wouldn't have come as far as we've come."
Graham stressed that bounce-back mentality to his players Friday morning and said he is not concerned about any kind of letdown in the Holiday Bowl. On the practice field Friday, Graham already saw players moving on from the disappointing loss.
"They had a good attitude today," Graham said. "I fully expect them to play our best game of the year."
Players, too, admitted difficulty in getting over the loss to Stanford but appear to be getting past it.
"It was pretty hard for a day or two afterward, but once we found out we were going to the Holiday Bowl we understand what our new goal is," senior tight end Chris Coyle said. "Obviously the old one was to go to the Rose Bowl, but the new one is to win this game and get to win No. 11. I think that kind of helped everybody refocus on our new objective. Everybody is just ready to get out there and play one more game."
Added quarterback Taylor Kelly: "Guys are putting that one behind us already. We're moving on to Texas Tech, starting to watch film and we had a great energy in practice today."
Coyle said some players may struggle to keep the season as a whole in perspective amid any remaining disappointment but should ultimately see how much this year's team accomplished not just in this season but also for the program's future. Graham has reminded players they are not done yet.
"We've got a lot to play for: 11 wins, Holiday Bowl champions is big for us," Graham said. "These guys deserve that. They deserve to prepare and do that."
-- Senior cornerback Robert Nelson missed Friday's practice due to a personal matter.
-- Graham said defensive lineman Junior Onyeali will not return next season. The senior missed most of the season with a shoulder injury. The possibility remained he could apply for a medical redshirt waiver to get one more year of eligibility.
---