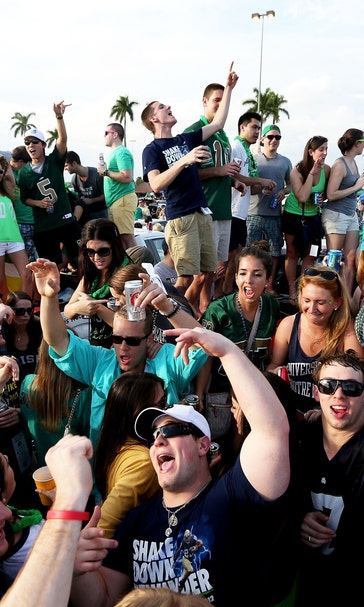 Back to School!
BY Aaron Torres • August 31, 2013
Need a reason to get excited for the 2013 college football season?  Of course you don'€™t!
Still, Fox Sports Live show writer Aaron Torres gets you 50 reasons to get excited for what lies ahead this season!
1. Alabama-Virginia Tech, LSU-TCU, Georgia-Clemson: I mean seriously, how else would you want to spend the last weekend of August? With your family? Give me a break!
2. A.J. McCarron: My single favorite stat in college football remains this: A.J. McCarron has more National Championship rings (three) than he does losses as a starting college quarterback (two). Go ahead and think about that for a second. 
(By the way, anyone else feel like McCarron is a semi-dark-horse Heisman candidate?) 
3. Kansas State head coach Bill Snyder: Frankly, I only included Snyder on this list because if I was afraid if I didn'€™t, he was going to make me run stadium stairs at 5 a.m. tomorrow.  
4. The '€œNew'€ 10-Year War: Brady Hoke calls Ohio State '€œOhio.'€ Urban Meyer won'€™t let scouts wear blue at practice. 
All I'€™m saying is, this Michigan-Ohio State rivalry is as good as ever. And with the way these two teams are recruiting, it'€™ll only get better going forward. 
5. Clemson coach Dabo Swinney: Forget all the victories, recruiting battles and Clemson'€™s place atop the ACC to begin the season.  Can we all just be thankful we have someone named '€œDabo'€ in our lives? 
6. Jadaveon Clowney: So let me ask you: If Clowney was '€œout of shape'€ Thursday night against UNC, what exactly is the definition of '€œin-shape?'€
7. The USC Trojans: Who once again proved Thursday that when you have two quarterbacks, you actually have none at all. 
And...did you want to help Lane Kiffin start putting together his resume? Or should I?
8. Les Miles: Because honestly, what kind of college football list would be complete without the Mad Hatter? Heck, what list of anything would be complete without him? 
9. New Western Kentucky head coach Bobby Petrino: Love him or hate him, admit it: College football is about 40,000 times more entertaining with him, than it is without him.
10. The Wake Forest Demon Deacons: Because if I don'€™t mention them, who will?
11. Braxton Miller: What, you actually thought I was going to leave the single Miller off this list. You so crazy!! 
12. The UCLA Bruins: Look, I love Jim Mora Jr. about as much as one man can platonically love another (seriously coach, call me!!!).  But with a tougher schedule and no Jonathan Franklin security blanket, anyone think the Bruins might be taking a minor step back this season? 
13. The '€œNew'€ Boise State Broncos: Who are actually trying to be like the '€œold'€ Boise State Broncos, and bust-up the BCS one final time. 
Speaking of which...
14. Can We Get a Moment of Silence for the BCS?: Whose existence may be coming to an end this season, but whose absurdity will live on forever. 
15. The Arkansas Razorbacks: Who have inarguably the toughest four-week stretch of any team in college football, when they play Texas A&M at home, travel to Florida, return home to play South Carolina and then visit Alabama between September 28 and October 19.  Did I mention that Arkansas also has road games at LSU and Ole Miss FOLLOWING that stretch?  Good luck Bret Bielema. You'€™re going to need it. 
16. Alabama freshman running back Derrick Henry: Who enters college football last year, after setting the national high school rushing record last season. 
By the way, did I mention that Alabama is so deep that Henry might not even get snaps at running back and could eventually be moved to the defensive side of the ball?  I mean seriously, if that isn'€™t the most Alabama thing ever, I don'€™t know what is. 
17. #MACtion: Because honestly, what the hell else are we supposed to do on a Tuesday night in October? 
18. Todd Gurley and Keith Marshall: That awful '€œGur-shall'€ nickname may be gone, but another '€˜Dawgs run to the SEC East title is just beginning. 
19. David Shaw: He'€™ll never get named in the same breathe as Saban, Miles or Meyer'€¦but believe me, this guy is just as good a coach as any in the country. 
20. Texas San-Antonio: A school which not only has the coolest nickname in the entire sport (the Roadrunners!), but also the most obscure coach (former Miami head-man Larry Coker).  Basically, what I'€™m trying to say is: I'€™m all in on Texas-San Antonio in 2013!
21. Johnny Manziel: Go ahead and make your jokes about Johnny Football and the NCAA. Can we all just agree that college football is a MUCH better place with Manziel, than without him?
22. The Rice Owls: Speaking of which, outside Manziel himself, did anyone get a single bigger boost by all the Johnny-melodrama the last week?  I'€™ve mentioned Rice football more in the last three days than I have in my whole life. 
23. The Baylor Bears: Who are no longer '€œRGIII'€™s team,'€ as much as they are '€œArt Briles program.'€ This club is good, really good and they'€™ll only continue to pile up points (and wins) in 2013.  
24. Nick Saban: By the way, did y'€™all see the part of the recent Saban profile in GQ where he called Mick Jagger a '€œGreat Entertainer.'€  I mean if you didn'€™t like Nick Saban before, how could you not love the guy now. 
25. New Arkansas State head coach Bryan Harsin: Who, if he follows in the steps of the last two Arkansas State coaches (Gus Malzahn and Hugh Freeze) should be coming to an SEC school near you, right around this time next year.  
26. The Notre Dame Fighting Irish: Everett Golson is out. Tommy Rees is in.  Manti Te'€™o is gone. Most of the rest of the defense is back.  A big-time recruiting class has arrived, but it'€™s yet to be decided how many of those guys will see the field.  I guess what I'€™m trying to say is, I have no idea what the heck to expect from Notre Dame this season. 
27. Yasiel Puig: Sorry to include Puig here, but according to Bylaw 7, Article 4 of the sportswriter'€™s handbook, every article written this month is required to mention the words '€œYasiel'€ and '€œPuig.'€
Actually same with...
28. '€œTwerking'€: Which I'€™m still a little confused about the definition of.  
29. The Pittsburgh Panthers: I have no big-picture thoughts on Pitt, other than'€¦please, for the love of God, can someone just make sure this team doesn'€™t end up in a bowl game in Birmingham this year??? 
Please?  PLEASE????
30. The Syracuse Orange: Who enter 2013 with a new head coach (so long, Doug Marrone!), a new quarterback (adios, Ryan Nassib!) and a brand new, tougher, conference (welcome to the ACC!).  Yeah, it might be a long season at Syracuse.  
31. Ole Miss'€™ Vaunted Freshman Class: We knew the names Robert Nkemdiche, Tony Conner and LaQuon Treadwell entering the season. Thursday night, we got to learn about Evan Engram.  Man it'€™s going to be a fun couple years watching this football team. 
32. The UConn Huskies: Who opened the season with a bang, Thursday'€¦by losing to FCS Towson State.  For those keeping score at home, did I mention I'€™m a UConn alumnus?  Snuck that in there at no. 32.
33. Northwestern Running Back Venric Mark: Look him up now, thank me later. 
34. The '€œBear Raid'€ Offense at Cal: Frankly, I'€™m not totally sure the marriage between Sonny Dykes'€™ high-powered offense and the Pac-12 will totally work out.  But it sure will be fun watching, won'€™t it? 
35. The Colorado Buffaloes: Whose 2013 motto should probably be, '€œHey, at least we can'€™t be worse than last year, right?'€  (Frankly, I actually like new head coach Mike MacIntyre. But man does that guy have a lot of work cut out for him)
36. Todd Graham: Not only does he have a dark-horse Pac-12 title contender at Arizona State, but also shocked the entire college football world this off-season'€¦ by not taking another head coaching job and bailing on Tempe!  Congrats coach Graham! We knew you had it in ya!
37. Auburn junior college transfer Cameron Artis-Payne: Does anyone remember what happened last time a '€œCameron'€ transferred to Auburn from a junior college?  Ok, that may be a bit of a stretch.  And Artis-Payne may be a running back.  But still, work with me here, ok!?!?!
38. Florida State'€™s Jameis Winston: Who remains the single most compelling baseball prospect, turned-ACC quarterback, since Kyle Parker was chucking it around the conference a few years ago.  Speaking of which: What the heck ever happened to Kyle Parker?  
39. Also at Florida State: There'€™s running back James Wilder Jr., who continues to rock the single greatest cut-off, belly-shirt uniform in college football.  
40. The Nebraska Cornhuskers: Who now enter the 97th and (presumably) final season of the Taylor Martinez era.  I would say '€œWe'€™ll miss him when he'€™s gone'€ but I'€™m not totally sure this guy is ever leaving.   
41. The Beginning of the Mark Helfrich Era at Oregon: Which also marks the end of the Chip Kelly era in Eugene.  I'€™m not saying Helfrich will be bad per se'€¦but I do think that college football fans won'€™t fully appreciate how good Kelly was until this season gets underway.   
42. San Jose State quarterback Dave Fales: You may not know his name, but believe me, NFL scouts do. If San Jose State happens to be on your TV late one Saturday night this fall, just do yourself a favor and watch, ok? 
43. The Washington Huskies: I don'€™t care if they go 10-2 or 2-10, just please, for the love of God Washington, just don'€™t go 7-6 again this year, ok? 
44. The Missouri Tigers: Who once again prove that no amount of conference realignment money can buy happiness'€¦ when your team gets their brains beat in every week.  Anyone else wonder if Missouri fans wish they were still in the Big XII?  
Same with'€¦
45. West Virginia Mountaineers and the Big East: Dana Holgorsen isn'€™t quite as fun or quirky when he goes 7-6, is he?
46. Clemson quarterback Tajh Boyd: Frankly, I'€™m not sure how this guy still has eligibility. Not that I'€™m ready to see him leave college football yet, either. 
47. Florida at Miami, September 7: I'€™m not saying the Canes will definitely upset Florida Week 2 in Miami'€¦ but I'€™m not, not saying that either. If you know what I mean.  
48.  The Boston College Eagles: Who look set to continue their reign of '€œSingle most uncompelling team in major college football'€ for like what, the fifth straight year?  
49. Charlie Strong'€™s hoodless sweatshirts: What Les Miles is to a brimmed hat, Charlie Strong is to a hoodless sweatshirt.  On a different note, rumor has it that Strong has a pretty solid football team this year.
50. The End of the SEC'€™s Seven-Year Run of Dominance?: Maybe and maybe not.  But it sure will be fun finding out, won'€™t it?  
Aaron Torres is a show writer for Fox Sports Live. Follow him on Twitter @Aaron_Torres. 
---