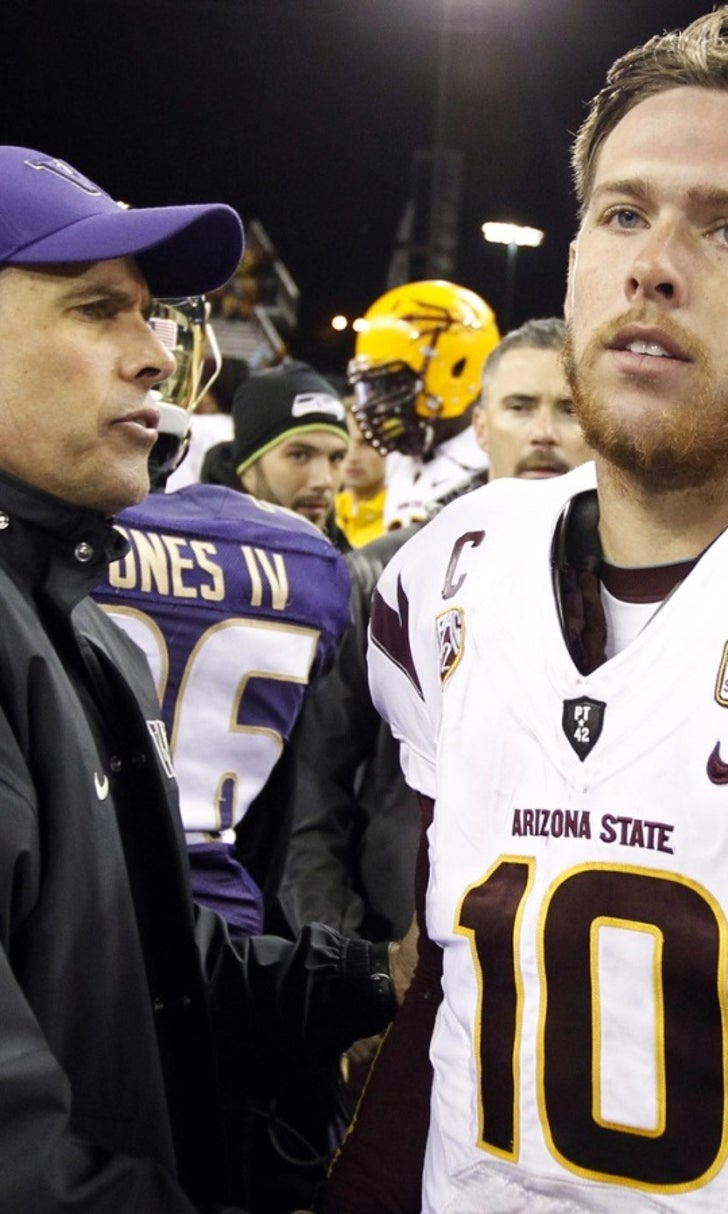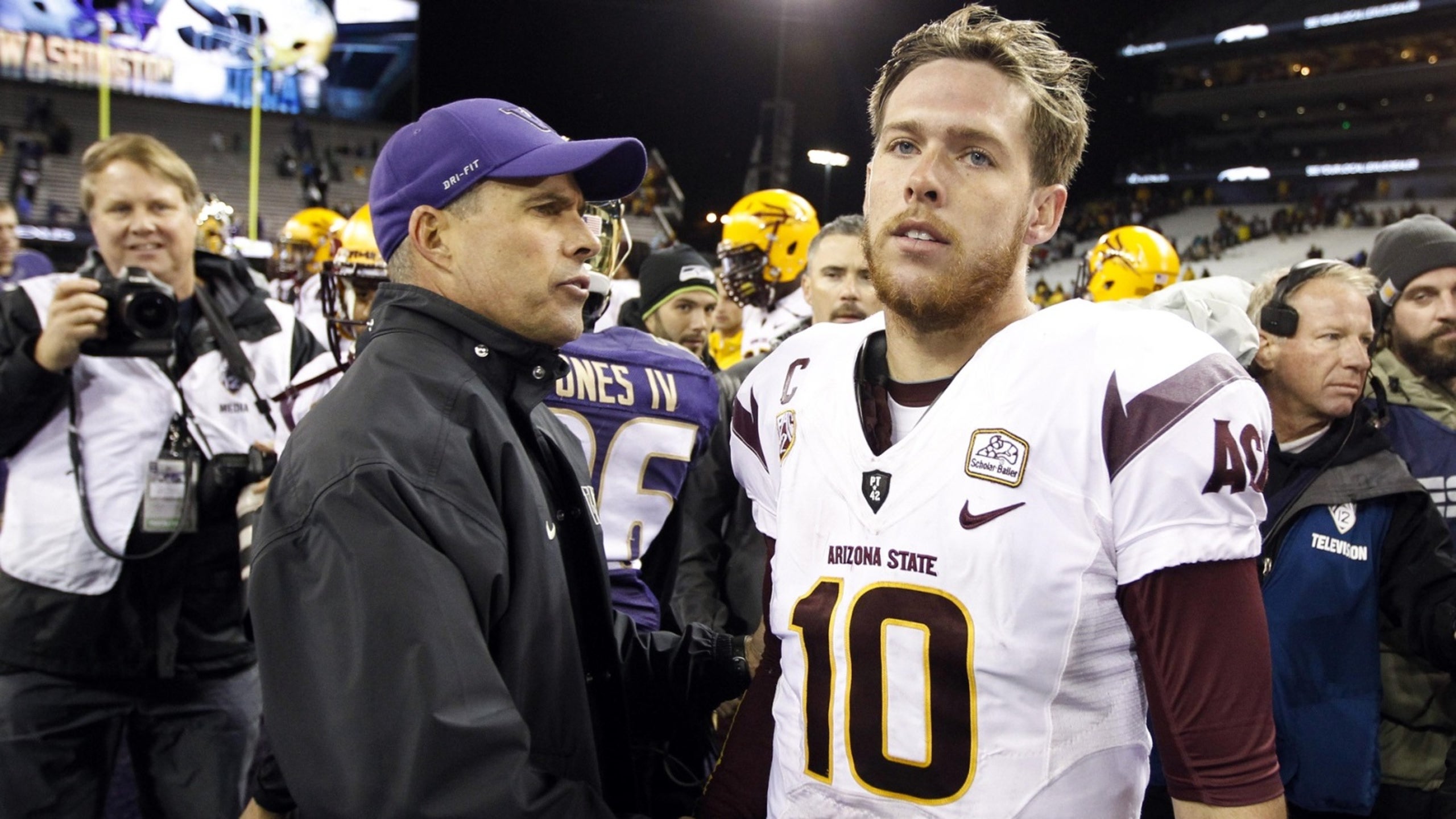 ASU's Graham: Kelly 'fine' after hit to head
BY foxsports • October 27, 2014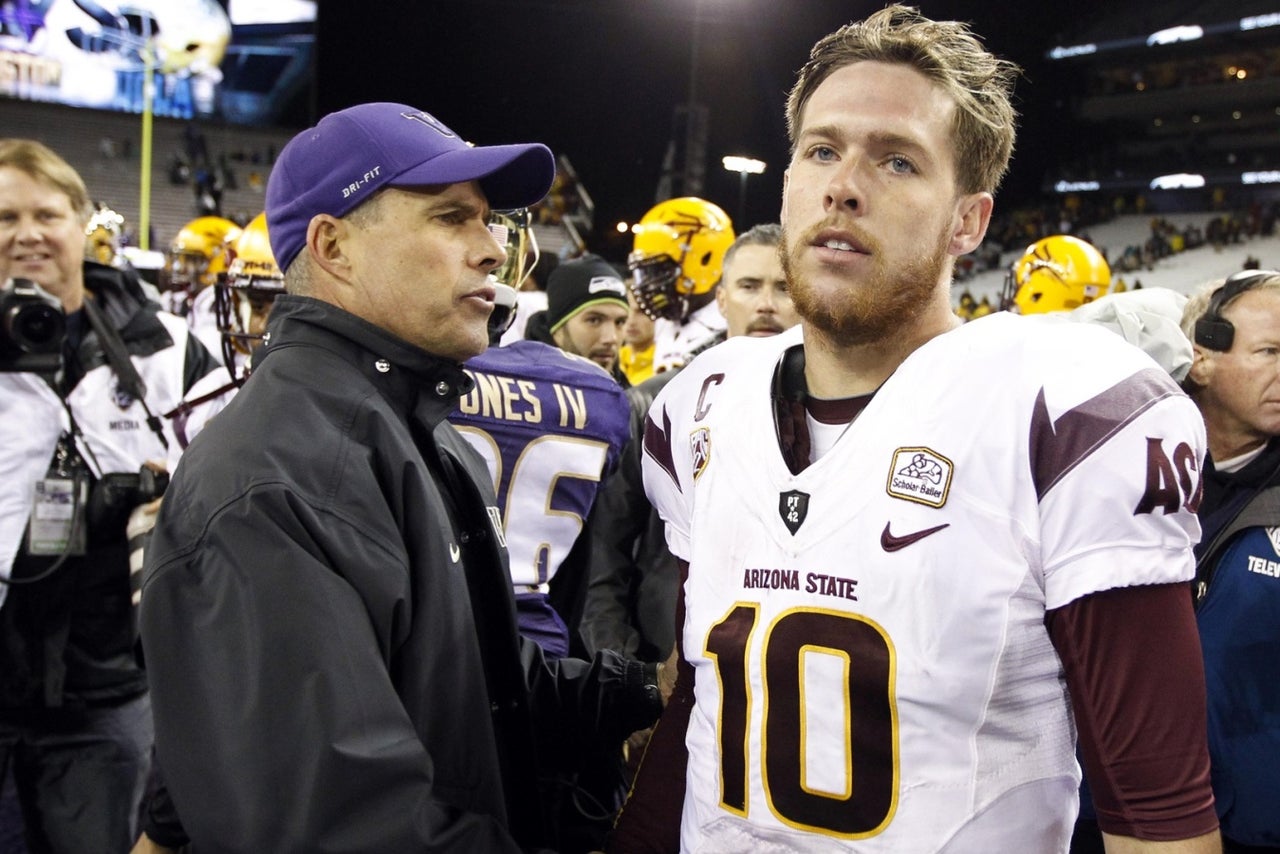 TEMPE, Ariz. -- Arizona State coach Todd Graham on Monday said senior quarterback Taylor Kelly is "fine" after taking a hit to the helmet late in the Sun Devils' 24-10 win over Washington on Saturday.
"He's fine," Graham said at his weekly press conference. "He just took a hard hit. He was good. He got up off the ground and said, 'Did we score?' So he was good. There was nothing other than taking a hit. That was it."
Kelly was hit hard in the helmet while falling to the ground just after he threw a decisive touchdown pass to Gary Chambers with about three minutes left. He was slow to get up and appeared dazed once he did. He stumbled a bit before he jogged to the sideline, where he was administered a concussion test.
ASU did not take the field on offense again, so Kelly had no opportunity to return. But he spent the final few minutes of the game without his helmet. He was not made available to reporters after the game. It's unclear yet whether Kelly, who was returning from a six-week absence due to a foot injury, will practice with any restrictions this week.
The No. 15 Sun Devils (6-1, 4-1 Pac-12) appear almost certain to be without starting left guard Christian Westerman when they host No. 18 Utah (6-1, 3-1) on Saturday. The redshirt junior suffered an apparent leg injury in the third quarter Saturday and left the field on crutches. Graham on Monday offered this update:
"Very doubtful that he'll play this week. It's not anything serious. I would say questionable this week and pretty probable for the Notre Dame game (Nov. 8). I would tell you right now he would probably not play (this week)."
Westerman would become ASU's first offensive lineman to miss a game since midway through the 2012 season. On Saturday, he was replaced by redshirt sophomore Stephon McCray, who likely will start against Utah.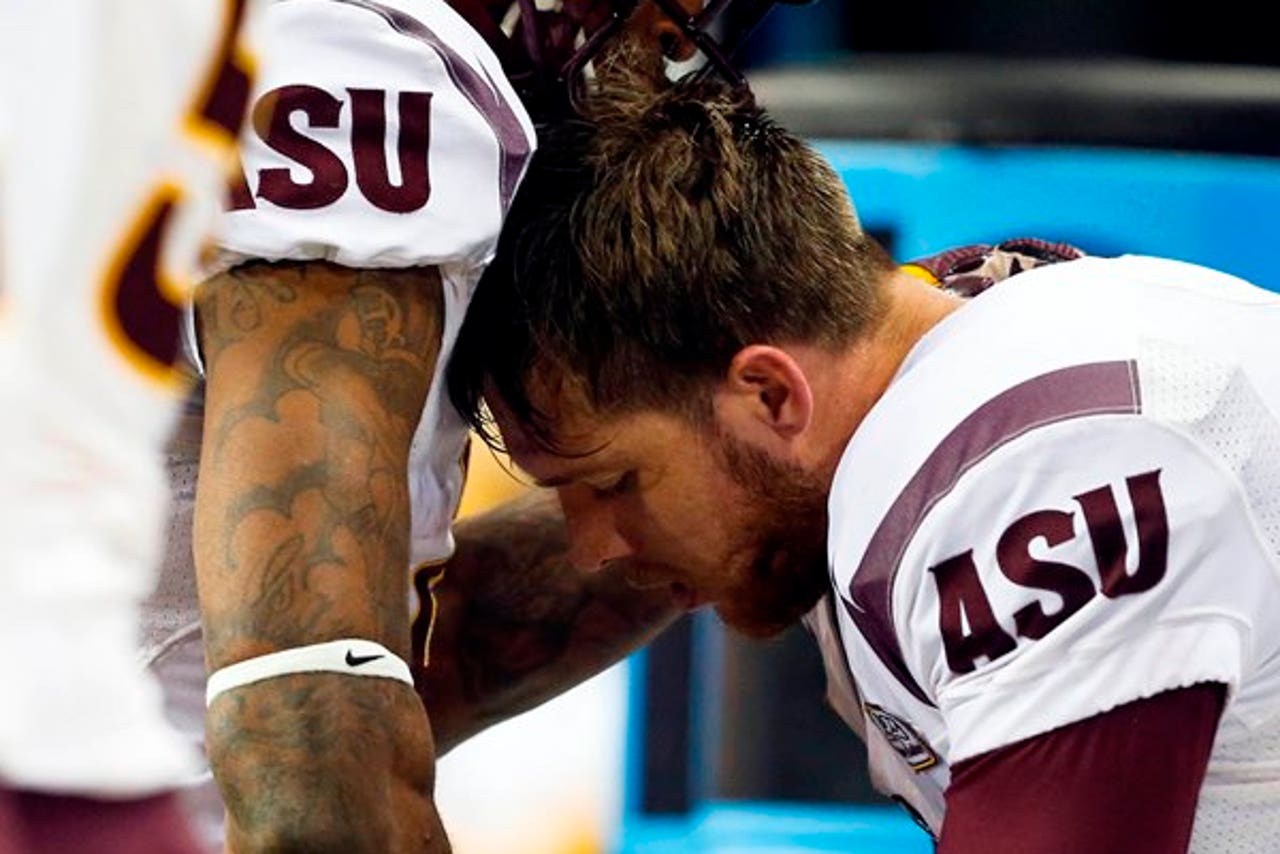 ASU receiver Jaelen Strong (left) speaks with quarterback Taylor Kelly on the bench after Kelly took a hit to the head in the fourth quarter Saturday.

Graham also said he expects sophomore receiver Cameron Smith, ASU's third-leading receiver, back against Utah. Smith was limited in practice last week due to an unknown injury and did not play against Washington.
While Kelly's status should become clearer when the Sun Devils return to practice Tuesday, the possibility of being down two starters comes at a particularly inopportune time as ASU faces its most important game to date.
"The winner of this one's in the driver's seat in the Pac-12 South," Graham said.
ASU technically owns first place in the Pac-12 South right now -- a half-game lead over Utah and Arizona -- because it played one more conference game than both. Against Utah, ASU could extend that lead before playing a non-conference game against Notre Dame the following week.
The matchup of top 20 teams will undoubtedly have implications in the polls, and rankings are about to get much more meaningful. On Tuesday, the College Football Playoff selection committee will release its first weekly top 25 rankings. Graham said he hasn't yet given much thought to where ASU might land.
"We've just got to win the next six games," Graham said. "If we win the next six games we won't have to worry about it. That's really how I approach that.
"We win the next four conference games, we're going to be in San Francisco (for the Pac-12 Championship Game). We win the next five conference games we'll be in Pasadena (for the Rose Bowl."
The defensive line has been perhaps ASU's least productive group this season, but on Saturday played perhaps its best game. ASU tallied 13 tackles for loss, the most under Graham, and 4-1/2 of those came from defensive linemen.
Graham on Monday suggested the line, which features all new starters, has finally gotten comfortable.
"I think our guys were doing a lot of thinking early in the season," Graham said. "Things were very fast to them and foggy to them. I think they've really just settled in, learned what they're doing, getting off the ball and fundamentally getting better because the scheme's not overwhelming them. They've played really solid, I think, the last three weeks."
Senior defensive end Marcus Hardison had two sacks against Washington to extend his team lead to four. Graham said maturity has been the biggest difference in Hardison since last season and over the first half of this season.
"He's just matured so much," Graham said. "On the sideline during the game I would look at him and there was no panic at all. It was all poise.
"Marcus is the leader up front. He's the leader of those guys, and I guess he's become a little more vocal. I told him early in the year he needed to do something instead of talking about doing something, and he did that."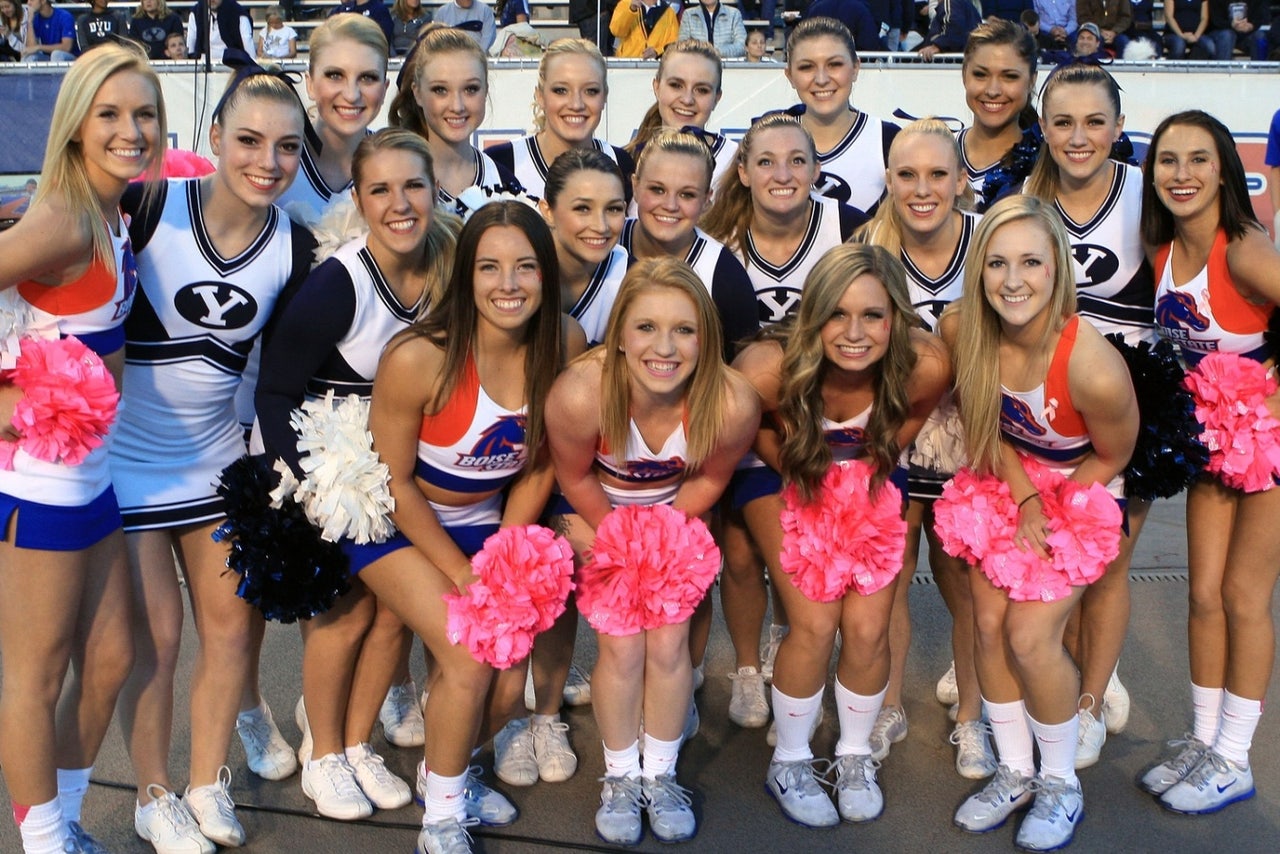 ASU's line has also seen improvement after altering the personnel before playing Stanford. Redshirt junior Mo Latu moved into a starting role at 3-technique defensive tackle and redshirt junior Demetrius Cherry became a starting defensive end opposite Hardison, essentially taking the Devil-backer position out of the defense. Junior Jaxon Hood remains the starting nose guard while sophomore Viliami Latu, freshman Tashon Smallwood and redshirt sophomore Edmond Boateng rotate in with the first team.
The Pac-12 on Monday announced the Nov. 8 game against Notre Dame will kick off at 1:30 p.m. locally and air on ABC. Coincidentally, the last time Notre Dame played a road game during the day was in Sept. 2011 against Pittsburgh, which at the time was coached by Graham. Notre Dame won that game 15-12.
Follow Tyler Lockman on Twitter
---