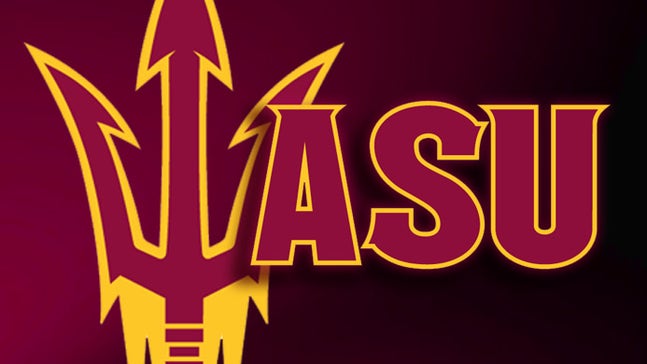 ASU softball falls to Stanford in extra innings
Updated
Mar. 4, 2020 4:44 p.m. ET

PALO ALTO, Calif. -- Victoria Molina hit a two-run walk-off home run in the bottom of the ninth inning and Arizona State softball team fell to Stanford 4-2 on Sunday in the final game in the series.
The Sun Devils (32-19, 10-10 Pac-12) struggled to find a hit when they needed it as they looked for the sweep after the scoring 36 runs in the first two games of the series, stranding a season-high 18 baserunners in Sunday's contest.
Jessica Plaza led off the bottom of the ninth with a single and two batters later, Molina knocked her third home run of the season over the fence in left to end ASU's five-game winning streak over the Cardinal.
Breanna Macha (15-10) took the loss for ASU, pitching six scoreless innings before giving up two in the bottom of the seventh, allowing the Cardinal to even the game at 2-2 and send things to extras.
Macha surrendered four runs on six hits in the final three innings of the game after holding Stanford scoreless with just three hits through the first six innings. Erin Ashby picked up the win for Stanford, her first of the season, pitching six innings of relief and holding ASU off the scoreboard in the final four innings of the game.
Jennifer Soria finally got the Devils on the board in the fourth inning, knocking a one-out solo shot over the fence in left field for her second dingers of the series and a 1-0 lead for ASU.
The Devils would add another run in the top of the fifth after loading the bases with no outs for Nikki Girard, who launched sacrifice fly to center field to score Haley Steele and make it a 2-0 ball game.
ASU couldn't find any extra insurance, however, and it came back to bite them in the bottom of the seventh
Erin Ashby led off the inning with a solo shot to left field to bring the Cardinal back within a run. A Tylyn Wells was followed by a two-out Savannah Schulze single -- her first hit of the season -- to put runners on first and second. Lauren Bertoy would bring Wells home for the tying run on a single through the left side.
With runners on the corners and two outs, Macha was able to to get Bessie Noll to fly out to left to keep the game going and send things into extras.
---