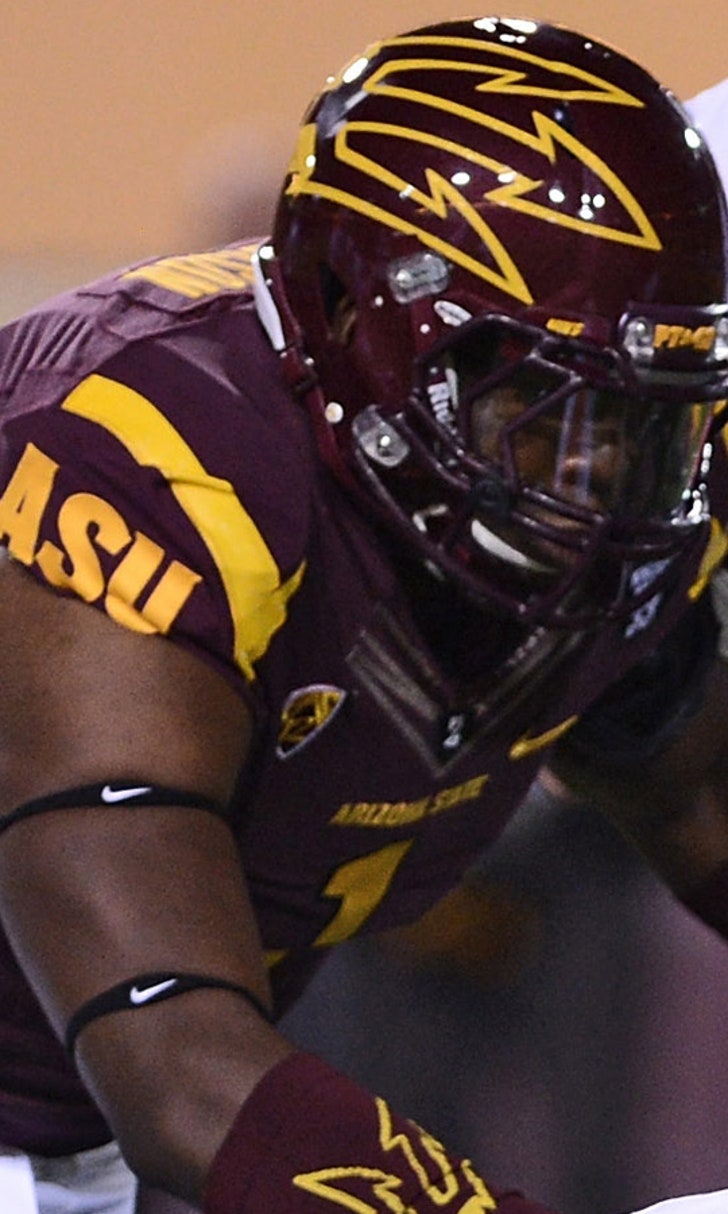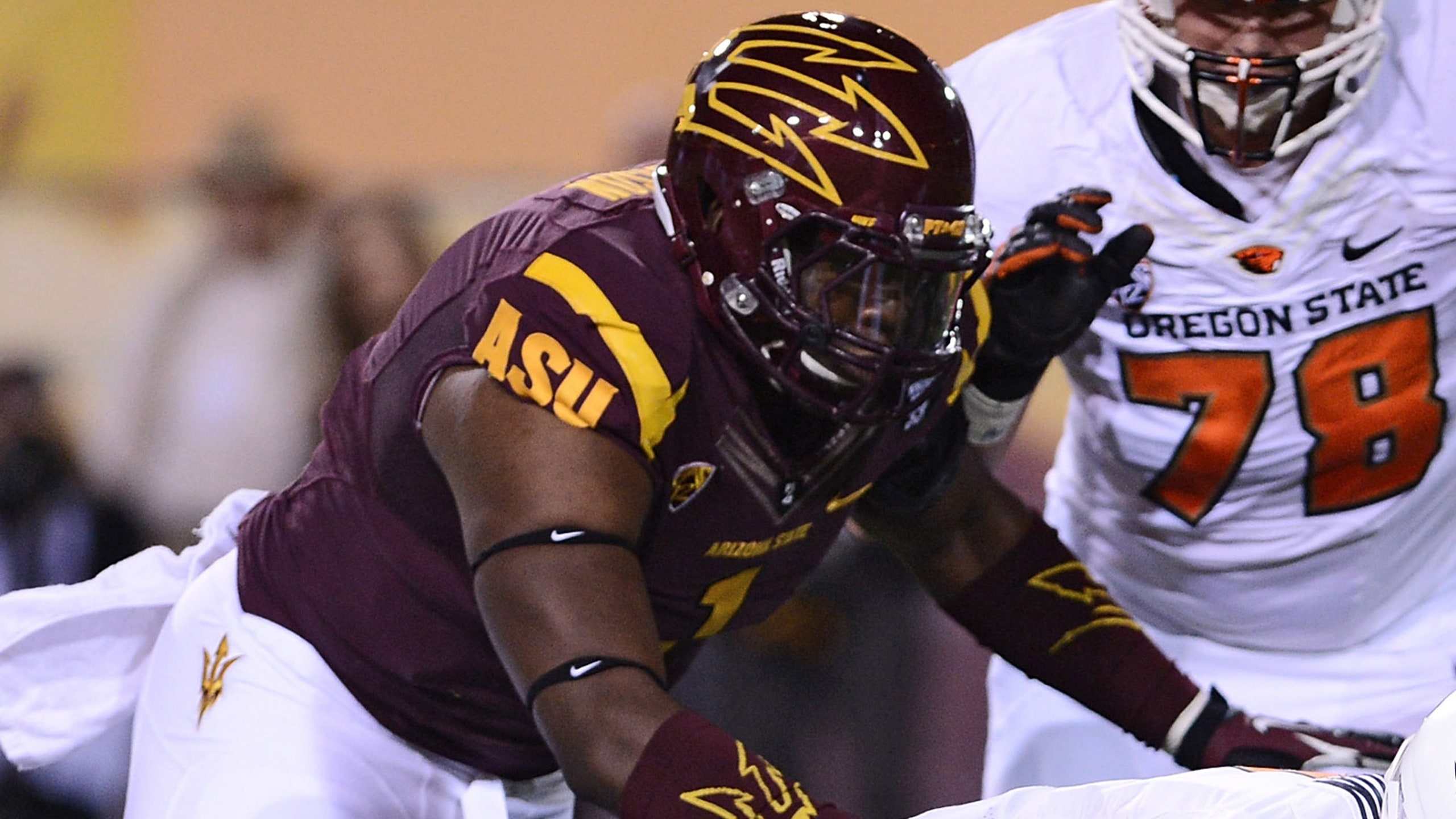 ASU notes: Hardison ready to lead depleted D-line
BY foxsports • March 22, 2014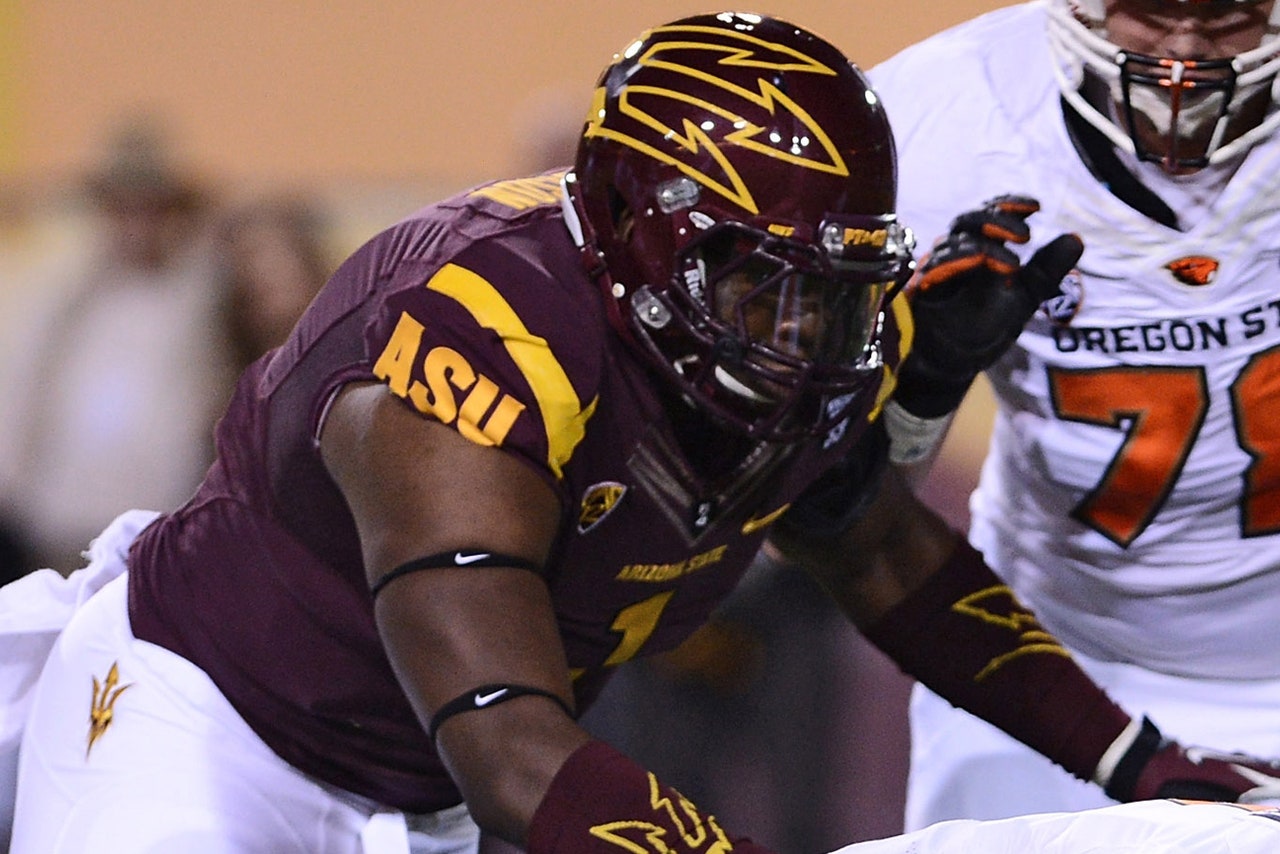 TEMPE, Ariz. -- It's been well documented how much Arizona State lost, to graduation and early entry into the NFL Draft, from the 2013 team that won the Pac-12 South, especially on defense.
No group is as thin this spring, though, as the defensive line, which lost every 2013 starter, including All-American Will Sutton and tackles for loss leader Carl Bradford.
With the group even thinner right now with junior Jaxon Hood injured, senior Marcus Hardison is taking up leadership of the unit and positioning himself as ASU's top defensive lineman.
"We're leaning on him big-time," ASU coach Todd Graham said. "I really think he's got a chance to (emerge). ... I think he's a leader. I'm really proud of his development."
Hardison played in all 13 games last season, most often as a third-down defensive end in place of Gannon Conway, but collected just five tackles and one for loss. He didn't emerge as the Sun Devils expected when they signed him out of Dodge City (Kan.) Community College as one of the nation's best junior college defensive linemen.
For that, Graham admits ASU's staff didn't transition Hardison to the Division I level as quickly as they were able to with other junior college transfers. Now, with more seasoning and physical development, expectations are high as Hardison competes for a starting job.
"He had a good year, not a great year," Graham said. "He's going to have a great, great year this year."
The foundation of a big season may be Hardison's physical evolution. After last season ended, Hardison told strength coach Shawn Griswold he wanted to hit the weight room hard over the winter. He wound up adding 15 pounds and this spring is noticeably stronger, more toned and more explosive.
"That was my No. 1 weakness," Hardison said. "Last year I was 280, weak. I couldn't do much. But now I can feel myself improving, I can make my presence felt."
Added Graham: "He's the best pass rusher out here, I think, right now. We'll utilize his skills, and we haven't even started moving him yet. That dude can move. I mean, he is in shape."
Hardison can move across the defensive line but seems likely to stick at defensive end. Graham said the defense will be molded in part around Hardison's skills as it was around Sutton's and Bradford's.
As impressive as he is physically this spring, Hardison has also displayed an eagerness to be a leader for the defensive line.
"I tell Jaxon me and him are really the only people that played last year on the D-line," Hardison said. "I'm just like, 'We've got to step up and put these little men on our wings.'
"I just let it go, just work hard. People follow that. If I do the right thing, they'll do the right thing."
With the opportunity to win a starting job, Hardison says he's more motivated than ever. His leadership and experience should prove even more crucial in the fall when four new defensive line recruits arrive.
Senior quarterback Taylor Kelly could be looking at his own name at the line of scrimmage next season if sophomore Nick Kelly -- no relation -- remains on track to win the starting job at center.
Kelly, a junior college transfer from American River in Sacramento, has taken all the first-team snaps at center so far this spring and looks like he may have the inside track on the job.
"Smart, tough, physical," Graham said of Kelly. "He's a guy we've got a lot of confidence in that needs to replace one of the smartest football players that I've ever been around, Kody Koebensky."
Koebensky started every one of ASU's 27 games over the past two seasons, so replacing him won't be easy, nor will developing chemistry with the quarterback. But Graham is confident Kelly, 6-foot-2 and 294 pounds, can make ASU even better at the position.
"Nick's a guy that adds some physicality there," Graham said. "We think we can improve at that position with his physical toughness, his flexibility and his explosiveness. So he's a guy we've got to really develop this spring."
-- ASU practiced in pads Saturday for the first time this spring. The practice was held in Sun Devil Stadium, where the coaches and players hosted a youth clinic for about 700 8- to 13-year-olds. "This is what it's all about -- future Sun Devils today," Graham said. "This will be a bunch of fun."
-- Graham has been especially pleased with ASU's intangibles through the first three spring practices, which have been based on an "unfinished business" mindset.
"Our attitude and our character and our effort is off the chart," Graham said. "This has a chance to be the best team I've ever had when it comes to work ethic, character, leadership and those types of things. I love the attitude."
-- ASU athletic director Ray Anderson, approaching two months on the job, was at Saturday's practice from start to finish. He has been at all three spring practices so far, displaying a clear interest in the trajectory of the football program -- not surprising given his NFL background.
-- Also in attendance at Saturday's practice: former ASU cornerback Robert Nelson ('13), former ASU and NFL linebacker Adam Archuleta ('00), incoming Scottsdale Chaparral receiver Tyler Whiley and a number of recruits.
Follow Tyler Lockman on Twitter
---