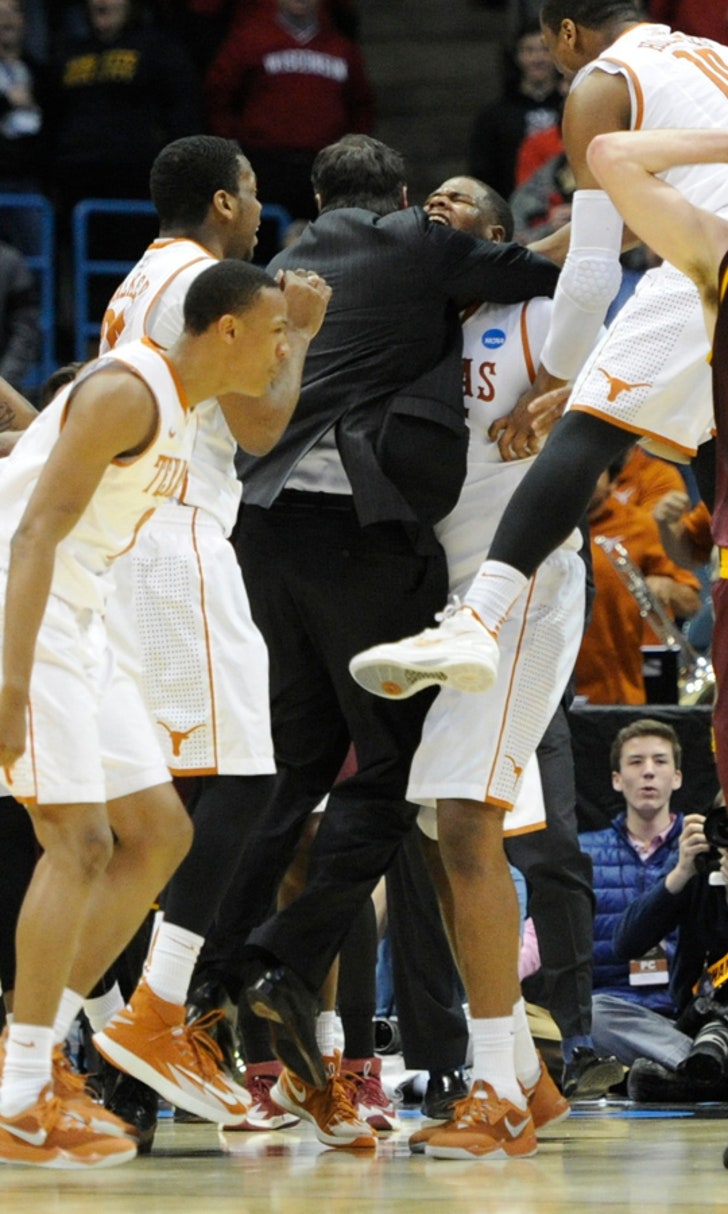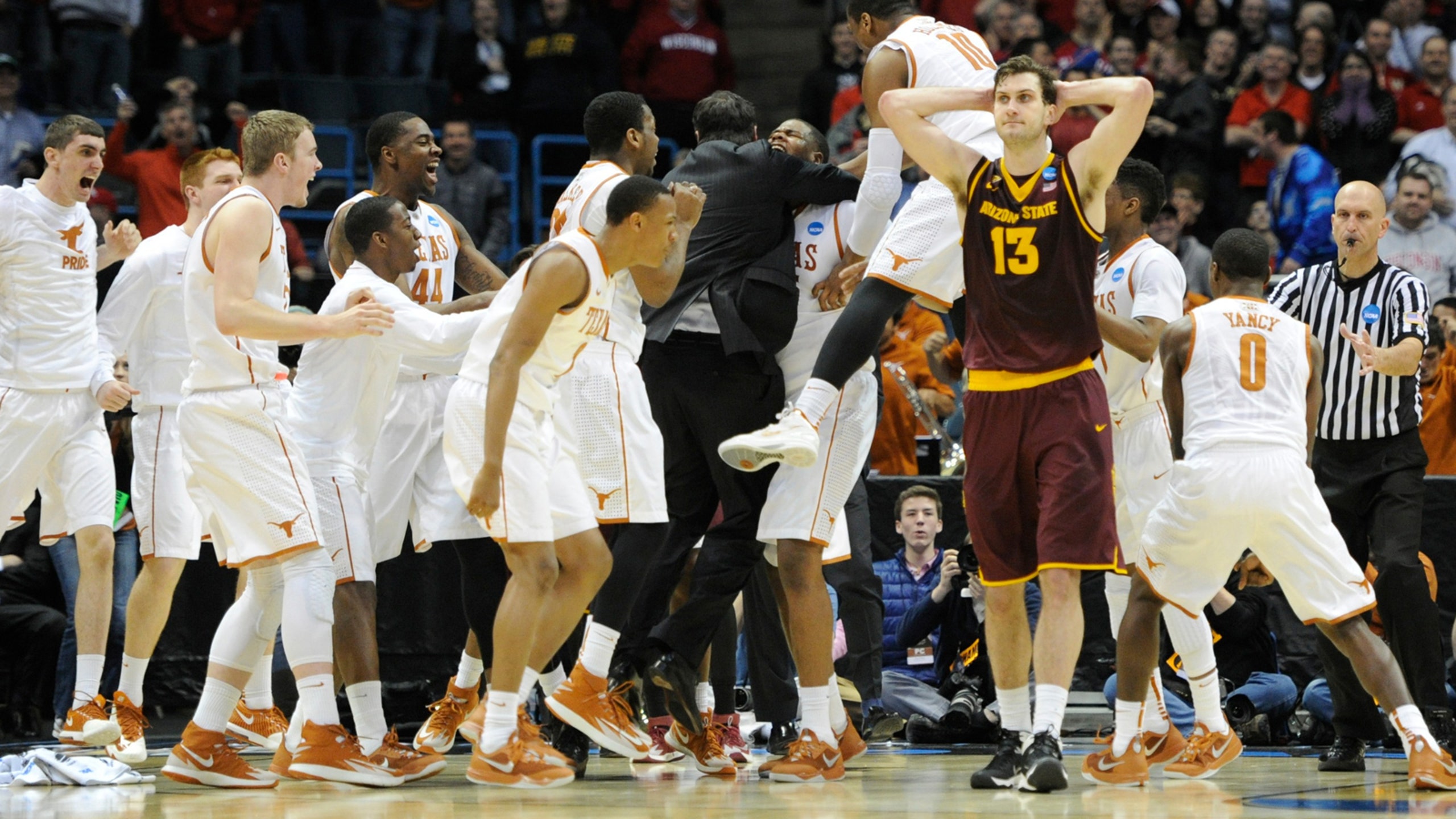 ASU 'heartbroken' after being buzzer beaten by Texas
BY foxsports • March 21, 2014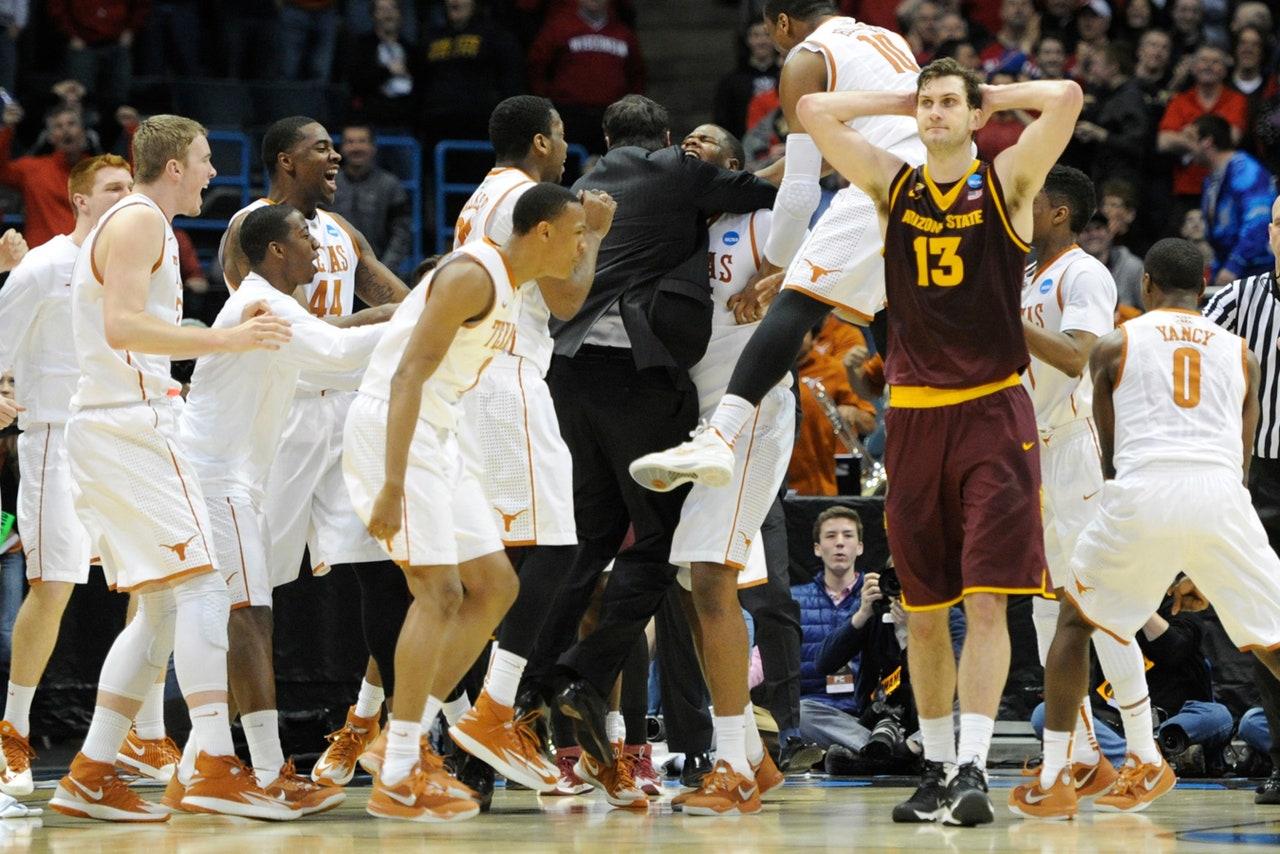 Senior center Jordan Bachynski, the Pac-12's season and career leader in blocked shots, saved Arizona State victories with final-second rejections against Marquette, Oregon and Arizona. The Sun Devils would not have made the NCAA tournament without him. 
This time, in one of the best games of his career, Bachynski and his long left arm were about a fingernail short of sending ASU's first NCAA tournament game since 2009 into overtime. 
Just like that, Texas turned an awful miss into a game-winning follow shot, blunting an inspired ASU comeback for an 87-85 victory in the second round of the NCAA Midwest Regional in Milwaukee's BMO Harris Bradley Center on Thursday. 
It did not seem fair.
"It's a tough one," said Bachynski, whose 25 points were one short of a career high. "It's a tough way to end the game. It's a tough way to end my career. Most rebounds come off long, and I was playing for that. Like you said, it just took a funny bounce and my man read the ball better than I did. He got the rebound and the bucket."
After Jonathan Gilling tied the game at 85 on two free throws with 16.2 seconds remaining, Texas' final possession was hardly a work of art. A long 3-point attempt from the left wing by Longhorns forward Jonathan Holmes with 3.8 seconds left was so bad it was good. The ball hit the glass on the other side of the rim, and 6-foot-9, 280-pound junior Cameron Ridley was able to pick it up off the floor and put a left-handed follow shot off the glass. The ball left his hand with 0.2 seconds remaining, and there was nothing Bachynski could have done to stop it.
ASU (21-12) sensed overtime. 
"When they got the ball coming down for the last shot, we felt confident," said sophomore point guard Jahii Carson, who will forgo his final two years of college eligibility to enter the NBA draft this summer.
"I saw everybody in a great defensive stance, and everybody had the look their man wasn't going to score. The ball didn't bounce our way and, you know, things happen that way ... a last-second shot for any game is tough, but especially for this one since it's March Madness. We wanted to get this win so bad. It's just very emotional for all of us."
Bachynski, Carson (19 points) and senior wings Jermaine Marshall (17) and Shaquielle McKissic (nine) played their final college game, and they played their best when it mattered most. The Sun Devils rallied from a 14-point deficit with 12:11 remaining to take an 81-80 lead with 2:20 left, their first lead since Gilling's first 3-pointer of the game gave them a 19-18 edge seven minutes in. He made four treys, as did Marshall.
Gilling scored 10 points, Bachynski had nine, Marshall had eight and Carson had seven when the Sun Devils outscored the Longhorns 34-19 to take an 81-80 lead on Bachynski's free throw 2:20 left. His right-handed dunk made it 83-82 with 43.2 seconds left before Holmes converted an offensive rebound and added a free throw to give Texas an 85-83 lead.
"We decided that the game wasn't over, there's a lot of time left on the clock and that we have more energy and effort to give, both offensively and defensively," Carson said of ASU's late push. "The big fella (Bachynski) hit shots and we were playing with a lot more energy. We gave a lot of energy on the defense end, which fueled our offensive game and fueled our energy. Playing good defense, that pretty much fuels your offensive game. Guys are confident."
Ridley had 17 points, leading six Longhorns in double figures, and added 12 rebounds and four blocks. ASU had a 32-30 rebounding, but Texas' last nine points came on second-chance opportunities. Holmes' three-point play with 32 seconds left came when he rebounded an air ball and put it back in while being fouled.
"So, the last five points of the game came on, if you want, bounces or flights that didn't land in our hands. We got them to take two pretty tough shots and it resulted in five Texas points. That's a tough swallow," ASU coach Herb Sendek said.
"I thought it was really unfortunate that either team has to lose this game," said Texas coach Rick Barnes, whose association with Sendek dates to the time both coached at a camp in Pittsburgh in 1978. "We were fortunate. We were really fortunate. We didn't have great execution at the end, but we found a way to make a couple plays." 
The Sun Devils will retool next year around Gilling, power forward Eric Jacobsen, top perimeter reserve Bo Barnes and mid-year transfer Brandan Kearney. Freshmen Calaen Robinson, Chance Murray and Egor Koulechov also could figure into the mix. But that is for another time. This was a difficult finish for a team that made making the NCAA tournament -- and making some noise in the tournament -- a mission.
"Right now, I can tell you it's a very emotional, heartbroken locker room," Sendek said.
Follow Jack Magruder on Twitter
---