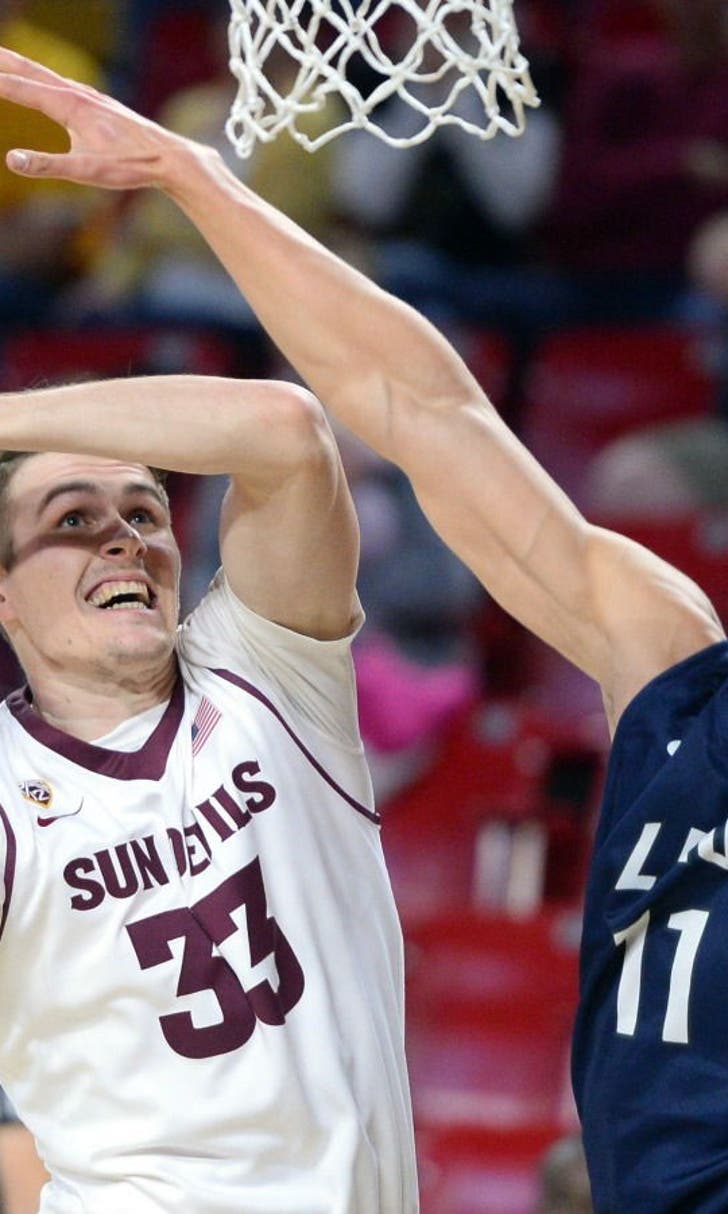 ASU defense leads the way in victory over LMU
BY foxsports • November 21, 2014
TEMPE -- Leading scorers will come and go for Arizona State this season, a function of the fairly balanced talent on the roster and its so-far unselfish nature.
The baton has passed from forward Shaquielle McKissic to center Eric Jacobsen to, now, reserve guard Chance Murray, who led four Sun Devils in double figures with 12 points a 68-44 victory over Loyola Marymount on Thursday at Wells Fargo Arena.
Through a 3-0 start, the constant has been defense -- the Sun Devils pulled away from the Lions by limiting them to 28.1 percent shooting from the field, the seventh-worst shooting night by an opponent in Herb Sendek's eight seasons here.
It was not an isolated incident. ASU limited Chicago State to 32.1 percent shooting in an 86-59 victory on opening night and held Bethune-Cookman to 31.8 percent in a 49-39 victory Monday.
Coach Herb Sendek said in preseason he believed the Sun Devils had the athleticism to play good team defense, and it has seemed to be the case. 
"We're going to have to defend," Sendek said. "We don't have a great deal of separation between players, so I think we are able to keep relatively fresh guys on people. We were on top of what they were doing offensive. Guys prepared. They knew the scouting report. They did a really good job of executing the game plan."
Maybe the best part for Sendek, the players are buying in.
"With so many athletic guys and so many quick guys overall, I feel like we can fly around on defense," said Murray, a 6-foot-3 sophomore who is being used primarily at point guard this season. 
"It's a team game with us, and we don't really have anybody who stands out. Defense is going to be our best offense."
LMU sophomore guard Evan Payne had scored 45 points in the first two games, but the Sun Devils, alternating defenders against him, held him to nine points on 3-for-13 shooting. Payne was on the West Coast Conference all-freshman team last year, when he set a school freshman scoring record. 
"He can play anywhere. He certainly was a big focus for us," Sendek said.
ASU will play Maryland in the semifinal round of the CBE Classic in Kansas City on Monday and either Alabama or Iowa State on Tuesday.
Reserves Jonathan Gilling and Bo Barnes had 11 points apiece and McKissic had 10 for ASU, while Jacobsen had seven points, 11 rebounds and four blocked shots. Though Barnes and Gilling have come off the bench to this point, they are key components. Barnes played 25 minutes, third on the team. Murray played 23 despite not starting. Gilling played 22.
Gilling and Barnes each made three 3-pointers, and McKissic had two, as the Sun Devils shot 46.7 percent from the field, 58 percent in adjusted field goal percentage when the value of 3-pointers is calculated.
"They were doubling the past, so it was giving me pretty open shots, because Eric was doing a good job of skipping it or kicking it out," Barnes said.
ASU had 15 assists on 21 baskets, keeping its good ratio there, but also had 17 turnovers. Murray had four assists, and Barnes and McKissic had three.
Murray was 2-for-4 from the floor and made 8-of-10 free throws, two short of his career high. He logged 40 minutes of playing time in the Pac-12 last season. He was used primarily at point guard Thursday, with freshman Tra Holder playing 12 minutes.
"It helped me out a lot, because I am not used to playing the 1," Murray said. "It gives me more confidence in playing it. I look at Tra. I learn from him, believe it or not, being a second year and him playing it his whole life.
"Our defense was our best offense tonight."
Follow Jack Magruder on Twitter
---