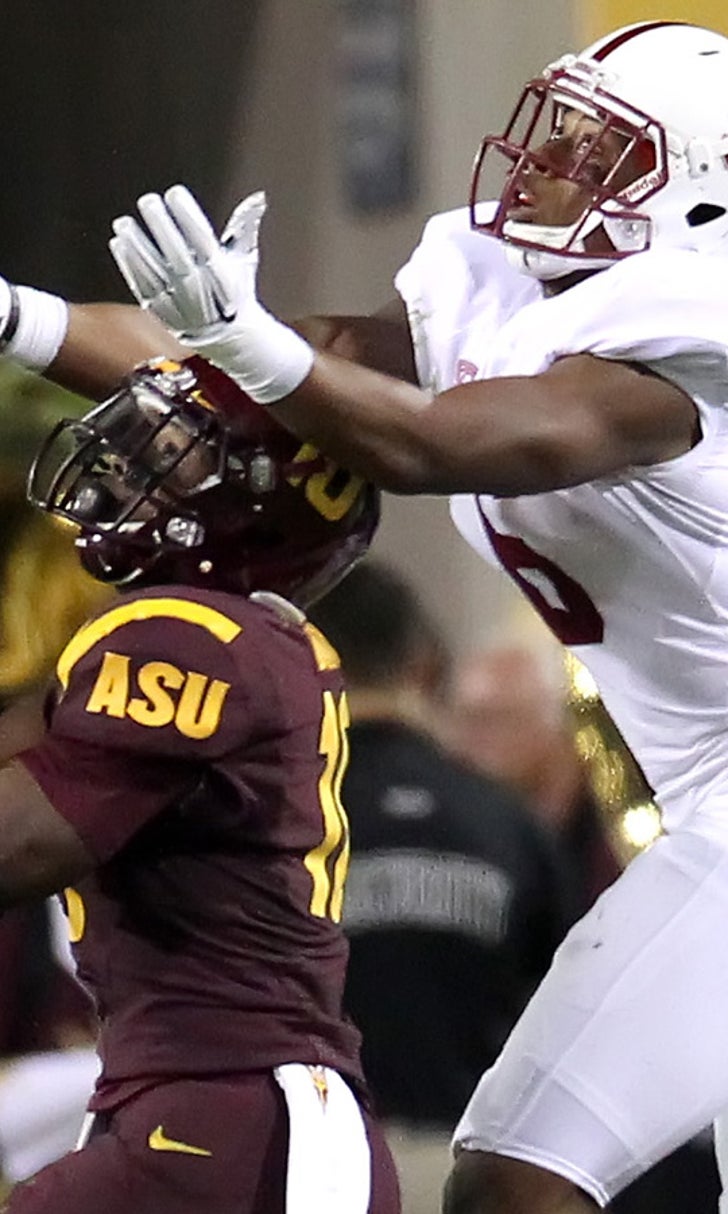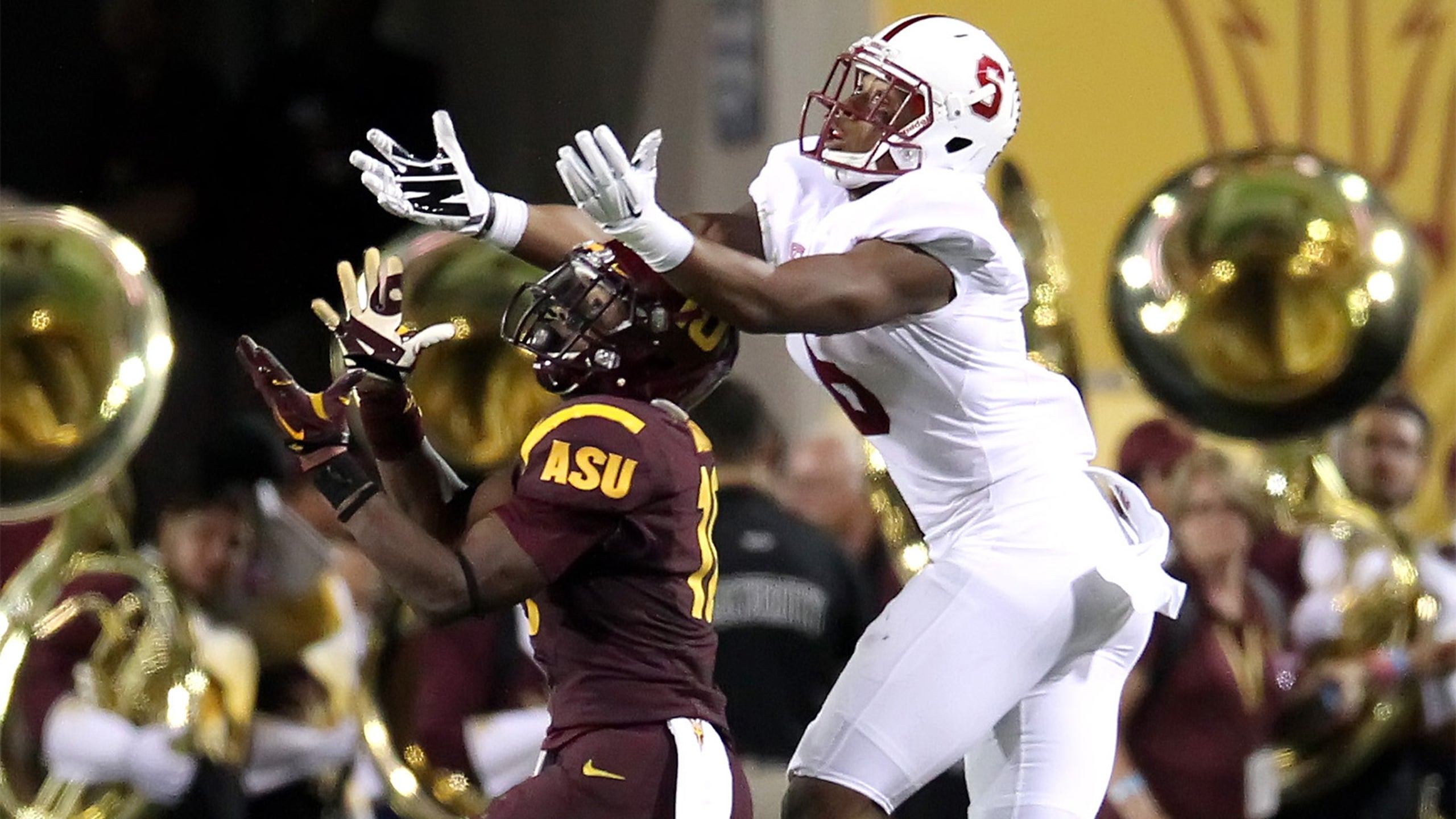 ASU cornerback Kweishi Brown goes from disinterested to rising star
BY foxsports • October 23, 2014
TEMPE, Ariz. -- Just a few years ago, Kweishi Brown figured he was done playing football. He was admittedly lazy, unmotivated and uninvolved with the sport he'd played his whole life.
Today, he's back in the game and emerging as a potential star at cornerback for a young defense on the rise at Arizona State.
"Phenomenal," coach Todd Graham said after ASU's 26-10 win over Stanford last week, a game in which Brown tallied five pass breakups and displayed an impressive physical presence for the Sun Devils.
The effort easily qualified as Brown's best game at ASU following a slow transition from junior college.
"In the beginning I was slow because I was still learning what Coach Graham is teaching," Brown said. "I didn't catch on as fast as he thought I was, which is why I wasn't playing. Now as time has gone on he's seeing 'OK, now that's the Kweishi I recruited.' From here on out, I've got to keep improving, and I can't go backwards."
That Brown is now establishing himself as a playmaker in one of college football's best conferences might have seemed impossible four years ago when Brown was doing, in his own words, little more than sitting around at his mother's house in suburban San Diego.
After his senior season at Valhalla High School in El Cajon, Brown's options were limited. He hadn't done enough to garner Division I or even Division II offers, not that he was all that concerned about it.
"I had good grades, but I just didn't take the SAT or any of that stuff, and I just wasn't interested in playing anymore," Brown said.
But Brown did have one offer to play at Arizona Western College in Yuma. One of his brothers and a high school teammate planned to play there as well, so Brown figured he'd go with them. When they decided to go to Grossmont College in El Cajon instead, Brown decided to take a year off.
Brown says he grew as a person in that first year after high school, learning to work out on his own and hold himself accountable, but at one point he realized he missed football. He decided to try out at Grossmont. It didn't go well.
"I was doing conditioning stuff and I was like, 'Dang, I'm not ready for this,' " Brown recalls.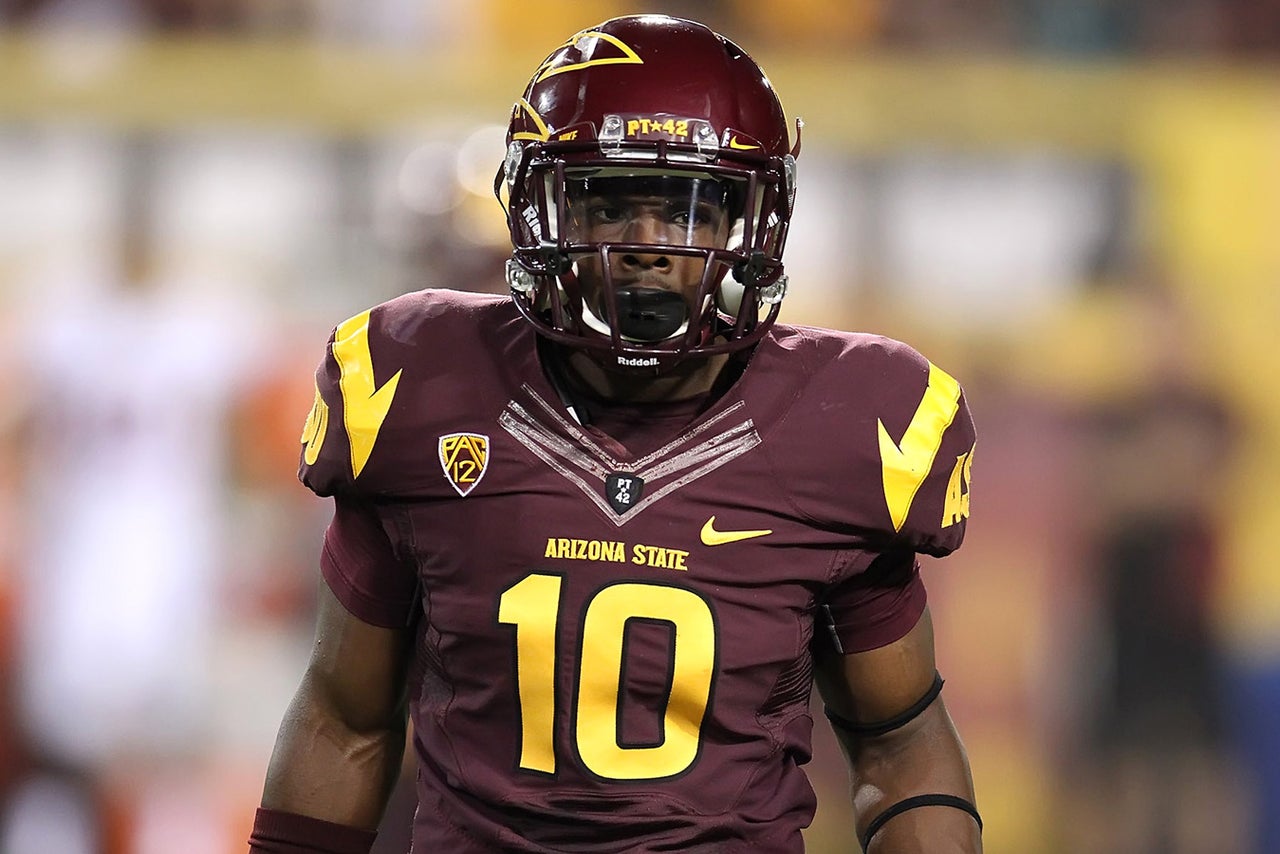 Kweishi Brown didn't play football in his first year after high school: 'I had good grades, but I just didn't take the SAT or any of that stuff, and I just wasn't interested in playing anymore.'
So Brown took another year off, but this time took his conditioning more seriously. His mother, Renethia Hall, told him he had to get a job. Slowly he realized he should be playing, even if he wouldn't admit it to friends and former coaches.
"I would say 'I don't know, I'm just not feeling it anymore' even though I was," Brown said. "I was just lazy."
Brown, who is named after an African prince, wasn't raised lazy, though. His father, Lester Brown, was a chief warrant officer in the Marines and did a tour in Iraq when Kweishi was in sixth grade. His mother was a Marine Corps cook, coached the Marine Corps Recruiting Depot football team for three seasons and now coaches running backs at Valhalla.
Raising seven boys and one girl, the parents ran a tight ship.
"We didn't understand when we were younger, but we look back on it now and we're very grateful to have them, because if it wasn't for them pushing us being in this world right now wouldn't be as easy," Brown said.
At the urging of high school teammate Nick Kurtz, who played for Grossmont and is now a receiver at BYU, Brown relented and tried out again. This time he made it, canceling his plans for another year off.
"If it wasn't for him, honestly, I probably wouldn't have played because he pushed me every day to go to practice and all the workouts, even the non-mandatory workouts," Brown said.
As a freshman, Brown recorded 28 tackles and seven interceptions. The Division I offers began. Arkansas was the first to make a formal scholarship offer, and Brown committed. He later decommitted, feeling he'd acted hastily.
Before Brown's sophomore season at Grossmont, Brett Hudson joined the staff as a defensive backs coach. Hudson had also played at Grossmont as a safety before going on to start at ASU under coach Dirk Koetter in 2002 and 2003. He quickly formed a bond with Brown.
"I was more of a mentor to him than a coach," Hudson said. "He looked to me and my successes at Grossmont and my ability to go to the next level. He looked to me as a leader that he hadn't really had before to that point."
It was evident to Hudson right away that the 6-foot, 205-pound Brown could make the jump to Division I.
"He had an NFL body in junior college last year," Hudson said. "He was just head and shoulders above everybody else, all his competition."
Hudson says Brown was bigger, stronger and faster than everyone he went up against -- a man among boys, as the cliche goes. Physicality defined Brown's play more than anything else, and that's becoming apparent at ASU.
In his second season at Grossmont, Brown was a junior college All-American and collected four interceptions, 62 tackles and 16 pass breakups. His list of offers ran long, but at the top were ASU and Nebraska. His decision to attend ASU was unrelated to Hudson's stint there, but he did seek Hudson's advice on making the move up to Division I.
"I had the benefit of hopping in mid-year, so I had the whole spring ball to adjust," Hudson said. "I could definitely relate to him, but he got the harder task than me because he hopped in in the summer. As much as I could communicate to him what it was going to take mentally, he had just come off such a physically dominant two years that he really didn't grasp the idea that 'OK, I'm really going to have to push the mental aspect of this game.'
"I tell the guys now 'The game is checkers now if you're physically dominant, but when you get up to that level it's chess, and they require a lot of you.' "
Brown learned that quickly. On the first day of fall camp, he practiced with the veterans and learned 17 techniques. The conditioning was harder, too, and Brown has taken it upon himself to do extra running before morning practices.
But the biggest adjustment, Brown said, is remaining consistent. In junior college, Brown could dominate just about any opponent.
"In junior college I was more consistent because I was doing what I was taught growing up to do: just play ball," Brown said. "But now you've got all these techniques and things you have to do, and it's like 'I'm not used to this.'"
Brown says ASU's 62-27 loss to UCLA on Sept. 25 -- his first start -- was a wakeup call in more than one way. First, it let him know just what kind of competition he'd be up against in the Pac-12. More importantly, it showed Brown the kind of focus and effort he has to give to each game.
Brown admits that fatigue got to him, leading to mental mistakes. One led to an 80-yard touchdown.
"That's a thing everyone sees," Brown said. "That's what made me like 'Man, I embarrassed myself in front of the nation, and I can't let that happen again.' "
Brown was better in his next game, against USC. Then against Stanford, tasked with covering standout receiver Ty Montgomery, Brown shined. On its final drive, Stanford went hard at Brown. He responded with three tackles and three pass breakups.
"Montgomery is really, really good," Graham said. "To basically have to play press coverage every down in the game, (Brown) was about to fall down and kept looking at me like we were going to take him out. Nah. That didn't cross my mind."
The performance showcased Brown's physicality solidified him as starter opposite junior Lloyd Carrington. Now, it's all about improving.
Hudson, who has watched each of ASU's games this season, says he has seen Brown grow each week.
"The best is yet to come for this guy," Hudson said. "He is just now gaining that confidence that it takes to be successful at that level, and when he gets the mental side of his game down, the sky's the limit for this kid."
Brown says he's getting more comfortable every day. He thrives in Graham's system of discipline and accountability, which he said attracted him to ASU.
Brown believes he will take his biggest step between this season and next, especially after a summer in ASU's strength and conditioning program. But that doesn't mean he's not aiming high this season. Asked what he wants to accomplish by the end of the season, Brown only had to think for a second.
"End of the season?" Brown said. "All Pac-12, for sure."
Follow Tyler Lockman on Twitter
---