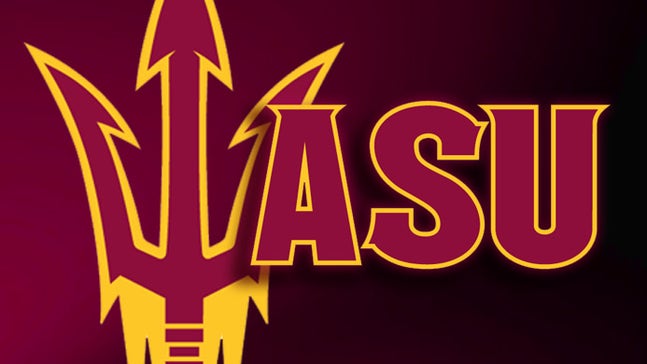 ASU baseball comes up short against Oklahoma State
Updated
Mar. 4, 2020 11:52 p.m. ET

STILLWATER, Okla. -- The Arizona State baseball team cut into its deficit late and brought the tying run to the plate in the final inning but was unable to complete the comeback in an 8-5 loss to No. 9 Oklahoma State on Friday night at Allie P. Reynolds Stadium.
Tthird baseman Dalton DiNatale represented the tying run in the top of the ninth with two outs and a three-run deficit after a pair of singles by shortstop Drew Stankiewicz and right fielder Jake Peevyhouse, but a flyout to center field dropped ASU to 7-5 this season against ranked opponents, including 4-3 against top-15 teams on the road.
The Sun Devils (24-18) scored three runs in the top of the third inning to take a one-run lead, but the Cowboys (33-13) countered with four in the bottom of the frame, including three unearned, and never gave up their advantage.
Starting left-hander Brett Lilek (4-3) was chased with two outs in the third inning and took the loss. He conceded six runs, including three unearned, on five hits and struck out a pair in 2 2/3 innings.
Right-hander Eric Melbostad took over for Lilek and gave up a pair of runs on four hits in 3 1/3 innings. Left-hander Nick Diamond struck out a pair in 1 1/3 scoreless innings, and right-hander Josh McAlister conceded a base hit but induced a double play to end the eighth inning unscathed.
The Cowboys used a pair of two-out hits in the bottom of the second inning to take an early 2-0 lead. Second baseman Tim Arakawa knocked a two-out RBI double down the right-field line to drive in the first run of the game, and center fielder Ryan Sluder followed with an RBI single up the middle.
Designated hitter RJ Ybarra capped a three-run top of the third for the Devils with a two-out, two-run single that gave ASU a 3-2 advantage. Left fielder Chris Beall led off the frame with a single and scored three batters later courtesy of a pair of throwing errors by OSU's pitcher and catcher, respectively. Center fielder Johnny Sewald, who was hit by a pitch, and Stankiewicz, who reached on the Cowboys' second error of the inning, came home on Ybarra's base hit to center field.
Oklahoma State countered with four runs in the bottom of the third frame to retake the lead, 6-3. A run-scoring double by first baseman Tanner Krietemeier tied the game and put a pair of runners in scoring position. Lilek secured a swinging strikeout in the next at-bat, but consecutive throwing errors by Stankiewicz resulted in three unearned runs for the Cowboys.
A leadoff home run by catcher Gage Green in the bottom of the fourth and a sacrifice fly by second baseman Tim Arakawa in the fifth extended Oklahoma State's lead to 8-3.
Peevyhouse's bases-loaded fly ball in the seventh inning was dropped by Oklahoma State left fielder Aaron Cornell to bring home a pair of runs and cut ASU's deficit to three at 8-5. Sewald and Stankiewicz led off the frame with a single and a double, respectively, and Ybarra took a full-count walk to bring Peevyhouse to the plate.
Cowboys left-hander Alex Hackerott (3-1) scattered two hits and a pair of runs across two innings to earn the win, and right-hander Brendan McMurray secured his 13th save of the season with a scoreless ninth. Starting right-hander Jon Perrin allowed three unearned runs on six hits and was replaced with a four-run lead and a pair of runners on base in the fifth inning.
---