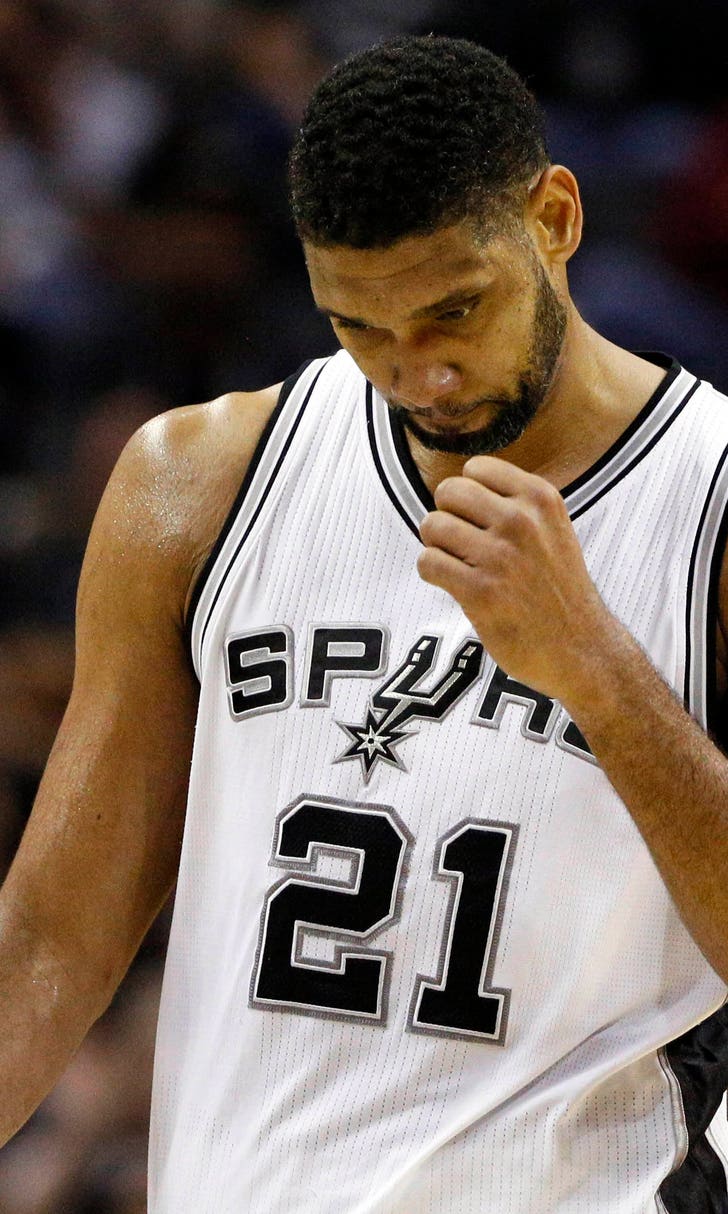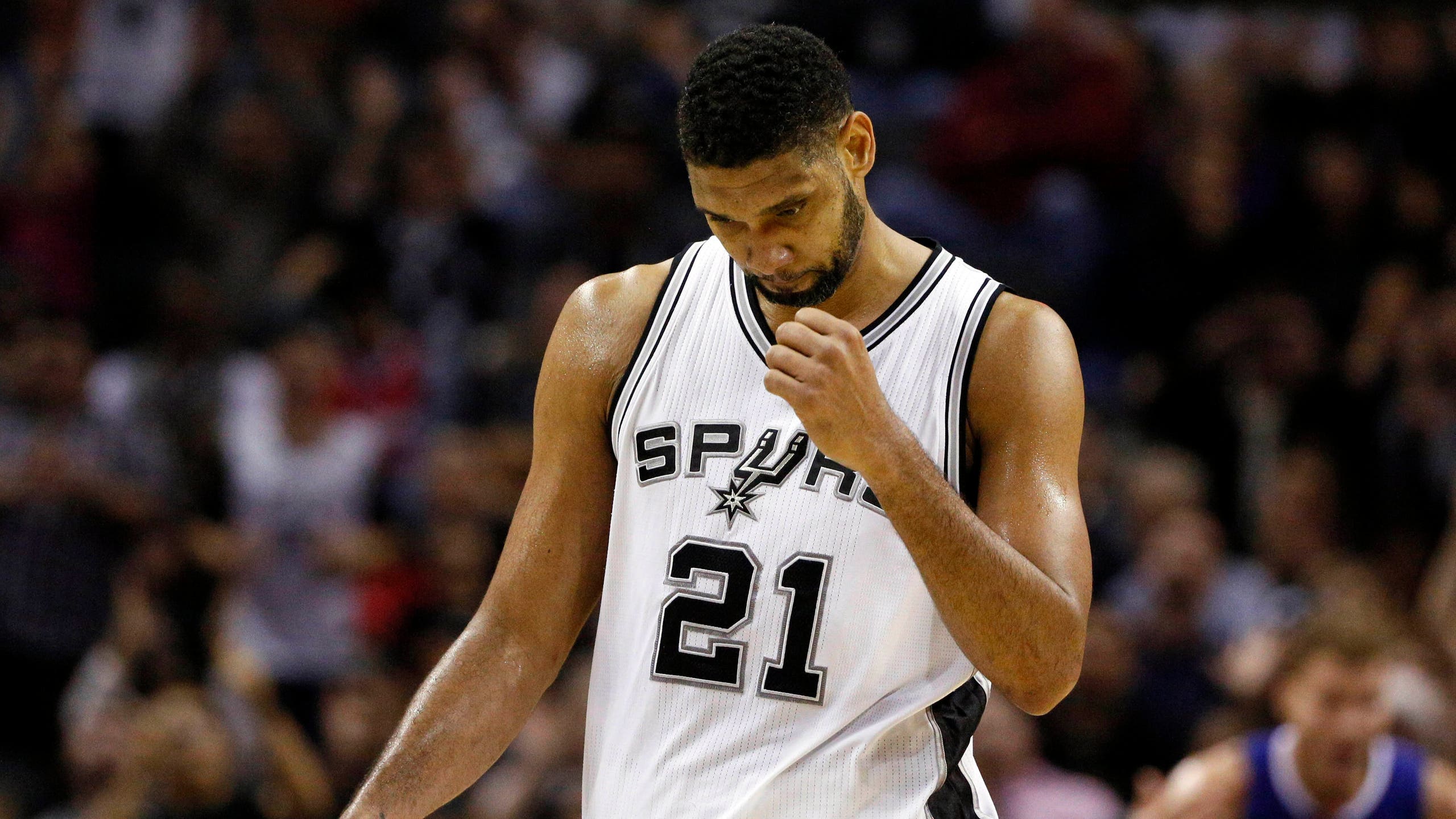 As Tim Duncan's age increases, so does his popularity
BY Jeff Caplan • January 13, 2015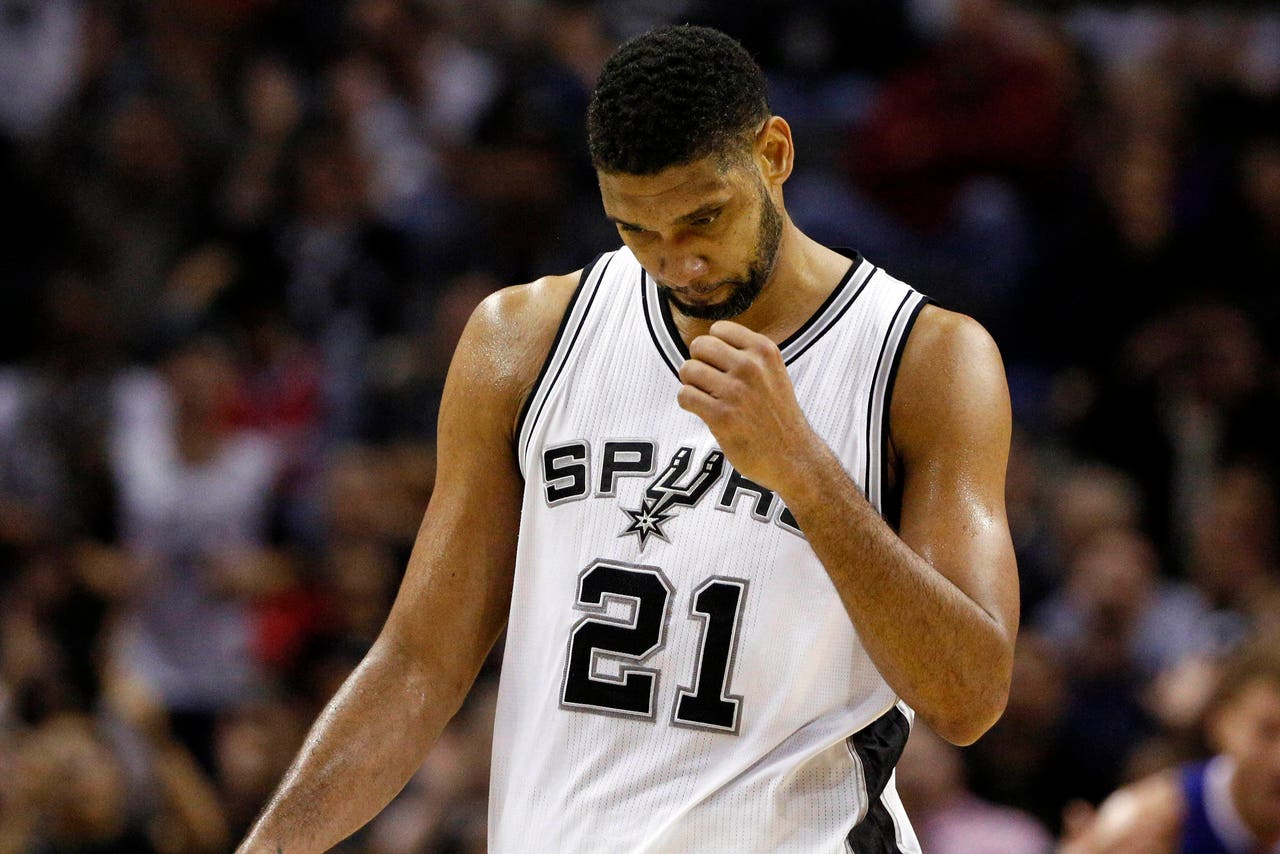 At age 38, and possibly playing in his final NBA season, Tim Duncan has never been more popular.
At least if judging by the league's jersey sales. At no time in his illustrious career has Duncan had a sales run like this on his No. 21 tank. According to the league, Duncan's jersey ranked No. 3 in sales last June when his San Antonio Spurs were in the midst of a championship run, and it stands at No. 8 as of Monday's release of the the NBA's most popular jersey based on overall sales from adidas and NBAStore.com.   
Pretty impressive for an old-timer who has never sought popularity. The 6-foot-11 anomaly of a superstar has always been insanely quiet on the floor and intensely private off it.
He's never been in a slam-dunk contest, but could conduct a clinic on the bank shot. He's never tossed crushed chalk from the scorer's table high into the air before a game, and he doesn't plan his nightly wardrobe as if the walk from the players' parking lot to the locker room is an E! Fashion Police special.
He never left, or even really craved to leave, his small-market nook for a bigger nest where he could truly spread his wings. He's always turned down most endorsements, so he doesn't really do commercials, at least not ones that aren't done for the local grocery store chain and team sponsor.
(Although Duncan's recent Foot Locker spot with Derrick Rose that plays up his, ahem, excitableness, is quite funny). 
All Duncan really does is win. A couple months after turning 30, he already owned four championship rings and two league MVP trophies. Yet, for all of the success built on boring fundamentals and put to use on those equally non-flashy Spurs teams of the previous decade, Duncan really never obtained the mass popularity of other obvious Hall-of-Fame-bound superstars.
At least not if judging by league jersey sales.
It took a second title, two Finals MVPs and consecutive league MVPs for Duncan's jersey just to crack the top 10 in sales, hitting his all-time best of No. 6 in 2004. He quickly fell back to No. 11 in 2005 and 2006, despite winning title No. 3 in 2005. He dropped to No. 15 in 2007, despite winning title No. 4 that season.
That fourth championship, a sweep over LeBron James in his Cleveland Tour of Duty I, blasted Duncan all the way back to ... No. 10 in 2008. From there it was a quick decline into jersey sales oblivion. From 2009 through 2013, the aging power forward never ranked among the top 15.
So yes, it is quite remarkable now, as only one of four players in the league no younger than 38 years old—€" Andre Miller, Kevin Garnett, and Vince Carter are the others —€" that Duncan's jersey is currently outselling the jerseys belonging to Dwyane Wade, Blake Griffin, Damian Lillard, Chris Paul, James Harden and Anthony Davis.
Bolstered by those back-to-back trips to the Finals, last season's championship and the distinctly different, aesthetically fascinating style of these postmodern Spurs, Duncan has not only recaptured a bit of his youth, but he apparently has introduced himself to a new generation of NBA jersey-buying fans (assuming a bunch of 40-somethings aren't spurring his jersey sales). 
And hey, soon they might be able to purchase Duncan's 2015 All-Star jersey. The frontcourt competition in the West is fierce, but Duncan is just one of 11 players in the league averaging a points-and-rebounds double-double (15.3 ppg and 10.3 rpg), and he is one of just three players who can claim at least 2.0 blocks a game to go with the double-double average. The other two are Chicago's 34-year-old Pau Gasol, impressively enough, and New Orleans' 21-year-old stud Anthony Davis.
And somehow the oldest of the Spurs has also been the healthiest over the past two seasons. He played 74 games last season and has played in 33 of 38 games this season. The majority of those 13 total games missed can be charged to coach Gregg Popovich's decision to rest him.
This is the final year on Duncan's three-year deal. Who knows if he'll decide to go for a 19th season.
So better do what everybody is, and buy his jersey while you can.
MORE FROM FOX SPORTS SOUTHWEST: 
- Highest paid coaches in college football
- Ranking NFL quarterback salaries
- Oldest player on every NBA team
---