As stage gets bigger Arizona freshmen Wilson, Johnson step up
BY foxsports • November 21, 2014
TUCSON, Ariz. -- When Arizona senior Jared Tevis looks at Nick Wilson and Tyrell Johnson he sees two freshmen who defied the odds and contribute on a team with an outside chance at a major bowl bid.
Stuff like this doesn't happen very often but it has for Arizona's true freshmen.
No pressure, though, even if they are playing beyond their years on a stage that continues to get bigger and bigger each week. This week No. 15 Arizona faces No. 20 Utah.
"There's really no pressure," said Johnson, Arizona's pocket-sized speedster and multipurpose player. "It's just the game of football. I love football. I try not to make it bigger than what it is. I might be a freshman but ..."
But nothing.
In his head -- Wilson's too -- they aren't freshmen. And they surely aren't playing like it in as much as they aren't bit players; they are central in what has been a drama of a season with nearly every game going down to the wire.
"It's tough (in what they've done)," Tevis said. "For me, there was a big transition to college. Sometimes it takes that year to develop and get in there to play at the level your coaches need you to play at. "
Coming in with the "right mindset" and attitude can help make it happen quickly. Will and ability, the need to have someone capable at the position and, of course, talent all plays its part in the chances to play.
Before the season, Arizona coach Rich Rodriguez said he felt as many six to eight freshmen would play right away. He's now down to about tw0 -- maybe three or four if you count defensive back Cam Denson and left tackle Layth Friekh.
"I guess we've had more prepared to play (but won't now)," Rodriguez said. "But it's a good class. It'll help with another year in the weight room."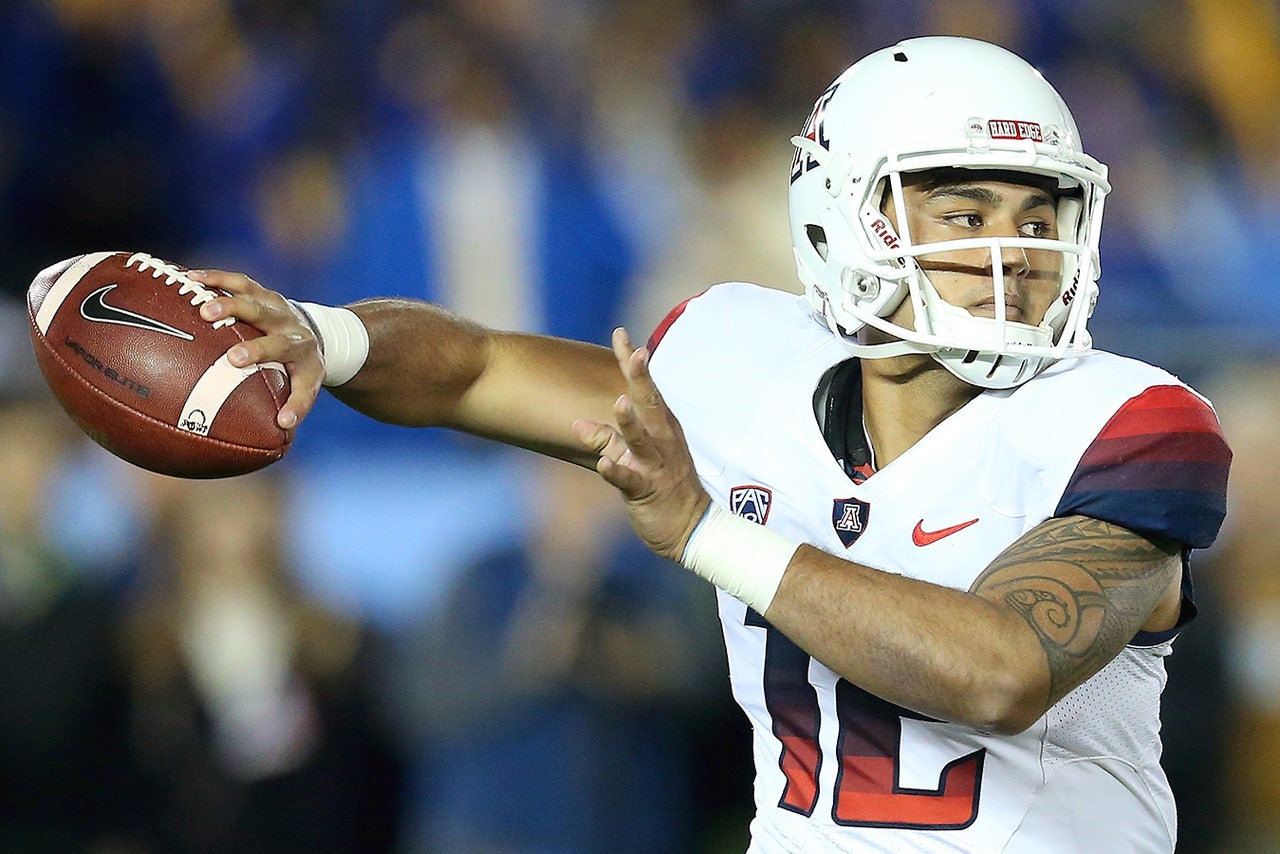 No. 15 ARIZONA at No. 20 UTAH
When: 1:30 p.m. Saturday
Where: Rice-Eccles Stadium, Salt Lake City
TV: ESPN (Mark Jones, Rod Gilmore)
KEY PLAYERS
Austin Hill, WR, Arizona: He's the surest pass catcher Arizona has and this might be a game where every possession will be important. It all depends on the weather. Who will you go to in this situation? A senior, of course.
Jared Tevis, Bandit, Arizona: Scooby Wright is in the midst of a fantastic season, but Jared Tevis' season has been remarkable, too. He's everywhere and in the middle of most Arizona tackles. He and Wright offer a good one-two punch. He'll be busy again Saturday.
Kaelin Clay, WR, Utah: Special teams will be tested again. This time in the form of punt returns. Clay leads the nation in punt return average with 19.8 yards per game.
INJURY REPORT
Arizona -- Probable: None. Questionable: CB Cam Denson (Hip), RB, Terris Jones-Grigsby (ankle), DL Parker Zellers (concussion).
Utah -- not available.
OUTLOOK
Arizona has had a few close games but Utah is no stranger to the tight ones either. The Utes won four games that came down to one possession. It's Utah's identity. But it's Arizona's too. Something has to give. Earlier in the week I had Arizona winning the game. Now, it's the end of the week. How will Anu Solomon handle the pressure and the cold? If anything like the last few weeks, not so well.
PREDICTION
Utah 27, Arizona 23
Rodriguez said today's freshmen are more equipped for the day-to-day of the game, with 7-on-7 competitions available year round, better weight room commitments and players know the game better though video games. They're savvier.
Wilson and Johnson are two of them in a season where college football is dotted with a few standout true freshmen.
"It's incredible," Tevis said, talking about what the two have done. "I'm excited for Nick, even though he's been banged up a bit; he'll have a good four years and will build off of this. It's tough to come in and make the transition quickly but he did it. And the same with TJ, I expect the same with TJ."
Big games haven't phased the duo and it won't start now, they say. As Arizona has worked to 8-2 with a chance at Pac-12 Conference South title at 5-2, their fear factor decreased. Wilson is Arizona's workhorse, replacing injured senior Terris Jones-Grigsby and is 133 yards shy of becoming the first true freshman in school history to rush for more than 1,000 yards in a season. He's added nine touchdowns.
"Nick is a physical runner and he usually finishes most of the runs," Rodriguez said of his player's style. "Sometimes backs will absorb the hit but Nick will deliver one. I think that helps him."
What's helped each freshman is that they've always played beyond their age group. Wilson said he's always played with the older kids since he was in Pop Warner and junior high.
"I've always been the youngest kid out of everybody," he said, "until my senior year when I was with everyone my same age."
It's the same for Johnson, although he was on the varsity team since he was a freshman in high school. Still, the 5-foot-7 receiver arguably has come the furthest the fastest. He's the team's kick returner and a go-to receiver. Just three months ago, he looked so raw a pass catch was a rarity.
"I just calmed down," he said. "I was trying to go too fast. I realized it was just football and just about making plays and letting the game come to you. At first, I was kind of shaken up, trying too hard. Now I'm relaxed knowing that the ball will come to me eventually."
It has, slowly but surely as Arizona uses Johnson's speed to help out. He's carried the ball three times for 19 yards, caught 12 passes for 105 yards and two touchdowns. He's returned 14 kickoffs for 303 yards. Rodriguez has said he's ready for Johnson to break one.
"It's remarkable how quickly they have picked it up," Rodriguez said. "There is a lot on their plate particularly when you fast."
Solomon's health: The health of Arizona QB Anu Solomon, who wore a boot this week in preparation for Saturday, is paramount. He hasn't played well lately. It's not clear how serious the injury is because he's been healthy enough to play. But if he's not effective, look for either Jerrard Randall or Jesse Scroggins to take over.
Emotional rescue: It'll be senior day in Salt Lake City and that's always a tough situation to gauge, in part because emotion is involved. Seventeen seniors will be honored before the game. They want to go out winners.
Nick Wilson: Arizona's offense is dictated by its run game. If the weather is as bad as expected, the Wildcats will have to run the ball because the passing game will be hindered. It's been tough the last couple of weeks even without the rain. Wilson will be the guy with Terris Jones-Grigsby out with an injury.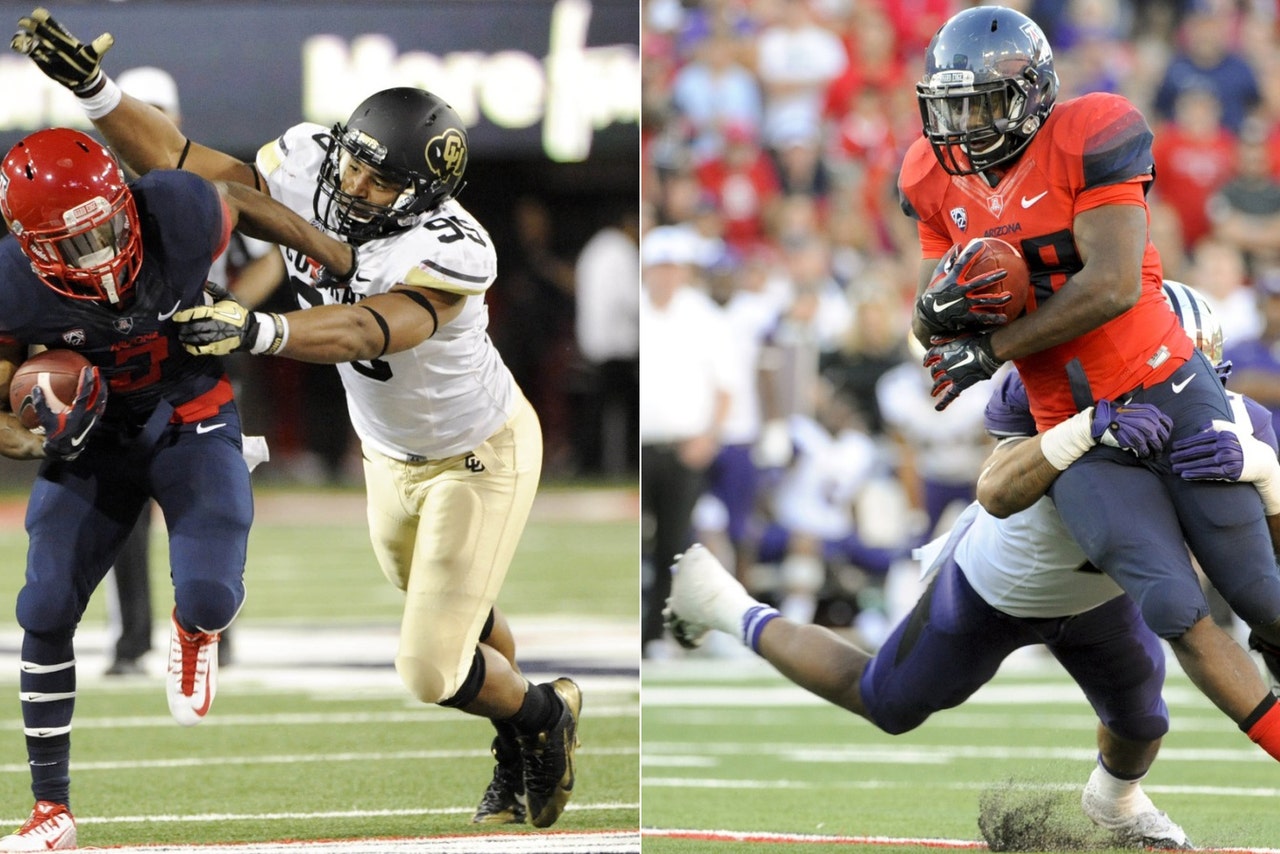 Arizona freshmen Tyrell Johnson (left) and Nick Wilson have played big roles for the Wildcats this season.
-- Utah is 2-2 vs. ranked teams, having beaten UCLA and USC. It also lost to Arizona State and Oregon.
-- Utah's Nate Orchard leads the nation in sacks per game (1.65) and is tied for first in total sacks (16.5).
-- Arizona is 12-1 under Rich Rodriguez when it wins the turnover battle, and it has outscored opponents 69-12 in points off turnovers this season.
Follow Steve Rivera on Twitter
---