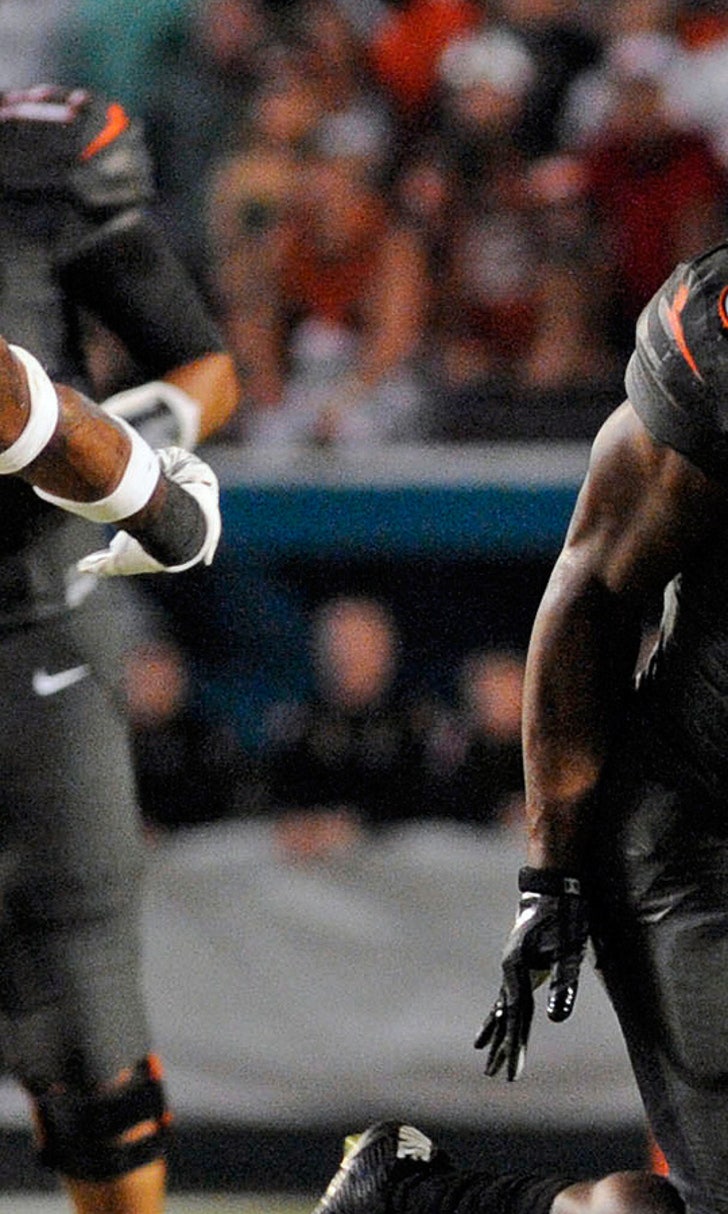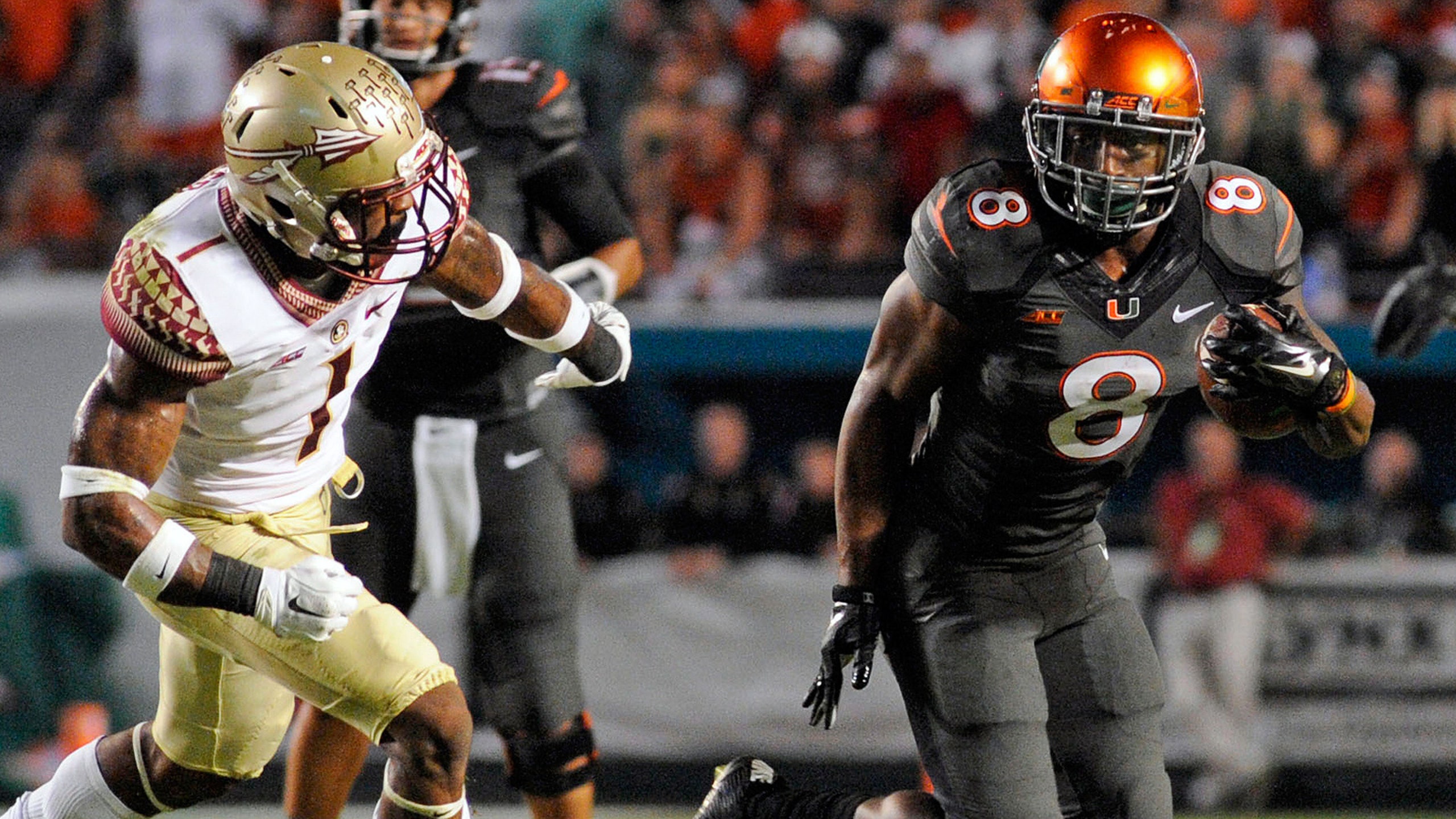 As Duke Johnson closes in on Miami's rushing record, will he stay or go?
BY foxsports • November 24, 2014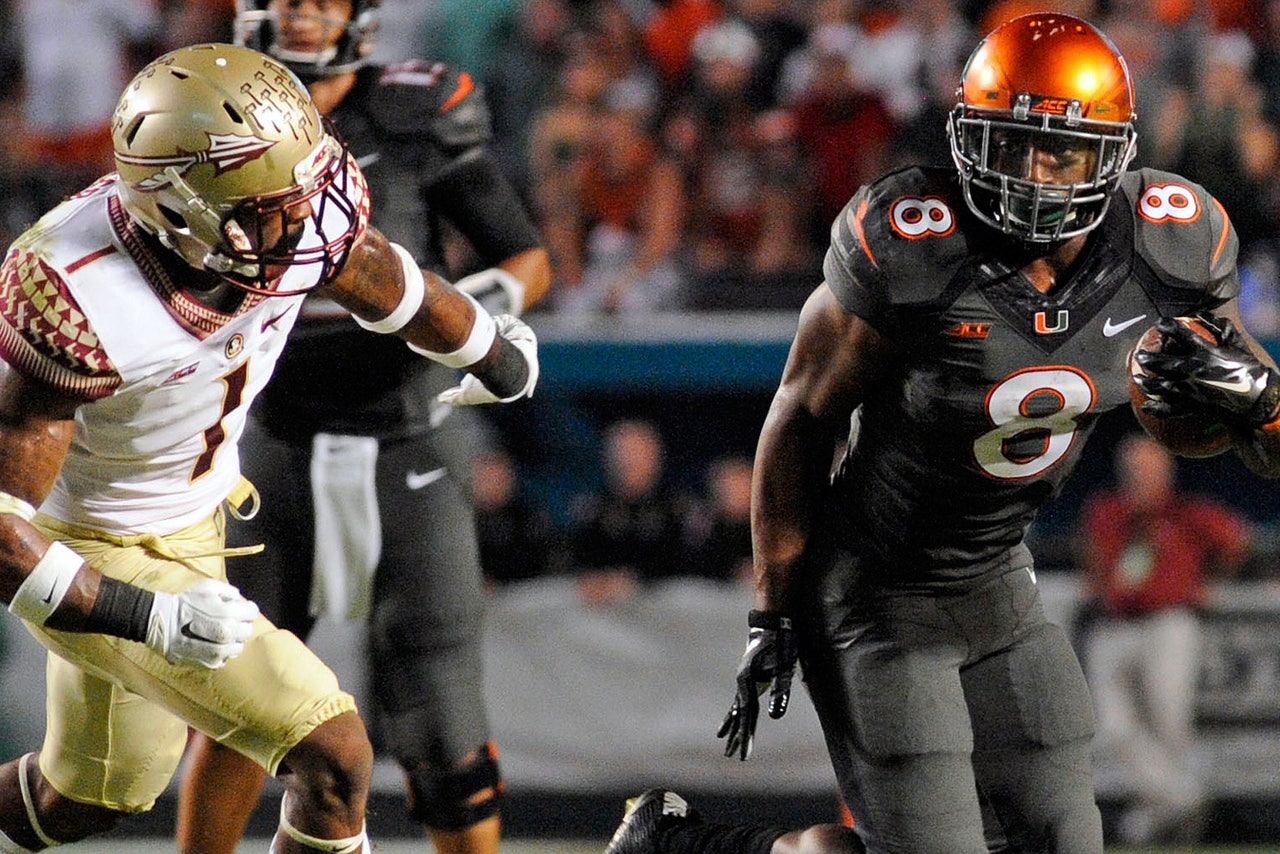 CORAL GABLES, Fla. -- This Saturday, on Senior Day, a University of Miami junior will likely steal the show because of a monumental accolade.
With 35 yards against the Pittsburgh Panthers, Duke Johnson will surpass Ottis Anderson for the most rushing yards in program history (3,332). The same school that ushered guys like Willis McGahee and Clinton Portis to the NFL could soon do the same for Johnson by spring.
His upcoming accomplishment will increase speculation on whether the All-ACC back will forego his senior season for the NFL Draft.
Following Monday's practice, Johnson said that decision won't come until after Saturday's regular-season finale but before the December bowl game. Johnson needs time to sit down and talk it over with his mother, who gets 60 percent of the vote.
Several factors will come into play. The first? Whether the 5-foot-9, 206-pounder has anything left to prove at the collegiate level.
''I don't think there's much more I need to prove on the field if anything,'' said Johnson, who passed Edgerrin James for second at UM in single-season rushing with 1,431 yards. ''Not saying that there's no room to get better. There's always room to get better, my aspects of the game. But as far as things of that sort there's not many things to prove.''
The ''dealbreaker,'' as Johnson puts it, will be whether it is worth leaving school early. What will be his plan to come back and get his degree, something his mom wants him to do? He intends on taking summer classes and remains set to graduate in less than two semesters.
Last year, tight end Clive Walford and linebacker Denzel Perryman decided to return for their senior years. Both situations have paid off: Walford is a semifinalist for the John Mackey Award, while Perryman is a finalist for the Butkus Award.
But each individual is different. Freshman quarterback Brad Kaaya called Johnson a ''last-year guy'' when discussing the veteran leadership on the team.
Johnson ranks eighth in the nation with 1,431 yards this season. Ten of his 200 carries have gone for touchdowns. He also is second on the Hurricanes with 30 catches for 354 yards, taking two of them for scores. Johnson has showcased his all-around play in 2014.
Earlier this year, Johnson became UM's all-purpose yardage leader. Prior to a season-ending ankle injury at Florida State in November of 2013, Johnson also returned kicks. As a freshman in 2012, he brought two back for touchdowns. He is a dynamic player who can affect the NFL game in various ways.
''Even in the last game there were several plays Duke was solid,'' Kaaya said. ''The touchdown I threw to Phillip (Dorsett) there was a linebacker that came free. If Duke didn't cut him and see him out of the corner of his eye, that guy would've taken my legs out.''
Coach Al Golden said Miami helps players through the NFL Draft process by getting the families information and in touch with the right people.
''He's had a terrific year,'' Golden said. ''Unselfish pass protection, catching the ball out of the backfield. If not for coming back off the injury, kick returner. You guys saw him two years ago. He's got a lot of tools, and he's playing at a high level right now.''
You can follow Christina De Nicola on Twitter @CDeNicola13 or email her at cdenicola13@gmail.com.
---