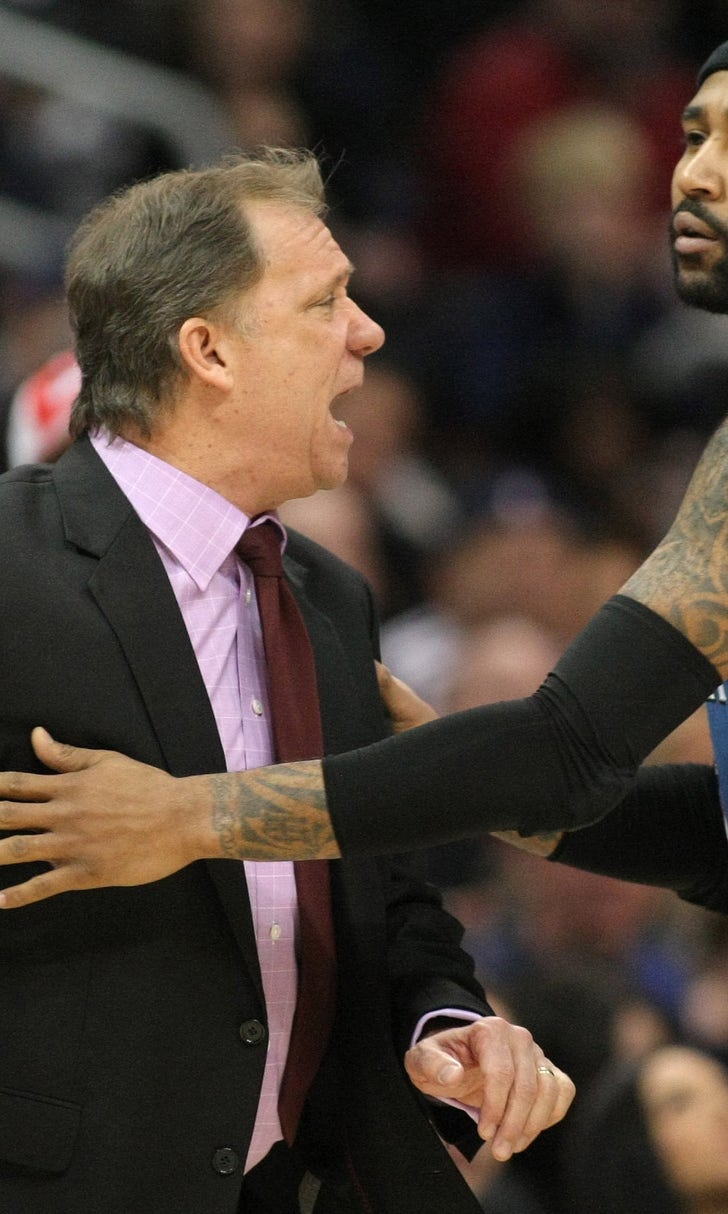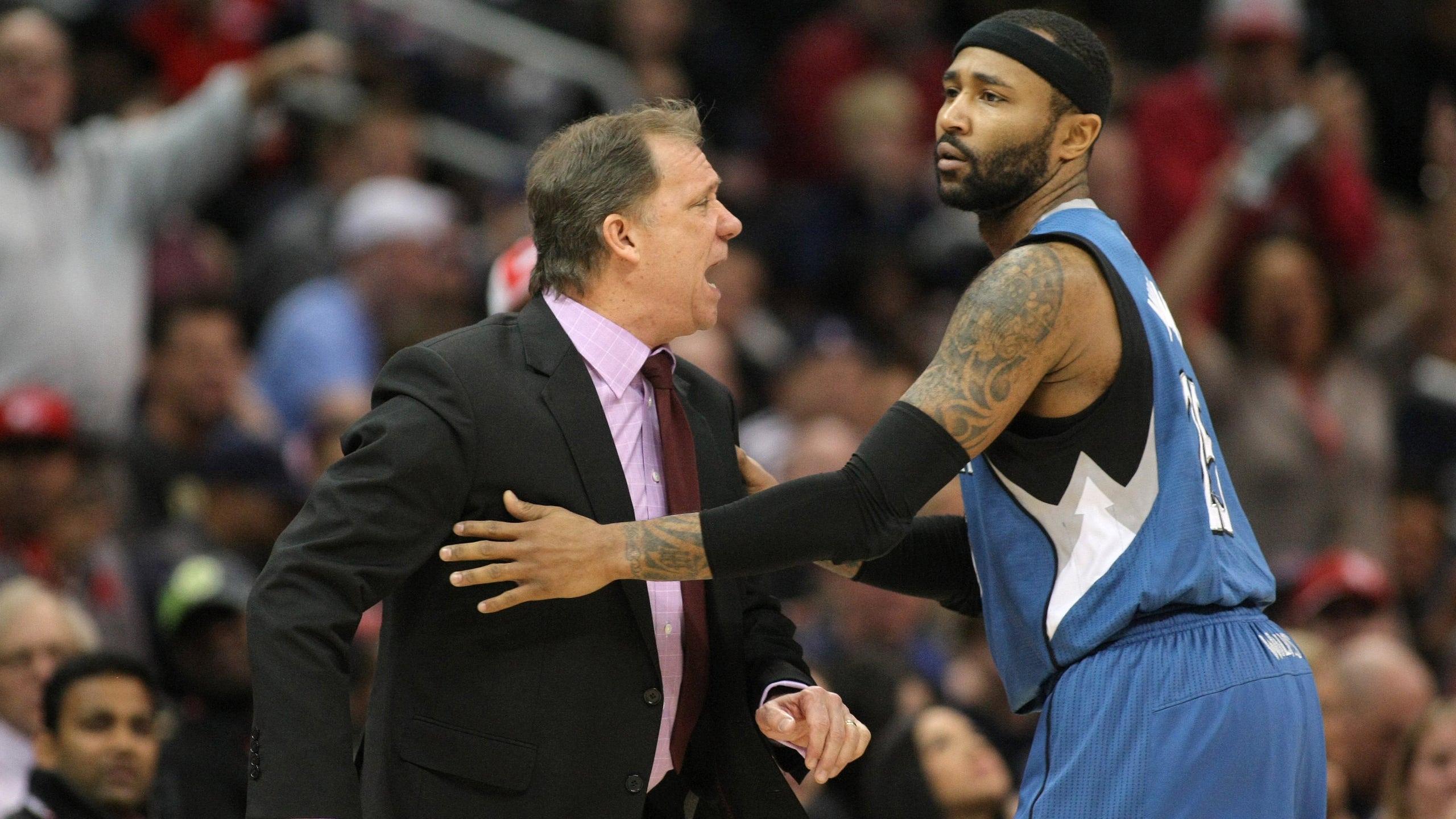 As deadline approaches, Wolves could trade veterans to retool roster
BY foxsports • February 2, 2015
MINNEAPOLIS -- For moments Saturday, like when Andrew Wiggins froze LeBron James and knifed to the hoop for two points, it was easy to forget the Timberwolves are in the midst of a sizable renovation project. But after Wiggins, then James, stole the show in front of more than 19,000 fans anticipating the return of Kevin Love -- the guy whose departure precipitated the rebuild -- Flip Saunders put on his executive hardhat and reminded reporters about the bigger picture.
"I do understand -- and I said this two months ago when injuries hit us -- I do understand the vision of where we're at," said Saunders, Minnesota's coach and president of basketball operations. "It's painful to go through a build of a team sometimes."
With three starters missing most of the season to this point, the crux of that construction has been developing Wiggins and the franchise's young core, placing its members in roles they wouldn't normally fill. With Ricky Rubio expected to return Monday at Dallas and give the Wolves a full complement of starters for the first time since November, it becomes about "seeing what we've got" with a fully healthy roster, Saunders has said.
But between now and 2 p.m. on Thursday, Feb. 19, what that roster looks like could be subject to change.
Retooling isn't a single-mode outlook; it's a combination of avenues -- mainly the draft, free agency and trades -- that, when used symbiotically, can produce a better team that wins more games and sells more tickets. With the NBA trade deadline 17 days away, attention turns toward the latter, and Minnesota could find itself in the thick of it.
Veteran point guard Mo Williams has been rumored as a possible chip. Power forward Thad Young, too. And a healthy Nikola Pekovic could help a contending team seeking some interior presence and scoring.
Williams becomes an unrestricted free agent after the season. His offense would help a club trying to shore up its backcourt depth ahead of a playoff push -- an effort Minnesota bid adieu months ago.
With the addition of Lorenzo Brown on a 10-day contract, the Wolves have four point guards. As long as Rubio and rookie Zach LaVine -- who's out for Monday's game against the Mavericks -- can stay healthy, the departure of Williams wouldn't kill Minnesota's backcourt rotation, at least in terms of availability. The Wolves could either sign Brown for the rest of the season and keep him as insurance, or perhaps trade him and keep Williams and Rubio to work ahead of LaVine.
Young has a player option on the next year of his contract, rendering him a fairly moveable piece without any long-term commitments. He appears to have found a groove after a midseason funk overshadowed by the death of his mother, averaging 16.5 points on 45.5 percent shooting and 6.2 rebounds per game over his last 11 contests.
Pekovic, on the other hand, is in the second season of a five-year, $60 million deal. The Wolves might have found their center of the future in Gorgui Dieng -- averaging 9.9 points, 8.6 rebounds, 2.2 assists and 1.8 blocks per game -- and wouldn't raise too many eyebrows if they export the man Dieng's filled in for during much of the past two seasons.
Reserve wing Chase Budinger is another potential piece. He, too, has a player option for next year after two unremarkable, injury-riddled seasons in Minnesota.
But he's not the most enticing offer, having missed 106 games since the start of the 2012-13 season with various knee ailments.
(A side note: If Budinger and/or Young were to opt in and wait until 2016 to hit free agency, their potential earnings will increase significantly with the league's new TV deal kicking in.)
Shooting guard Kevin Martin is often bandied about in trade conversations, but it's unlikely he and his four-year, $28 million get shipped out. Saunders has spoken highly of his influence on Wiggins and the young guys, and the Wolves need a scorer opposite Wiggins to relieve him of some pressure until he germinates further.
What might the Wolves get in return? Namely, cap space and future assets, unless Saunders goes big and trades a headliner like Pekovic or Young. He and the front office are unlikely to sign off on any one-sided transactions involving players of that caliber.
But some financial flexibility moving forward could make Minnesota a player in free agency. Most of the Wolves' main pieces are on rookie-scale contracts, and they're likely to add another this summer given they have the NBA's worst record (8-39).
If the ping pong balls were picked tomorrow, Minnesota would have a 25-percent chance of winning the draft lottery and a guaranteed top-four pick.
It's a hypothetical hodgepodge that pairs needs with names. What Saunders does know, though, is that a reset-button season (thanks to the Love trade) became even more rebuild-centered when so many mainstays were injured.
But, again focusing on the entire portrait, Saunders said that might not be the worst thing ever.
"What you do," Saunders said, "is want to facilitate that building process. There's no question the injuries have done that with Wiggins and some of your younger-type players."
Follow Phil Ervin on Twitter
---