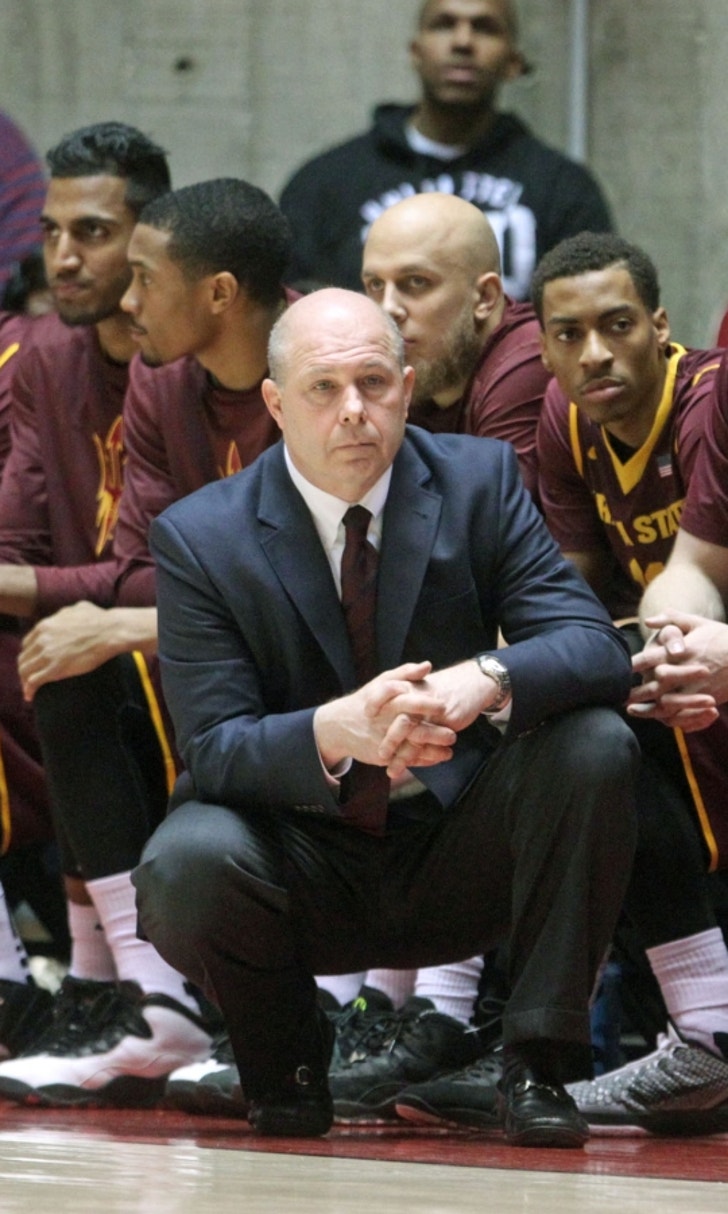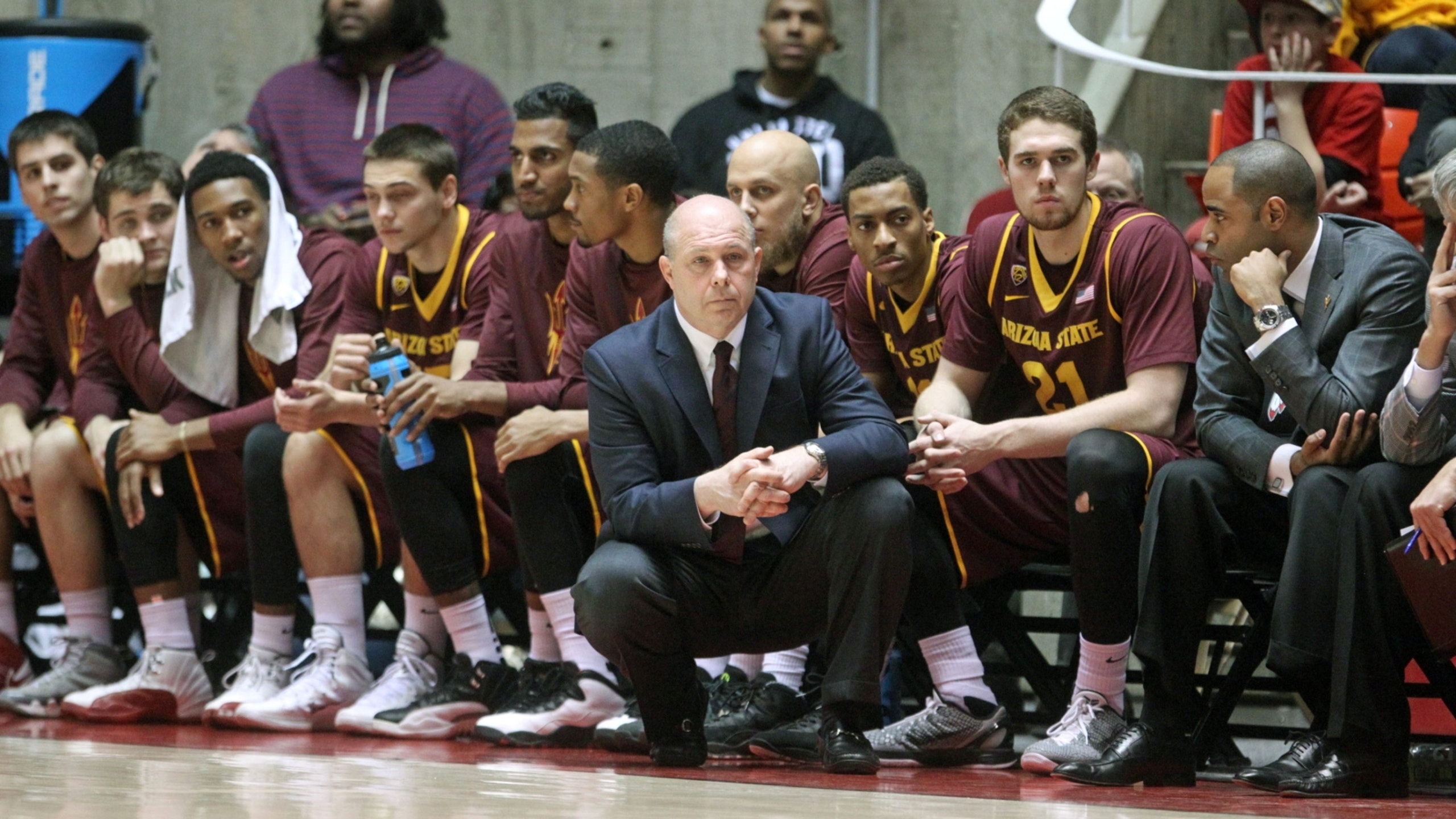 Arizona State seeks to regain energy for final push
BY foxsports • February 25, 2014
TEMPE, Ariz. -- Arizona State's signature victory over the Arizona was great for its NCAA tournament resume but not so good for its two-game trip to the Pac-12 mountains last week.
"We had too much confidence, and when you have too much confidence sometimes that will bite you in the butt," Jahii Carson said.
Consider ASU twice-bitten, but not at all shy.
The Sun Devils (19-7, 8-6) remain in sold contention for an NCAA tournament berth, although losses at Colorado and Utah were a little messy as the they prepare for the final home series of the season, against Stanford (18-8, 9-5) on Wednesday and California on Saturday. The regular season concludes at the Oregon schools next week.
"We feel like two wins will do it, but we are not going to be satisfied with that," Carson said.
"We want a good seed in the tournament if we can get in there. We want a good seed in the Pac-12 (tournament) so we don't have to play early. Those are all things that we talk about. Taking care of business will leave us in good position for the Pac-12 tournament and the (NCAA) tournament. Two wins would be great, four would be better."
ASU's double-overtime victory against then-No. 2 Arizona on Feb. 14, one of its three wins against top fifty teams, and an RPI rating in the low 30s have the Sun Devils rated as a No. 9 seed in two faux brackets this week.
At the same time, Stanford and Cal also are projected NCAA tournament teams, so it will not be easy. Long, athletic Stanford never is for the Sun Devils. Forward Dwight Powell had a season-high 28 points in the first meeting, a 76-70 victory that came two days after Jermaine Marshall's 3-pointer with 17 seconds left in regulation sent ASU's 89-78 victory at Cal (18-9, 9-5) into overtime.
"Stanford is an elite team," ASU coach Herb Sendek said. "They are very versatile. Have great length who can score the ball in a variety of ways."
ASU's focus more was more on energy than personnel this week after an 86-63 loss at Utah on Sunday. The Utes led 11-2, 20-6 and 34-11, and Sendek removed all of his starters but small forward Shaquille McKissic less than three minutes into the game. In practice Monday, Sendek showed cut-ups of McKissic and reserve guard Bo Barnes to the team, highlighting their relentless play.
"That's always what I most care about," Sendek said. "It's most important to any team. If you are not going to compete fiercely with energy and effort, there are no Xs and Os that are going to be your salvation. It's not a matter of Xs and Os at this point. We have to play with great passion. Without it, I don't know how you have a chance. With it, you at least get some chips to come to the table. It doesn't guarantee anything, but at least you get a seat at the table."
Jermaine Marshall cautioned his teammates not to let the Arizona victory linger, but it seemed to.
"We came out lackadaisical," Carson said of the Utah game. "We have to play with the same amount of energy they gave. Sometimes we have more energy, sometimes we have less energy. If we can sustain more energy, the better we are."
The Sun Devils had trouble making shots on the last trip, shooting 31.5 percent from the field in a 61-52 loss to Colorado and 30.8 percent against Utah. The Jamigos -- Carson, Marshall and Jordan Bachynski -- were 10 of 33 against the Buffaloes and 7 of 29 against Utah.
"We talked about how things are never as good or as bad as they seem and we immediately got back to work. I think we've worked hard. We have some guys right now who are not paying their best. we have to make sure they we stay positive and pull together and help them," Sendek said.
"When we are not all making shots, it is a bad night for our whole team," Carson said. "That's when the energy goes down, when we are not making shots. When the energy is flowing, we can get stops and our whole offense is better.
Bachynski, who will tie his Pac-12 season record of 120 blocked shots with his first against Stanford, puts a different way.
"We need to keep that chip on our shoulder that we had all season," he said. "We kind of got away from that. We have to get back to that.
Follow Jack Magruder on Twitter
---