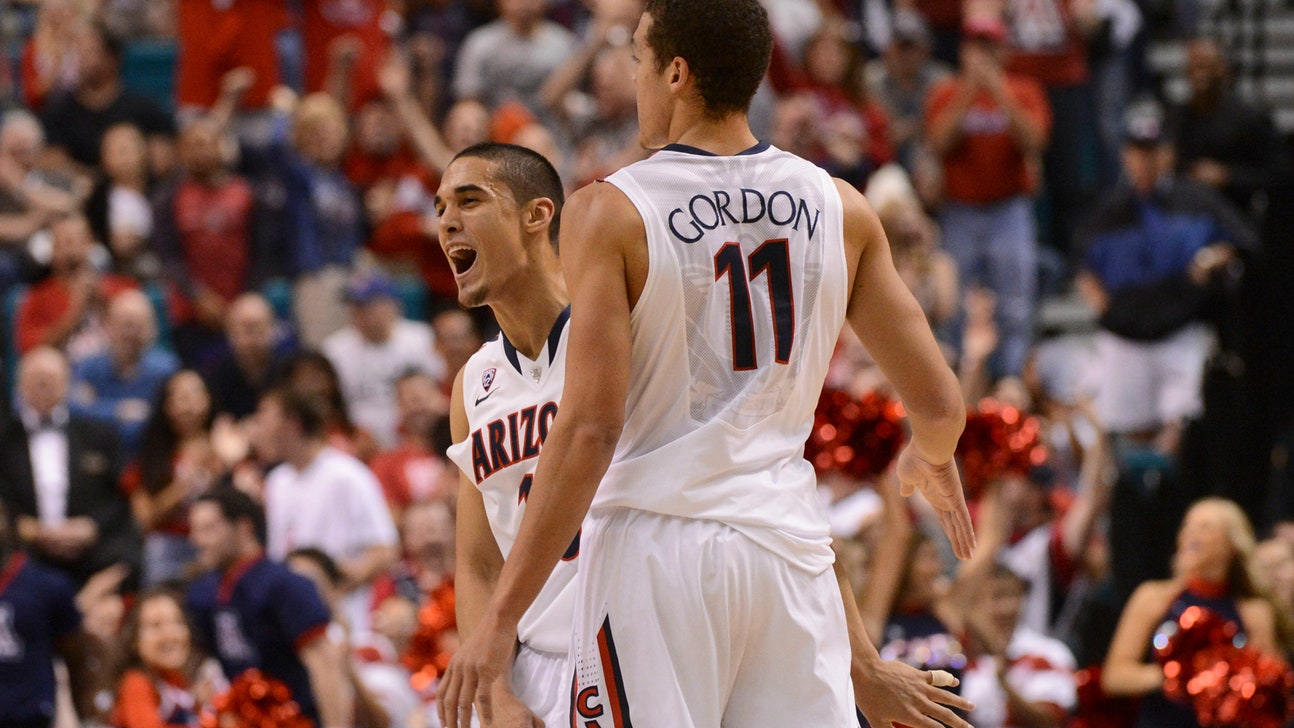 Arizona pulls away from Colorado to reach Pac-12 title game
Published
Mar. 14, 2014 11:35 p.m. ET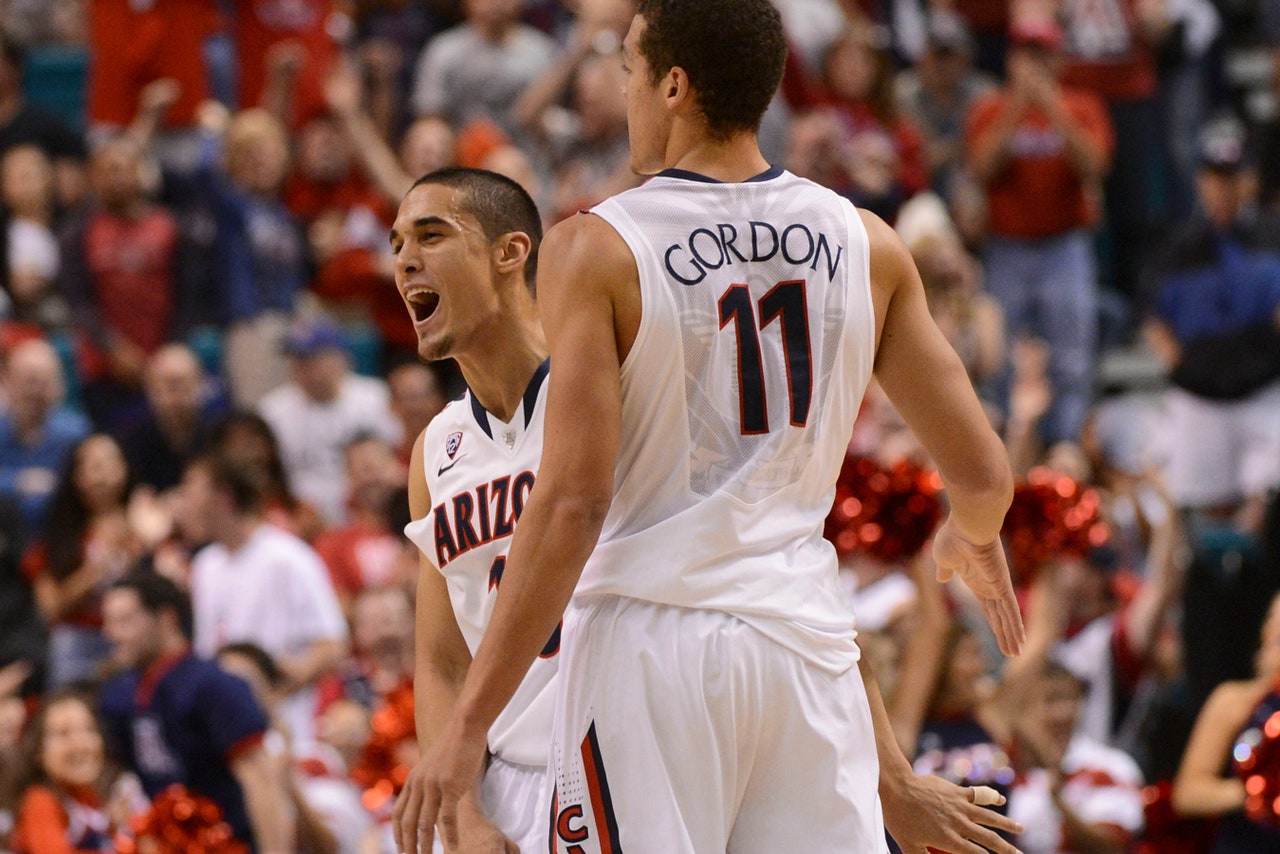 LAS VEGAS (AP) -- Aaron Gordon slid across the lane, sprang off the floor and blocked Xavier Johnson's one-handed dunk attempt at the top of its arc.
No chance.
Now that one of the nation's best defenses is reaching its peak, it's hard to imagine anyone having much of a chance against No. 4 Arizona.
Arizona backed up a strong opening performance in the Pac-12 tournament with another defensive gem, turning a close game into a second straight rout and a 63-43 victory over Colorado on Friday night to earn a spot in the conference title game.
"If Arizona makes shots and the way they guard consistently, they've got a chance to win a national championship," Colorado coach Tad Boyle said.
Arizona (30-3) crushed Utah in its tournament opener behind a record-setting defensive show. The Wildcats didn't peel open the record book against Colorado, but they sure gave the Buffaloes fits.
Unlike its previous win over Colorado, Arizona started slow, allowing the Buffaloes to keep it close at halftime.
Once they got rolling, though, Colorado had no answer for Arizona's defensive pressure and string of highlight-reel plays that had MGM Grand Garden Arena feeling like McKale Center West.
Arizona shot 60 percent in the second half and held Colorado (23-11) to 5-of-22 shooting in the final 20 minutes to earn a spot Saturday's championship game against UCLA or Stanford.
Nick Johnson scored 16 points, and Rondae Hollis-Jefferson added 12 points and eight rebounds for Arizona. T.J. McConnell facilitated the Wildcats' offense and spearheaded the top of the defense, finishing with 12 points, five assists and four rebounds.
"Our defense became great in the second half, but our offense found its flow," Arizona coach Sean Miller said. "We shared the ball. We were more ourselves. It was that combination that really broke the game open."
Colorado was able to hang with Arizona behind its defense in the first half. But playing their third game in as many days took its toll on the Buffaloes in the second half, and they had no pushback when the Wildcats started to pull away.
Askia Booker had 20 points to lead Colorado, which shot 29 percent overall and was outrebounded 41-25.
The Buffaloes now have a two-day wait to see if the NCAA tournament selection committee deems them worthy of the bracket.
"I'm hoping to get in the tournament," Boyle said. "I'm not going to be presumptuous and say we're in, because these guys weren't with us three years ago when our team didn't get in and deserved to get in. I think we're in, but that's not for me to decide or anybody else in this room to decide."
Arizona put on a show in its tournament opener, flexing its defensive muscles for everyone to see with an overwhelming quarterfinal victory over Utah. The Wildcats held the Utes to 13 first-half points, 39 points overall, 12 field goals and 25 percent shooting -- all tournament records. The 32-point margin also matched the largest in tournament history.
Arizona pulled a similar smothering act on Colorado in the teams' last meeting. After a 12-point loss in Tucson, Johnson proclaimed that Arizona wasn't that good and that the Buffaloes would beat the Wildcats by 20, even with leading scorer Spencer Dinwiddie out for the season.
Arizona turned the slight into a fury, holding Colorado without a field goal for the opening 10 minutes and shooting 84 percent in the second half an 88-61 win -- the program's first in Boulder since 1973.
The Buffaloes got off to a better start this time, scoring eight minutes sooner. Colorado still had trouble with Arizona's porous defense, though, going 10 of 29 from the floor in the first half.
But the Buffaloes had something up their sleeve: A little defense of their own. Contesting shots and digging down on the post for steals, Colorado made life much more difficult than it had back in Boulder, allowing them to stay in the game. The Buffaloes held Arizona to 11-of-29 shooting and forced eight turnovers -- five by center Kaleb Tarczewski -- that led to 11 points.
Colorado held Arizona scoreless for over four minutes during a 10-2 run that helped the Buffaloes trim the Wildcats' nine-point lead to 27-24 at halftime.
"I thought we stood a lot in the first half," McConnell said.
The second half looked more like the game in Boulder. Arizona picked up the defensive intensity even more and started pouring out the highlights to extend the lead.
Johnson had one, flying in for a reverse alley-oop dunk and Hollis-Jefferson matched him with a tomahawk dunk over Josh Scott. Gordon provided one on the defensive end not long after that, soaring up for a clean swat on Johnson's one-handed dunk attempt that sent Arizona's fans bursting out of their seats.
In just a couple of minutes, the Wildcats were up 51-32 thanks to a 13-0 run, well on their way to the Pac-12 title game.
"In the second half, we were sharper," Miller said.
And peaking at just the right time.
---