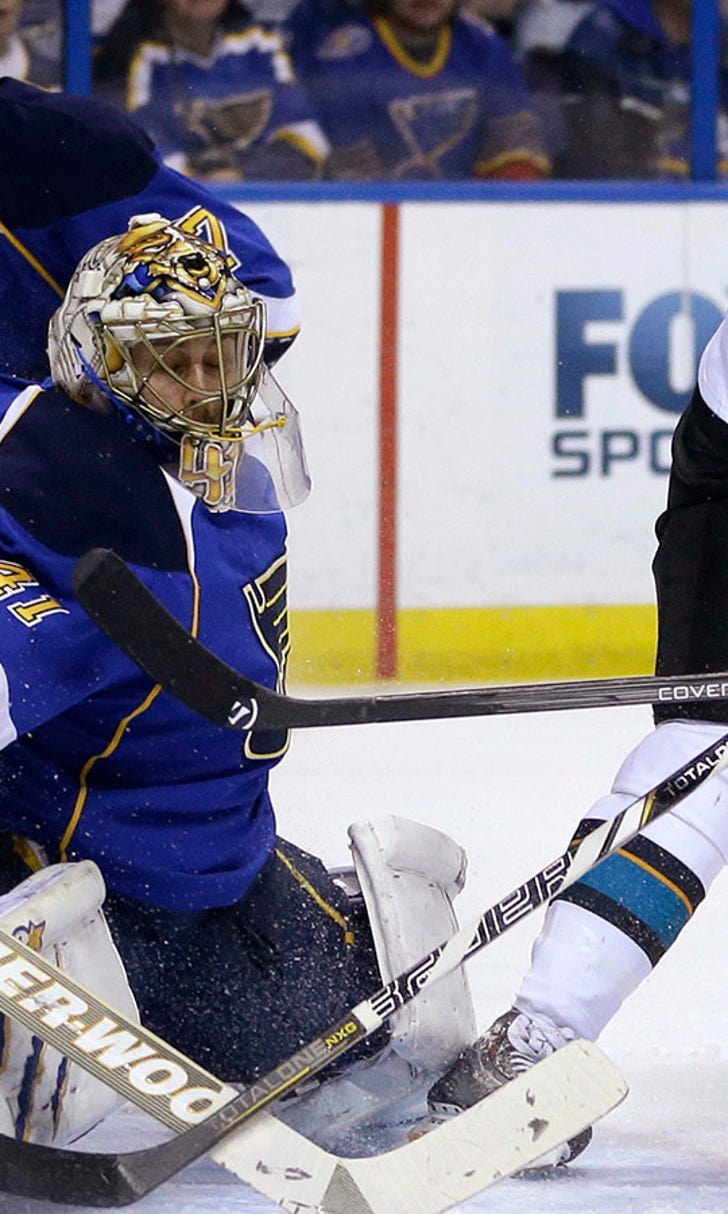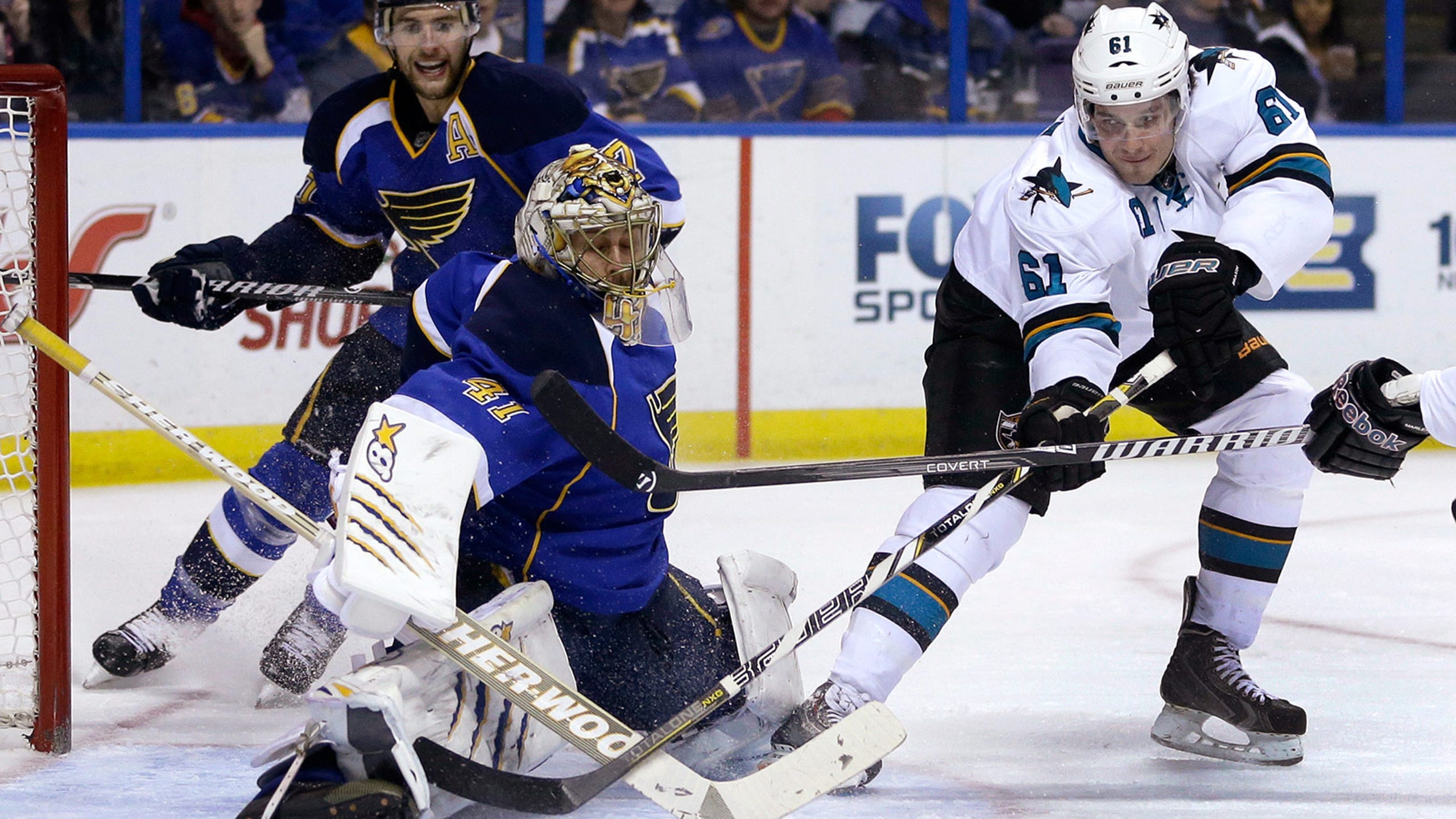 Another slow start dooms Blues in loss to Sharks
BY foxsports • December 18, 2013
ST. LOUIS -- Now we will see what this St. Louis Blues team is made of.
The Blues had yet another rough start Tuesday night, which led to an early deficit that proved too much to overcome in a 4-2 loss against the rival San Jose Sharks at Scottrade Center.
"It's something we're going to have to discuss tomorrow," Blues coach Ken Hitchcock said. "We've had too many of these starts like this. Not engaged quick enough. Some we've got away with. Some we didn't. Same start as in Columbus. Similar start in Ottawa. Same thing."
The deck was stacked against St. Louis (22-7-4, 48 points).
The Blues lost 4-2 in Ottawa on Monday and Tuesday's game was the third in four nights. Add in the fact that they were missing three key forwards -- captain David Backes, Jaden Schwartz and Vladimir Sobotka were all out with upper-body injuries -- and the crowd of 16,323 had to know this could be a rough one.
It was.
San Jose (21-7-6, 48 points) scored twice before the first intermission and led 3-0 just 2 minutes into the second period. The Blues fought back with goals from defensemen Kevin Shattenkirk and Jay Bouwmeester, but could never overcome that slow start.
"It's just it's like a broken record," Shattenkirk said. "We have to get better on our starts. We did initially early for a couple minutes and then got away from it."
While some may attribute the Sharks' first two goals to bad luck -- both bounced off the boards before being knocked in the net -- Hitchcock pointed to sloppy defensive play, his team not being ready to go from a checking standpoint, loose coverage, as well as a lack of preparation that has led to too many scoring chances recently.
"It's all connected," Hitchcock said. "Everything's connected. It's not one group. It's not one player. It's collective. It's defense. It's goaltending. It's forwards. It's everybody. It's the connection into what's important. It's all there. This is a total team thing that we can fix. But it's priorities. It's what's important. To me, zero-zero after the first period or 1-nothing, not giving up quality scoring chances, really competing and setting a tempo that the other team has to react to has to be more important than what your individual needs are. There's ownership to that preparation also. Real good ownership that needs to take place."
The Blues are 19-1-2 when scoring first and, with Tuesday's loss, are now 3-6-2 when their opponent scores first. Ottawa scored first on Monday. The Blues scored first on Saturday at Columbus, but then surrendered three first-period goals and had to fight back for a 4-3 win in overtime.
That was the last time we've seen Schwartz or Sobotka.
Then Backes, who scored the overtime goal on Saturday, suffered an upper-body injury on Monday after being hit by Ottawa's Colin Greening in the second period.
The Blues' captain had played in 289 consecutive games, including the playoffs, before missing Tuesday night's game. He last missed a game in January 2010.
"Obviously Sobie, Schwartzie and Backs are terrific players and obviously they will be missed, but it's the reality of our team right now and all the teams go through this over the course of a season," forward Alexander Steen said. "There's no excuses. I thought we came to play after the first period."
There's no word yet on when those three players might return.
But Steen is right. This is the reality of the Blues right now. St. Louis was able to keep pushing on after losing defensemen Jordan Leopold and right winger Ryan Reaves to injuries. Now the Blues have to march forward with whoever they have available, starting Thursday against Montreal at Scottrade Center.
"It's part of the game," Steen said. "Everybody goes through it. It's an 82-game season and teams are going to get injuries. We're not the only ones. Detroit's going through injury troubles. Pittsburgh. There's no excuses. This is our team. We know we can win. We play hard. You saw when we came to play in the second and third period. We were good. We just didn't play in the first period. It has nothing to do with all the other parts."
After relatively smooth sailing in October and November, the Blues will see what they are made of throughout the rest of December.
So far, it hasn't been a happy holiday season with the Blues going 4-3-1 in their first eight contests.
"I don't think there's a team in this league that's not going to go through some injury battles and there are going to have to be guys that have to step up," Shattenkirk said. "When you lose your captain, there are other guys that have to become leaders quickly. I think that I can do a much better job there, as well. We all kind of have to step up and take a little piece of that job and just come together even closer as a team and fight through it."
You can follow Nate Latsch on Twitter (@natelatsch) or email him at natelatsch@gmail.com.
---