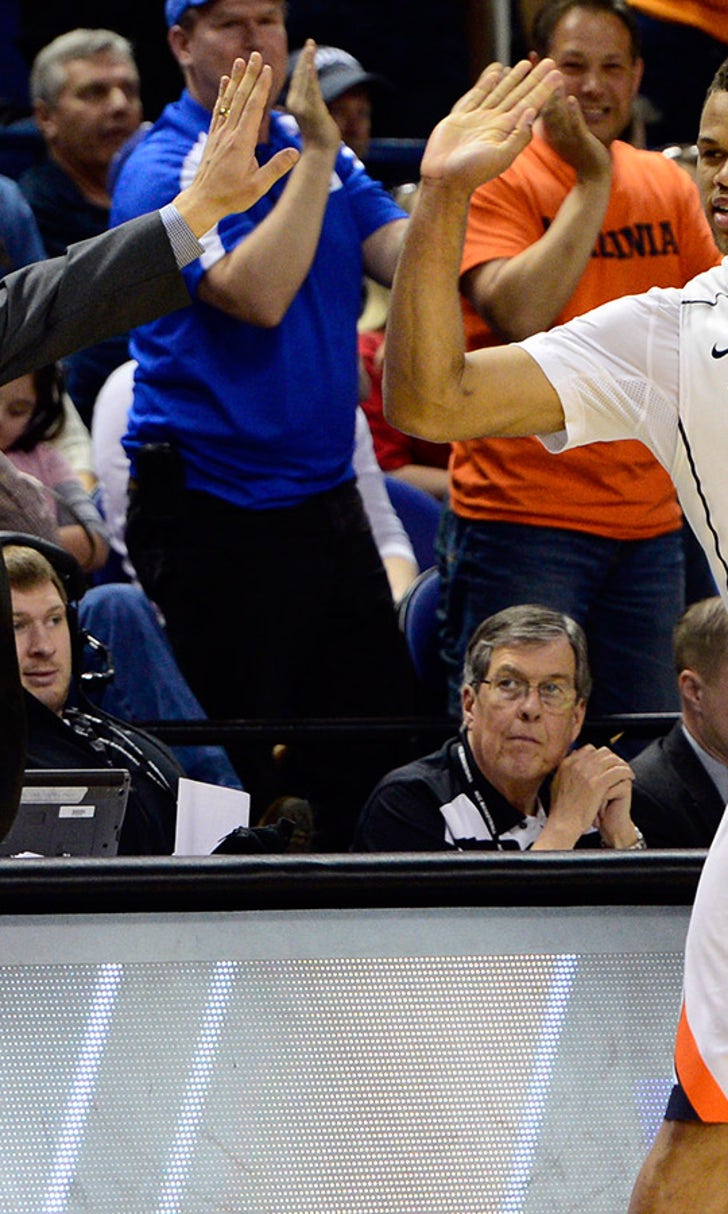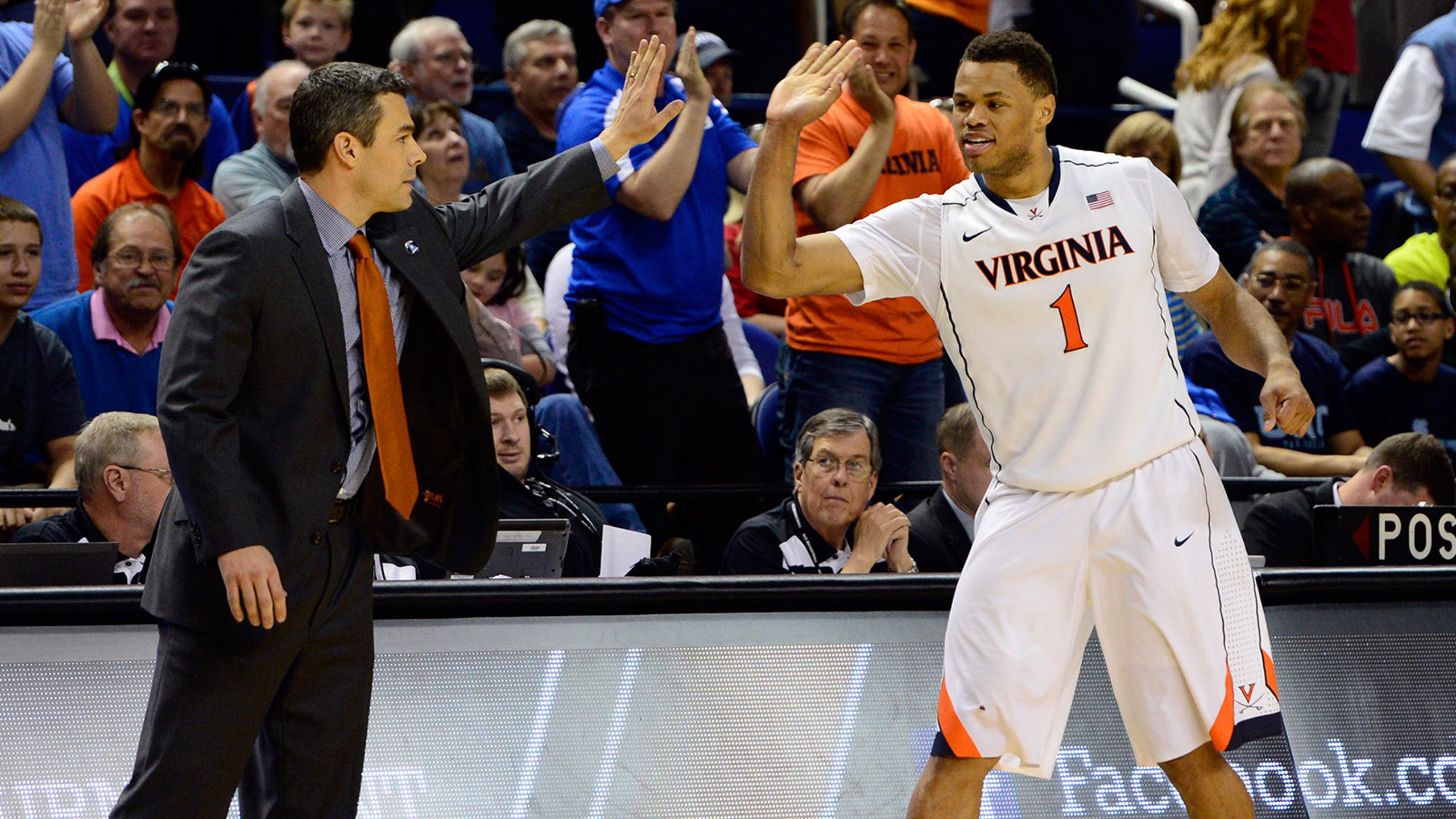 Anderson's block key as No. 6 Virginia reaches ACC title game
BY foxsports • March 15, 2014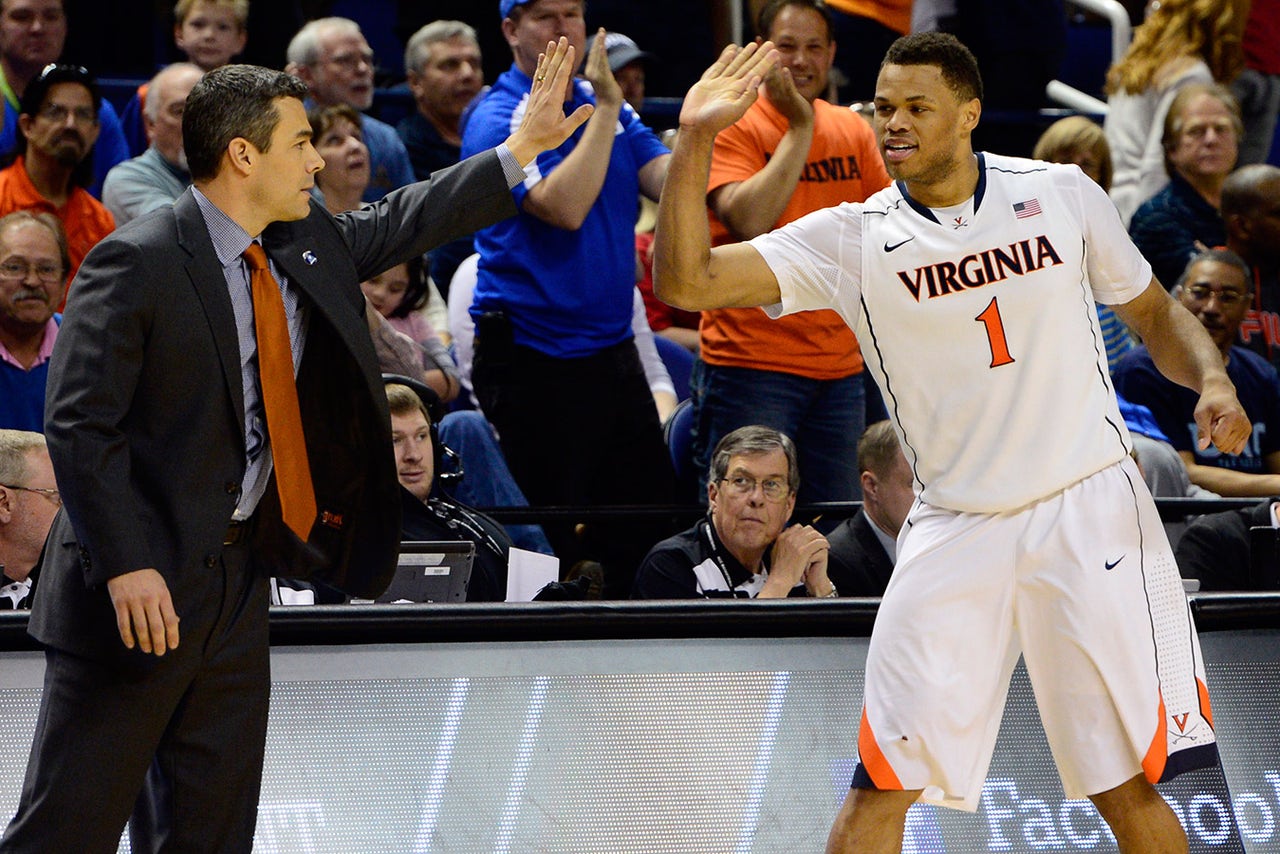 GREENSBORO, N.C. -- Virginia coach Tony Bennett was staring at the classic coaching conundrum. Up three with four seconds separating his squad from a berth in the ACC tournament championship game, do you foul or trust your defense to get the win?
There was never a question in his mind: He was going to trust what won them the ACC regular season and trust what had held Pitt to just 48 points on the day.
"I just felt comfortable making him hit a tough, contested shot. That's kind of what we try to build our defense on," Bennett said. "It doesn't mean I wouldn't ever consider doing it. I felt with them not having any time outs and not being set, they'd have to shoot or make a tough shot."
As it had all day, No. 6 Virginia's defense stymied a Pitt offense that had scored a combined 164 points in their first two outings of the tournament. When James Robinson came off the screen and went up on the left wing to try to tie it, Justin Anderson -- a member of the 2014 ACC All-Defensive Team -- jumped, too, timing it perfectly and blocking it right into Anthony Gill's arms for a 51-48 Virginia win.
The Cavaliers will now face seventh-ranked Duke, which beat North Carolina State 75-67 later Saturday.
Anderson said he hadn't felt like himself all day, with a few defensive breakdowns that were unlike the All-ACC Defensive Team member. So he came over to the sidelines late in the second half and high-fived his coach and told him to believe in him and thanks for keeping him out there.
It paid off.
"I knew [Robinson] was coming off [the screen] and sometimes Justin jumps for shots he shouldn't. But I was glad he jumped for that one," Gill said.
It almost didn't end like that, though. With Virginia up three, Robinson hit a hanging layup to pull Pittsburgh within two. There was a lot of contact on that layup, too, but it went uncalled, sending the small Pittsburgh contingent into an uproar and forcing Pitt to foul on the next possession.
"I definitely thought it was going to be a foul, but I'm glad they didn't call it," Gill said. "There was a couple of those out there tonight."
Now, the win has Virginia (27-6) on the verge of territory they haven't been in often, setting up a final in which they could join the 1976 team as the only teams in school history to cut the nets down at an ACC tournament. That 1976 team's leader Wally Walker texted Bennett before the team arrived in Greensboro with a simple message: "We want some company."
"It's been a good while so it's good we're having this conversation right now," Bennett said. "Obviously, what the [1976 team] did was special because of how special the ACC Tournament is. But it would be great to obviously put another banner or have that to share with them."
It was only fitting, too, that Bennett's father, long-time Wisconsin coach Dick Bennett who usually avoids attending his son's games. Up until that point he would only commit to coming to the ACC tournament championship if they got there and the NCAA tournament. Instead, he surprised his son.
"He showed up at 9:00 this morning and I laughed because he delivered a message, he said, 'This is going to be' he called it a 'blue-collar knuckle-buster," the younger Bennett said. "That was his term. We talked about it before the game."
That description proved apt.
Neither team scored more than 26 points in a half and the refs largely swallowed their whistles, allowing Virginia the opportunity to foul twice on the final possession without being in the bonus to set up the final possession. It had been physical throughout and buckets came at a premium. These conference tournaments can be a grind and Anderson said that they went to their assistant coach after and are trying to figure out where they can get in an ice bath but joked that the old guys on the team -- Akil Mitchell, Joe Harris, and Gill -- needed it more than him.
It was almost like an NCAA tournament game, the type of preparation that Bennett says is important for what's to come in less than a week. And there was little doubt in freshman London Perrantes' mind after that Pittsburgh (25-9) belonged in the tourney too.
"Oh yeah, definitely. I definitely feel like [they are a tournament team] because they play defense like us and they have some scorers," he said.
They'll get that final chance tomorrow to prove their mettle. It's not just a potential banner that's hanging out there fueling them. Anderson feels like this team still doesn't get enough respect or attention on a national scale and they have the chance to do that Sunday vs. Duke.
There's also the strong possibility that a win tomorrow equals a No. 1 seed in the NCAA tournament -- the type of validation they don't need but desire.
Arizona (28-3), Louisville (26-5) and Villanova (28-3) are all fighting Virginia for those last two slots alongside Florida and Wichita State as likely No. 1 seeds but a win tomorrow should put Virginia on that top line. Sure, they have six losses, but it's difficult to imagine a team that just won the ACC regular season championship and ACC tournament championship not getting a No. 1 seed, especially when Villanova, a likely No. 1 entering their conference tournament, lost in their tournament opener to Seton Hall. That's not exactly the final image you want to leave in the heads of Selection Committee members on Selection Sunday.
"Not the best answer always but this team has done a great job so far of just continuing to worry about the task at the hand. We'll let all that other stuff take care of itself," Anderson said. "It'd be a beautiful thing to have that going into the tournament and a great number to a be a part of, but we understand that every game from here on out we're going to get everyone's best shot. We just have to come ready to play basketball."
That's the typical party line at this time of the year, but do they care about being a No. 1 seed?
"Not really," Malcolm Brogdon said. "We plan on going into the [NCAA] Tournament and making noise either way."
The team predicted to finish fourth in the ACC preseason has certainly made plenty of noise in the ACC this season. Now, Sunday, they'll have a chance to make some on the national noise and ensure that 1976 team has a little bit of company.
"We're going to try not to think about any expectations or any past history for our school, but we're definitely playing for our school and trying to represent really well," Brogdon said. "Try to go in and win, that's all we can go in and do."
---