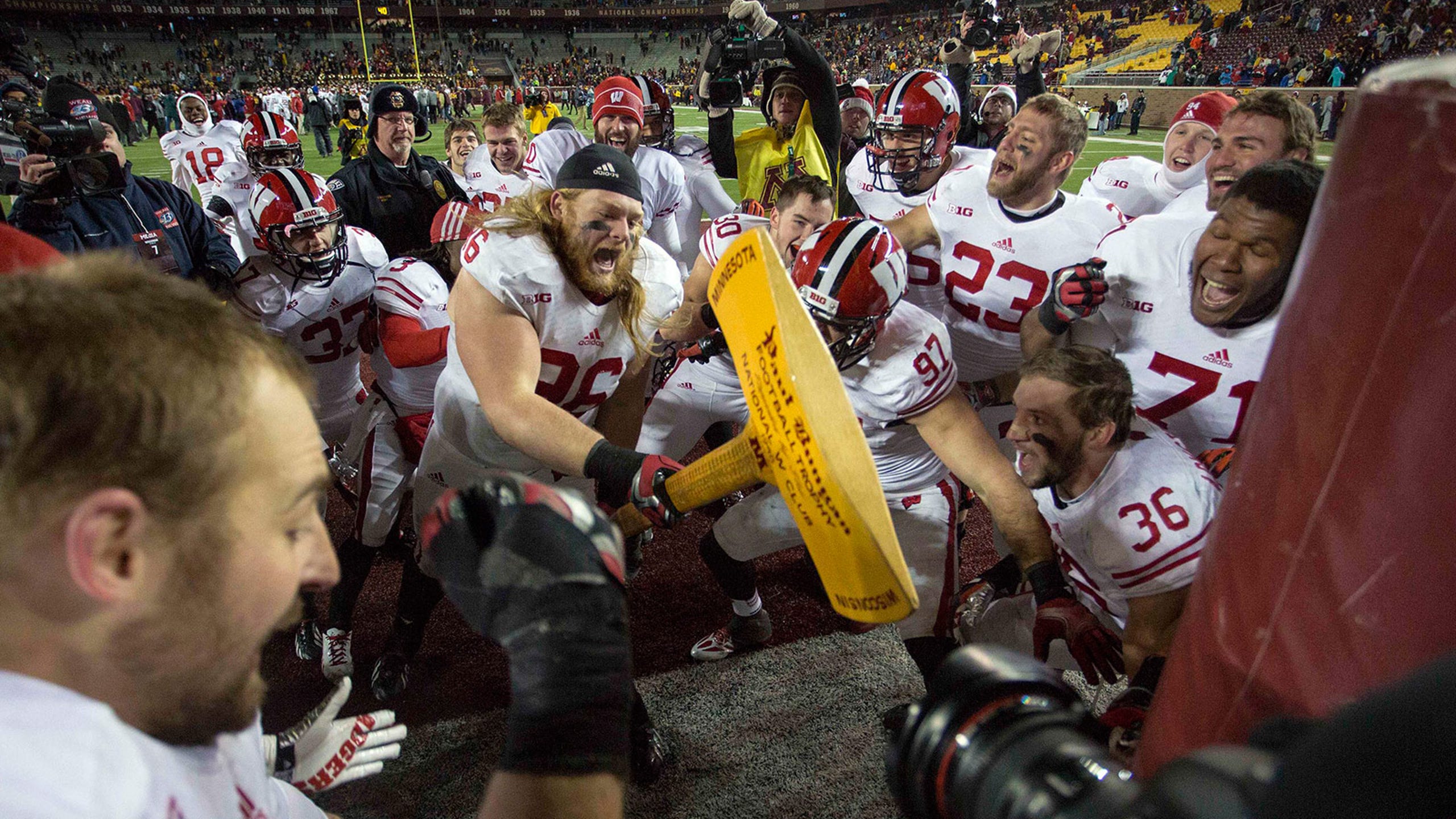 Andersen: Winner of Paul Bunyan's Axe will have to wait to chop down goal posts
BY foxsports • November 24, 2014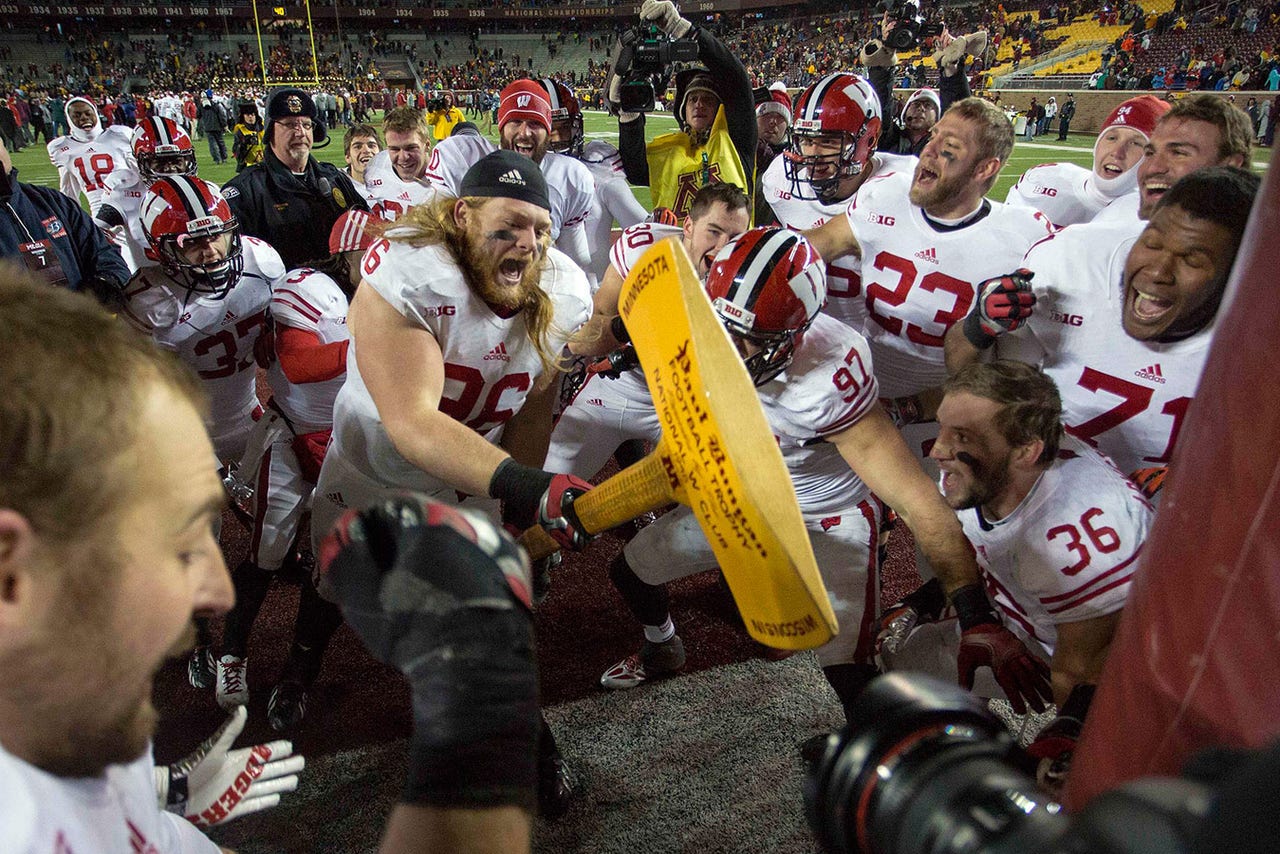 MADISON, Wis. -- Wisconsin's football players broke from a team huddle and bounded toward the end zone in TCF Bank Stadium last season, axe in hand, ready to continue a longstanding tradition of the fictional chopping of an opponent's goal post.
Wisconsin had won Paul Bunyan's Axe for a 10th consecutive season against bitter rival Minnesota, but when players arrived at the goal post, they found the entire Gophers team surrounding it.
"Chop, chop, chop, chop," Wisconsin players uttered in rapid succession. Both sides, however, soon stood helmet to helmet, pushing and spewing obscenities in the other's direction until Badgers head coach Gary Andersen and strength coach Evan Simon intervened and sent Wisconsin players back to the locker room.
"Last year, it was this close to going south in a lot of different directions," Andersen said during his weekly Monday news conference. "You're going to have kids not play the next week. You're going to have kids get hurt. You're going to have a bad spot because who's going to protect them? Are you going to bring out the National Guard? Because it ain't me. Last year, there was me and Evan Simon, and we ain't stopping one of those kids on that sideline on either side."
As a result of the brief skirmish, Andersen has decided to take matters into his own hands this season.
When No. 14 Wisconsin (9-2, 6-1) plays host to No. 22 Minnesota (8-3, 5-2) at 2:30 p.m. Saturday in Camp Randall Stadium for the Big Ten West division championship in the regular-season finale, the famed axe will not be on the bench area during the game. Instead, Andersen said it would materialize after the game and be presented in the end zone closest to the winning team's locker room. At that point, the victor will be free to return to the field to chop down the goal posts, take pictures or anything else -- so long as the losing team is off the field.
Andersen noted he had not broached the topic with his players early in the week but that he did have the full support of Wisconsin athletic director Barry Alvarez.
"I'm just trying to protect kids and try to make it be right," Andersen said.
Andersen's comments immediately drew criticism on social media from Badgers and Gophers fans for disrupting a tradition that dates back decades. The teams will meet Saturday for the 124th time, which extends the most-played rivalry in the Football Bowl Subdivision. Paul Bunyan's Axe was introduced in 1948 after the disappearance of the first trophy known as the Slab of Bacon. And at some point over the years, it became tradition to chop down the opponents' goal post.
"That's what a rivalry is all about," Badgers safety Michael Caputo said. "People put forth 100 percent into the game, and it gets tense a little bit."
One of the more famous axe celebrations came in 2003, when Minnesota kicker Rhys Lloyd buried a 35-yard field goal as time expired to give the Gophers a 37-34 victory at the Metrodome. His first order of business was to run straight for Wisconsin's bench to pull the axe from underneath a zipped red bag, while Minnesota's team trailed closely behind him. It marked the last time the Gophers have won the trophy.
Wisconsin players were made available to the media following Andersen's news conference, and the reaction to the decision was mixed.
"That's not a big deal for us," Badgers tight end Sam Arneson said. "That's not really what we're concerned about. We don't plan on it being an issue because we plan on bringing home the axe again this year.
"It's something that's cool about the rivalry. But if it's better for the teams, if it's a little safer, I guess it does make sense."
Caputo, meanwhile, said he was not concerned with fan reaction to Andersen's move.
"People are going to like it, people are going to hate, people are going to be indifferent about it," Caputo said. "I don't have a comment because I just want to play football. I didn't come to Wisconsin to play for an axe and chop down a goal post. I came to play football. People can say whatever they want, if it's dumb, if it's a great idea, whatever it may be. I have a job to do on Saturday."
But Badgers running back Melvin Gordon, a Heisman Trophy candidate and one of the most well-known players in college football, voiced both his surprise and dismay after learning of the change.
"I don't like that," he said.
And why not?
"From history, they run over," Gordon said. "You see the videos, they run over, they take the axe. That's kind of what makes the game fun. It hurts when they do take it. I think that's just what makes the game fun when you're able to chop down the goal posts."
Gordon noted he was "in the mix" of the fracas last season because he already was upset by the way in which he played after he fumbled on his first carry and saw limited action. He added that he would talk to the team's seniors to try and resurrect the old ritual.
For the foreseeable future, however, it appears the axe will remain off the team bench when the clock strikes zero, thus changing one of the more memorable college football traditions.
"Hopefully we can just get one team off and the other team can do what they've got to do," Andersen said. "Maybe I'll take a swing if we're fortunate enough to win if everybody's off the field instead of trying to pull a 400-pound offensive lineman off another 400-pound offensive lineman. That's not a good spot to be in for an old man like me."
Follow Jesse Temple on Twitter
---