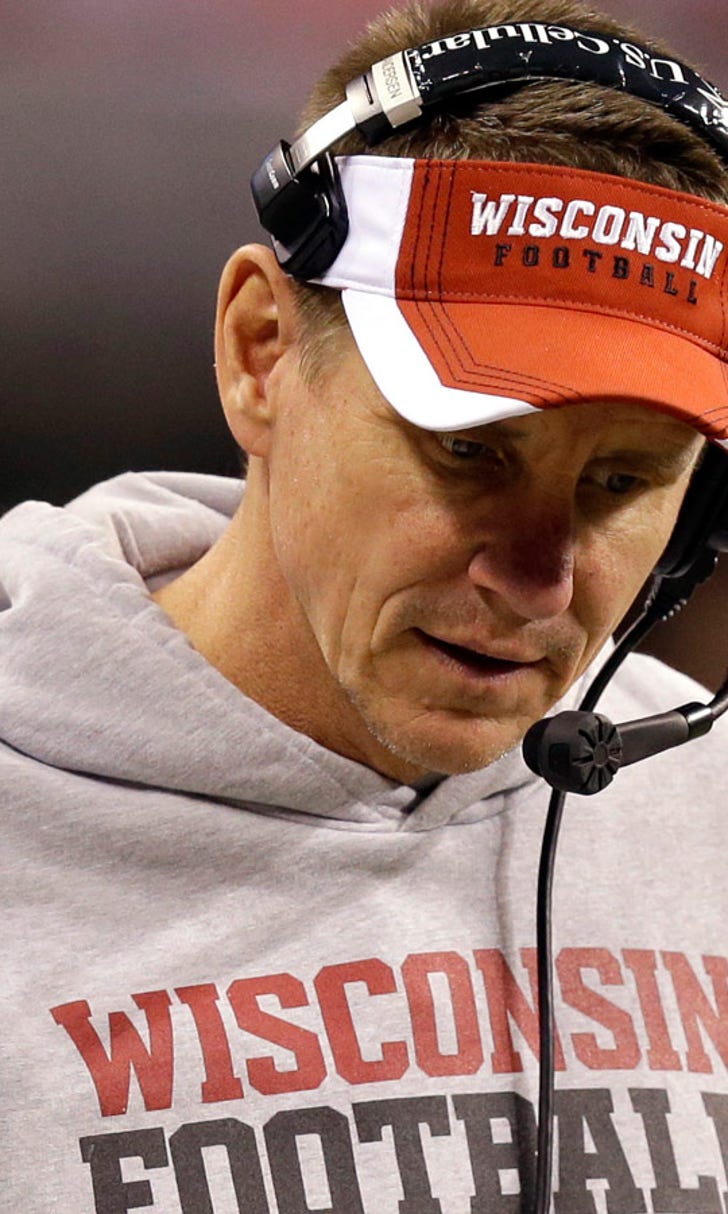 Andersen leaves Wisconsin after 2 years, Alvarez had 'no idea'
BY foxsports • December 10, 2014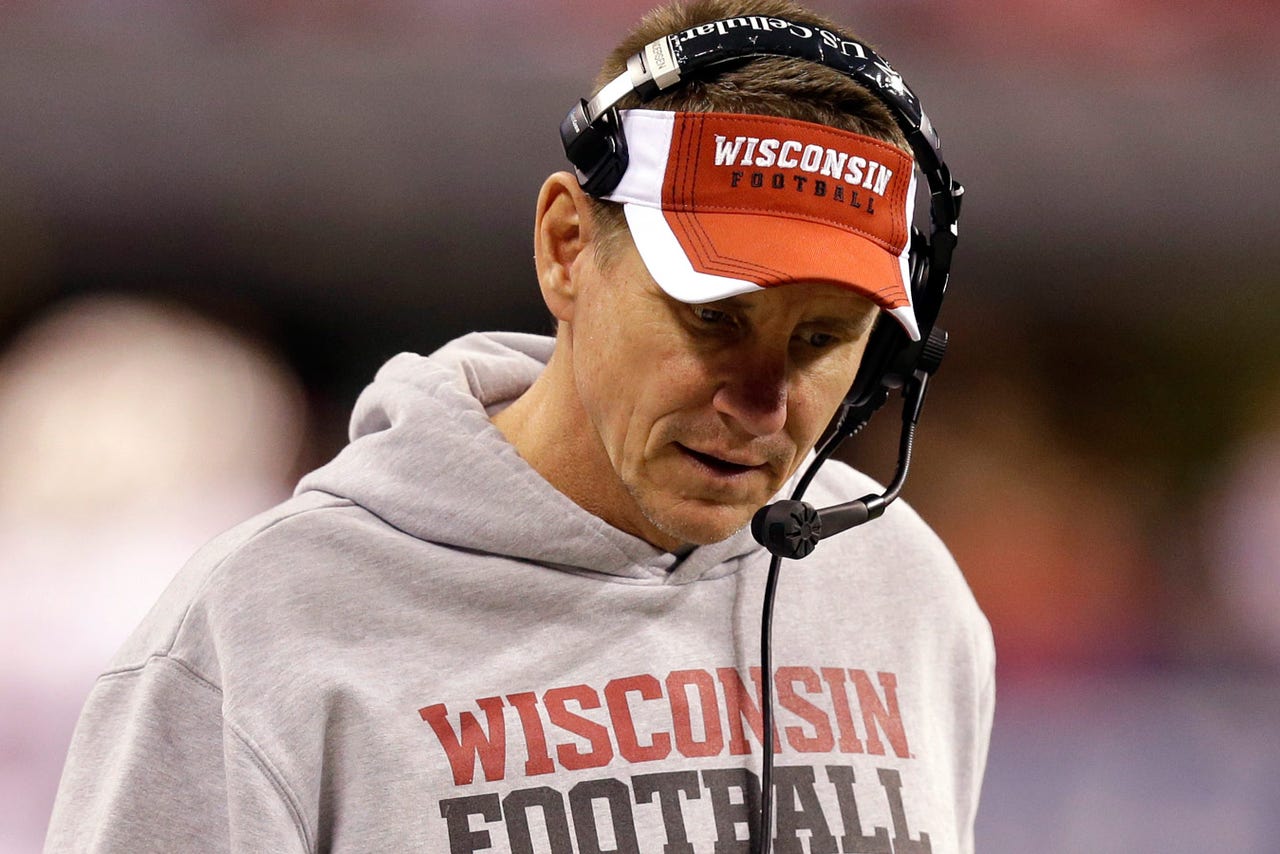 MADISON, Wis. -- Barry Alvarez was stuck in New York with a delayed flight Wednesday afternoon, when he received the phone call that would change the future of Wisconsin's football program yet again.
On the other line was Walter Dickey, the university's senior associate athletics director, with a message that head football coach Gary Andersen needed to speak with Alvarez. It was urgent.
"I said, 'I want to know what it is,'" Alvarez said Wednesday night. "So I got on the phone with him, and he told me."
What Andersen relayed to Alvarez was a bombshell. Andersen, after just two seasons at Wisconsin, was resigning to accept the head coaching position at Oregon State.
"I was very surprised," Alvarez said in a hastily arranged news conference with reporters. "I really had no idea that this was in the works."
Alvarez, Wisconsin's athletics director, met with Andersen face-to-face later in the afternoon, and Andersen held a 4 p.m. team meeting to inform players of his decision, which Alvarez described as emotional.
Reaction from players quickly came pouring out on Twitter:
"It's a business," tight end T.J. Watt tweeted.
"Not again man!" receiver Reggie Love tweeted.
"Can't even lie this (expletive) hurt" tweeted cornerback Sojourn Shelton.
Now Alvarez must figure out how to pick up the pieces after the second coach in two years has left the team for another job on the heels of a Big Ten championship game appearance. In 2012, Bret Bielema accepted the head coaching job at Arkansas just days after Wisconsin crushed Nebraska 70-31 in the title game. Andersen's decision occurred four days after Wisconsin lost 59-0 to Ohio State in the same game.
Alvarez, the former Badgers football coach, acknowledged he maintained a short list of coaching candidates but declined to name anyone on that list. Two years ago, when Bielema left, the decision particularly stung Alvarez, who handpicked him to be his successor following the 2005 season. Alvarez appeared far less irked by Andersen's decision, though equally surprised.
"When someone makes a decision, they make the decision," Alvarez said. "I'm a big boy. I understand this business. Just take a look around the country. People move for different reasons.
"That's why I'm always prepared. That's why I have a short list. I feel very confident we'll put a good coach in place. And I promised the kids that. Our program is not going to take a step backward. . . . Things always don't go smoothly. We'll go hire a good coach, get him in place and get him started recruiting and here we go. I know one thing: I won't flinch."
Andersen arrived at Wisconsin after coaching for four seasons at Utah State, where he went 26-22 and won the Western Athletic Conference Coach of the Year award in 2012 after guiding the Aggies to an 11-2 mark. Though he had spent nearly his entire career coaching on the West coast, Alvarez described Andersen as "a good fit" and said he never had any inkling he was looking to return to that part of the country.
In two seasons with the Badgers, Andersen compiled a 19-7 record, including 13-3 in Big Ten regular season games. Ultimately, however, Alvarez said Andersen's rationale for leaving was to bring his family back to the West coast, after all. He'll replace Mike Riley, who left Oregon State last week after 14 seasons to take over at Nebraska.
On the surface, the move out West seems understandable. But it also has previously been reported that Wisconsin's difficult academic standards made it tougher for Andersen to bring in the types of recruits he wanted, though Alvarez declined to comment.
"He didn't say anything about that," Alvarez said. "He just talked about opportunity for he and his family. That was what he told us."
Alvarez tried to assuage fears from the fan base that the state of the football program was in any type of disarray. He spoke of the consistency of the team, which has reached five consecutive New Year's Day bowl games, and he praised the program for having "some of the best facilities in the country."
Yet even Alvarez had to acknowledge that, at least in the eyes of some, Wisconsin no longer seemed to be a destination job.
"The last two coaches have proven that," Alvarez said. "It wasn't a destination job for them. But it was for me and it is for (basketball coach) Bo Ryan. Everybody's a little bit different. I don't worry about that. We've got a good job. We've got a good place. We've got a consistent program. We've got a lot to sell. I'm not trying to paint any other picture other than a very positive picture because it is positive."
So, what happens next?
Alvarez said he already had spoken to the team's assistant coaches -- many of whom were out recruiting -- and encouraged them to remain with the program through No. 18 Wisconsin's Outback Bowl appearance against No. 19 Auburn on Jan. 1. The head coach for that game remains undetermined, but it very well could be Alvarez himself.
Once Andersen finished meeting with the team, Wisconsin's core group of seniors -- including offensive linemen Rob Havenstein, Dallas Lewallen and Kyle Costigan, as well as receiver Kenzel Doe and linebackers Sherard Cadogan and Marcus and Michael Trotter -- walked into Alvarez's office and asked Alvarez to coach the team's bowl game.
"I told them I'd make up my mind tonight," Alvarez said. "I'll think about it. I told them I was very flattered that they asked me to do that. Because it's about the kids. I want them to come here and have a good experience and feel good about it. So I'll definitely consider that."
Alvarez coached Wisconsin from 1990-2005 and won a program record 118 games and three Rose Bowls. He came out of retirement two years ago at the players' request after Bielema departed and coached the Badgers in the Rose Bowl once more, a 20-14 loss against Stanford.
Alvarez said he would determine the next head coach, along with Dickey and senior associate athletic director Bruce Van De Velde. Though ties to Wisconsin are not important, he said, finding someone with head coaching experience was paramount. He added that he would like to have a hire in place by the team's bowl game -- 22 days away.
The shock of Andersen's departure has yet to wear off. The process of finding the next head coach, however, already has begun.
"My phone's ringing off the hook already," Alvarez said. "Word's just starting to leak out. I'll be very busy tonight answering phone calls from agents and coaches and go-betweens of people trying to get in on this job. I guess our biggest issue is deciding, going to the people I want to talk to first and then taking a look at who else is interested."
Follow Jesse Temple on Twitter
---